Watchmaking design sketches are still the first step in the creation of a new watch. Although computers are gaining ground, designers – and jewellers – are holding out against this new trend.
Communicating to your hand the idea you have in your head is the most delicate of arts. To make sure they never lose those ideas, many watchmakers fill up huge numbers of sketch pads. You don't have to be a good draughtsman: CAD (Computer Aided Design) can ultimately make good the inaccuracies of human drawings. The main thing is that these sketches remind their creator of their initial ideas. One of those to use this technique is Ludovic Ballouard. He always keeps a notepad to hand, where he can jot down any unexpected ideas.
His sketch may not look like much, but he can understand it, extrapolate from it and see what the finished object ought to look like. Sometimes he does a hand-made cardboard mock-up to go with the drawing, giving him a 3D representation.
Flashes of genius and duds
In his 25-year career, Christophe Claret has had more ideas than he'll ever be able to produce. "I've kept around sixty of them. Some will come to fruition. Others are dormant and sometimes become obsolete." That's a thinly veiled reference by the master watchmaker to his concept of fluid time display. The manufacture was busy with other developments and did not pursue it in time – it has since been produced by HYT.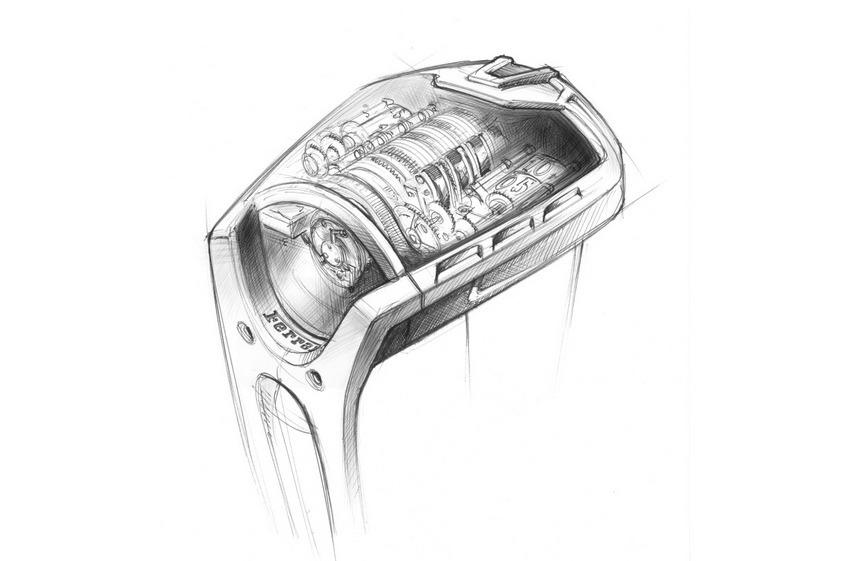 The sketch of the Hublot MP-05 unveiled at Baselworld 2013
Perfectionists take the opposite tack to this plethora of freehand sketches. Jean-Claude Biver is one of them. The CEO of Hublot already has the finished product in mind virtually from the first pencil stroke. Laurent Picciotto, who designed the Big Bang Drive with him, remembers: "We'd planned an hour-long meeting. After just thirty minutes, Jean-Claude closed his notebook and exclaimed: "Right, are we done then?" Before I'd even put my jacket on, he'd called through to production to implement the design we'd just decided on."
CAD is gaining ground
Large manufactures are very quickly moving over to CAD – although paradoxically, it's often hard to tell the difference from a sketch drawing. For instance, the lines of this design sketch of a Reverso are so perfect that it's hard to tell whether it came before or after the computer-aided modelling stage. Some small firms are going the same way. Max Büsser (MB&F) admits he's rapidly making the shift to CAD: "Generally speaking, after very rough initial sketches, with Eric Giroud we soon move onto computer modelling." That said, as if to emphasise the human value of the drawings, he quickly goes on to add: "This type of collaboration is so rare and valuable that throughout the entire history of the brand, I've never wanted to create a timepiece with another designer."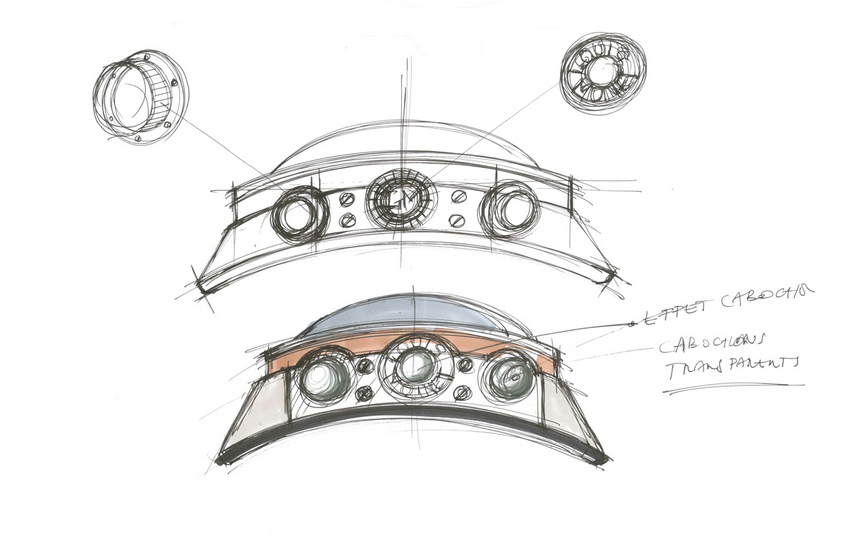 Draw of the Louis Moinet Jules Verne
Salvation through jewellery
Behind the scenes are two competing schools vying to determine the future of watchmaking design. On one side the technical trend in watchmaking is resulting in functional, disposable watches, the shapes of which are so standardised that there's no longer any need for a hand-drawn sketch. Then there's traditional watchmaking, in which every new housing, lug and edge start life as a sketch drawing. Watchmakers of the latter school have received support from an unexpected quarter: jewellers.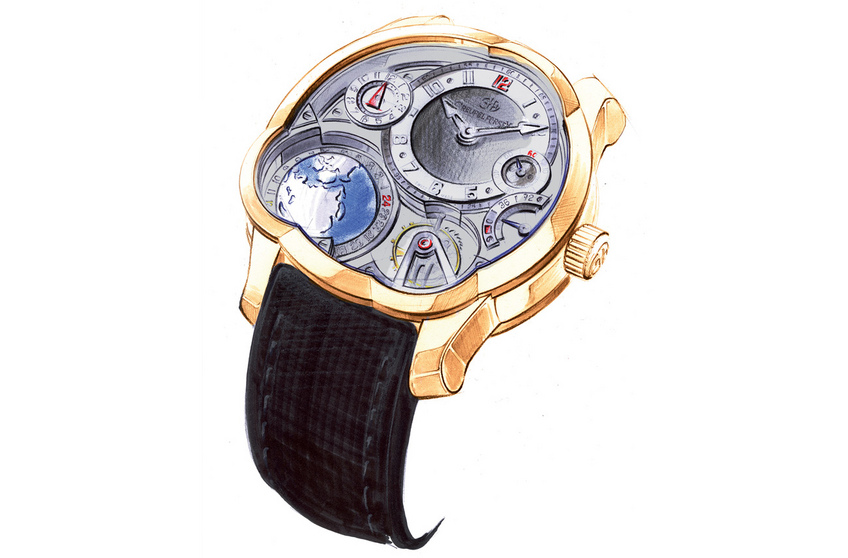 Colored draw of the Greubel Forsey GMT 5N
Jewellers rely not on techniques or complications, but rather on emotion, light and colour. These aspects are the fruit of the labours of stylists and graphic designers who work only with sketches. Back in 2006, the Complications Poétiques by Van Cleef & Arpels already embodied this approach, with another firm, Agenhor, called on simply to power the design born in the studios on Place Vendôme. The pencil may not always have the last word, but more often than not, it has the very decisive first word.