Chantilly Concours d'Elégance: the best of automobile with a touch of watchmaking
At the Château de Chantilly, in Oise (France) a stunning garden was the elegant backdrop of a revival-type Sunday in the country. Here are the highlights of our meeting with the event's main partner, Richard Mille.
The last public Concours d'Elégance in France took place in the 1970s. Peter Auto, a company which specializes in the organization of events that center around high-end motorcars, offered Richard Mille – its close acquaintance for the last thirty years and avant-garde watchmaker for twelve years – to experience this new expression of automobile art. An art which is high profile in authorized and influential circles.
A perfect backdrop for Richard Mille
We had an appointment with Richard Mille, main sponsor of the event, at the stunning Château de Chantilly, in Oise (France). This timeless place, which is described as the "Capital of the Horse", has a stunning garden, a canal, a Jeu de paume (real tennis) court and a racetrack. It was the perfect destination for a Sunday in the country, as Richard Mille quite rightly pointed out when he described the atmosphere.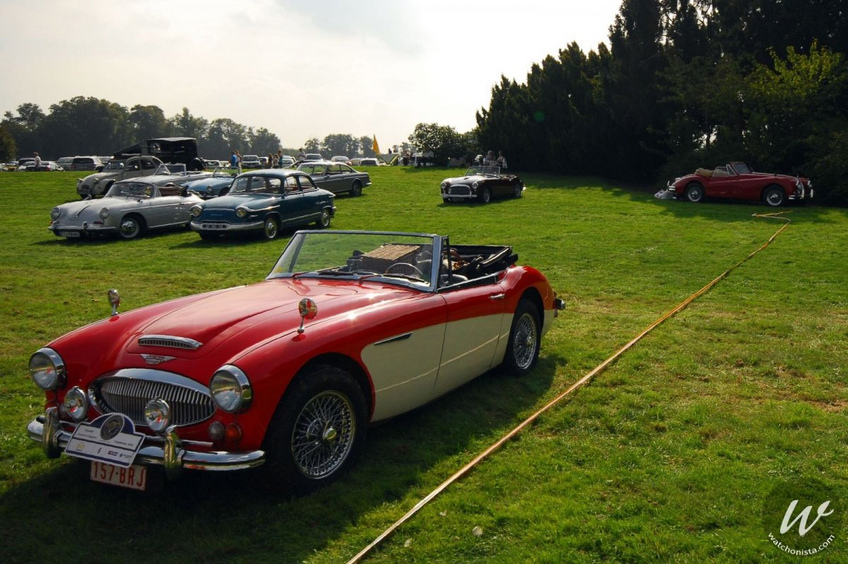 Concours d'Elegance at Chantilly
We started by asking him about the current market position. He good-humoredly replied, speaking for himself, that all was well: "Business is very good, I can't complain". We have to say, others would undoubtedly have loved to be in his place. A regular guest of the venue, he multitasked and welcomed his guests from the international press and some hand picked clients in a space with sofas and dining tables. He even jokingly whispered to Mister Mauboussin that his life starts and ends with cars, watchmaking and his family.
French elegance
However, all his guests mostly wanted to know what differentiated this event from the one in Pebble Beach in the United States and whether it will one day be possible in France to know the name of the cars' owners. After considering it for a moment Richard replied: "No, I don't think that will be possible here, at least not in the near future. But this must in no way thwart owners from being proud of their cars. Most of them come from abroad: from Hong Kong to London, including the United States. Yes, it is true that in Pebble Beach, and given that in America being economically successful is less of a taboo, car owners can afford to exhibit their name with their cars and it is not a problem at all.
Here, we are not at all in the same situation and we are not as economically successful as they are. You can call it repression or internalizing success, but the truth is that this kind of practice is de facto forbidden".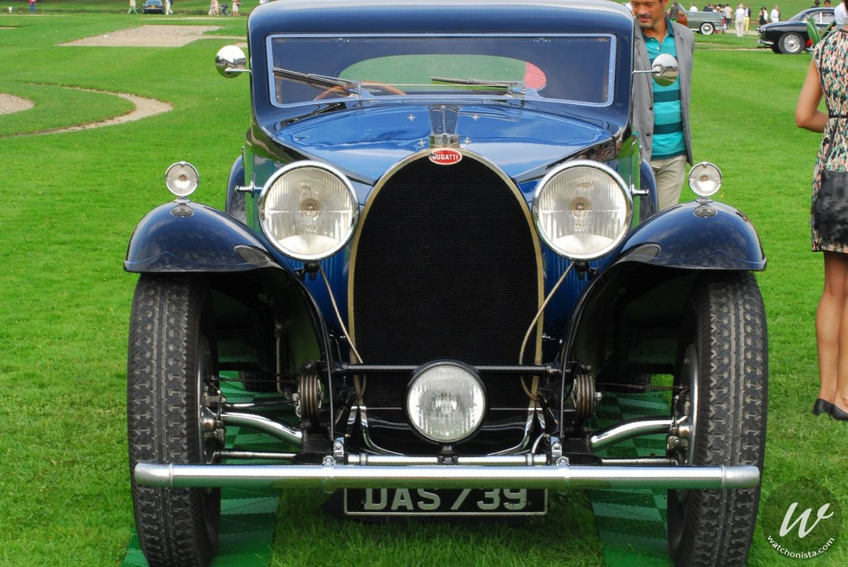 Bugatti Type 50T Coupe Profilée at Chantilly Concours d'Elegance
We continued the interview with a probably recurrent yet important question: why is the main sponsor of this automobile event a watchmaker, especially as many of the automobile aficionados here today are either not familiar with the name Richard Mille, or thought it was a manufacturer of car parts? Indeed, you have to be one of the happy few to know that this man, owner of an eponymous brand which produces approximately 2,500 of the most expensive watches in the market per year, is a true fanatic of cars. As such, he invests in his passion. He, who has been transposing the magic of automobile into the watchmaking universe since 2001, is an avid collector of cars. He was there because he accompanied Patrick Peter, the organizer of this magical event, founder of Peter Auto and Mille's friend of thirty years. Convinced of the relevance of the event, he chose to be both the main sponsor and to participate in it by introducing two cars of his own collection, namely an Alfa 33 and a Porsche 907.
The link between beautiful mechanics and watchmaking
During the interview, we also asked him about the possible link he personally thinks could exist between the parade of cars and the way a watch is worn. With a smile, he answered that: "there is a common denominator in the love for beautiful mechanics. This bond is strong in this type of event as the parts are unique and were hand-designed and produced. I see myself in this approach as we work in the same way. In my design offices, the base concept is hand-made, even if everything is inputted into 3D software afterwards. Nevertheless, both universes allow us to feel what I call luxury craftsmanship in its purest sense and a life philosophy peculiar to its own universe".
But then we pondered whether it was possible to link modernism to vintage, that is, old cars to new ones, in this magical world where dreams are so important. Richard answered: "there has been no Concours d'Elégance in France since the 1970s. This is a first and what was done before, be it at Bagatelle or other gatherings was always a failure. Today, we are re-establishing this vision of automobiles through tradition. Watchmakers have known about this event for almost 30 years now. Today, these competitions allow us to blend a bit of everything: modern with old or horse and carts with Formula 1; you only need to find the right theme. Everything is possible!"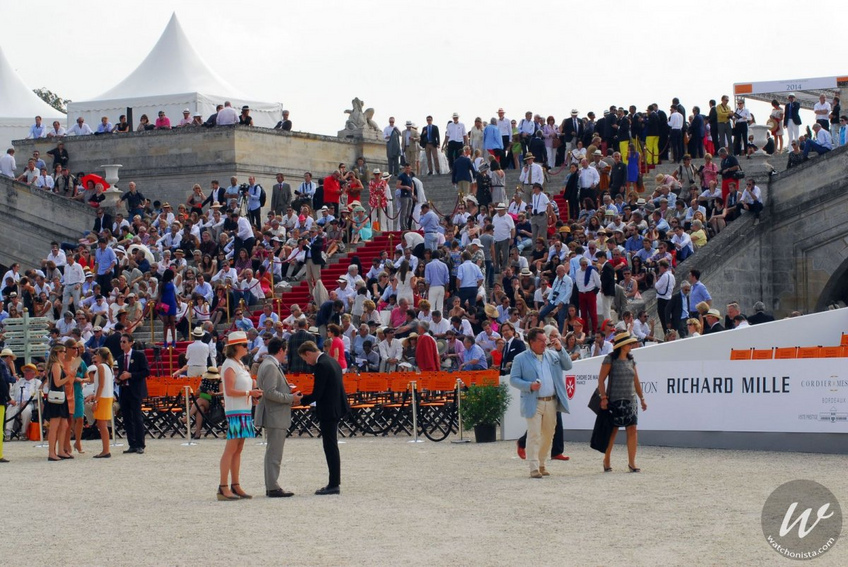 Chantilly - Concours d'Elegance
Sure enough, because Richard right away showed that, in terms of watchmaking, he was able to associate tradition and communication futurism.
Going beyond the automobile
We also wondered whether it was a good media strategy to invest in an event in which most of the attendees do not know who Richard Mille is even if the event seems to be here to stay, and it's already planned to take place next year (Le Mans Classic only takes place every two years). When we asked this visionary watchmaker about his expectations from the Chantilly Concours d'Elégance, he merrily replied: "None… No, I'm joking! I am a partner of various events completely devoted to "lifestyle" and also partly related to the automobile universe. Contrary to common belief, my communication strategy here is aimed more at women. The atmosphere is clearly less macho than Le Mans Classic which only addresses the reptilian brain of men".
When we asked him about his plans for the next Concours d'Elégance, it was obvious that he has already made his mind up as he very clearly answered: "I want to launch a polo tournament in Chantilly. I specifically want to work on a context that will take place at the same time; we are working here with a floating population that shares the same passions.
I furthermore believe that we will have a larger audience because this is like a fair; people always complain that they are repetitive but once it is over they cannot wait for the following year. It is the same thing for Chantilly (Richard Mille), Pebble Beach (Rolex) or Villa d'Este (A. Lange & Söhne). Here, people come with their family to have a good time. It goes beyond automobiles, it is a chic version of a Sunday in the country".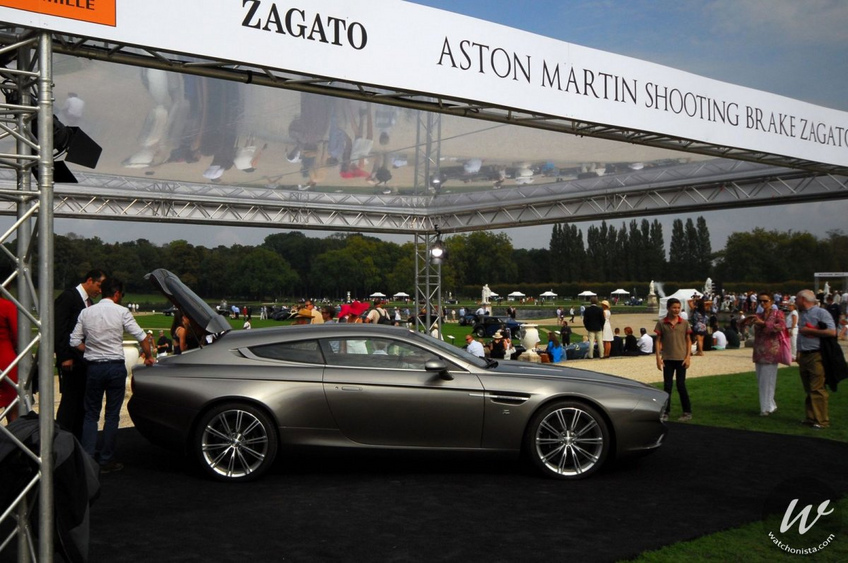 Richard Mille Concours d'Elegance à Chantilly
Keeping up with times
On the related issue of whether the new smartwatches had a future, he replied: "their service life is linked to that of the mobile phone. Let's face it; they are already here and will be useful. My only requirement is that they are ergonomic. Then, with both types of watches (one on each wrist), we will be able to reconcile the past and the present. As a businessman, I find it handy as I can receive my calls and read my emails on it directly and in real time. And if I cannot find my mobile phone, it rings. It saves me time and time is my job. I am not afraid of anything and I am not blocked by nonsense concepts. You need to keep up with times. It is just like what could happen with cars: they could be electric when driving in the city and thermal for either the road or important moments. One does not preclude the other. Life has taught me that you just need to make the most of the present and keep up with times. This is not so easy to do but it brings us greater happiness".
By
Vincent Daveau
,
Contributor
The watch passed from the table to the pocket and then from the pocket to the wrist. So, too, now, the telephone has, to a certain extent, followed the same...
By
Joel Grandjean
,
Editor-in-Chief
With the complicity of Rob Kitto, manager of the Richard Mille boutique in Geneva, Watchonista is shooting one of the rarest Richard Mille pieces, his...