BASELWORLD 2017: Longines introduces two new additions to their Heritage collection
At this year's Baselworld fair, Longines added two new pieces to their Heritage line.
First, the new Heritage 1945. The 1945 was inspired by Longines pieces made during the 1940s. Longines isn't shy to admit that their main motivation behind this piece was a vintage piece they saw in blogger Ben Clymer's collection. I noticed a few modern enhancements over the inspiration piece. For instance, the case size has been increased to 40mm and Longines added a beefier L609.3 automatic movement.
A dial that brings the past to present
The piece features a lovely salmon brushed dial that really gives the piece a vintage look. As you may know, lightly colored dials (i.e. salmon color) were all the rage during the mid-forties, but the trend fell out of favor in the 1950s. The trends may have changed over the years, but Longines chose the right time to release the 1945. The piece has been well received at the Baselworld fair, especially since heritage reissues are a big theme of Baselworld 2017.
The new Heritage 1945 will be available in stores soon, and pricing will be approx. $2,000USD.
The Longines Heritage 1945
Flagship Heritage – 60th Anniversary edition
Moving on to the flagship heritage novelty. This new unisex (in my opinion) piece was made to commemorate Longines 60th anniversary of its first flagship collection. Longines found inspiration during a recent manufacture visit by brand ambassador Kate Winslet. When Kate was on-site, she spent some time in Longines' vaults searching for inspiration. She came across a piece made in 1957 and afterwards, Longines designers got to work to create the piece you see here.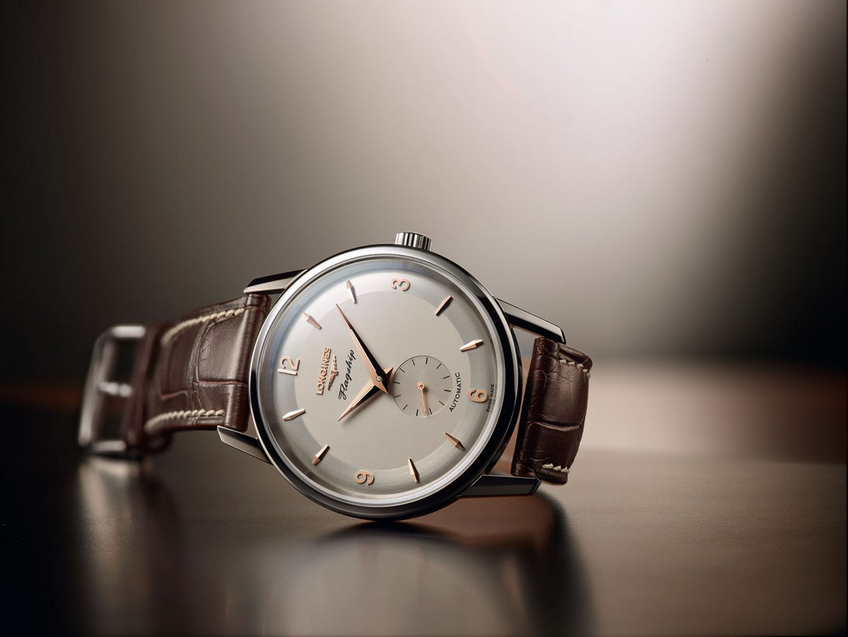 The Longines Flagship Heritage – 60th Anniversary Edition
Additionally, Longines added respect for female collectors with the addition of a L609 mechanical movement to the piece. Watchonista's editors have noted that mechanical women's pieces are on the rise, and let's hope this is the beginning of more to come. The piece is available in steel, yellow or rose gold.