The Future Is Female: Four Watches for Women Who Love Haute Horlogerie
The Future Is Female: Four Watches for Women Who Love Haute Horlogerie
What do women want when it comes to watches? It's a complicated question because not everyone needs the same thing: some ladies prefer diamonds, others like small lightweight timepieces. And the market certainly offers plenty blinged up, scaled-down models with quartz movements.
But for women watch obsessives who value the inner beauty of the mechanism as much as they do the outside appearances, the pickings are much slimmer. Sure one can always borrow or buy a complicated men's watch (note the current trend for so-called "boyfriend watches") but brands are recognizing that more and more women clients are getting into high end mechanical watches, and are sensitive to the fact that a boyfriend alone can't meet all of their time telling needs.
The Status Symbol: Breguet's Tradition Dame
Women were the first to wear wrist watches. Breguet, for example, introduced the Reine de Naples in 1810. What's changed recently, however, is the demand for more complicated ladies' watches.
Breguet Tradition Dame 7038
In the last three to four years, says Breguet's CEO Marc A. Hayek, the segment of ladies' watches within the company has increased from 20 percent of the overall sales to 35 percent today. Part of that jump is coming from a growing acceptance and even demand for mechanical movements in women's watches.
"We had seen before in many markets where we had customers who said, 'I love the watch, but I would like a quartz," says Hayek, "China was actually the country where they said the opposite: "I like the watch, but it needs to be mechanical."
Breguet Tradition Dame 7038 caseback
Women are now more active and visible as men in business, sports, and society as men. They have the buying power to invest in a $10,000 plus timepiece, they want it to have the power that that watch can project. And Breguet's Tradition Dame is a watch that will make people lean in and take notice of that status. Introduced at Baselworld 2017, it is the first ladies watch in the Tradition collection, with a 37mm rose gold case decorated with diamonds and an engine turned mother of pearl dial. That dial is cut away so you can admire the mechanism of the 38 jewels, self-winding movement with retrograde seconds.
By Women for Women: Audemars Piguet's Frosted Royal Oak
Of course women know what women want. Which is why we are so excited by Audemars Piguet's Frosted Royal Oak. This gorgeous watch, launched at the very end of 2016, is a reinvention of watch designer Jacqueline Dimier's first Royal Oak for women, introduced in 1976. That model was ground-breaking for its time because there were not a lot of sporty watches for women at the time.
As the women's Royal Oak celebrates its 40th anniversary, Audemars Piguet unveils the Royal Oak Frosted Gold © Audemars Piguet
We spoke to Chadi Gruber, AP's Head of Product Development, about why it was important to inject a feminine sensibility into one of the most iconic watches in the world. Gruber says that part of it is due to changing tastes — for example, throwback timepieces are a big trend for both men and women. This new model, created in collaboration with Florentine jewelry designer, Carolina Bucci, updates the classic Royal Oak with a Florentine finish (a texture created by hammering the surface with a tiny hammer) rather than diamonds to create a sparkling but not too girly effect.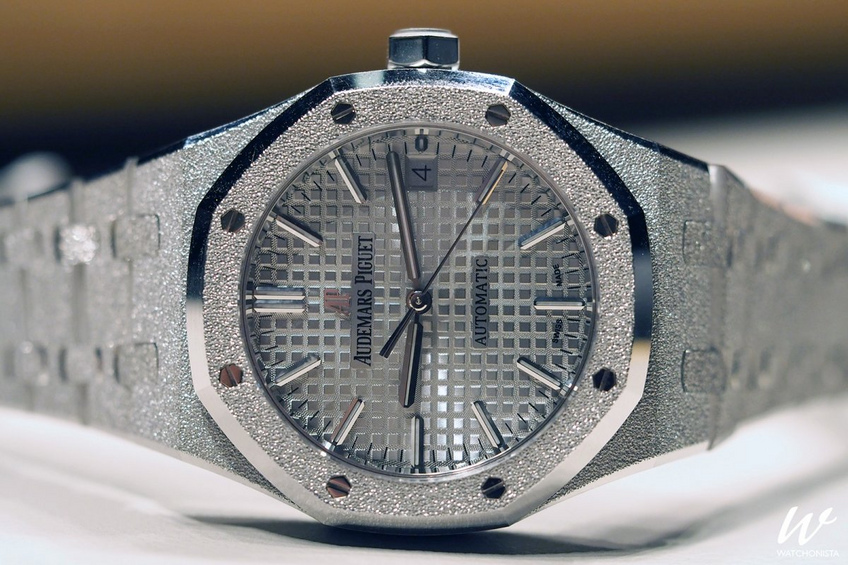 The new Royal Oak Frosted Gold in collaboration with jewellery designer Carolina Bucci
Sometimes one has to make concessions between size and performance. "The 33mm is powered by a quartz movement in order to keep harmonious proportions between the thickness and the size of the case," says Gruber. But if you are spending over $50,000 on a watch, snobs like us also want something beautiful beneath the surface. The 37mm is a nice size and is powered by APs trusty automatic caliber 3120.
"Audemars Piguet regularly expands the women's collections with new models every year, and will continue to do so," he adds, "The collaboration with Carolina Bucci is not over so keep your eyes open in 2018."
A Tribute to Herstory: Bremont Solo-32 AJ and Bremont Solo-32 LC
When they launched their first pilot watches in 2002, British watchmakers Bremont had no plans to make women's watches. Says co-founder Nick English, "We are predominately a male brand but we found out that quite a few women have our watches."
For the most part, says English, "women were just as happy to wear a 43 mm watch but others were telling us " we love your watches but do you have anything smaller?" Always willing to rise to a challenge, English and his brother Giles tried to work out how to make a smaller watch that had the same integrity as the rest of the Bremont collections "There are a lot of jewelry brands," says English. "So we were not trying to do a fashion watch. We wanted to do a practical watch that women can really use. But it still had to look great."
The solution was to not overthink things. To get the watch size to 32 mm, Bremont simply made the watch faces narrower and the cases thinner to make the silhouette smaller. There are also only two watches in the women's collection: The Bremont Solo-32 AJ and Bremont Solo-32 LC. While neither are super tricked out with complications, these both feature slightly modified versions of Bremont's chronometer-rated BE-36AE automatic movement with 40-hour power reserve.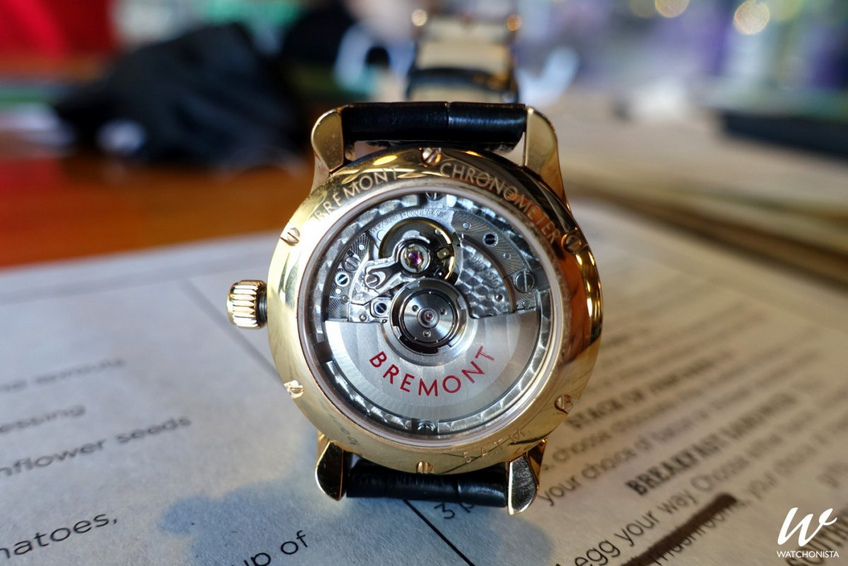 Bremont Solo-32 LC rose gold caseback
By the way, the Englishes are noted aviation buffs and the watches are named after two of their childhood heroes: Amy Johnson, who flew her DH-60 Gypsy Moth from England to Australia in 1930. and Lettice Curtis, a WWII pilot.
Equal Time: Oris Artelier Grande Lune
For men and women alike, at the high end of horology, watch snobs want the same thing: mechanical movements. Which is one reason that Oris is a favorite amongst the cognoscenti: The Swiss brand only produces wind ups.
We talked to Rolf Studer, joint Executive Officer for Oris, about the way both genders value the watchmaker's art. "Wearing a mechanical watch is an expression of your style," says Studer. "In fact, the first thing I noticed about my wife was the vintage Breitling she was wearing."
Oris Artelier Grande Lune Date © Oris
Studer also notes the current craze for heritage watches. "Women watch buyers want something genuine, things that feel authentic," he says. "For someone with these values a real watch is a mechanical watch."
If you visit Oris' website, you'll see that they don't distinguish between men's and ladies' collections. Still, says Studer, "a lot of women do see a distinction between gents' and ladies' watches." A favorite complication amongst the female clientele is the classic moon phase such as Oris' 36 mm Artelier Grande Lune. Another Baselworld 2017 introduction, this classic watch also holds the distinction of having a moon phase indicator that turns in the correct direction.
The Oris Artelier Grande Lune Date set with 72 brilliant-cut diamonds into the bezel © Oris
Studer says that he sees brands continuing to carve out a niche for female collectors. "More complications will be seen," he says, adding that Oris is working with materials to create mechanical watches that feel lighter and movements that work in smaller cases."
"Women want classic horology," says Studer. "Exciting things are coming up."