Time and Space, a conversation with Stephen Forsey
We sat down with Greubel Forsey's Stephen Forsey to talk about their newest launch, the Balancier, and building bridges between art, technology and accessibility.
Robert Greubel and Stephen Forsey are always surprising the watch world with their inventions. When they met as young watchmakers, they specialized in developing complicated movements. They launched their manufacture Greubel Forsey at Baselworld in 2004 with the DT30° Vision/Secret which featured a 30° inclined tourbillon cage rotating once per minute inside a separate cage rotating once every four minutes.
Greubel Forsey Signature 1
And at SIHH 2017, the company introduced five innovative new timepieces: The Grande Sonnerie— a chiming watch with a goof proof reset that is also water resistant to 30 atm; updates in the form of the Tourbillon 24 Secondes Edition Historique, the Tourbillon 24 Secondes Vision, and the Signature 1; and a second edition from the Art Piece collection.
Greubel Forsey Tourbillon 24 Secondes Vision
Here's the surprise: one month later, Greubel Forsey introduced a sixth watch — the Balancier— at Baselworld 2017. We met with co-founder Stephen Forsey at the historic Three Kings Hotel in Basel to talk about how this time only (plus power reserve indicator) timepiece was born.
Greubel Forsey Balancier
Watchonista: Greubel Forsey is celebrated for your tourbillon-driven, handcrafted complications, why introduce a simple four-hand piece?
Stephen Forsey: M. Greubel and I started out as young watchmakers working on super complicated watches. This time we wanted to create a piece that was smaller, slimmer and time only. To challenge ourselves to create something that was very essence of what we do as watchmakers.
W: The Balancier is stirring up a lot of interest from collectors. Do you think there's a swing in popularity from big, super complications to more minimalist watches?
SF: Everything goes in cycles so it's a natural reaction to that. But we are all driven to consume so for collectors it's also about exploring and discovering new ways of telling time.
Greubel Forsey Balancier
W: You have been quoted as saying it's also an accessible watch. What do you mean?
SF: Before the Balancier, the Signature 1 was our most accessible watch. Or rather our least inaccessible watch. But accessibility is about more than price or a watch being a limited edition. We want people to wear them.
The challenge is to show where the value comes from. For example, it's the 21st century and we want all of our pieces to be water resistant to protect our collector's investment and our work.
Greubel Forsey Balancier
W: The Balancier is very comfortable to wear. How did you approach the design?
SF: For M. Greubel and myself, every time we add a piece to the collection, it must be a testament to the all the skills we have today. This includes the design and finishing.
The Balancier is slimmer but we still wanted it to have a three dimensional feeling. So we opened up the dial to show the balance wheel (Balancier is French for balance wheel). We put in a window on the side of the case so you can observe the mechanism, and in the back, you can see the art of finishing with this engraved text that features our philosophies. A watch should look engaging. Sooner or later the collector will have these moments where they see more details unfolding.
Greubel Forsey Balancier

W: What's the next surprise from Greubel Forsey?
SF: The Mechanical Nano watch. In the history of time measurement, watchmakers have always had the problem of space.
Right now it's a prototype but we hope to put into production within the year. It features a gear train and regulating system that use a fraction of the space, components and energy while providing a 180-day power reserve.
With Nano Mechanical we can be better watchmakers and maybe even discover new things that we weren't looking for. The art of invention is our raison d'être.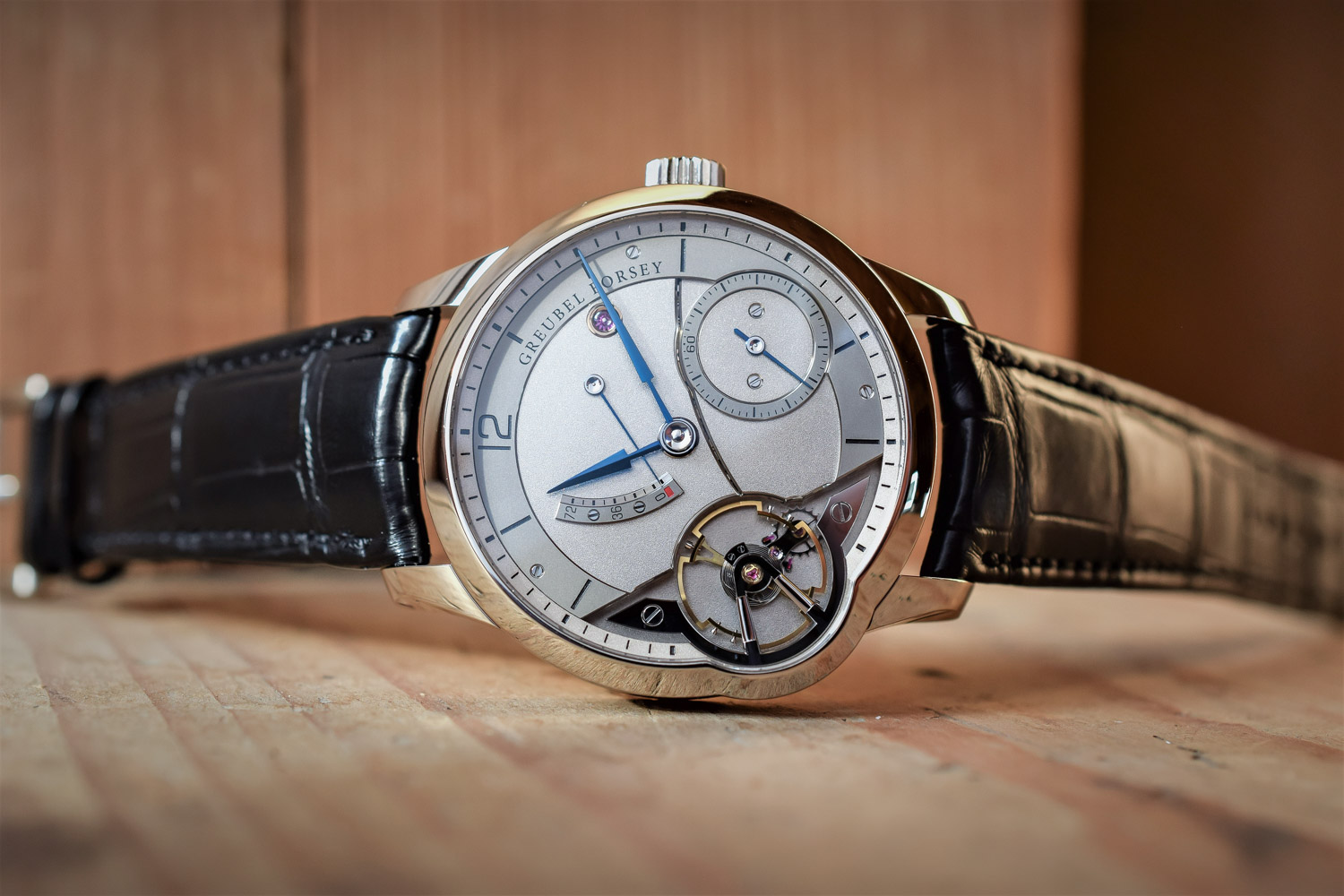 Greubel Forsey Balancier © Monochrome Watches
By
Eric Othenin-Girard
,
Specialised journalist
Watchmaking is a curious and wonderful world. You meet exceptional people and see fantastic creations. Here is a joint interview with Robert Greubel and...
As the latest addition to the family of Greubel Forsey timepieces, the "Balancier" perfectly embodies the watchmak- ers' fundamental principles. It is a...