The new face of the ascetic Museum Watch
Movado's Museum Watch, a cult piece from 1947 with a minimalist design, had never before known such a profound reinterpretation as the one by Yves Béhar. The industrial designer and specialist in connected devices renamed it Movado Edge.
The baffling simplicity and evocative force of the Museum Watch's dial made it the legend it is today. A clear disk at 12 o'clock displays the sun on an otherwise totally dark dial. The Bauhaus-style first design by American industrial designer George Horwitt in 1947 made a good impression and gave the piece a very streamlined look. The watch was selected to join the collections of the Museum of Modern Art in New York, which earned it its name. The first prototypes of the Museum Watch were the work of Vacheron Constantin - LeCoultre. Well aware of the value it held, the producer filed for an American patent that was published in 1958 and which was sold to Movado some years later for around $29,000.
In 2015, Swiss-American designer Yves Béhar used the watch's codes to create its contemporary alter ego – the Edge. The industrial designer and specialist in connected devices, such as the Jawbone strap, explained the watch's creation process and suggested some ways for traditional watchmakers to reinterpret watches as digital pieces.
How do we go about redesigning a legend of watchmaking design?
I do agree that the Museum Watch is legendary and that it is the very embodiment of 20th century watches. Very few of the watches we find in art museums have had at the same time a minimalist and traditional look. I felt thus at the same time anxious and exhilarated. So, I started by focusing on the emotions the original model provoked and went on to imagine the ones its modern equivalent would inspire.
The strength of the Museum Watch lies in its simplicity. How did you develop an idea with so few elements to work with?
It's simple – I wanted it to be even more minimalist! A watch is made of several components, indexes and symbols that together define the identity of the model, and even the brand. I wanted to gather all these elements and put them together in only one component – the dial. I also opted for a concave dial for a three-dimensional look.
The dial's "vulcano" shape also makes it reflect the light differently and more deeply than a flat one.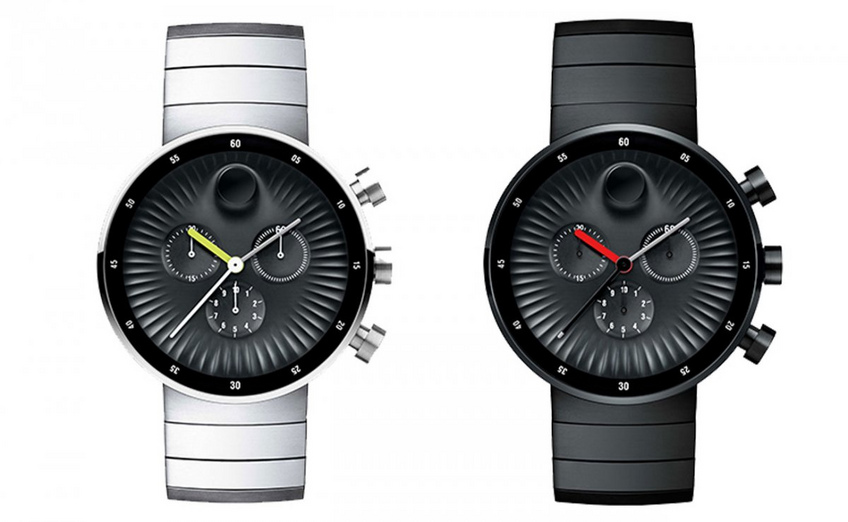 Movado Edge Chronograph models
You live at the heart of Silicon Valley and partake in many projects related to connected devices, how do you think traditional watchmakers should approach smart watches?
So far their reactions have been purely emotional and they haven't tried to understand the new functions and new horizons introduced by connected devices. Watchmaking has a lot to add in terms of manufacturing, material expertise, ergonomics and commercialization, and that needs to be exploited. Today, watchmakers mainly produce either traditional watches or pure smartwatches. And yet, somewhere in between the two there are a myriad of unique possibilities that can be developed. For example, electronic functions connected to services or telecommunications, which are not being utilized to their highest potential nowadays. In fact, watchmakers have so far only tried to hide smartwatches in luxury watches.
How can these new functionalities be developed?
Discretion and subtlety are necessary to preserve the watch's creativity and artisanal dimension.
Even now, it is believed that watches lose something when a technological function is added. Personally, I think that this is the wrong approach. I believe watchmakers should start thinking about smart ways in which these two worlds can complement each other to serve users. But to get there, they will need to be creative, find the right approach and produce their own references, something that is still not happening today.