Interviewing an Icon: Billie Jean King Talks Tolerance, Time, and What It Feels Like to Be Played by Emma Stone
As the exclusive timepiece sponsor for the upcoming movie Battle of the Sexes, Citizen celebrates equality by having Watchonista contributor Barbara Palumbo sit down for an interview with tennis idol Billie Jean King.
On September 20, 1973, a nearly 30-year-old professional tennis player stepped onto a court in the middle of the Houston Astrodome and in front of 30,492 fans eviscerated a fading 55-year-old tennis star in three straight sets: 6-4, 6-3, 6-3. This made international news because the losing player was a flamboyant and blatantly chauvinistic man – former Number 1 seed Bobby Riggs – but even more so because his opponent was a woman nearly half his age; grand slam-winning tennis champion Billie Jean King.
The Battle of the Sexes (as the match was dubbed by media and fans) is written in the history books as one of the most famous tennis matches played in history.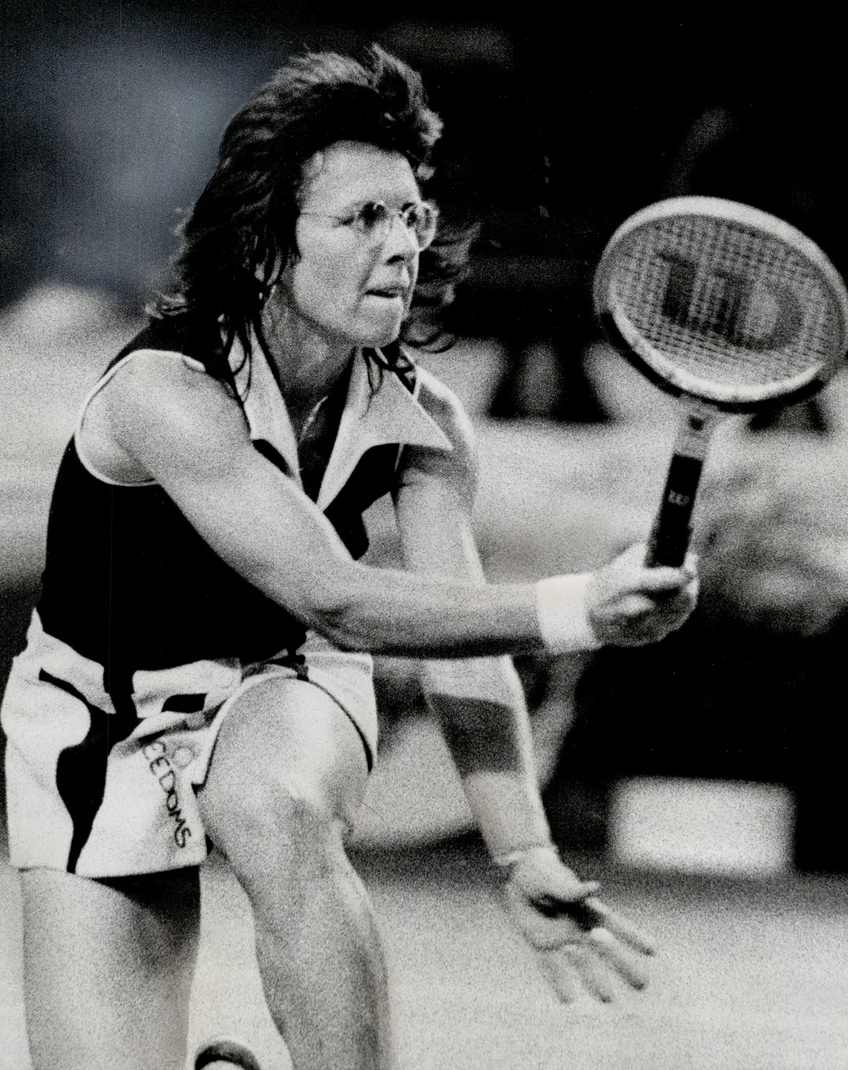 Billie Jean during a competition
The '70s was a critical time for the Women's Liberation Movement in the U.S.
With the Equal Rights Amendment passing both houses of Congress in 1972, Billie Jean King became a beacon of hope for women in search of their symbol of equality.
While I was merely a newborn at the time the match was played, I grew up a child in inner-city Philadelphia during the '70s and '80s and knew full well the part that Billie Jean King played in the fight for women's equality. As I grew into a working adult in an industry largely dominated by male executives (and often plagued by discrimination), it was the stories of women like Billie Jean King – women who stood their ground, stayed the course, yet did so with grace and poise – that empowered me, allowing me to persevere and stay focused on the tasks at hand. So, when I was asked to interview Ms. King in Flushing, New York a couple of weeks ago for Citizen's promotional video in correlation with their partnership, I knew there was no way I could turn down the opportunity.
I currently don't live anywhere near New York City nor have I ever attended an event – the US Open or otherwise – at the USTA Billie Jean King National Tennis Center, but I'm a big fan of the game and recognize the importance of the facility. Prior to the interview, I had a chance to tour the Citizen lounge inside of Arthur Ashe Stadium and look over the arena where in just three weeks the game's top players will compete for their share of the $50.4 million-dollar pot, and a chance at their first (or next) Grand Slam title.
When the time came to sit down with Ms. King, I felt all my nervousness fall away, replaced immediately by feelings of comfort and familiarity. This was a woman so many of my friends and I looked up to and still do.
Her voice, her smile, and her embrace felt very much like home
The first question I asked on behalf of Citizen was what her reaction was when she heard that a major Hollywood studio wanted to tell the story of her legendary match with Bobby Riggs. The movie (aptly titled, "Battle of the Sexes"), stars Steve Carell as Bobby and Emma Stone as Billie Jean King, and is scheduled for release on September 22nd of this year. Ms. King's response was nothing short of genuine: "I was really surprised when I first found out that someone was interested in doing The Battle of the Sexes. And when we asked Danny [Boyle – the movie's producer] who should play me, he said 'Emma Stone,' and I went, 'EMMA STONE? Are you KIDDING? She's amazing!'" When I followed up by asking if she thought a "Battle of the Sexes" could be replicated today with the same interest as it was when she and Bobby Riggs squared off, her response was simple, but direct. "It wouldn't be the same," she said. "I think everyone – whatever era you're born in – your frame of reference is different."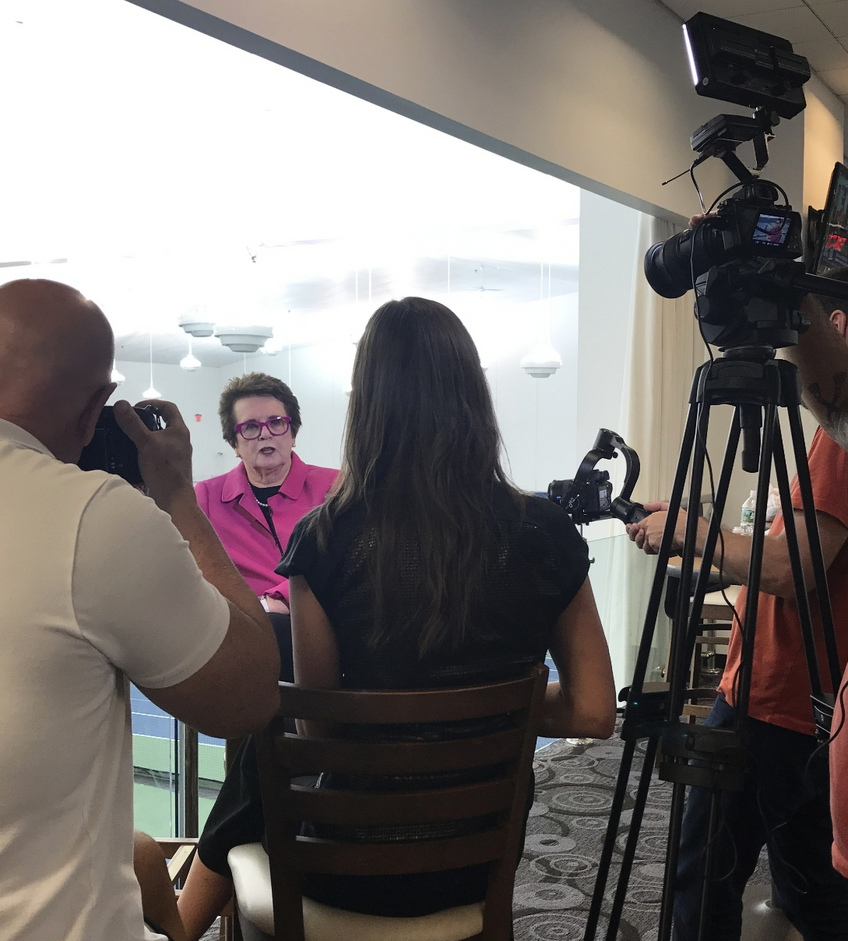 Billie Jean interviewed by Barbara Palumbo
Equality and the Billie Jean King Leadership Initiative were also topics of discussion. When I asked if she thought that young women of today understood the struggles of prior generations of women, Ms. King replied, "I can't expect them to come into this world and have the same experiences I had or my generation had, but equality is SO far away."
It's really important that the younger people be committed to advancing equality, and that means equal rights and opportunities for all; for everyone.
According to Citizen, the brand's involvement with King's initiative brings to fruition its partnership with the world of tennis and its efforts in engaging younger generations. Citizen is the exclusive timepiece sponsor for the Battle of the Sexes feature film and will celebrate its 25th year as the official timekeeper of the US Open Tennis Championships this year.
When asked what she loved most about working with Citizen and the Citizen watch she wears, Ms. King said that the brand stood for what she cared about: "innovation, environment, and the Earth." She went on to state that she loved the fact that Citizen was concerned with those things because in her words, "the environment belongs to us, and I want to make sure that it belongs to future generations."
One of the last questions I asked Ms. King before we parted ways was more of a personal one; one that hit home for me and that likely hit home for her, too. I wanted to know what advice she could give women like me – women who work in fields largely dominated by men and who often come up against discrimination or even harassment within those fields – should we find ourselves in situations that are unjust. And her response was one that consisted of three simple words forming one perfectly eloquent sentence; words that together are certain to ring in my head for many years to come...
"Have a voice."
She added, "That's the best thing I can tell you to do if you are dealing with these issues in the workplace. Have a voice. And have a voice that's so loud, you're willing to be fired over it."
Citizen has released a video with portions of the interview which can be viewed below:
Visit Citizen's Partner Page
By
Rhonda Riche
,
Editor-At-Large
Japanese brand Citizen has found a niche between smartwatch and smart-looking watch that brings satellite technology to your wrist.