Baselworld 2016: interview with Xavier de Roquemaurel, cofounder of Czapek
Master watchmaker François Czapek was not only contemporary, fellow countryman and first partner (in Switzerland) of Norbert de Patek but he also produced complicated watches for prestigious clients. His name was revived in late 2015.
Xavier de Roquemaurel, what times are you experiencing?
Why do we even bother to think that we have a choice? The past is dead, the future does not exist yet; we can only live in the present! And by showing appreciation for the present, we give our best.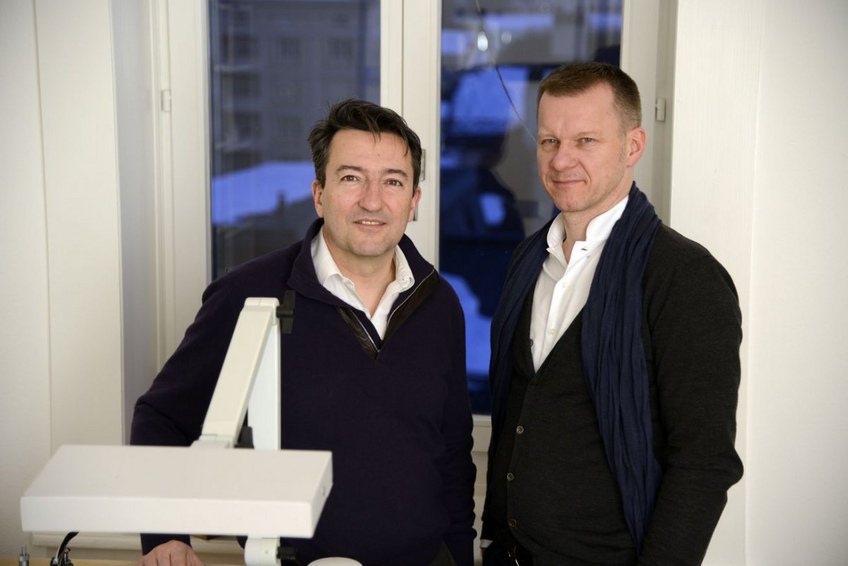 Harry Guhl & Xavier de Roquemaurel, co-owners of Czapek
Which of the watches in your collection has been most prominent in your recent communication?
It is the pink gold "Quai des Bergues No 33" that features a Grand Feu enameled dial. It is an outstanding watch that truly illustrates that we had to almost time travel to design a piece that corresponded to what we imagined the original piece – reference 3430 from 1850 – would have looked like had Czapek designed it in 2015.
What "watchmaking technology" have you discovered recently that you will never forget and that you would like to share?
Delving into the beauty of the minute repeater's mechanism and specific geartrains –unfortunately, rarely visible –has been like a voyage of discovery. It is also one of the complications that best expresses the poetry of time.
What will be your most important pieces in 2016?
We must first promote the "Quai des Bergues" collection and integrate it in the watchmaking "landscape". Thus, we have introduced at Baselworld new reinterpreted versions of the pieces we introduced in Geneva back in November 2015, like the new finish of the hands and the case of the Fleur de Lys. The most captivating change is the work we did on the secret signature concept of the Grand Feu enameled dial. The secret signature was transformed into a secret sentence that only experts will be able to see and know how to reveal by bouncing a sun's ray in the dial. Each dial will have a unique sentence chosen by its owner. The piece we introduced at Baselworld 2016 had one of David Bowie's legendary quotes inscribed, as a tribute to him.
What element would you like to pass on to horological history and to posterity?
When the first Czapek watches are worn by our clients for the first time, between November 15 and December 15, 2016.
What watch did you wear during Baselworld 2016?
The Design Study chronograph by Czapek. It was created in 2013, available in a limited series of very few pieces and equipped with a Valjoux caliber from the 1970s. The money we got from selling this watch provided us with financial support and helped us understand what stylistic and horological choices we should make. It was thus a very important piece in the preparation of the brand's return.
Besides Baselworld, what other high points will you experience this year?
We will reveal a new model in Geneva this autumn, to perpetuate this budding tradition where Genevan aficionados are given the opportunity to discover our brand's models.
By
Joel Grandjean
,
Editor in Chief
To this day, Czapek watches are much sought after objects by major collectors. Three young entrepreneurs have just breathed life back into the old legend....
Collectors and lovers of fine watchmaking can rejoice. On November 10, 2015, François Czapek, one of the great figures of nineteenth-century watchmaking, will...