Independent watchmakers at the Casino tables
A bevy of well-known industry members, and several newcomers, shared their views and passions for beautiful watches at the SIWP in an atmosphere exuding dynamic communication. Some of these bands fly below the radar…
There are only fifteen of them. Fifteen little brands led by as many passionate individuals, who are showing off their wares during the week of the SIHH under the banner of the SIWP, Swiss Independent Watchmaking Pavilion. To find them, however, you have to first squeeze by two rows of one-armed bandits, file along a bunch of playing tables and take in a final flight of stairs.
Tourbillons and jumping hours
"Exhibiting in a casino is quite a symbolic thing for watchmakers," says Antoine Preziuso, the boss of the eponymous brand. The backdrop is not really surprising for Amarildo Pilo, president of the two brands Pilo and David van Heim, the man behind the initiative. The man whose watches command the top of the stairs from a dedicated display case is already an exclusive partner of the Partouche casinos and has been organizing similar shows in Asia since 2012." Exhibiting in a casino is done in China and the USA, so why not in Switzerland?" Tourbillons and jumping hours were ubiquitous at the first show, which opened its doors Sunday night to the languid strains of a saxophone. ubiquitous. The atmosphere is warm, the framework intimate and the display cases are easily to access and invite the visitor for a closer look. The air is redolent of passion and the love of beautiful watches. Here, it's the watchmakers themselves who promote their brands, relying on the quality and originality of their work rather than elaborate marketing plans that they would probably be unable to finance in the first place.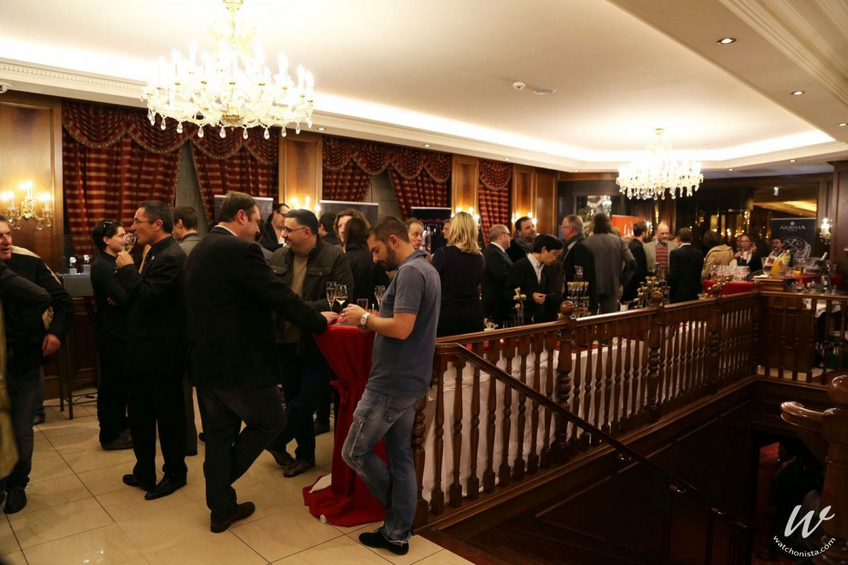 SIWP opening at Casino de Genève
There are some well-known names, like Kari Voutilainen, who clinched a prize at the Grand Prix d'Horlogerie de Genève, or Vianney Halter, who also picked up a prize for Best Watchmaker Designer in 2011, and returned to the stage in 2013 for the Innovation Prize. Other watchmakers are exhibiting as well, ones whose creations have found a faithful audience for a few years already, like Revolution, or Peter Tansiman.
"We have to offer new complications"
The show is populated with watchmakers busily manipulating their watches to elucidate all the technical details for their visitors. There is Ludovic Ballouard, for example, with his eloquent ponytail and wearing trademark round glasses with a thick frame, which make him look a little like Le Corbusier. He is displaying two pieces, the Upside Down, launched in 2010, and the Half Time, which dates to 2012. Both timepieces feature a surprising index design. On the Upside Down, the actual hour is the only index that is right side up and is indicated by a little dot.All other indices appear upside down, which is what gave this unusual timepiece its name. On the Half Time's dial, two discs turn in opposite direction. One carries the lower half of the numerals, the other the top half. The two are brought together in an aperture at 12 o'clock to indicate the time, in combination with a retrograde minute display. "When you are an independent, you really have to offer new complications in small series or in unique pieces if you want to attract viewers," Ballouard explains, a watchmaker who cut his teeth at François-Paul Journe and now boasts twenty-five points of sale world-wide.
Some newcomers are also on tap, like Rexhep Rexhepi, who launched the brand Akrivia two years ago."It is ancient Greek for 'precision,'" he points out. He also trained at François-Paul Journe's after apprenticing with Patek Philippe. But he always dreamt of being an independent. Since 2012, he has been making his own components and assembling them, regulating the timepieces and even putting them into cases. He is only 27, but he has already produced a dozen pieces spread out over a handful of models.One notable piece: an impressive tourbillon chronograph, with a single pusher. The dial is a little on the full side, a jumping hour with a repeater at the top of the hour on the backdrop of a mirror-polished dial, toned down with a bluish hue, all packed in a 42.5-millimeter case boasting very pleasant lines.
The Swiss franc and inward angles
Let's mention Vincent Calabrese at this point, whose jumping hours bring life to the different dial versions under a vaulted sapphire crystal. Or, what about the works of Emmanuel Bouchet, Evilard, Watche, Moya and Jean Kazès? One incontrovertible piece of evidence proving that this budding show has promise:during this first evening, there was more talk of inward angles than of the Swiss franc's new exchange rate.
By
Joel Grandjean
,
Editor-in-Chief
After going through a security check, visitors will have to find their way through gaming tables and slot machines to reach the spot where eleven independent...
In September 2015 Hong Kong is hosting the first edition of SIWP exhibition to promote independent watchmaking brands based in Switzerland in order to present...