A tribute to Breguet in the USA: horological art and innovation
The watchmaker and creator Abraham-Louis Breguet, who revolutionized the art of measuring time, was born in 1747 in Neuchâtel. He is now the subject of a magnificent retrospective in San Francisco, which will be running until January 2016.
The exhibition called "Breguet: Art and Innovation in Watchmaking," will be open from September 19, 2015, to January 10, 2016. It is situated in the California Palace of the Legion of Honor in San Francisco, one of those fantastical buildings that reflect the extravagance of the New World.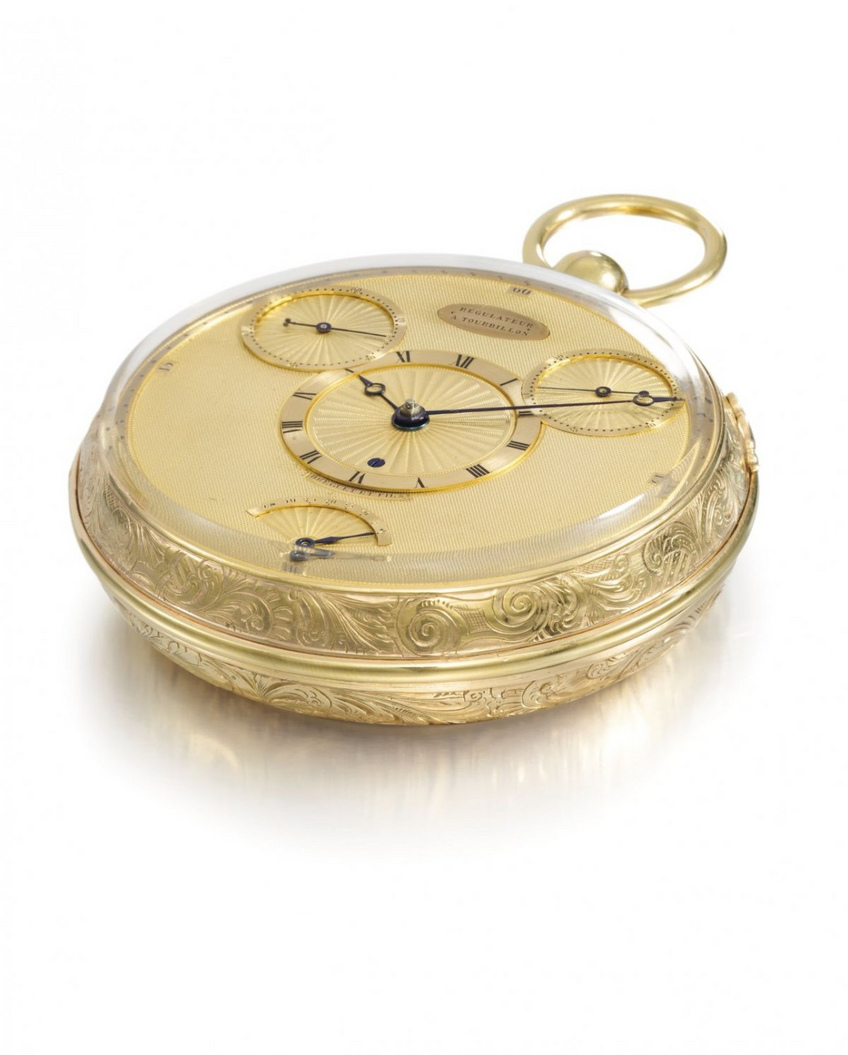 Breguet No. 1176.A Garde-temps piece with tourbillon.Engraved gold case, gold dial with Roman numerals for the hours. Three subdials, one for the running seconds (on the left), one for seconds on request (right) and a power reserve indicator at the bottom. The movement is gold-plated with a half-plate, 24 lines (50.88 mm) with inverted fusée construction and a natural escapement mounted in a two-armed carriage that rotates once every four minutes. Diam. 64 mm.Sold February 12, 1809, to Count Stanislav Potocki.
The legend and the reality
Any attempt at reduction is very hazardous when it comes to Breguet, especially in light of all that one reads about him, the way he is still to this day respected by the creative elites in watchmaking, be it those who guard the esthetics, the marketing gurus, or even the hermetic caste of brilliant movement designers. However, any exhibition is, in the final analysis, a reductive act, due to the inevitable shortcuts it must take, or the particular aspects it highlights On the other hand, because it does make these choices, an exhibition can be an incentive to learn more, i.e., a real opener to greater knowledge.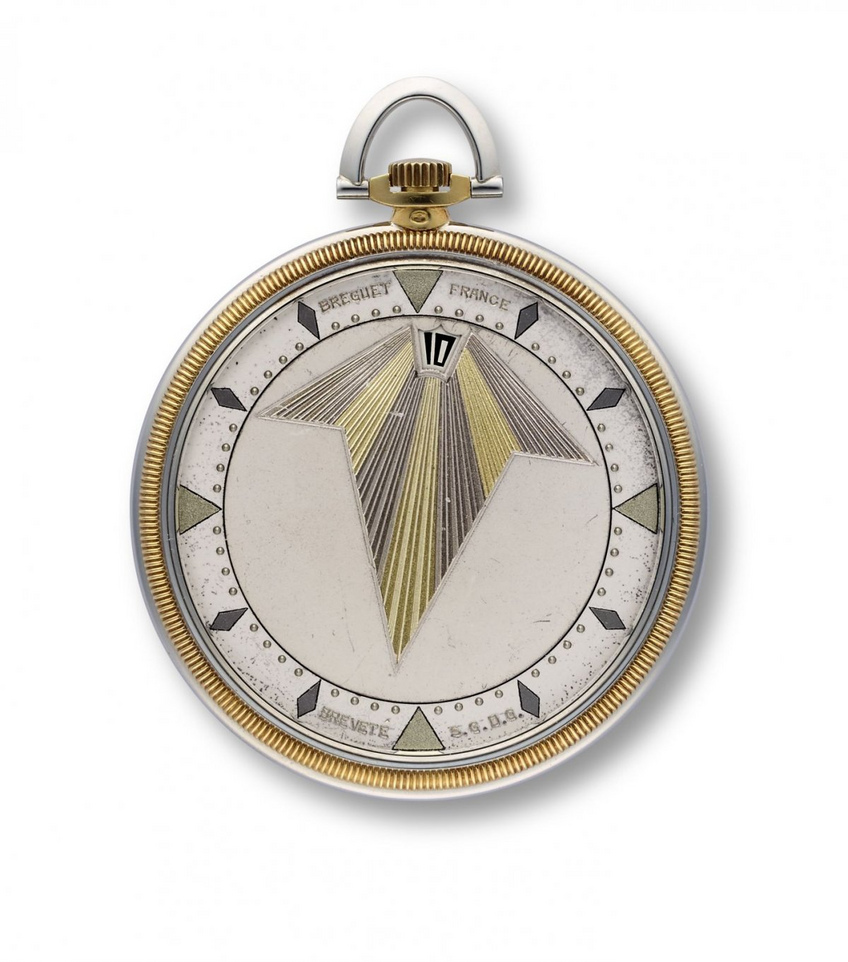 Breguet N°2290. Simple watch without hands. Brushed yellow-gold case; fluted bezel silver dial with engine-turned, platinum coated, and gilt arrow; numeral-free chapter ring; rotating dial and jumping hours appearing through aperture; lever escapement; diam. 4.4 cm. Sold May 20, 1930, to Mr. Braun
The Fine Arts Museum in San Francisco joined in a collaboration with the Breguet company to meet the challenge of organizing an exhibition of seventy pieces in the USA for the first time. "It's probably no accident that the museum decided to add this retrospective to its prestigious program," says Mark A. Hayek, President and CEO of the brand. He is very enthusiastic."Indeed, what better place than the legendary city of San Francisco to highlight these works that were most probably just as revolutionary in their day than the products imagined these past years in nearby Silicon Valley.Breguet spent a life trying out new technical solutions, new tools, new applications.He was not afraid to innovate, even if that meant raising a few eyebrows."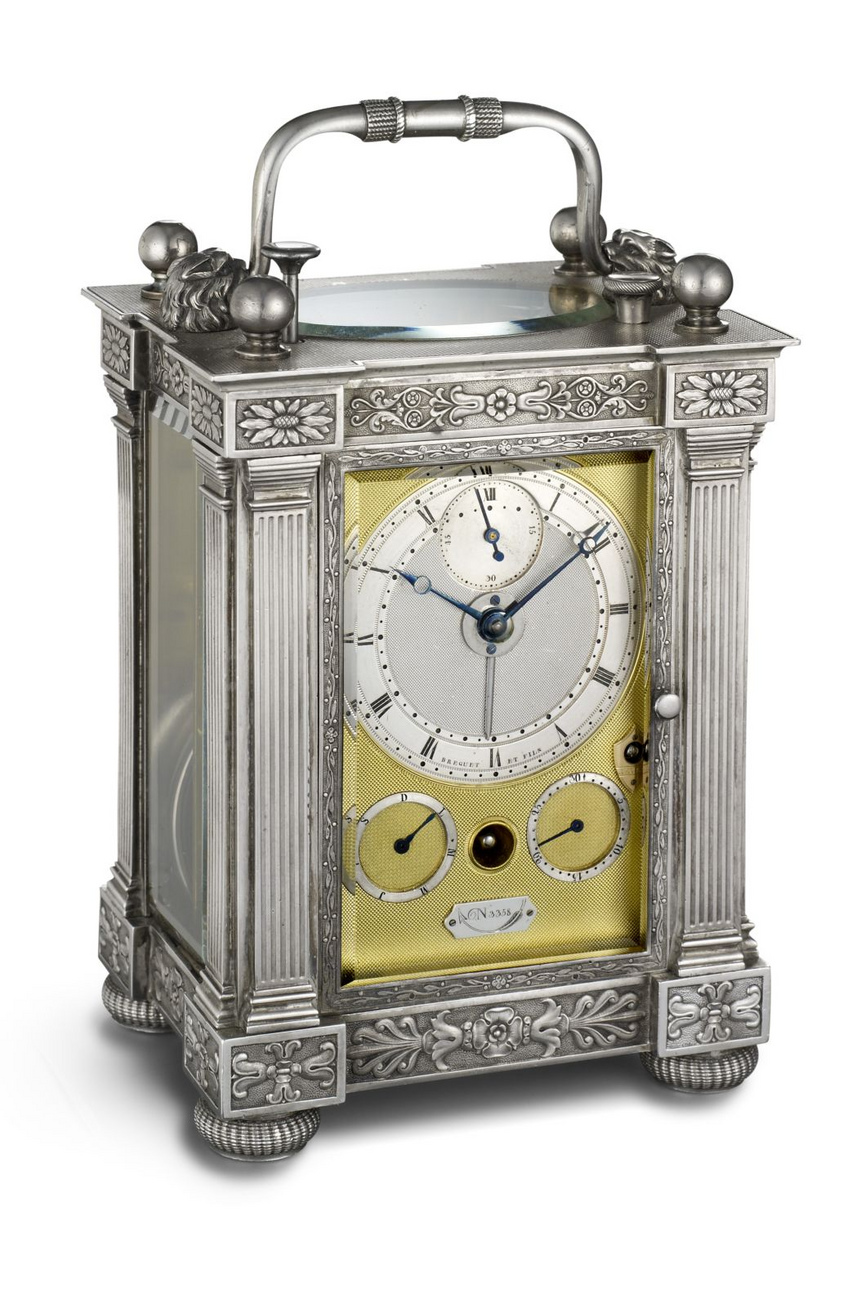 Breguet N°3358. Half-quarter-repeating travel clock. With alarm; solid silver case, silver engine-turned dial, day and date indicator, platform lever escapement, compensating balance wheel; 11.1 x 8.6 x 6.4 cm. Sold March 31, 1826, to Prince Serge Galitzin.
A work in fifteen sections
Even today, 270 years after his birth and just 240 after he set up shop in Paris, the spirit of Abraham-Louis Breguet hovers over watchmaking excellence, as witnessed by three bits of evidence, which come to mind spontaneously. First, there is those particularly shaped hands or the balance spring that bear his name, regardless of the brand that uses them. Then, there is the tourbillon, which he invented. Its revival in the 1980s allowed – and continues to allow – many companies to inject new life into their products and generate revenue streams that are hardly about to dry up. We could go even further by crediting him with initiating crowdfunding, since many of his pieces were actually sold by subscription in their time. In fact, two of the three aspects mentioned above will have their own section, part of the fifteen tableaux being arranged by the organizers of the exhibition.
Breguet N°4284. Small (médaillon) subscription watch. Gold hunter case, silver engine-turned dial, ruby cylinder escapement; diameter 4.1 cm. Sold November 13, 1824, to Count of Villoutreys.
Gallery 1 is dedicated to watches with a single hand and enamel dials. They were referred to as Souscriptions (Subscriptions), because the future owner did have to pay one quarter of the retail price in advance. These are reliable timepieces, fairly affordable and "endowed with a special movement of great simplicity, built around a central barrel spring," according to the exhibition's catalogue. The great patent of June 26, 1801, the one protecting the tourbillon, only greets the visitors at Tableau 14. By that time, you will have seen many other worlds, like that of the Montres à tact (so-called Touch Watches, Gallery 2), which allow for a haptic reading of time, watches with repeaters or perpetual calendars (Galleries 4 and 5 respectively), and Gallery 8, which is dedicated to the Gardes-Temps, literally Timekeepers, a term Breguet reserved for his most valuable creations.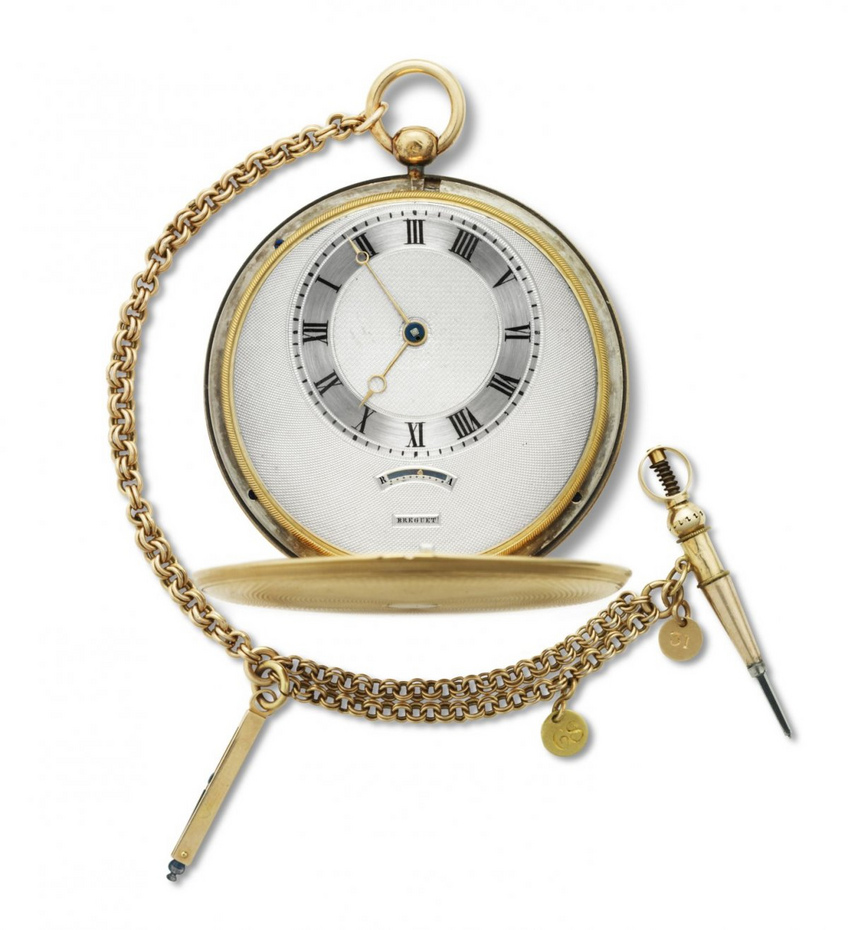 Breguet N°4375. Small (médaillon) simple watch. Made on chronometer (garde-temps) principles; gold engine-turned hunter case, silver engine-turned dial with off-center chapter ring, lever escapement; diam. 4.4 cm. Sold June 10, 1829, to Lord Berwick.
Breguet and the USA
The King's Watchmaker – the moniker Breguet boasted right up to the French Revolution, which forced him to return to his native Neuchâtel – had a very good nose for cultivating connections. During his lifetime, this allowed him to gain the kind of notoriety that was rare among watchmakers at the time. Nevertheless, in spite of his hope to conquer the USA, his roster of clients around the year 1800 only includes few Americans: Among them is general Knox, Secretary of War, who bought a minute repeater; there is a certain William R. Davie, one of the founding fathers of the United States and founder of the University of North Carolina, who went straight to the source to make his purchase, that is, to the Quai de l'Horloge on Ile de la Cité in Paris.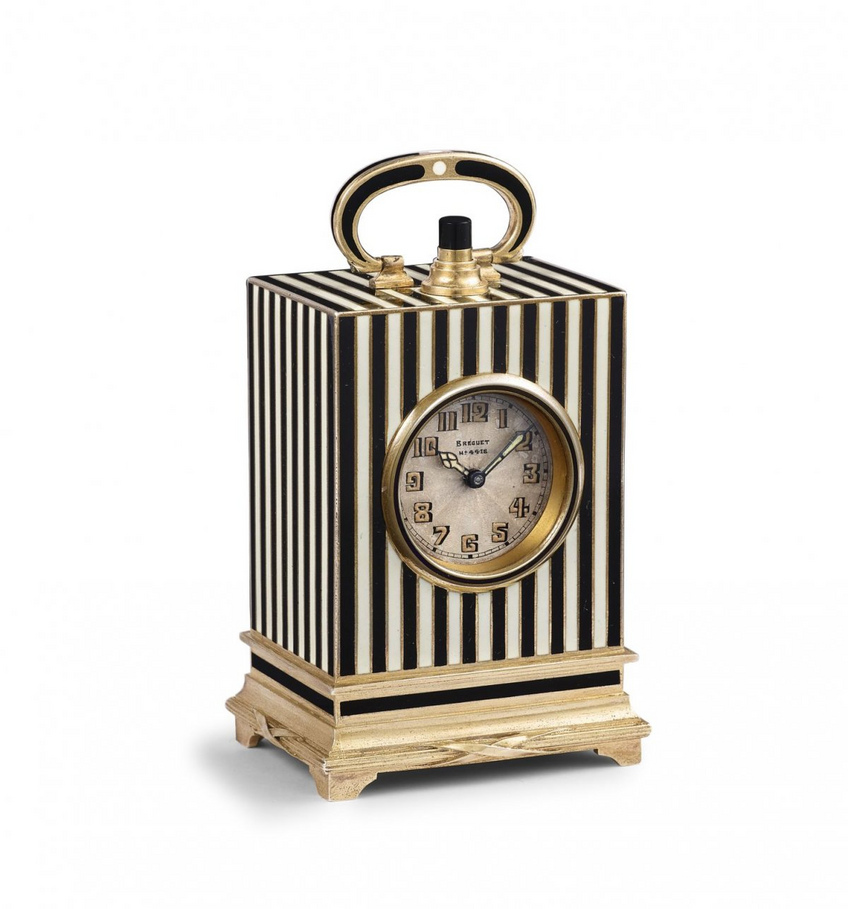 Breguet N°4418. Miniature minute-repeating carriage clock. Enameled bronze case and dial with Cubist-style numerals, eight-day movement, lever escapement; diam. 8.3 cm. Finished 1921. Sold October 23, 1943, to Mr. Jahard
When tracing Breguet's relationship with the USA, the exhibition has the merit of not ignoring the fact that the connections are fairly recent. Evidence of this can be found in the writings of one Poletica, a Russian who was a great friend of Antoine-Louis Breguet, a son of Abraham-Louis, and who traveled to the USA: "In a word, my dear Mr. Breguet, this country is a paradise […] but I think it is not yet ripe for the masterpieces of mechanical art: Connoisseurs are still lacking and consequently, too, the buyers. In a half-century, or a century, it will be different, but neither you nor I shall be around then!" Things have changed considerably since. The Breguet brand just inaugurated a salon in Atlanta in May, and now it is about to offer Americans and anyone passing through San Francisco a glimpse at some of its historical treasures. It's a genuine museum experience, humbly and faithfully built up around a legendary personality. And the cultural celebration of ever-closer commercial ties.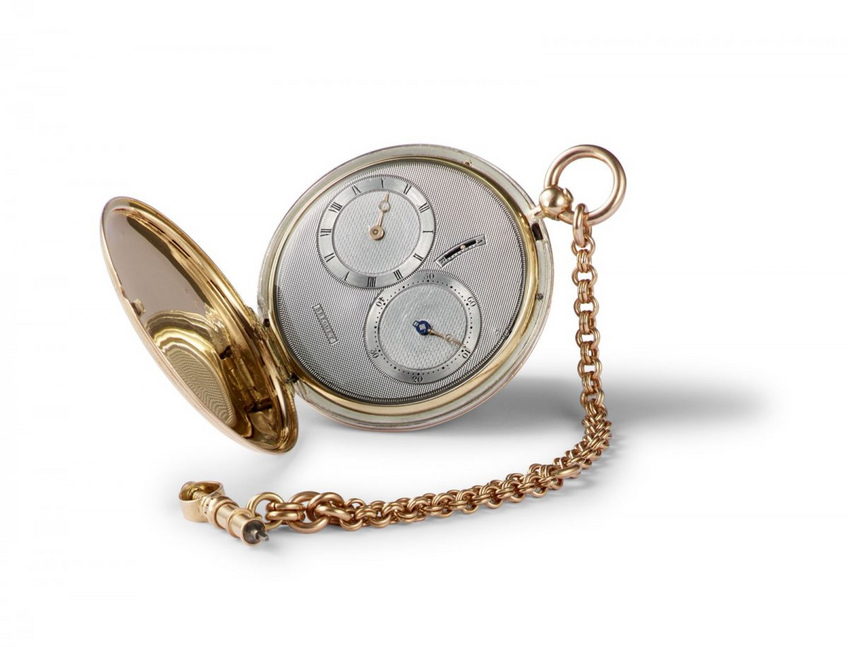 Breguet N°4420. Royal watch. Simple watch with two off-center subdials for hours and minutes, gold and silver guilloché hunting case, silver dial with gain-loss adjustment segment, ruby cylinder escapement; diam. 4.1 cm. Sold October 3, 1825, to King George IV of Great Britain.
Exhibition: "Breguet: Art and Innovation in Watchmaking,"
September 19, 2015, to January 10, 2016
California Palace of the Legion of Honor
Fine Arts Museums of San Francisco
Lincoln Park, 34th Avenue and Clement Street
San Francisco, CA 94121, USA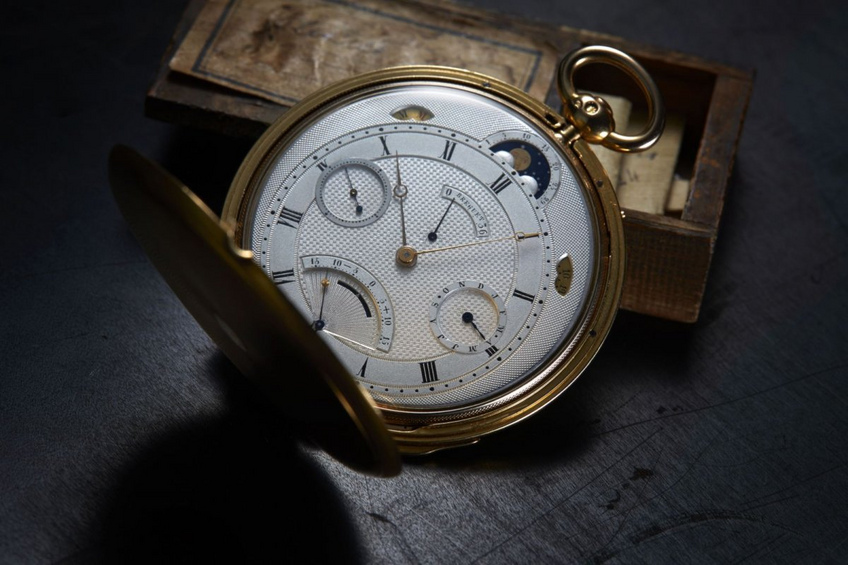 Breguet N°4691. Small, very thin half-quarter-repeating watch. Made on chronometer (garde-temps) principles; equation of time display; guilloché gold case and double case, off-center silver subdial with running small seconds at numeral IX, day of week between numerals X and XI, date between numerals I and II, number of month at numeral III, equation of time on fan-shaped sector at numeral VI, power-reserve indicator beneath numeral XII, lever escapement; diam. 4.4 cm.Sold October 13, 1831, to Lord Seymour.