Prix Gaïa 1997 – Jean-Claude Sabrier. History-Research category
He was awarded for his publications and works related to watchmaking history, particularly about marine chronometry and leading watchmakers of the 18th century.
Training
Watchmaking historian
Selected works
La montre de 1580 à 1930 (co-written with B. Seneca), Saint-Omer, 1982.
Ferdinand Berthoud, 1727 - 1807, Horloger mécanicien du Roi et de la Marine, La Chaux-de-Fonds, 1984
La dynastie dès Le Roy, horlogers du Roi, Tours, 1987.
La longitude en mer à l'heure de Louis Berthoud et Henri Motel, Ed. Antiquorum, Geneva, 1993.
Before Gaïa
From 1960 to 1980, Jean-Claude Sabrier, an expert specialized in watch collectibles, worked as a consultant at the Musée des Arts et Techniques at the Conservatoire National des Arts et Métiers in Paris, and for museums in Evreux, Rouen, Toulouse, Tours, Blois and at the Time Museum in Rockford, Illinois, USA. He was also a corresponding member of the Scientific Council of the Institut l'homme et le temps.
The author and co-author of several articles published in specialized magazines, he participated in several symposiums about time measurement while he also contributed in many exhibitions, mainly by helping to write their catalogs. For example, he co-wrote the watch catalogs of the Evreux Museum with Bernard Seneca, those of the Ferdinand Berthoud exhibitions of the International Museum of Horology (1984) and "La dynastie des Le Roy du Roi" (1987) of the Tours Museum with Catherine Cardinal, the chronometer catalog of the Time Museum with Anthony Randall, and the one for the exhibition organized by the International Museum of Horology in 1997. "Abraham-Louis Breguet 1743-1823 L'art de mesurer le temps".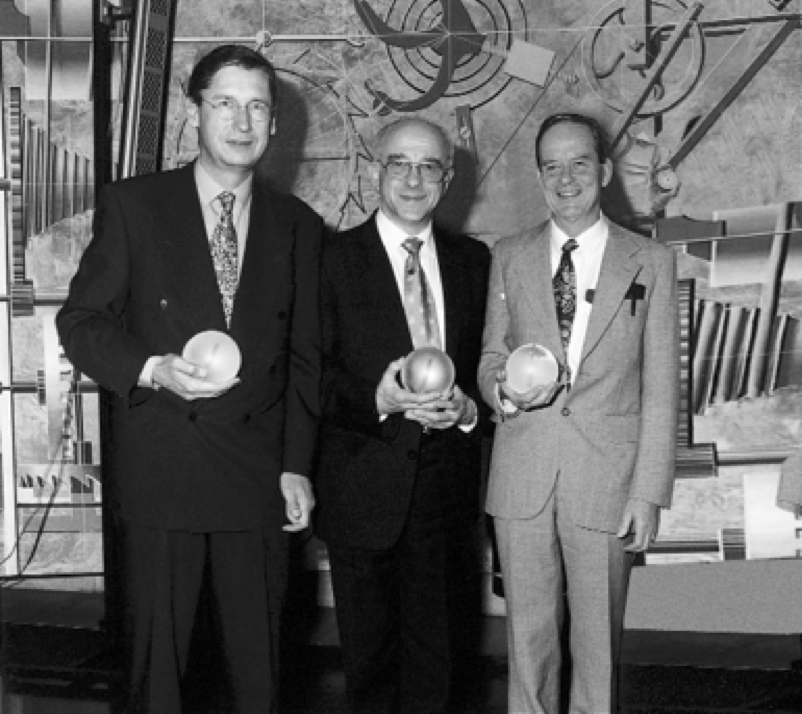 The 3 laureates : Jean-Pierre Musy, Jean-Claude Sabrier and Richard Daners
In 1980, he and Hervé Chayette organized the first specialized sales of antique horology in France. He was also the expert of the French Company of Auctioneers and lent his support to several public auction sales in Paris particularly. In 1988, he became one of the directors and experts at Antiquorum and participated in writing all the catalogs about pocket watches, chronometers, clocks and regulators.
In 1994, his book "La Longitude en mer à l'heure de Louis Berthoud et Henri Motel" won a Naval Academy prize. Recommended by the Science Academy, Sabrier was appointed the expert of the Court of Appeal in Paris, French customs and insurance companies.
After Gaïa
On August 1st, 2000, he was appointed a consultant for all the companies of the Swatch Group, specializing in historical, artistic and cultural heritage. He was also the counselor of Nicolas Hayek for the collections of antique pieces. He was one of the three authors who wrote "Sphères: l'art des mécaniques célestes" (2002), a significant structured catalog of the Kugel antique dealers exhibition organized in Paris. He also wrote the catalog for the Breguet in the Hermitage exhibition in 2004.
He was recognized for the major role he played in the development of great complications as project manager and designer for Patek Philippe.
He was awarded for his unique pieces such as astrolabe or astral pocket watches; most of his complicated watches were designed when he worked at Gübelin.