Prix Gaïa 1993 – Henry-Louis Belmont. History-Research category
He was honored for the major work he carried out on the cylinder escapement and for his precious contribution in listing the inventory of machines at the International Museum of Horology.
Training
Technician-watchmaker
Selected works
The Bulle-Clock: electric watchmaking, Besançon, 1975
The cylinder escapement: 1720-1950, Haut-Doubs, world center in the XIXth century, Besançon, 1984.
La montre - méthodes & outillages de fabrication du XVIe au XIXe siècle: de la naissance de la montre à la période proto-industrielle, Besançon, 1991.
Before Gaïa
At the end of his schooling, Henry Louis Belmont opted for business studies. However, his passion for watchmaking led him to undertake training at the national watchmaking school in Besançon. Four years later, he obtained a technician-watchmaker diploma with flying colors.
His training in tow, he started his active working life at Lip and was promoted to the position of technical manager a few years later. He worked there until 1949. Ambitious and determined, he decided to open his own company, Yema, which grew remarkably well as soon as French mechanical pieces were introduced in the USA and in Canada. Never one to ignore advice and always on the lookout for innovation, he opened Sormel automation et robotique as he believed that the future of modern watchmaking brands would inevitably entail automation.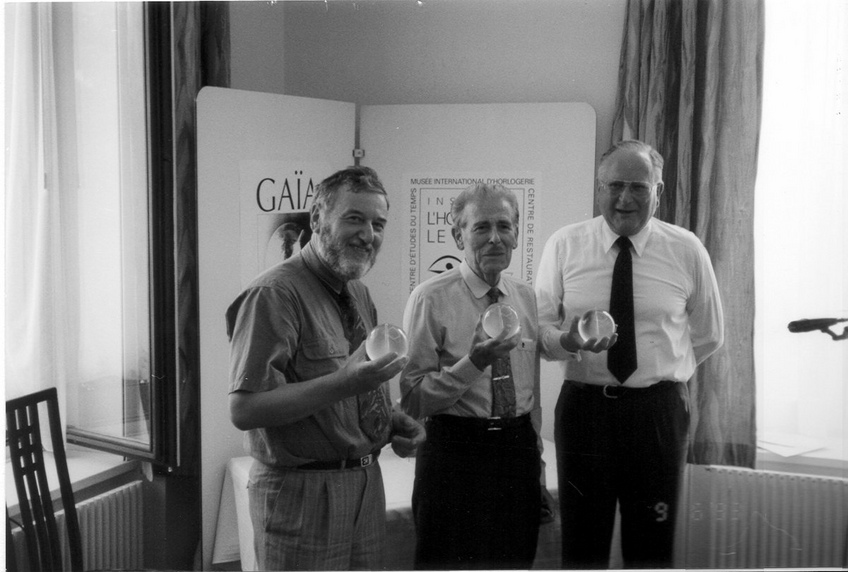 The 3 laureates : Jean-Claude Nicolet, André Margot and Henri-Louis Belmont
In 1982, Belmont resigned from the active industrial world and left Yema and Sormel. No longer caught up in his work responsibilities, he finally had more time to spare for his researching, collecting and historian activities and in so doing, familiarized himself with museums, especially the International Museum of Horology. He also counseled his management team when they were gathering the necessary tools for the production of the cylinder escapement, a subject in which he was well versed. In an endeavor to share the wealth of watchmaking history with others, he wrote several papers through which readers were introduced to amazing figures who were hitherto known to only a few or even completely unknown.
On December 4, 1978, a major event occurred in the life of Henry Louis Belmont. President Edgar Faure bestowed upon him the "Légion d'Honneur" (Legion of Honor) in the presence of Mr Deniel, French and Swiss watchmaking representatives and regional prefect. The decoration just goes to prove the importance of his contributions to the watchmaking industry and history.
After Gaïa
Until his death in 2002, Belmont continued his research and never lost his passion for anything watchmaking-related. He also kept in touch with the International Museum of Horology. Upon his death though, watchmaking lost one of its best champions.
He won recognition for the quality of his 10-year (1983-1993) commitment at the head of the Federation of the Swiss watch industry, of which he restructured...
He won the prize for his works and his contribution to time measurement as watchmaker, clockmaker and teacher, together with the human and pedagogical...