Great Watchmaking 'terroirs' - British History
Great Britain is probably among the greatest lands of watchmaking and today's mechanical watchmaking is largely based on British innovations on precision dating from the 17th, 18th and 19th centuries.
Switzerland is undeniably the greatest fine watchmaking country in the world today and has been dominating the industry for the last 150 years. Nonetheless, it was not always so and other nations have left their mark in the trade since its development in the 16th century.
British supremacy
The UK is one of the greatest. It started with Thomas Tompion (1639-1713), Edward Booth and Daniel Quare, considered as the fathers of English clockmaking, who presented the first clock with minute repeater striking the quarter in 1675. In 1710, Samuel Watson (circa 1650-1740) invented the five minute repeater. Then George Graham (1673-1751), created further innovations like the first clock able to measure the 16th of a minute around 1720. Still widely used today in most mechanical watches, the lever escapement, one of the greatest inventions of the industry, is the work of Thomas Mudge (1715-1794) in 1757, just like the time equation or the perpetual calendar.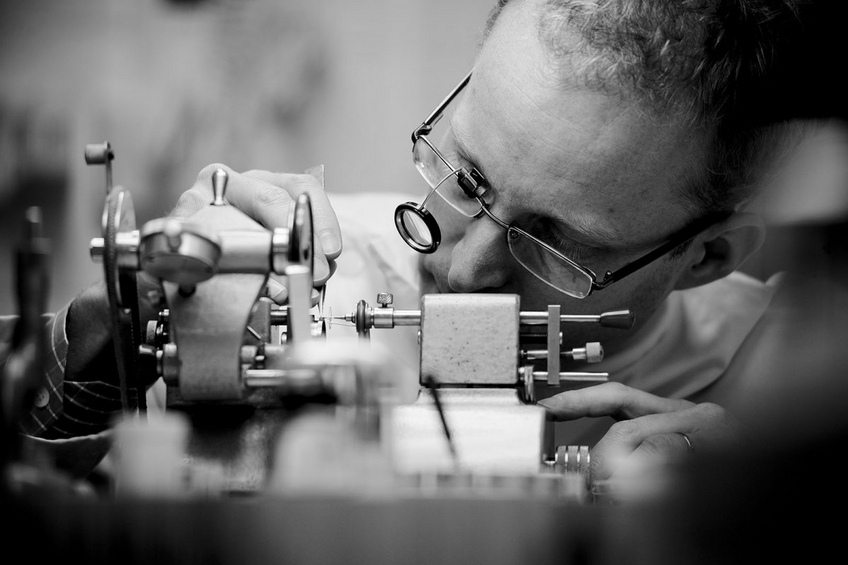 Simon Park - Workshop - 2008
The British supremacy over the seas in the 18th and 19th centuries is widely due to John Harrison marine chronometer which enabled the British ships to define precise routes with accurate longitudes around the globe. It contributed greatly to the British Empire expansion. In 1784, Thomas Earnshaw presented a new spring detente for pocket and marine chronometers enhancing further the British quest for precision, which is the Graal of any watchmaker. By 1800, Britain accounted for 50% of the world's production with 200,000 timepieces a year.
The end of an era
One century later, the market had tremendously developed and Britain, producing only 100,000 watches, had lost its supremacy to Switzerland. Mostly because it did not take the turn to mass production methods and the 'quartz crisis' in the 70's delivered it its last blow. Still we hear about the 'rebirth' of British watchmaking…but very few are truly 100% British made watches. Here are two brands that can actually claim this.
The rebirth of a tradition? Two watchmakers are spearheading it.
Modern British watchmaking would not be the same without the late Georges Daniels, widely recognized as one of the greatest watchmakers of our time. He decided to make everything to build a watch himself, from scratch. He invented his own method and published a book to explain it, the Daniels Method. He died in 2011 having produced only a couple dozens watches, which are highly sought after by all serious (and affluent!) collectors and leaving the premisses of a reborn tradition.
Roger W Smith
Roger W Smith is his true heir, having worked as his apprentice since he turned 18 years old. It took him 7 years to prove to the master he was worthy of his teachings by producing on his own every single component to build his first wristwatch. He then acquired international recognition for his own name with the 3 year long Millenium Wristwatch project: Roger W Smith made the 50 wristwatches series in collaboration with the master, based on the co-axial escapement developed by Daniels himself and sold to Omega.
How does he see British watchmaking today? For him, British watchmaking means making everything in the UK and building strong, precise, reliable timepieces with understated finishing of movements, frosted and gilded, decorated yet low key. He sees the current crisis of the watchmaking industry as the payback of having turned this craftsmanship industry into a fashion one where overproduction becomes structural because brands have to come out with something new every 6 months…He believes that the industry will eventually have to come back to the basics like reliability, timelessness, craftsmanship and advocates transparency, as he expressed in his open letter to the industry. I would be inclined to agree.
Robert Loomes
The second truly 100% British watchmaker is Robert Loomes. He started as an antique clock and watch restauration and repair shop. Then in 2008 he made British watches based on foreign movements but his customers voiced their appeal for truly 100% British made watches.
Robert Loomes wanted to make strong, reliable, high quality yet affordable timepieces. Investing in mass production tools to build movements from scratch was too much so he found an original solution: he bought all the old Smith movements he could find. Smith was an old British brand created as a self-sufficient watch company in the late 30's, as WWII was dawning on the world. The movements were sturdy with large escapements and strong pivots to ensure reliability. He found 100,000 calibers and upgraded them with new hairsprings, mainsprings, high quality sapphires, plates and bridges all made in the UK.
80% of the components are made in-house, the rest is bought from the UK. Robert Loomes revived some key know-hows by contacting companies who used to work for the watch industry when it was still strong but diversified as the business dwindled. Today he produces 100% British made watches (among other ones). Mostly manufactured, not hand crafted pieces of arts like Roger W Smith or Georges Daniels, but high quality, elegant, traditional and tough enough for everyday life.
The future
Are we witnessing the relaunch of a British watchmaking industry ? Not quite, but at least it shows that savoir-faire exist outside of Switzerland for fine mechanical watchmaking and great watches are being produced again in the UK. Even though both brands make very different timepieces both agree on two major principles for the future: transparency and localisation as opposed to all out globalization. From that point of view, if only 100% Swiss made was taken into account, the Swiss supremacy would not be as hegemonic… but this is another story.
Related article: British watchmaking - A temporal Brexit
By
Vincent Daveau
,
Contributor
Seeing as over 50% of the British population have expressed their will to leave the European Union, we focus on the nation whose largely unknown watchmaking...