Hautlence: ten years of passion for exceptional pieces
The brand's friends gather in Neuchâtel for a party.It was also an occasion to present the new ambassador, soccer player and actor Eric Cantona, and an anniversary piece, the Invictus Chronographe Edition Limitée Morphos.
The week started off with a visit into the pulsating heart of Neuchâtel, where Hautlence was born in 2004, the brand whose name is in fact an anagram of the city's name.On the morning after the birthday celebration, which had attracted many friends of the brand, Hautlence founder Guillaume Tétu took the opportunity to present a recently nominated ambassador: Eric Cantona, former – still famous – soccer player of international stature, who is also an artist and art collector.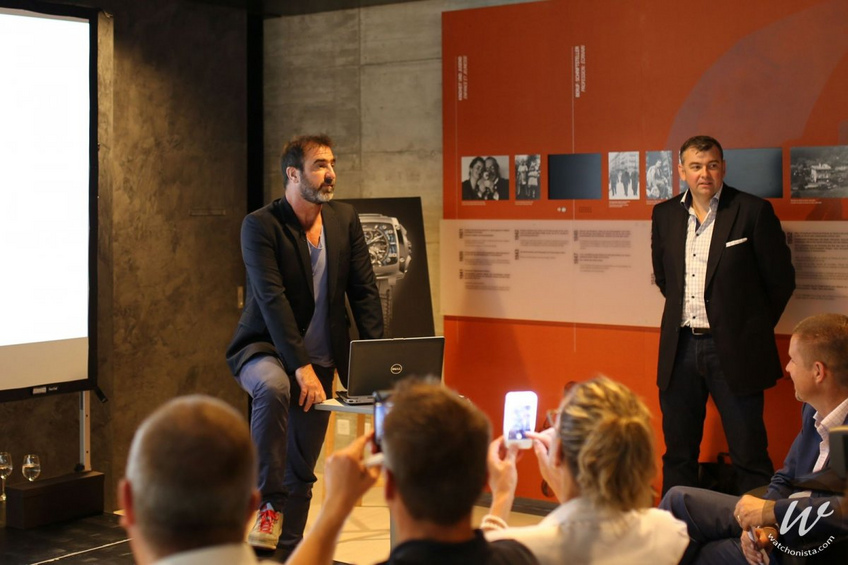 Eric Cantona and HAUTLENCE present the Invictus
The celebration was also the perfect moment to unveil the new timepiece created in collaboration with Eric Cantona, who is an actor and artist in addition to being a collector of contemporary art in the graphics genre.A few pieces from his collection were presented at the Dürrenmatt Center in Neuchâtel, which served as the backdrop for the launch of the new communication campaign and of the first Hautlence chronograph, which is named Invictus Morphos and was created with Cantona's participation.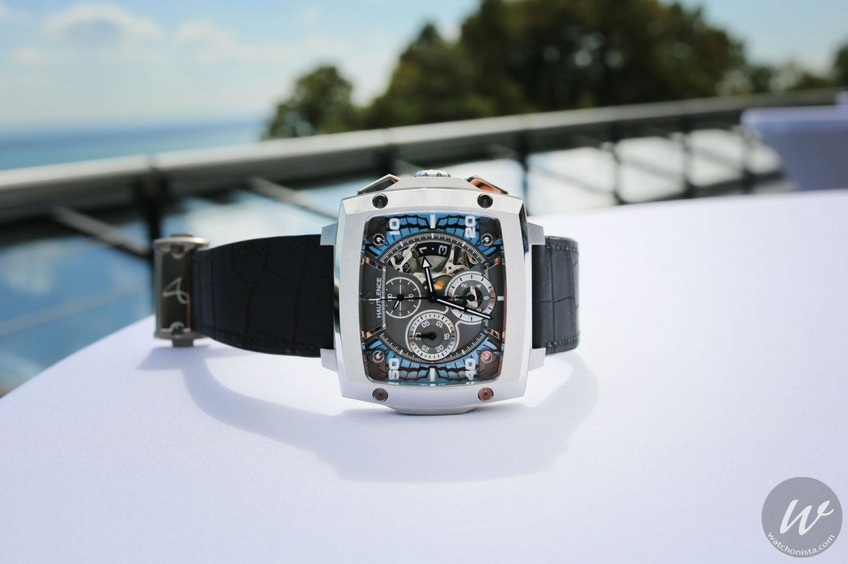 HAUTLENCE Invictus by Eric Cantona
A powerful message for a new era
Ten years is a major milestone for a brand, said Georges Henri Meylan, former CEO of Audemars Piguet and today founder of MELB Holding, a family-run business that picked up Hautlence and Moser & Cie as well.Meylan discovered these special watches through his son, who was selling the brand in Hong Kong. His strategy was to lower the prices of the base models to make them more accessible, and find a snappy tagline that expressed all the company's potential. In the process of repositioning, the brand came across a promotional film by Harley-Davidson, which it took as a model, and ultimately stumbled on Eric Cantona for its corporate strategy, a man who embodies the rebel-like values that make individuals want to step over the line.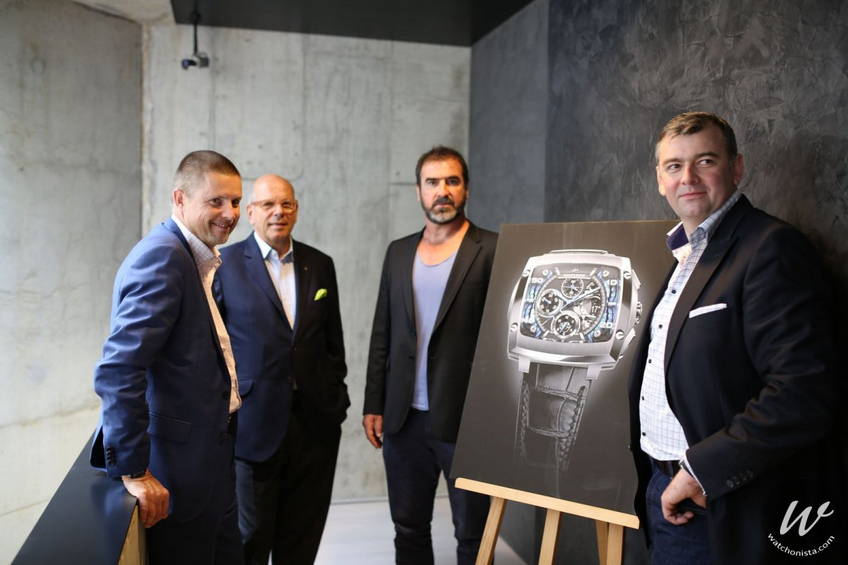 Bill Muirhead, George-Henri Meylan, Eric Cantona and Guillaume Tétu
New structure, new strength
Admittedly, a repositioning of the brand and a clarification of its message had become imperative. Today, the maison Hautlence aims to transform itself from small workshop to full-fledged brand by means of a methodical and thorough redeployment. The goal is to sell 1000 timepieces a year by 2017. The product pyramid will range from exceptional concepts with timepieces having the programmatic Atelier title (with an in-house movement), to the Signature collection. It's a far greater public being addressed, and is conceived to be for watchmaking what Bang & Olufsen is for hi-fi.The products are reliable, efficient and of high quality, with a slightly elitist touch, all the while remaining accessible.The latest chronograph, the Invictus Morphos, was presented within the context of a selection of contemporary works of art from the personal collection of Eric Cantona, and is perfectly at home in this particular family.
HAUTLENCE Invictus by Eric Cantona
Another form of communication
Each idea that makes up the redeployment, has ahinge function.Indeed, the idea of integrating blue butterfly wings inspired from those of the blue Morphos into the open-worked dial of the new chronograph's caliber, was no easy task.The butterfly represents change, metamorphosis.As Guillaume Tétu suggested, it is the hyphen between the "before" and the "after."But the concept of embellishing what already exists while trusting its nature and remaining true to it, is a philosophy Eric Cantona also subscribes to.
For its tenth anniversary, Hautlence also unveiled a new advertising campaign.It is called "Cross the Line" and it publicizes Eric Cantona and his Invictus chronograph. It's a provocative message, one that invites one to cross the line, as it were, to go beyond established norms, to follow ones desire to become a member of the "Gentlemen Rebels Club," whose members can be identified precisely because they wear an Hautlence watch on their wrist.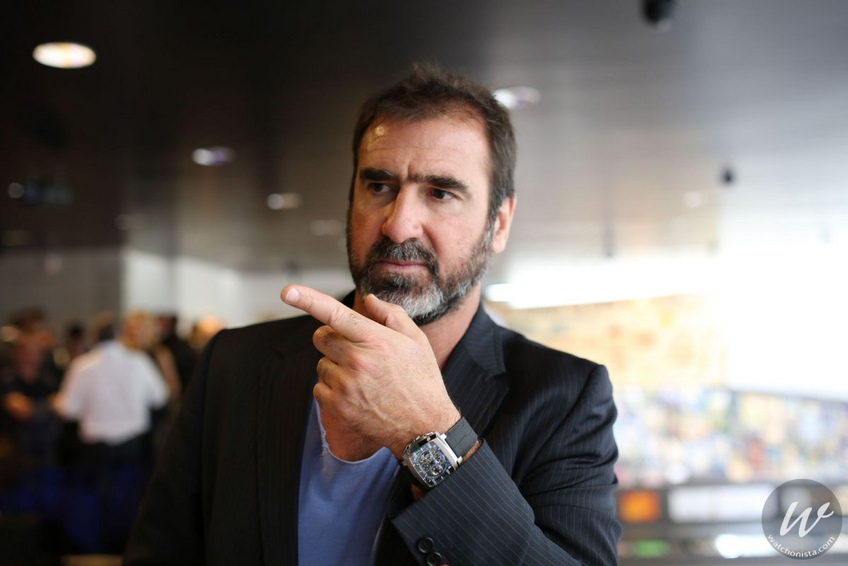 Eric Cantona with the HAUTLENCE Invictus on the wrist
Cross the line world tour
An art fan, Eric Cantona owns a collection of contemporary art numbering about one hundred pieces, which he has been collecting since he was 22 years old.As the ambassador and inspirer of a new generation of timepieces, he wanted to make a part of that collection available to all as a way to show his own artistic sensitivity.The collection is currently being exhibited at the Dürrenmatt Center in Neuchâtel.The artworks will be in Singapore in November and in Hong Kong in December 2014. In 2015 and 2016, they will head for other horizons depending on need.In his capacity as a point of contact, Eric Cantona will be at each of the World Tour stations to present the results of his collaboration with Hautlence.
The HAUTLENCE Invictus by Eric Cantona
Case: barrel and lugs of grade 2 shot-blasted titanium bezel, pushers and screws of polished steel
Case back: titanium, engraved with INVICTUS and «Morphos Limited Edition by Eric Cantona. Eric Cantona's fingerprint and signature.
Measurements:42 x 46 x 12.8 mm water resistance:3 atm
Caliber: skeletonized Dubois Dépraz chronograph 293 on a Soprod A 10 /42 hours power reserve, 28,800 vph
Dial: opaline black gold, snailed apertures, totalizer flanges circular satin-brushed rhodium plating, minute flanges in black gold with sun brush, blue mother-of-pearl inserts with black printing.
Middle dial: sapphire crystal with numerals and print in silvery powder and SLN.Date:black print and brilliant white numerals.
Strap: black satined alligator or black rubber, folding clasp in grade 2 titanium with a polished steel plate.
Series limited to 250 pieces.
By
Marco Gabella
,
Co-Founder - Executive Publisher
HAUTLENCE launchs the HLRQ 01 at the Salon International de Alta Relojeria (SIAR) taking place in Mexico from October 1st 2013 as a sign of the continuing...
HAUTLENCE's exclusive watches are now available at Kuala Lumpur's prestigious Suria Kuala Lumpur City Centre (KLCC). HAUTLENCE celebrated the...
Following an exciting recent second leg of its CROSS THE LINE World Tour in Singapore, the third stop was held in Hong Kong on December 12th and 13th....
INVICTUS, Morphos Limited Edition flutters onto the watchmaking scene