Frederique Constant Horological Smartwatch: The first-ever connected Swiss watch
With its latest-generation caliber, the Frederique Constant Horological Smartwatch is the first classically styled Swiss watch to feature two-way communication with iPhone and Android applications.
The watchmaking world is currently experiencing real change and for Frederique Constant Group founders and owners Aletta and Peter Stas, the next step is clear: "We must be actors of this change rather than simply suffer from it." Speaking prior to the launch of the first classically styled connected watch, they recalled that 2014 marked the tenth anniversary since the company started to manufacture its handcrafted movements in-house. Being that young in the industry, they added, allows it to be responsive and sensitive to market change. In general, keeping pace with the world is also the best way to ensure success.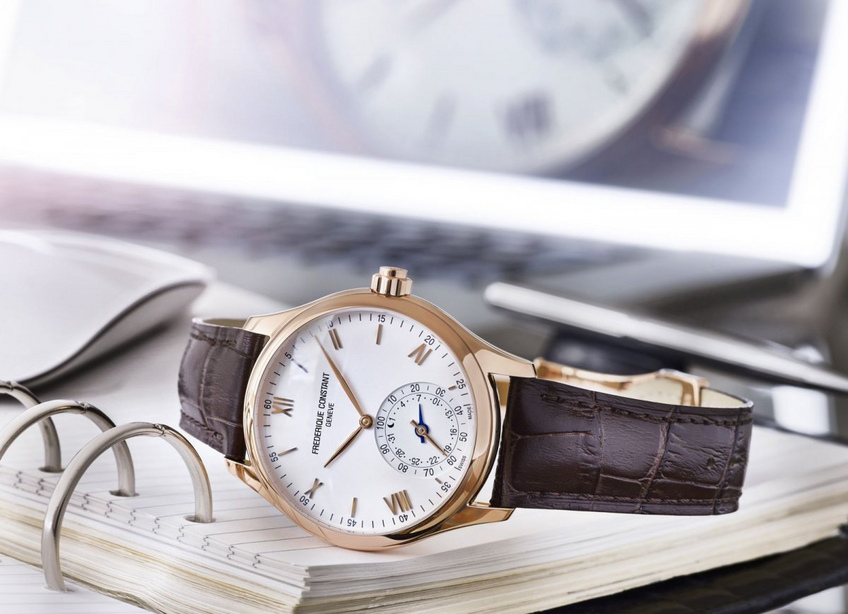 Frederique Constant Horological Smartwatch
The context
For the Stas family, quartz watches are doomed to experience their own transformation. Just over 45 years after Seiko came out with the first quartz models these watches are about to be swept away by a new generation of timepieces. Switzerland produces about 21 million quartz watches annually. Within three years, according to Aletta and Peter Stas, between two-thirds and three-quarters of these watches will be connected timepieces. This represents nearly 16 million watches, and it would be a real shame to miss out on such an extraordinarily lucrative market destined for a great future. The purpose of this new watch from the monaufacture is to make sure the brand is surfing on the trend ─ and even leading it.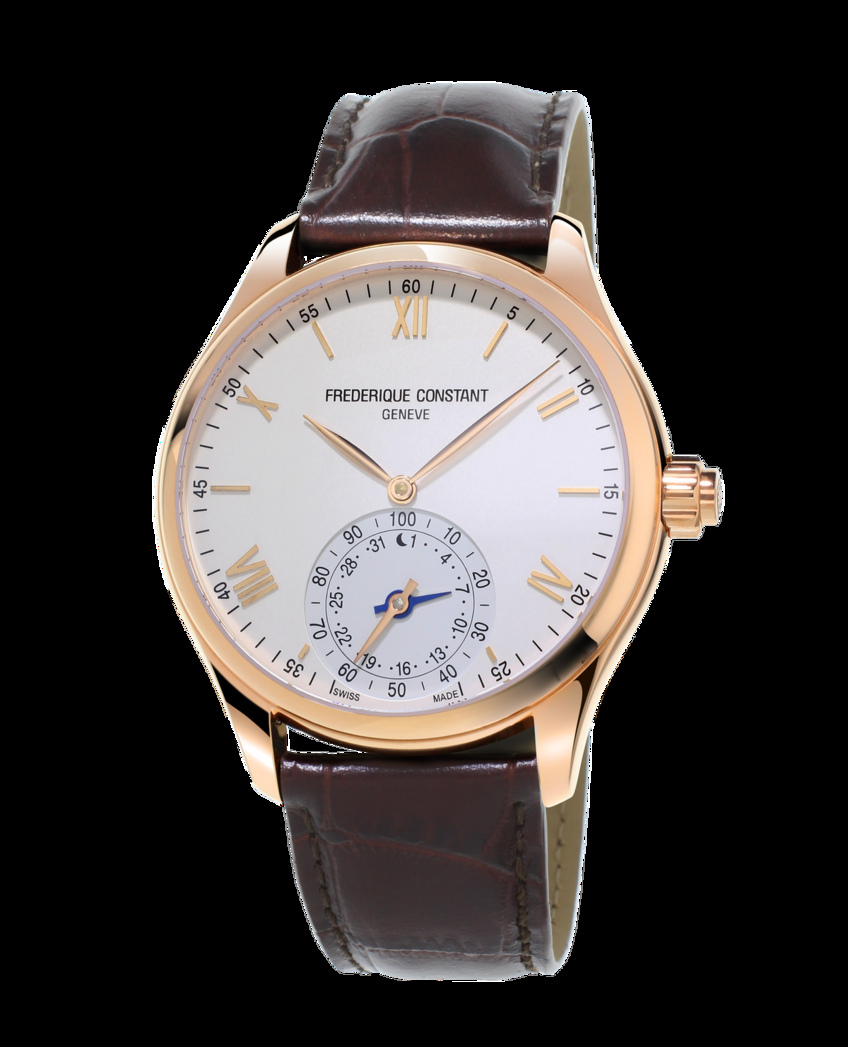 Frederique Constant Horological Smartwatch
Looking ahead
This segment, which is likely to become highly competitive in a short period, has interested Peter Stas for the past three years. But the potential business it can generate also interests Swiss subcontractors (even though the Frederique Constant owners have indicated that any such business would mainly necessitate a full reconversion on their part rather than just technological add-ons). In this context, the question arises as to why Frederique Constant has chosen to use an analog display. According to Peter Stas, most connected watches will have an LCD dial and be rechargeable because they tend to use a lot of power. The aim, as he points out, is to retain the DNA of the brand and bring in a new generation module activated through a crown serving as a push-button.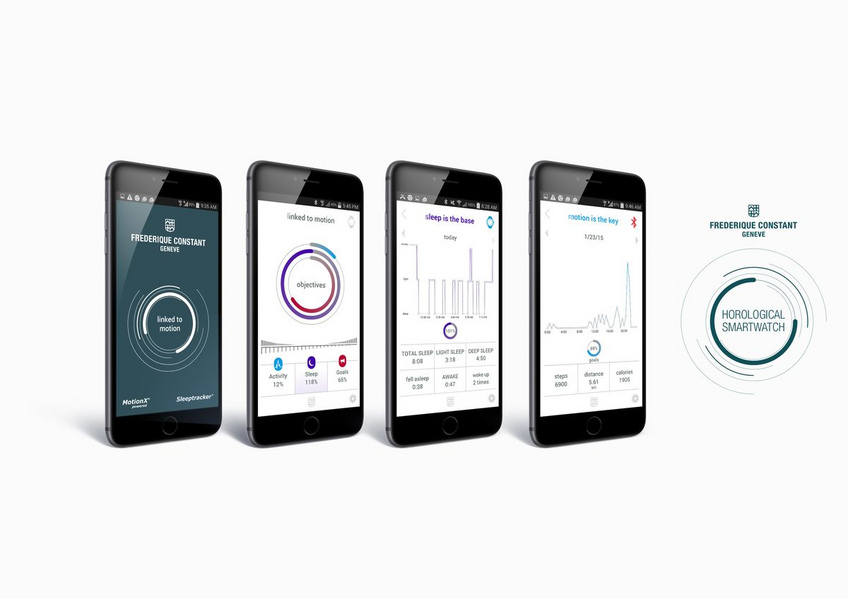 Frederique Constant Horological Smartwatch App
Birth of a project
Three years ago Peter Stas, characteristically realizing that merely wanting to do something is not enough, went to the USA to seek a partner to produce a connected watch. He was perfectly conscious of the fact that one must have the right actors to make a product adapted to market needs, especially in a sector where the rate of rapid obsolescence can prove very costly for the company that makes the wrong choice of technology. The patented Multi-Sensor MotionX® engine used for the first Swiss Horological Smartwatch incorporates the features and functions of the MotionX® technological platform in a luxury watch intended to be offered for sale at about €1000 / CHF 1000.
The actors of an evolving revolution
To achieve its goals, the Frederique Constant Group has concluded a Swiss joint venture with Fullpower Technology Inc., a Silicon Valley-based entity called MMT (Manufacture Modules Technology Co., Ltd.). The mission of this entity is to enable the Swiss watch industry to benefit from the MotionX -365 ° ® Horological Smartwatch open platform. In this structure, Fullpower comes up with the project design, the firmware, the smartphone applications and the cloud infrastructure, before distributing it under license to MMT.
Future joint venture
MMT (a Geneva-based company) will manage the development and production of Swiss watch movements called modules, incorporating Fullpower technology. MMT then distributes the Motion X -365 ° ® Horological Smartwach platform under license to the Swiss watch industry and provides technical support. Frederique Constant and Alpina are the first partners of MMT. Both brands will offer more than 10 male and female models by the end of 2015. These multifunctional watches are adaptable to the needs of their owners and are compatible with Apple and Android smartphones. Served by advanced technologies and a highly effective reception and intercommunication system, Frederique Constant and Alpina watches are expected to have an operating autonomy of two years using interchangeable batteries. An important note: the watches will be available at sales outlets as of June 2015.
Technical specifications of the first Swiss Horological Smartwatch
Classic 316L steel case/sapphire crystal/module with analog display of hours and minutes and functions indicated at 6 o'clock.
Function connected with a smartphone and display on phone screen.
Time and date always connected
Activity sensor from Motion X®
Sleep recorder (sleeptracker®) allowing user to optimize sleep
Sleep cycle alarms
Activity alarm (for white-collar workers who are too sedentary before their screens)
Intelligent and evolutionary coaching according to programmings
Two years of battery power
Backup and restore via Cloud Motion X®
By
Rhonda Riche
,
Editor-At-Large
Introducing the Swiss manufacture's 28th in-house caliber, with a remarkable 50-hour power reserve.
By
Rhonda Riche
,
Editor-At-Large
At a grand launch party in Paris, Frederique Constant celebrated 30 years of modern luxury watchmaking with an introduction of the new Frederique Constant...
By
Barbara Palumbo
,
Journalist
The first-of-its-kind timepiece was introduced in New York on Wednesday evening in front of an international crowd as well as three-time Academy Award...