Football and watchmaking: a marriage of convenience?
Nowadays, football (soccer) attracts watch brands that tend to team up with elitist sports. However, this has not always been the case. The relationship between watchmaking and football is more complicated than it seems.
Of all professional sports benefitting from media coverage, football (soccer) is the one that boasts the most fans. The game it unleashes passions around the globe. This phenomenal popularity rests on its being the number one in TV ratings. The rules and playing system can be easily understood by anyone. Indeed, soccer – as it is called in the US – consists of two teams of eleven players. Each team strives to take possession of a round leather ball, which they have to aim into a goal guarded by the opposing team. Use of hands is forbidden. The team that scores more goals wins the match.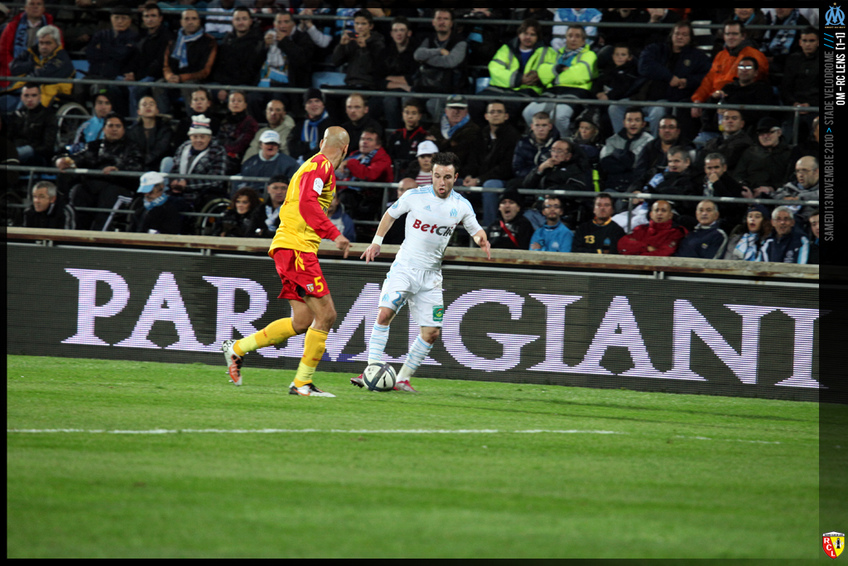 Parmigiani's logo during a match of the Olympique de Marseille
From an economic standpoint, too, football is an interesting proposition. Other sports need rackets, a basket or various bats. Football only requires a ball and four points of reference to show where the goals are. This simple fact is enough to make it a universal game since even the most rural communities can play it. Another facet of the game is that it possesses a rich past. In ancient times, already, there were games with a ball played with the feet. Since 1904, this sport has had its own international federation, the FIFA. In comparison, basketball has only been around since 1891 and has only been governed by the FIBA since 1932. All in all, football, like most other sports, is supposed to convey values such as fair-play, camaraderie and collaboration.
Luxury takes all
Over the past years, watchmaking has gone through a conspicuous mutation, associating it directly with luxury. As a status symbol, the watch has evolved into a sign of recognition, good taste and attachment to a certain social class. Proof of this is the fact that sports watches have gradually turned into prestigious timepieces.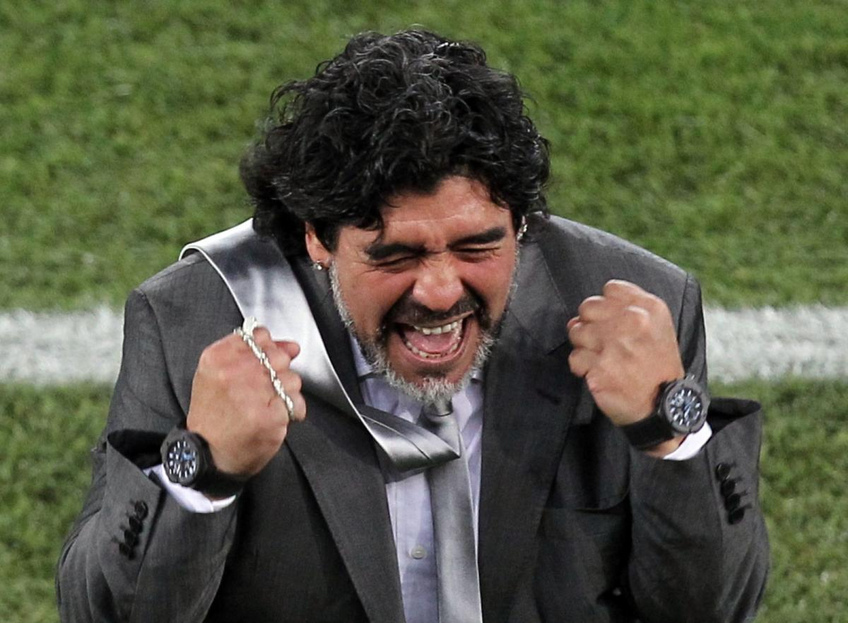 Maradona wearing two Hublot watches
Watch brands, seeking to move up the market, found a way by connecting with exclusive events or with prestigious partners. So the most obvious strategy was to turn to famous actors or be associated with "noble" sports such as polo or tennis. In the quest for rank, football was considered the poor relative, its sheer popularity and availability did nothing to attract the brands. But things are different nowadays and there is a strong likelihood that it is precisely the game's popularity that brought about this change.
Impressive numbers of the football audience
The Euro 2012, organised under the aegis of UEFA, brought together sixteen teams competing for the title of European Champion. The event took place from June 8 to July 1, 2012, in Poland and Ukraine. A total of thirty-one matches were played and all 1.44 million tickets available for the event sold out. Furthermore, requests for tickets passed the 12 million mark. All the matches were viewed live by a minimum of 150 million viewers in more than 200 regions of the world. About 18 million viewers alone watched Spain being crowned European Champions in the final against Italy. The 2014 World Cup will be held in Brazil in June this year.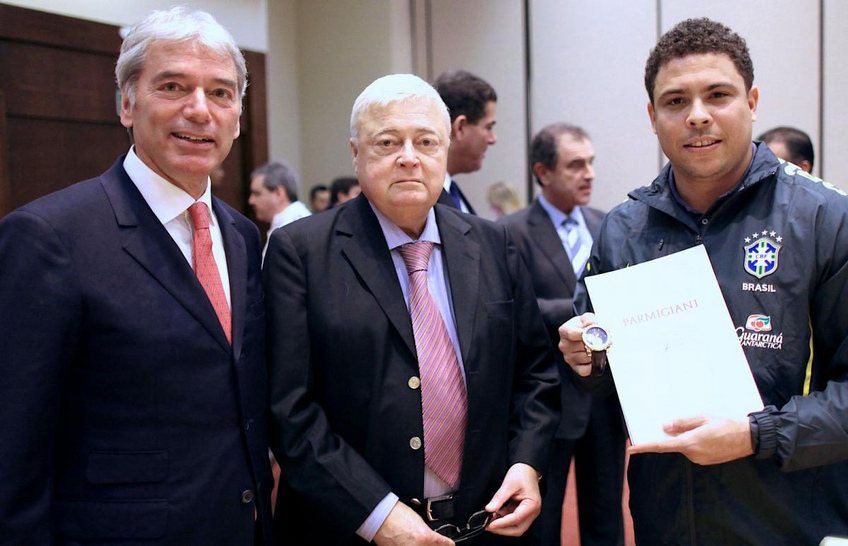 Parmigiani's CEO, CBF president and Ronaldo
For over a month, thirty-two teams from around the world will vie for the title of world champion, including Switzerland, which qualified for the competition.
Apart from these two major events, each country has its own football cups and leagues. According to a report by FIFA, more than 101 million people from Europe travelled to stadiums to support their teams in the 2009-2010 season. These numbers give us an estimate of the audience present at football matches. In addition, a "starification" phenomenon of teams and players has taken place. So it comes as no surprise that some watchmakers started to seriously consider striking up partnerships. After all, the idea of becoming the official watch of Diego Maradona is a golden opportunity to be remembered by his myriad fans!
Image deficit?
The facts and figures should by rights entice all the brands to do their best to sign partnerships with either players or teams? Alas, things are not all hat rosy in the football world. Some image associations can be quite risky. The popularity of football finds its counterpart in the vigorous rejection by those who are not fans of this sport.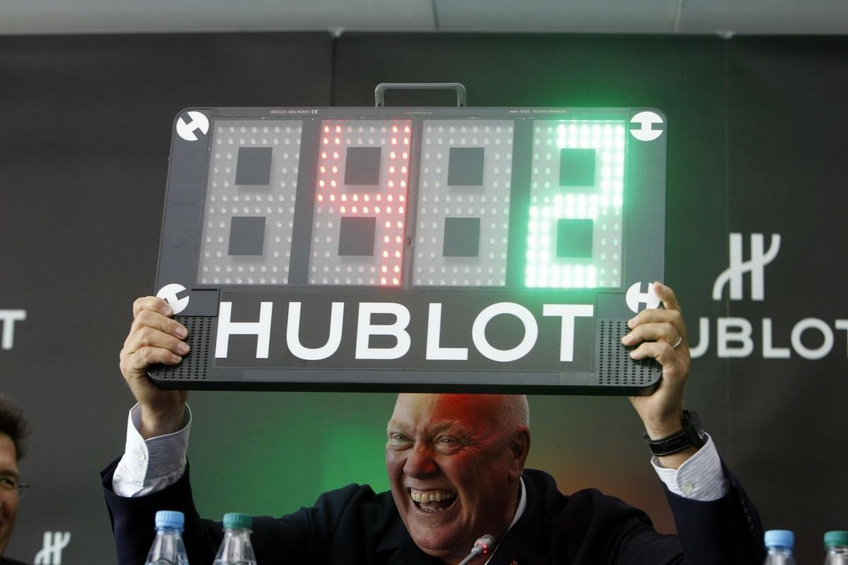 J-C Biver holding a scoreboard
The boisterous expressions of joy at the end of matches have the knack of getting on the nerves people who would not for the world wish to be associated with football fans. Movie stars have learnt how to manage their image, but football players often lack control and act in offensive ways or are overheard saying distasteful things. Let's face it, the values of sports, namely fair play, friendship, and respect for the opponent are not always complied with during matches. It is not good for the image of a top brand to be associated with a player who publicly insults his manager or who fakes being fouled. The association is therefore very delicate and brands need to be very vigilant.
Football and watchmaking: matching values
Brands such as Parmigiani Fleurier and Hublot found the solution to this issue by setting up a carefully designed strategy. Parmigiani became associated with Olympique de Marseille because it shared a similar history and prestige with the club. By emphasising the human aspects and investing in the training of young players, the Fleurier-based brand chose to highlight joint values. Hublot, for its part, established a relationship with a segment of the public that did not necessarily know much about the brand. It did so by organising competitions enabling fans to meet their stars.
The Hublot King Power Bayern Munich
The stakes are high but the opportunities are worth it in terms of image. Besides, the brands can afford to aim high. Hence Parmigiani's association with the legendary Confederação Brasileira de Futebol (CBF). This embodiment of Brazilian football for over a century has nourished the dreams of millions of fans from all over the world.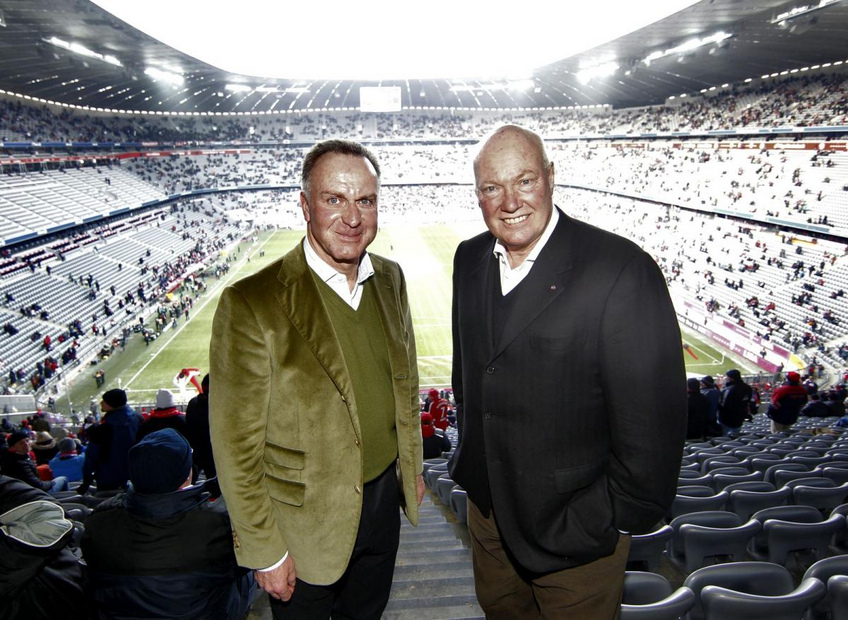 J-C Biver with Karl-Heinz Rummenigge
Hublot opted for an association with the pillars of football to avoid mingling with the troublemakers. It started by providing timing during matches, a task that is ultimately the referee's bailiwick entirely. This was another stroke of genius by the "serial marketer", Jean-Claude Biver. It allowed the brand to underscore its proximity to chronometry. The brand's association with serious institutions, be it FIFA or UEFA, can only support its good image. Hublot kept up the momentum by releasing special limited editions that made it attractive to the public and targeted a specific audience each time. This powerful strategy proved its mettle in the partnerships with Diego Maradona, Bayern Munich or even Manchester United, partnerships that reached for the support of a solid base of fans. So, if controlled intelligently, football, while not a cure-all for watch industry partnerships, can contribute to the fame of a brand.
By
Joel Grandjean
,
Editor-in-Chief
A few years back, it would have seemed strange that a Swiss luxury brand, which was also a flagship of fine watchmaking, would stoop so low to associate...
By
Joel Grandjean
,
Editor-in-Chief
Associating a timepiece with a famous face is a trend some brands gave up to let their products do the job. Yet, current events in football have reopened the...