Goodwood Festival of Speed : Montblanc Takes it to the Top
Watch brand debuts as official timing partner of the Goodwood Festival of Speed.'
Anyone who has kept an eye on Montblanc's 2017 watch range will know that the brand has been working hard on developing a connection with the automobile world, starting in January with the unveiling of a whole new collection of 'Timewalker' models that pay tribute to motorsport and hark back to the history of its Minerva manufacture as a maker of stop watches during the first half of the 20th century.
Montblanc Exo8 Tourbillon
Climbing aboard the automobile bandwagon
In reality, Montblanc's past links with cars are virtually non-existent but, like many of its competitors, the brand is understandably keen to capitalise on the much-discussed synergy between motoring and watches.
David Gandy © Montblanc
And just because it hasn't made 'car watches' in the past doesn't mean it can't make them now and in the future, which is probably why it displayed its intent to do so with the show-stopper that is the TimeWalker Chronograph Rally Timer Counter, a 50mm beast with a winding crown and push piece at the 12 o'clock position in classic stop-watch style.
Montblanc TimeWalker Chronograph Rally Timer Counter
Ingeniously, the case can be rotated 90 degrees off the 'normal' position when the watch is worn on the wrist in order to make it easier to read when driving - and it can also be de-mounted from its strap to serve as either a dashboard rally timer, a desk clock or a pocket watch. Just 100 will be made at £31,700 a piece.
Montblanc TimeWalker Automatic Chronograph
Even more technically impressive is the TimeWalker Chronograph 1000 limited edition which features the increasingly popular double balance wheel system (as employed by TAG Heuer and Jaeger-LeCoultre, among others) to provide independent power sources for time and chronograph functions, meaning the latter can oscillate at a heady 50 Herz frequency to enable the recording of elapsed times down to one one thousandth of a second.
Montblanc TimeWalker Chronograph 1000 Limited Edition
Leveraging the Minerva heritage
Again drawing on the Minerva stop watch heritage, the model features a chronograph push-piece at 12 o'clock. Just 18 will be made and they cost around £150,000 apiece - but less wealthy Montblanc fans with a love of driving haven't been forgotten as the new line-up includes an automatic chronograph with UTC function, a standard chronograph and a three-hander with date.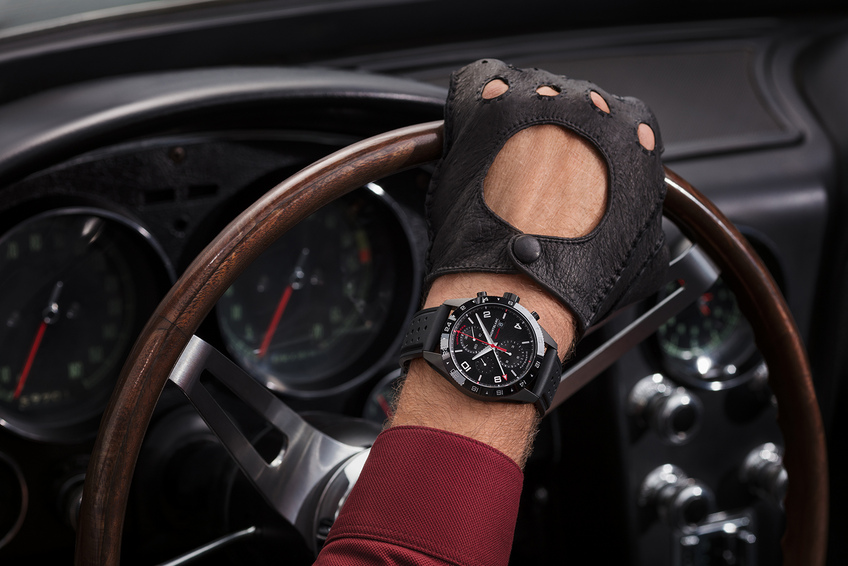 Montblanc TimeWalker Chronograph UTC
But perhaps the most surprising news about Montblanc's new-found love of automobiles came in April with the announcement that it had signed a five-year deal to become the official timing partner of the world renowned Goodwood Festival of Speed, one of the most high-profile events on the motorsport calendar.
©Jochen Van Cauwenberge
Past watch partners have included Bremont and TAG Heuer, but for its debut appearance Montblanc provided timing equipment at the start and finish of the famous Goodwood 'hill' , a 1.16 mile estate road that runs past Goodwood House and which has been the centrepiece of the Festival of Speed since its inauguration in 1993.
©Jochen Van Cauwenberge
Festival fun
From being a small gathering 24 years ago, the Festival has grown into the largest event of its type in UK - and possibly in Europe - attracting more than 150,000 people over four days.
©Stephanie O'Callaghan
©Dominic James
This year's 2017 edition was undoubtedly one of the best and incorporated multiple themes, including a remarkable celebration of the career of F1 impresario Bernie Ecclestone, the 70th anniversary of Ferrari, the 110th anniversary of the Brooklands circuit and the 50th birthday of Le Mans legend Tom Kristensen. There was also a smoke-filled drift competition and a 'Future Lab' that explored how we might travel in years to come.
Bernie Ecclestone © Dominic James
Most of those attending, however, still seemed enthralled at the sight and sound of some of the world's finest classic sports and racing cars scorching up the hillclimb - with driver Justin Law clocking the quickest time of the Festival and winning himself a Timewalker chronograph.
Montblanc TimeWalker Automatic Chronograph
Montblanc also organised a collection of 20 cars dating from the 1920s to the present day in an exhibition entitled 'Game Changers'. Visitors to the festival were allowed to vote for their number one 'game changer' - and the wild Metro 6R4 rally car of the 1980s garnered the most support.
Montblanc Exo8 Tourbillon
https://www.goodwood.com/flagship-events/festival-of-speed/
http://www.montblanc.com/
VISIT OUR SPECIAL PAGE "HOROLOGY & AUTOMOTIVE"
By
Hyla Bauer
,
Contributor
The 1858 Split Second Chronograph Limited Edition 100 has a sensational combination of military complications in a robust 44mm case. Telemeter collectors:...
By
Hyla Bauer
,
Contributor
New rugged timepieces in the Montblanc 1858 collection are fit for professional explorers in the harshest conditions.
Made With Support From Montblanc