Expo design: Swiss cuckoo clocks are out and about
A symbol of Swiss kitsch has been born again quite suddenly thanks to the HEAD: the Swiss cuckoo clock, with its little whistling bird that pops out of a wooden chalet, with clock hands on its façade and weights suspended below.
The sparrows that flit around in our childhood memories have returned all of a sudden to come peck away at the headlines. They're back at work again and have started tweeting away in our ears.
Migrating birds on firm ground
Migrations are a fact of life. These"birds", as it were, had pretty much disappeared from our climes and from the walls of our abodes. Rumor had it that they had settled permanently somewhere between the collective unconscious and dowdy nostalgia. This failed to takean important aspect into account, namely the ornithological inspirations of design students channeled by Marco Borraccino, who is in head of the Watch Design Chair at the Haute école d'art et de design (HEAD) in Geneva. The institution, which has earned its acronym well, offers 700 students from 40 different nations many possibilities for an urbane and international academic career. It was created in 2006 from the merger of two two-century-old behemoths of Geneva's public education, the Ecole supérieur des beaux arts and the Haute école d'arts appliqués.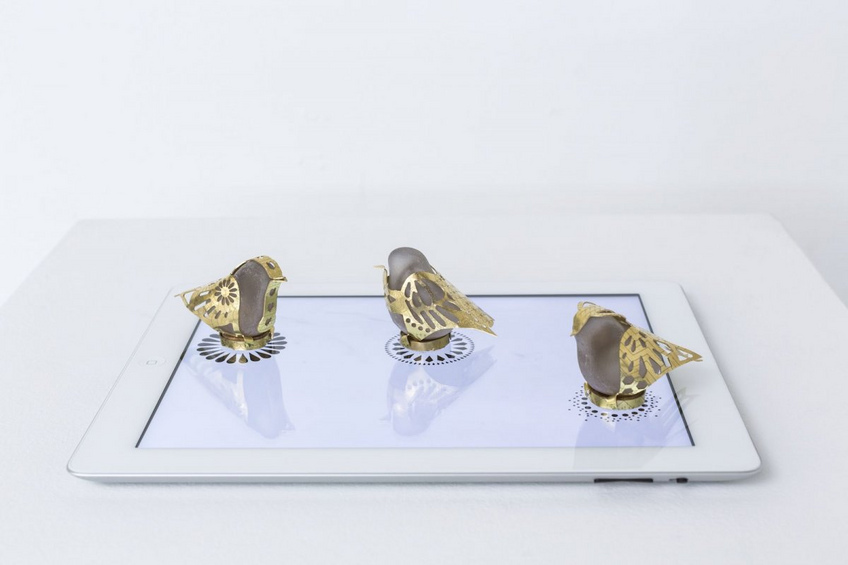 Cuckoo Family, Marine Sergent © HEAD – Genève, Baptiste Coulon
The HEAD not only yields widely recognized diplomas, unique course at Bachelor and Master levels in visual arts, cinema, spatial design, visual communication and fashion, but it can also pave the way to watchmaking thanks to coursesof studies in jewelry and accessory design, which includes watch design. At any rate, its impact stretches all the way to the heart of local cultural life, right into private and public institutions, since the students are invited to create real projects and to become genuinely involved in the professional world.And sometimes they are even asked to travel.
A perfect integration in 24 hanging tableaux
After Paris, Langenthal, Montréal and Boston, it was Geneva's turn on the occasion of the SIHH to roll out the red carpet for an exhibition that could become the killer app of Presence Switzerland, if only our local counselors and federal authorities in Bern would be at least a little interested in watchmaking. Judge for yourself: the Swiss cuckoo clock is still intimately connected to Swiss imagery. It may be better known in the world than even the Matterhorn and maybe just as much as the jet d'eau in Geneva, that famous fountain in the lake. And here, it has been selected for iteration and reinvention in a collection of twenty-four interpretations, all of them as outside the box as their authors, who are part of a cultural movement emanating from modern times, in which design has been raised to the level of art. And this reinvention took place without the object itself relinquishing its original functions and characteristics.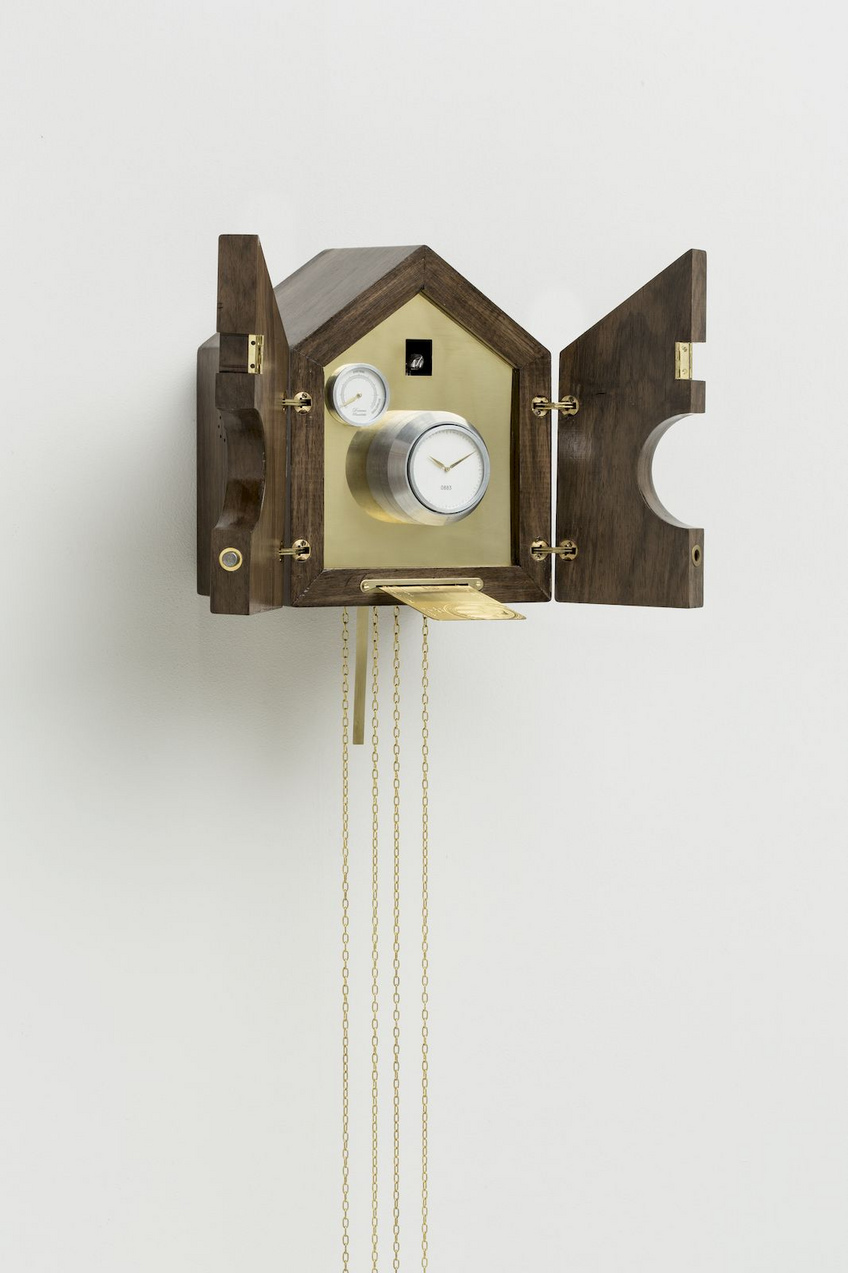 Swiss Paradise, Marie Ivol © HEAD – Genève, Sandra Pointet
So how, in spite of its obscure German origins in the Black Forest and in Bavaria, did the cuckoo clock ever become Swiss? This icon of Swissness, which was actually naturalized and has no real birth rights, still represents an out-of-date incarnation of a country so comfortable with its own folklore, that it sometimes actually takes it seriously even today. And finally: it is never a far cry from that delightful simplicity of an idealized Alpine existence, one that has been kept hidden from progress by the summits of its tall mountains. The mechanisms of these mural clocks are so ubiquitous on the walls of our chalets, that it almost seems it would like to harmonize eternally with those Swiss values that are cultivated these days in the watchmaking industry: precision, know-how, and meticulous artistry.
Design challenges on a mythical backdrop
Is there an iota of sarcasm when Orson Welles, through the character of Harry Lime in The Third Man, uttered a very memorable comparison, at his own risk. Do you remember how he muses: "In Italy, for thirty years under the Borgias, they had warfare, terror, murder and bloodshed, but they produced Michelangelo, Leonardo da Vinci and the Renaissance. In Switzerland, they had brotherly love, they had five hundred years of democracy and peace – and what did that produce? The cuckoo clock. Funny? You think that's funny?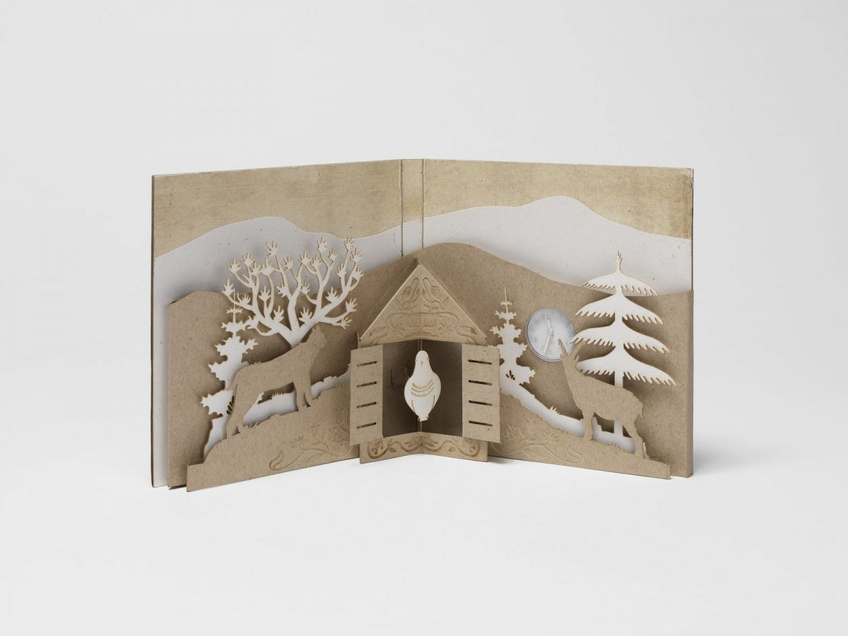 Koo3, Aurélien Mabilat et Arnaud Immobersteg © HEAD - Genève, Annik Wetter
Nevertheless, quite seriously, HEAD director Jean-Pierre Greff hired the Swiss designer Claudio Colucci, an adventurous type who shuttles professionally between Asia and his home country, to guide the students in a rather nice adventure, one not free of considerable rigor: to take a fresh look at the cuckoo clock, to give it a contemporary look, while at the same time preserving its traditional history as a tracker of passing time with a singing voice. Clichés do seem to be quite a difficult life, especially if they have to be born again from their ashes. So a bunch of objects, one for each hour of day and night, for a total of twenty-four, tell an extraordinary story in deliberate terms. And in January 2016, it became a story that swept into world horological news, since it was the leading exhibition at the SIHH.
And it continues to make its way throughout the world and gives people something to dream about, or even, like all exhibitions, kindles the collector's instinct for ownership. And once they have finished their globetrotting, it could well be that these workswill becomethe models fora few limited editions.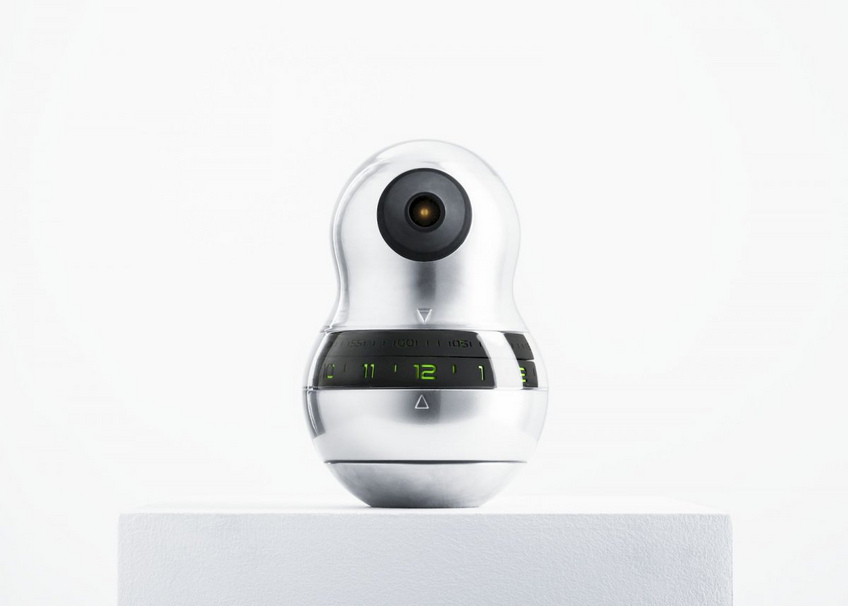 Fatbird Clock, Marco Borraccino © HEAD - Genève, Baptiste Coulon
After all, isn't one of the HEAD's missions to immerse its students in the reality of extramural life? So the Swiss cuckoo clocks have gone on an outing, and they are well worth a little detour.