From Boutique Client to Brand Giant: Why PGA Golfer Patrick Reed's Ambassadorship is Apropos of Hublot
On Tuesday, August 15th, on the greens of The Woodlands Country Club in Texas, Hublot announced their latest partnership with their third professional golfer: record-setting PGA superstar Patrick Reed.
It's not every day that you get the opportunity to meet, talk to, and knock around golf balls with a professional golfer
Hell, it's not most days, so when you get the opportunity, you jump at it with the force of an Olympic track star because you might just learn a thing or twelve by the time the experience is over.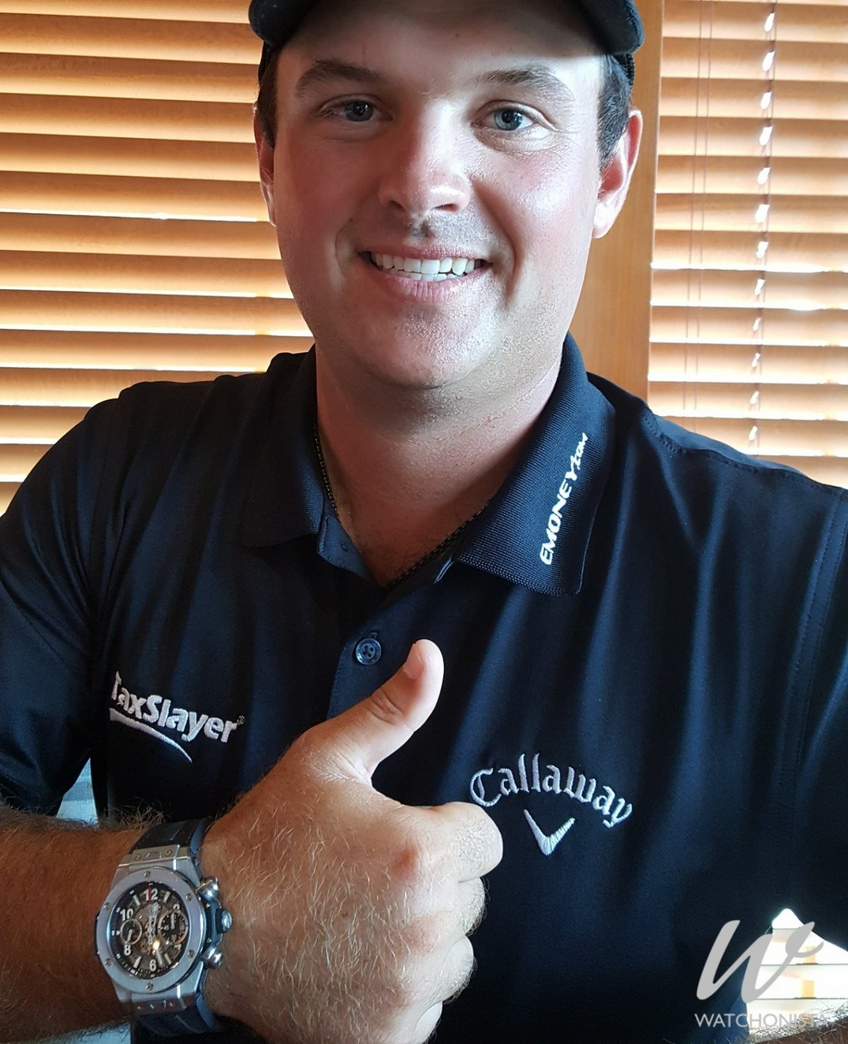 Patrick Reed and his Hublot Big Bang UNICO Titanium
After a twenty-minute telephone crash course with my brother Joe on the rules of golf that included terms like, "double eagle," "level par," and "dormie" (which I always assumed was just another name for one's college roommate... who knew?), I boarded a plane headed to Houston, Texas to put my golfing skills – or lack thereof – to the test. Once dressed in my sherbet-colored, country club best (which I purchased the day before because wearing an Iron Maiden t-shirt on the green is frowned upon, apparently), I joined several Hublot watch collectors and golf enthusiasts for a golf clinic on the course of The Woodlands, hosted by Hublot and taught by the brand's newest ambassador, Patrick Reed, and his instructor, Kevin Kirk (no relation to Captain James T. Kirk... I asked.)
We watched eagerly as Patrick and Kevin showed us the fundamentals of the swing and listened as they explained the importance of balance no matter if you're chipping, putting, or driving.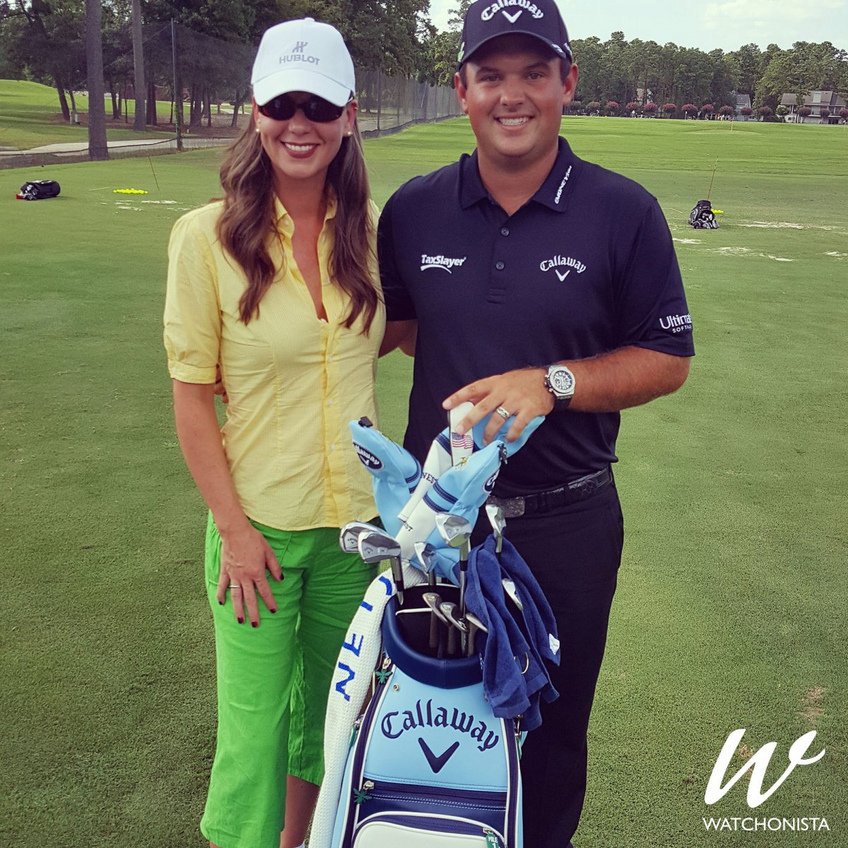 Barbara Palumbo & Patrick Reed
Patrick – who recently celebrated his 27th birthday – is a vibrant, funny character with great one-liners and stories to match
When asked by a collector what his daily workout routine was (outside of playing eighteen holes in nearly one-hundred-degree heat), he claimed that he "sprinted" about seven or eight times per day. "I sprint to the fridge, then back to the sofa, then to the fridge, then back..." he stated, warranting laughter and applause from the crowd.
Reed was officially announced as the company's newest brand ambassador by Hublot's North American Managing Director, Jean-Francois Sberro, with whom I was able to sit down for a few minutes prior to my interview with Patrick.
Barbara Palumbo: What drew you to Patrick Reed as the player to be the latest Hublot Brand Ambassador?
Jean-Francois Sberro: Well, as you may know, Patrick is a dedicated and amazing athlete, and he is actually our third Brand Ambassador who is a professional golfer; the first being English golfer Justin Rose, and the second being American Dustin Johnson. We just felt that Patrick would be the perfect player to strengthen the team. Patrick was already a Hublot enthusiast, having been one of our biggest clients at the Houston Hublot boutique, and we knew that by making him Brand Ambassador we would essentially lose a client [he said laughing] but since he was already educated on the product, he would be able to go above and beyond because of his passion for the brand.
BP: Did you play golf as a young man? Do you now?
JFS: I actually did play when I was younger for three different periods in my life; the first being when I was eighteen years old. But as you can see (holding out his bandaged hand to me), I played this week and this is what happens when you don't play for a while.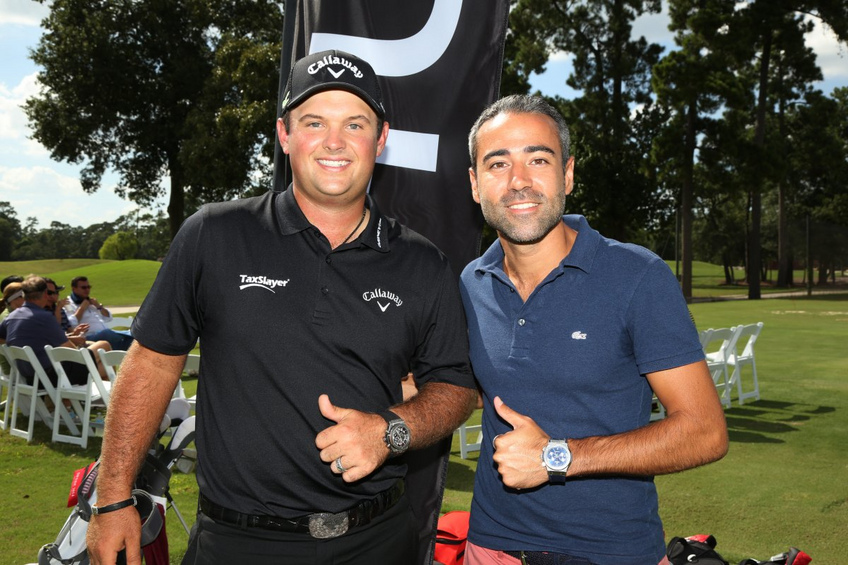 Patrick Reed & Jean-François Sberro
When the time came for me to interview the man himself, I took a deep breath and tried to remember everything my brother told me about the game just five hours before as I sat at the gate in Hartsfield-Jackson airport waiting to board my flight: "Remember, Barbara: a 'birdie' is one under par, an 'eagle' is two under par, and a 'bogey' is one over par, and not the nickname of the actor from the movie Casablanca..." His voice echoed in my head, but when I shook Patrick's hand, I felt like even if I had forgotten the rules of the game, he was so laid back and approachable, it really wouldn't have mattered anyway.
BP: Loved your clinic today, Patrick. So, I have to ask... what year did you start collecting Hublot watches and which was your first?
PR: Hmm, well, I bought my first Hublot about three years ago, and it's the one I'm wearing now. (editor's note: it was the Big Bang UNICO Titanium.)
BP: So did you buy it for yourself after winning the WGC-Cadillac Championship in 2014?
PR: I mean, I guess I kind of did, but not because I won the championship, necessarily. I bought it to reward myself because I'd had a pretty good run.
I like to buy these watches when I feel like I've had a good run or when I felt I've done something really well, but not specifically because I've won a tournament.
Barbara Palumbo: And how many Hublot watches do you own now?
Patrick Reed :My wife Justine owns four and I own four. Although, maybe I technically own five because she also bought me a Hublot clock for my office.
BP: Oh, that's great. Now, I want to ask you this two-part question that was up for debate between my brother and my husband: first, have you ever had an albatross, and second, do you refer to the score more as an 'albatross' or as a 'double eagle'?
PR: Well, (smiling), actually yes, I just had an albatross three weeks ago in Germany. Over the water, too. It was something. In terms of how I refer to it, I use the term 'albatross.' Most professional players do, especially the veterans. The younger guys will sometimes say 'double eagle' but I don't hear it that often. Plus, I'm sort of a veteran player at heart.
Reed's official comment about his partnership with the brand was released in a press statement shortly after Tuesday's festivities: "I am really proud to join the Hublot family and their team of golfers. Hublot is a brand I have long had an affinity for, and one I have proudly sported on my wrist for quite some time. I look forward to continuing my support for the brand in this new capacity."
The evening ended with a cocktail event hosted by Hublot in a private room of The Woodland's Palmer Clubhouse,an elegant structure situated on the 27-hole golf course designed by the great Arnold Palmer, himself. And it was there – in front of collectors and press, alike – that Patrick Reed was presented with yet another Hublot timepiece by Jean-Francois Sberro to add to his growing collection; a Hublot Big Bang wall clock.
By
Vincent Daveau
,
Contributor
Highlighting Hublot's newest creation to celebrate the 10th anniversary of the world's most famous cryptocurrency. Limited to 210 copies and...
By
Josh Shanks
,
Contributor
These days, Hublot is looking more and more like a tech company than a watch brand. Fans of the brand "Just Can't Get Enough"
By
Josh Shanks
,
Contributor
A fusion of limited editions, brand ambassadors, and exotic materials have made Hublot a talking point for years. However, if you look deeper, there's...