2017 Dakar Rally: iron-clad watchmaking partnerships
Founded in 1970, this tremendous human adventure, an event gruelling for both man and machine, continues to captivate so many watchmaking workshops in search of a hero. Here's a brief look at some of the watchmakers who have succumbed to the event's charms over the years.
The 39th Dakar set out on 2 January 2017 in a bid to conquer South America. This gruelling rally-raid will be played out on nearly 9,000 kilometres and is considered especially tough since it is being held in a location where keeping chrono time is just as important as finding your bearings.
A legendary race of exotic charms
Starting for the first time from the Paraguayan capital of Asunción, the 491 competitors will be travelling through Bolivia before finishing in the Argentine capital on 14 January. They will have completed a treacherous course that takes them to the peaks of the Andean Cordillera at an altitude of over 3,500 metres. In the car/UTV class, there will be a fierce battle between Peugeot, a great favourite with its new 3008 DKR prototype driven by Sébastien Loeb and Stéphane Peterhansel, and Mini. KTM remains a hot favourite for the bike division, hotly pursued by Honda and Yamaha.
The Paris-Dakar rally is essentially the work of one man, Thierry Sabine, who kicked off the first edition in December 1978. In an unparalleled endurance test, more than 600 competitors, comprising professional, amateur and celebrity drivers, battle it out in cars, motorbikes and trucks across the sand dunes of the Sahara. It is a gruelling adventure that has seen a succession of great drivers each doing their utmost to forge the legend of the "Dakar", such as Ari Vatanen, the Flying Finn andStéphane Peterhansel, who has won the race twelve times.
Thierry Sabine, who died alongside French singer, Daniel Belavoine, in a helicopter crash that overshadowed the 1986 edition of the event, would frequently describe the rally as "a challenge for those who go and a dream for those who stay". Since 2009, the race has been held in South America due to security issues in some African countries. The rally is now down in history as one of the most exacting challenges in mechanised sports. The slightest error proves costly. It is a beautiful human adventure in which the elements test both man and machine well beyond their limits. Such human qualities are valued very highly by the watchmaking manufactures who stand resolute alongside these modern-day adventurers.
The official timekeepers
Wyler Genève, who became famous for its Incaflex shockproof system, was chosen as the event's watchmaking partner and official timekeeper for the first edition in South America. The partnership was signed for three years, but came to an abrupt end in late 2009 when the manufacture became a victim of the global economic crisis and went bankrupt. It also commendably combined this role with that of protecting the environment. At the time, Wyler Genève was the first watchmaking workshop to be certified carbon neutral, meaning that its business activities had no negative effects on the environment. It then went on to finance a study of the environmental impact of the rally-raid.
Stéphane Peterhansel, the most titled Dakar racing driver ever, became the event's first ambassador and wore the rally's official watch, the Code-R 'Dakar'chronograph, throughout the entire race. This beautiful model, produced in a limited edition of just 182 pieces to reflect the number of participants in the Dakar's first edition in 1979, boasts a sumptuous black and tan colour scheme reminiscent of the desert landscape that has earned the Dakar its renown. It comes with two leather straps, one in beige shrunk leather and the other in black rubber. The all-terrain chronograph features a case made of tantalum, a rare metal in a unique blue-grey hue, difficult to machine, but offering supreme wear-resistance. The watch is powered by a classic automatic ETA 2894-2 calibre.
After the setbacks suffered by Wyler Genève, in 2011 the Dakar's organisers turned to another Swiss manufacturer of sports watches: Edox. In just a few years, Edox thus became a watchmaking reference in precision timing in the Class 1 World Powerboat Championship and the FIA World Rally Championship offshore racing competitions.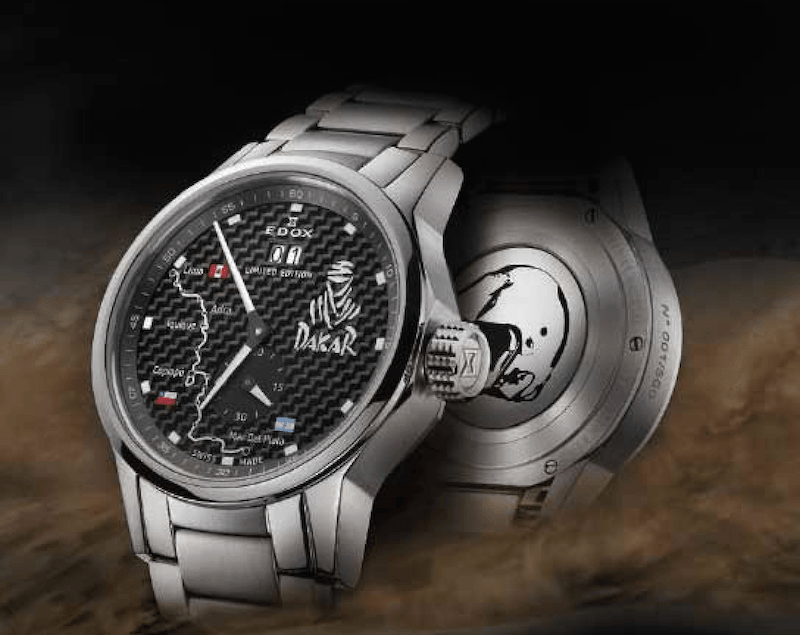 Edox Dakar Limited Edition - 2012
Edox, which means "the hour" in ancient Greek, signed an initial deal for three years, which was subsequently extended into 2016. Every year, it unveils the official watch of the rally-raid. All limited editions feature Swiss quartz watch movements made by Ronda, chosen for their dependability, precision and wear-resistance in all extreme situations. They are also aimed at a wider public thanks to a less elitist price tag.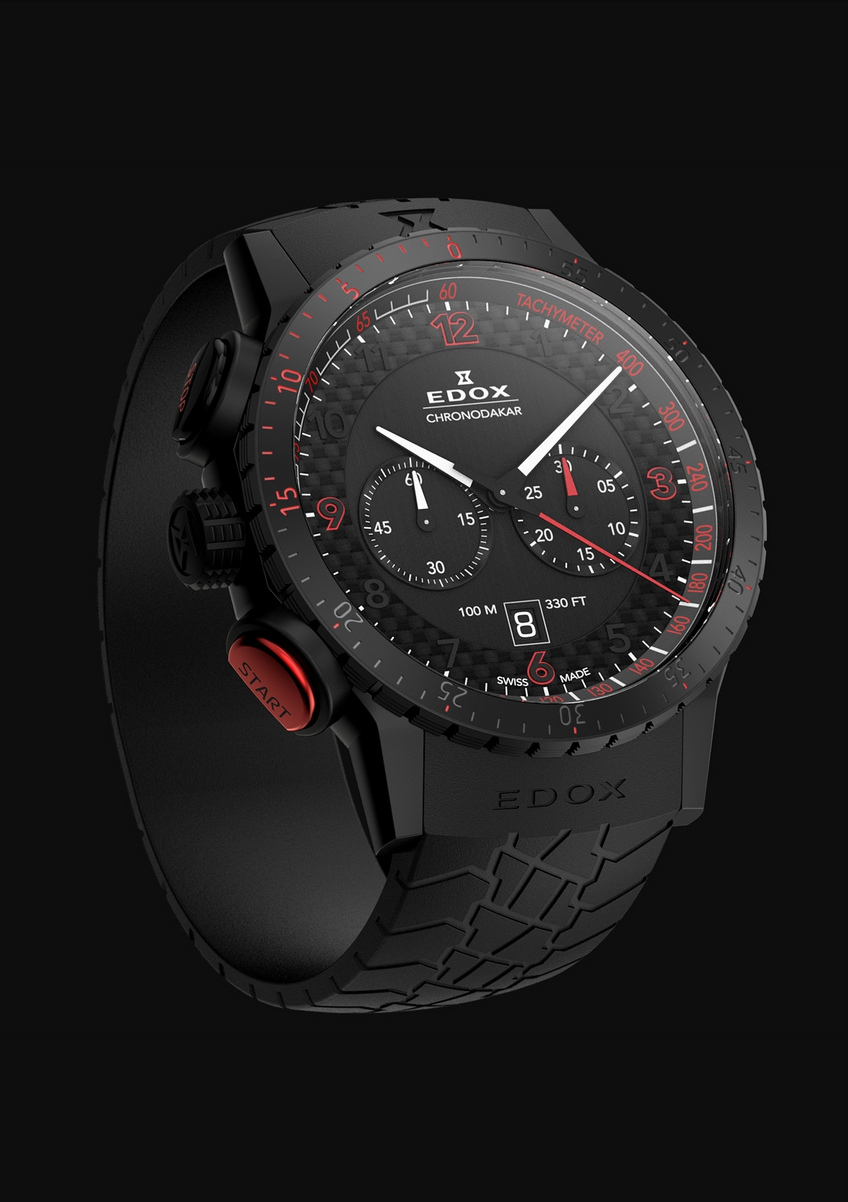 Edox Chronodakar 2013 Limited Edition
The first piece for the 2012 edition of the rally sported a sober carbon fibre dial sporting the map and logo of the race. Its 42 mm stainless steel case was engraved with an individual number on the case middle.The following 'ChronoDakar' pieces were more functional and adapted to the race with a chronograph function that proved essential for the drivers. They each featured an impressive case, measuring 45 to 47 mm, made of 316L steel (2013, 2016), or titanium (2014, 2015) water-resistant to 100 m. They were also fitted with a scratch-resistant sapphire crystal with antireflective treatment and the positions of the pushpieces and crown were reversed for improved handling. The oversized 'start' pushpiece even allowed setting through gloves, while the sculpted rubber straps were reminiscent in texture of an all-terrain tyre tread. The 2016 edition was distinctive for its stunning sand-coloured dial embellished with the celebrated race logo.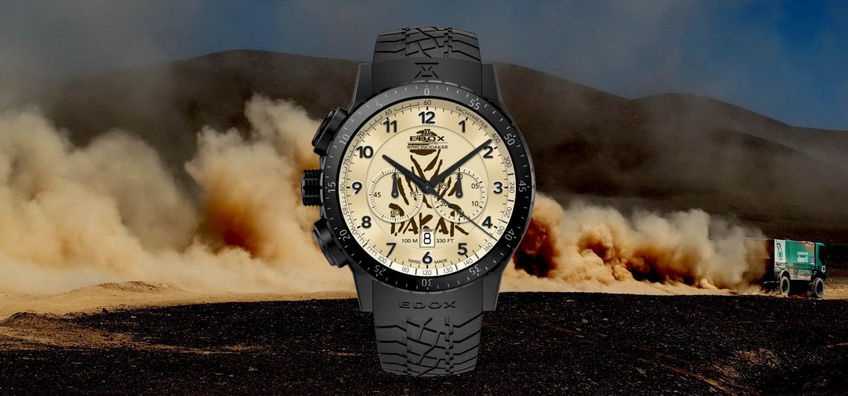 Edox Chronodakar IV Special Edition
Rival watchmaking partners
Other watchmaking workshops will also be putting in an appearance alongside the official timekeeper by partnering top names in this extraordinary rally, or by backing other drivers now turning to the race having already accomplished a successful sports career. Such is the case of Chopard, whom we know to be highly committed to the world of automobile sports. Chopard will be sponsoring Romain Dumas in his South American adventure. The official Porsche driver and ambassador of the Swiss watch manufacture took part in his first 'Dakar' in 2015. Dumas crossed the finish line wearing a Chopard Superfast Power Control on his wrist.
The extremely popular Stéphane Peterhansel was appointed Zenith ambassador in 2015 for three years. The ground-breaking watch brand is back on the road to Dakar after competing in the Rallye historique event and the Tour Auto. Peterhansel, who wore an El Primero Lightweight chronograph last year, starts this year as the race favourite behind the steering wheel of the brand new 3008 DKR prototype of the Team Peugeot Total.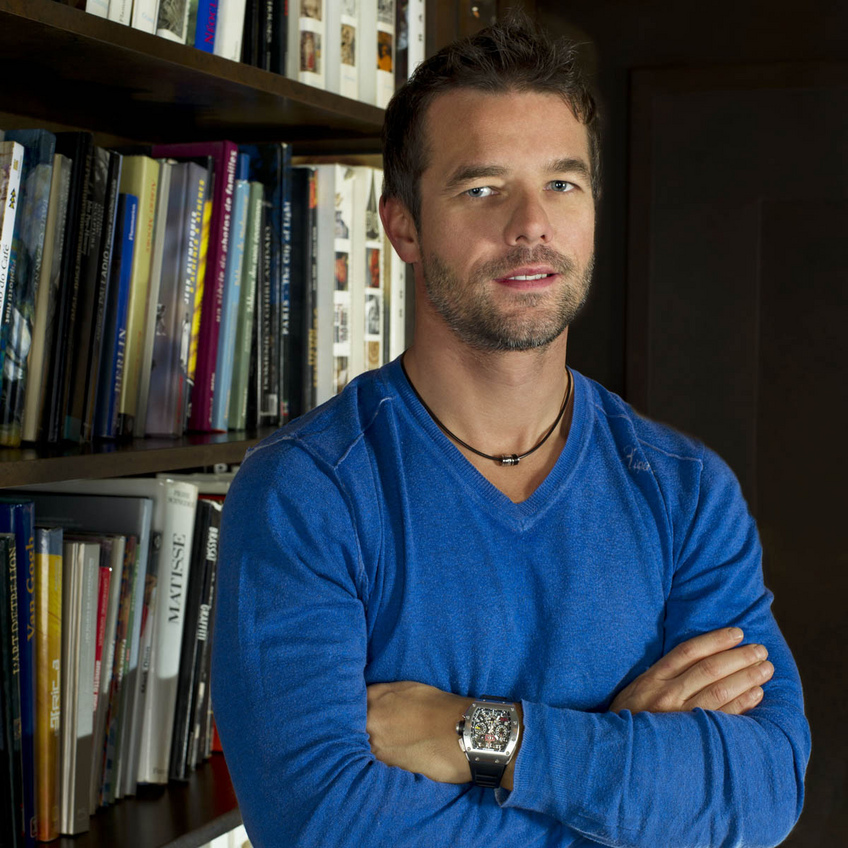 Sebastien Loeb © Richard Mille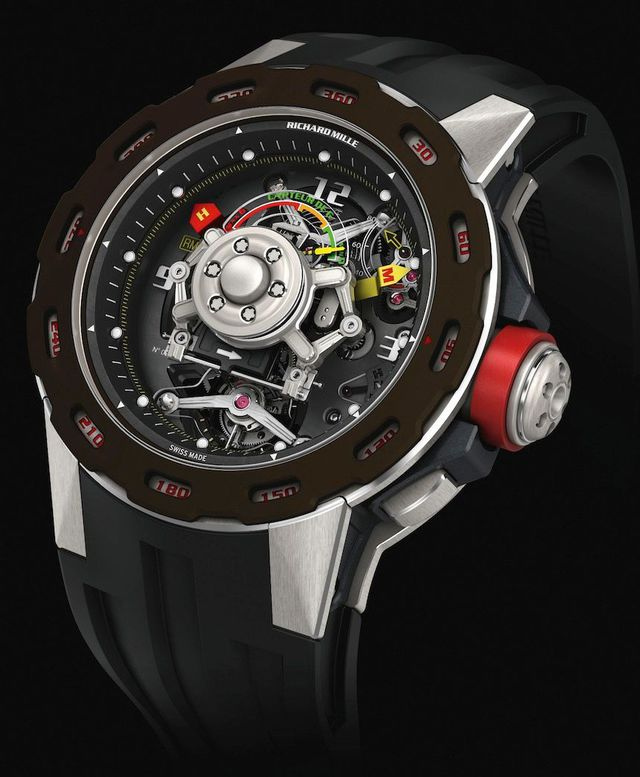 Richard Mille RM 36-01 Tourbillon Competition G-Sensor Sebastien Loeb
Alongside him is another great favourite, Sebastien Loeb, nine-times world rally champion and Richard Mille ambassador. Alsace-born Loeb made an impressive first foray into the rally last year. We may well see him sporting the superwatch developed especially for him by the watch manufacture. The Sébastien LoebTourbillon RM 36-01 carries on-board a highly innovative mechanical complication, the rotary G sensor, which can display the different G forces at work at various stages in the race.
The TW Steel watchmaking brand, which began sponsoring the Renault F1 racing team a few years ago, has been collaborating together with the Dutch racing drivers, Tim and Tom Coronel, in the SSV category for the last ten years. Every year, it dedicates a special edition to the twins. For 2017, the TW964 Coronel Dakar chronograph limited edition has been fitted with a sturdy 48 mm watchcase in PVD-treated steel, carbon dial, textile strap and Citizen Myota quartz calibre enabling it to tolerate some of the worst conditions.
For other watchmaking manufactures, the Dakar rally is also a splendid showcase through which to spread their renown and highlight the intrinsic qualities of their watches.
Vicenterra, the watchmaking brand founded by Vincent Plomb in 2010 in the Swiss Jura, is diversifying its sporting interests this year by taking part in its first Dakar rally together with the young Aveyron-born and -bred motorcyclist, Loïc Minaudier. A GMT-3 Black Máté timepiece engraved with the words 'Pilote moto Loïc Minaudier – Team Nomade Racing – Rallye Raid Dakar 2017' will be gracing the driver's wrist throughout the race. Its brushed and microblasted black titanium case houses an ETA 2892 automatic movement with additional module developed by Vincenterra. The tridimensional dial popular with many enthusiasts features an independent second time zone display, a 3D world globe, a retrograde date feature and an original day/night indicator.
Between 2014 and 2016, the Lithuanian-based watchmaking brand, Vostok-Europe, sponsored the Lithuanian driver, Benediktas Vanagas, who opted to compete behind the steering wheel of a Toyota Hilux pickup. It developed some truly rugged models for its ambassador, such as the Benediktas Vanagas White Edition chronograph, limited to just 500 pieces, which will appeal to all rally-raid fans and their intrepid drivers. Tested in the extreme conditions of the Dakar rally, the watch in question, with its tough 316L stainless steel case water-resistant to 200 m, houses a Swiss-made ISA Ana-Digi 9516 calibre and provides all the functions a Dakar competitor might need, including a chronometer, perpetual calendar, alarm and display indicating several time zones. It is delivered in an original shockproof box containing a choice of two straps, black leather or white rubber, and a pamphlet recounting the driver's experiences.
Japanese giant Casio, king of the shockproof watch, developed a special G-Shock in 2006 for the Team Land Cruiser Toyota Auto Body. The model is based on the "Mudman" series developed for extreme environments and has an in-built compass and thermometer, vital tools in any desert rally. The G-9000TLC-4JR /G-Shock Mudman "TLC limited edition", readily recognisable by its vivid red colour, boasts many functionalities, including a1/100th of a second chronometer functioning for up to 1000 hours, five alarms, a countdown index and multiple time zones. The strap and caseback are struck with the team's logo.
The winning watchmaker will be announced in Buenos Aries on 14 January 2017!
See the results of Dakar 2017 > http://www.dakar.com/dakar/2017/us/index.html
DISCOVER OUR HOROLOGY & AUTOMOBILE DEDICATED PAGE!
By
Rémy Solnon
,
Specialised journalist
There will be something for every taste and budget. 2016 has been and will continue to be rich in new car-inspired watches. Here is a review of some of the...
By
Rémy Solnon
,
Specialised journalist
There will be something for every taste and budget. 2016 has been and will continue to be rich in new car-inspired watches. Here is a review of some of the...