Elegance and craftmanship meet for Jaquet Droz's new year
By joining the Béjart Ballet as Presenting Partner, Jaquet Droz does not only unite with a prestigious company, but enters in a world of precision, elegance and movement that shares a lot with its own universe.
When I discovered that Jaquet Droz became Presenting Partner of the Béjart Ballet, I didn't know what to think. My knowledge of ballet is scarce and the preconceived idea I had of it didn't match with Jaquet Droz' universe of precision, detail, elegance and poetry.
I couldn't be more wrong! In fact, those two worlds were bound to meet and join, sharing the same values of hard work and visual perfection. The Béjart Ballet is not only a prestigious name in the world of contemporary dance. A single look to the dancers will convince you that there are endless hours of training and sweat to reach a perfection in movement and body control. The bodies might be thin, they are pure muscle and elegance, which would be normally an odd combination. But not here…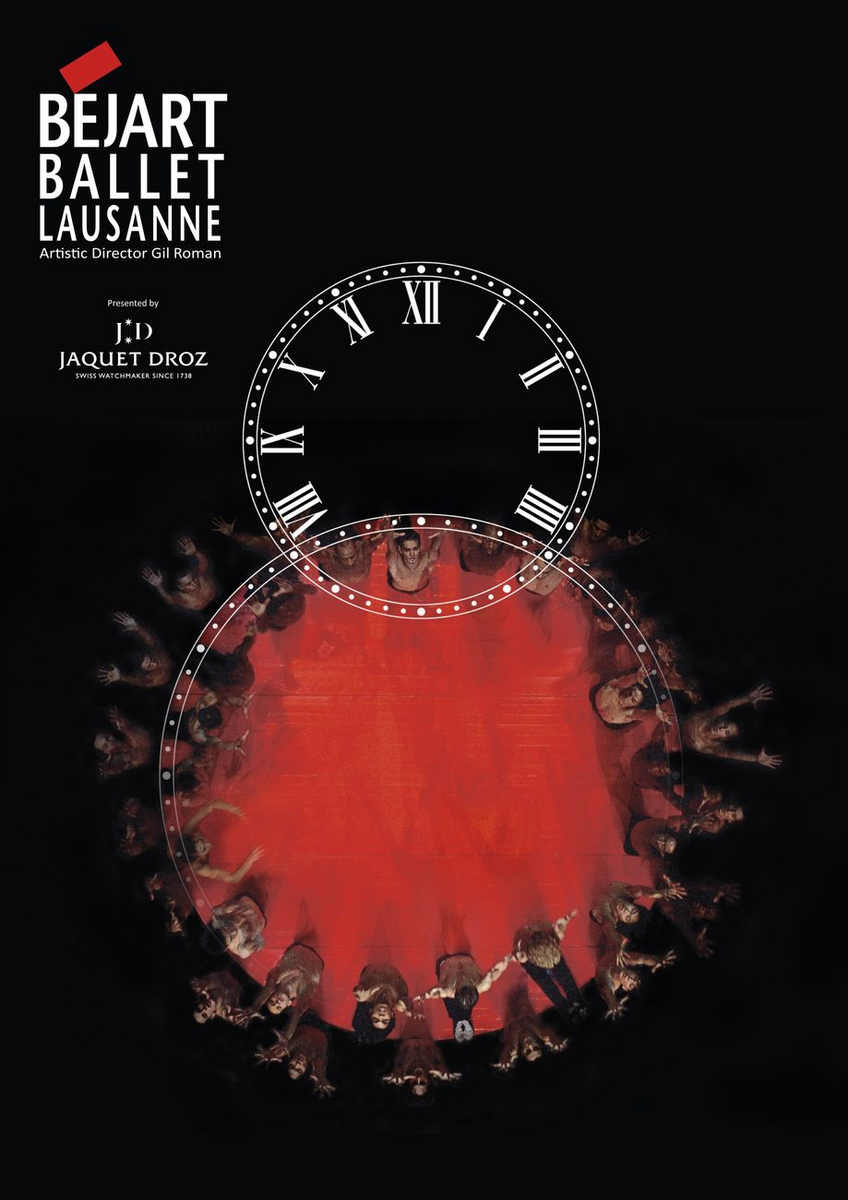 Béjart Ballet's poster embodies the links with Jaquet Droz
While I find Jaquet Droz watches able to carry a complete story through their design and complications, I discovered that the Béjart Ballet not only staged life moments through synchronized movements but created as well strong emotions such as desire, marvel and fascination. The delicate steps of ballerinas could remind you of the sweet tic-tac of watches, their swirls could easily be mistaken for Tourbillon's dance and when the company moves together like a single mind, it is the human incarnation of a perfectly oiled machinery. The union of those two embodiments of grace that are Jaquet Droz and Béjart Ballet makes then perfect sense.
Tribute to chinese Zodiac sign with the Petite Heure Minute Relief Horse (J005033275)
Another demonstration of Jaquet Droz' craftsmanship
In order to pay tribute to the Horse's Year, Jaquet Droz has presented three new models in the collection Les Ateliers d'Art that confirm the skills of the brand in craftsmanship. Using techniques such as engraving, painting and Grand Feu enamel, Jaquet Droz has brought back to life magnificent horses on the dials of Petite Heure Minute models.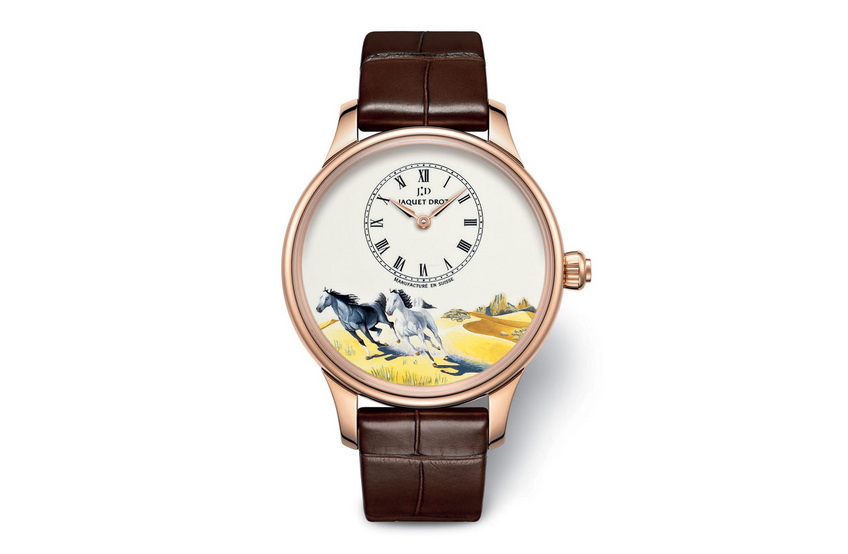 The beautiful Arabs thoroughbreds on the Jaquet Droz Petite Heure Minute Horse
The 39mm red gold case model stages two Arabs thoroughbreds painted on the ivory enamel dial while the 43mm red gold case model has a wild mustang in red gold engraved in bas-relief.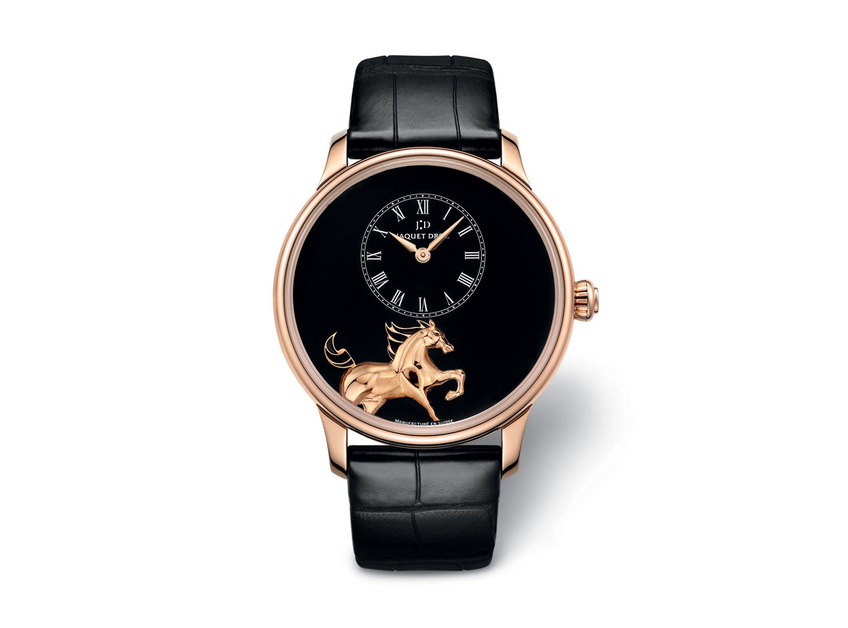 The wild Mustang on the Jaquet Droz Petite Heure Minute Relief Horse (J005033275)
The black enamel dial of this time-keeper enlightens the movements of the horse, who seems to be ready to come out of the watch. But to pay a complete tribute to this Chinese Zodiac sign, Jaquet Droz has conceived 41mm Petite Heure Minute in red gold with a depiction of a horse standing on its two hind legs while on the back, we can see the Great Wall of China. The mother-of-pearl dial as been engraved and patinated by hand to represent the world known monument of China while the red gold horse was engraved in bas-relief. The demonstration continues on the back of those three pieces, where the oscillating weights have also been engraved each with a different motif of a horse. Limited each to 88 pieces, those Petite Heure Minute are available on a brown or black alligator leather strap.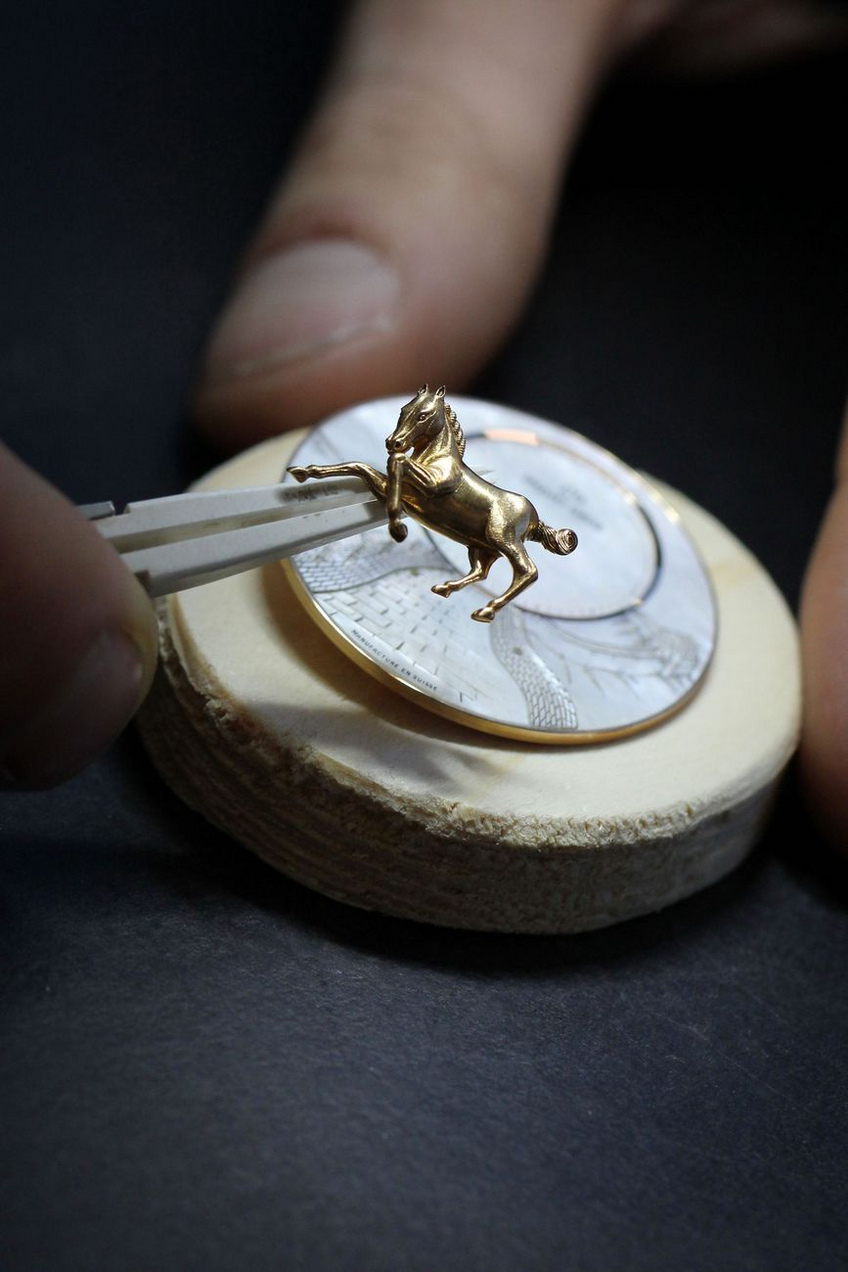 Sens of detail, precision and hard work for an elegant result