Ready, set, go ...: Champion heart and artist soul in the DOMINIQUE RENAUD DR01 TWELVE FIRST!
The first beats of its mechanical heart have resonated. The results are extraordinary.
Its knife has been carefully sharpened, inserted into its cylindrical resonator and adjusted to the V-notched ruby jewel spheres... Its escapement is set. It's time to arm the barrel. The 9 lost beats are passing... On the tenth beat, the impulse is given to the blade resonator and the heart begins to beat...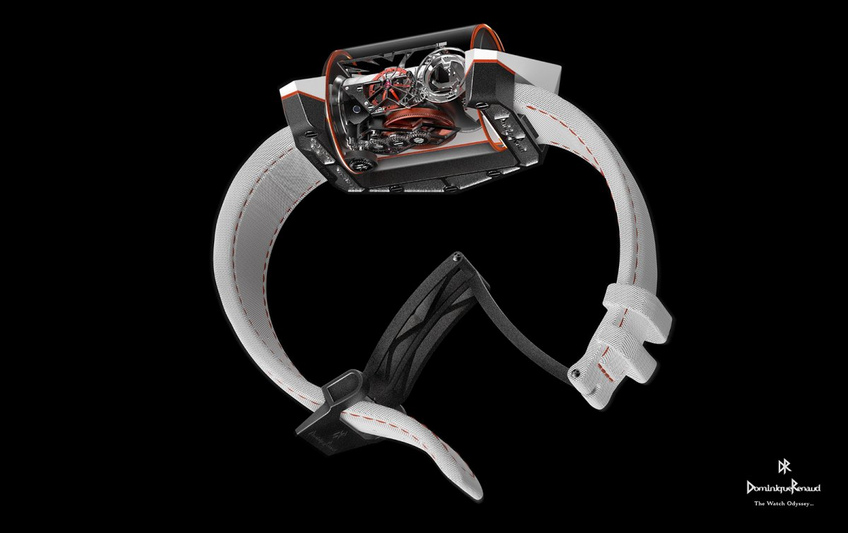 Dominique Renaud DR01 Twelve First Ceramic white
It now resonates in a high supporting frequency rate in all positions in his impressive cylinder.
The spatial pivot plays its role beautifully with its unparalleled quality factor supporting its balance 20 times heavier than normal, with cumulative amplitude of 340 degrees between each impulse, taking into account the amortization.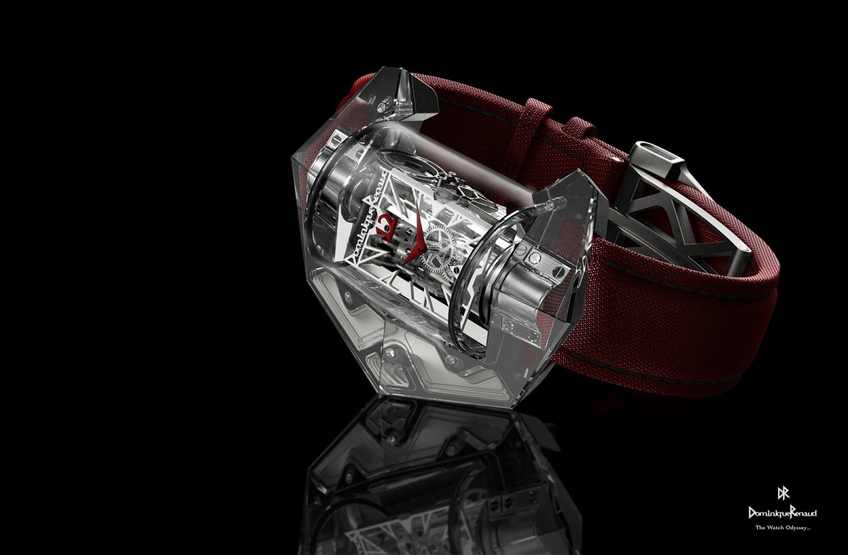 Dominique Renaud DR01 Twelve First Saphire red strap
The short crossbow shaped spring located outside the resonator also plays its role perfectly and allows a frequency of 5 Hz from the first test. It is 6:31 p.m., Wednesday 28th of September 2016. It is a historical moment. With slight modifications of the shape and thickness of the spring, the blade resonator easily reaches 12 hertz or 86,400 beats per hour! A brand new spectacle... We are already touching the record frequencies for a mechanical balance!
After years developing and producing high complicated watches for the most prestigious brands and now rethinking the fundamental principles of mechanical watchmaking, this is a big achievement. The beginning of a series of innovations and emotions for years to come signed by Dominique Renaud, as in an Odyssey...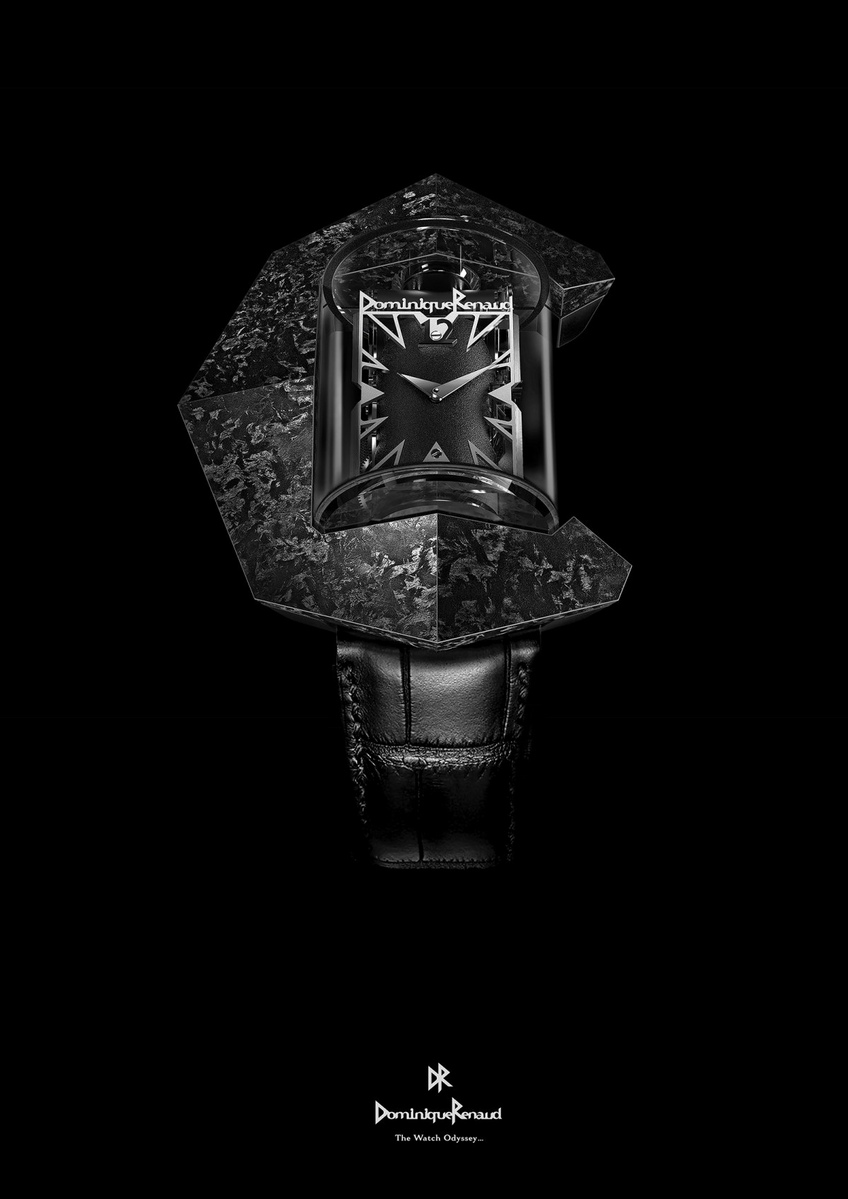 Dominique Renaud DR01 Twelve First Carbon forged black
The heart of the DOMINIQUE RENAUD DR01 TWELVE FIRST – a set comprising - the blade resonator with a tiny and unbreakable spatial pivot – the rotary experimental escapement with 9 lost beats – the adjustment device with multiform spring – has demonstrated its fantastic potential mounted in its working movement.
Dominique Renaud DR01 Twelve First Movement 20161102
The rules of mechanical watchmaking are upset...
It is now possible to combine high frequency, chronometry, quality factor and high power reserve in the same movement, opening new horizons for the industry...
This mechanical heart will animate the DOMINIQUE RENAUD DR01 TWELVE FIRST, currently in development in its workshops in Renens, Switzerland. The first artwork will be presented in 2017 in an art gallery.
About Dominique Renaud and the DR01 TWELVE FIRST
Dominique Renaud returns with a revolutionary "concept watch" revisiting some fundamental principles of mechanical watchmaking, he develops and signs under his own name. It's the response to the request from all lovers of mechanical watches for new mechanical spectacle of a beating heart...
The DOMINIQUE RENAUD DR01 TWELVE FIRST is simultaneously a compendium of disruptive innovations and a faithful adherent to the traditional finishing codes of haute horlogerie mechanical watchmaking.
This first project will be available in an edition of twelve prototype timepieces. Dominique Renaud's vision is to involve enthusiasts in a pioneering spirit and allow them to experience, next to the watchmaker- artist, exciting and active participation in writing a new chapter in the history of watchmaking. Twelve unique and revolutionary watches, each one customized for the participating collector and a true masterpiece of art and breakthrough innovation crafted in the form of an exceptional mechanical watch with unmatched performance and incomparable design. The pioneering collector will own a truly unique artwork, a piece of significant and historic collection that will be kept in perfect running condition throughout the project development process and receive any updates without time limit.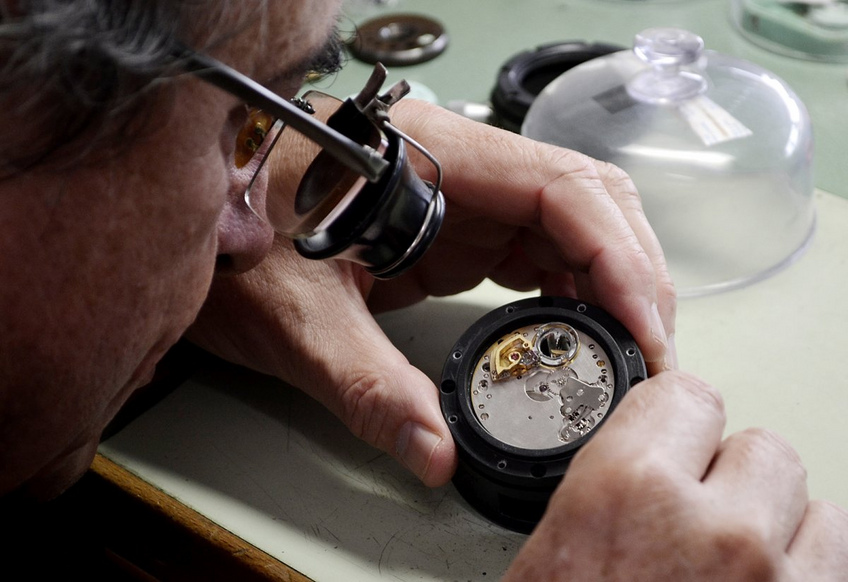 Dominique Renaud working on the working movement 20161102
Everything is new, the design, the technology, the logic. There is no more pivoted sprung balance but a blade resonator, there is no more Swiss anchor but a rotary experimental escapement with 9 lost beats, a guarantee for exceptional chronometry, with natural unprecedented power reserve, finally encapsulated in a 360 degrees rotating cylinder and nestled in an arch, like the beginning of an odyssey...
Securing the capsule to the wrist is an arch-shaped frame, its form evocative of a futuristic monolith from another world. Angularity is emphasized in the design of the DR01 TWELVE FIRST, as sharply finished angles in watchmaking are invariably associated with the highest echelons of horology. Sharp angles, a signature element of the brand, are inspired by the Dominique Renaud's initials, DR. The arch is carved from a single block of material, the choice of which is left to the exploration of each timepiece's final owner. The customization process extends to the color and material of the dial, which is topped off by a monobloc dial plate incorporating the company's signature and shard-like hour indices combined with centrally mounted dagger-shaped hands. In accordance with this razor- sharp aesthetic, even the curves of Dominique Renaud's initials are transformed into precise, hard-edged geometric forms. The hour and minute hands are complemented by a true deadbeat seconds system that jumps from second marker to second marker. A natural complication!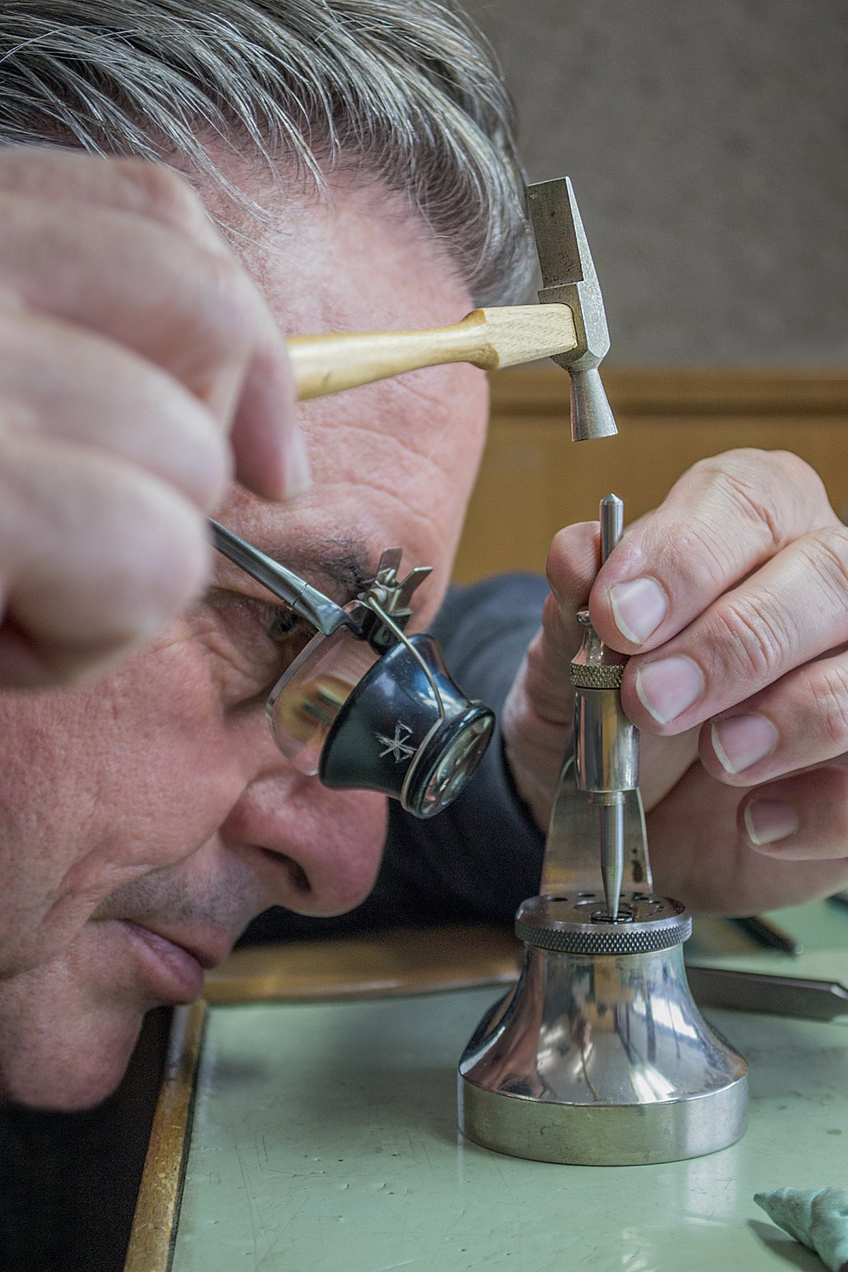 Dominique Renaud in his workshop
The movement consists of an assembly of cylindrical elements that appears suspended in the centre of a 360-degree sapphire-crystal capsule. The movement truly invites the wearer to contemplate mechanics, design, and life itself. This fully transparent module can be rotated to display the movement within from six preset positions.
Dominique Renaud wants to open new paths, find alternatives, and create innovative concepts whose designs aim to surprise as well as create wonder and emotion within pioneering collectors, while improving the functional characteristics of high-end mechanical watches.
Dominique Renaud, The Watch Odyssey...
By
Marco Gabella
,
Co-Founder - Executive Publisher
The watchmaker Dominique Renaud – formerly from Renaud & Papi – is taking on the fundamentals of horology.  He is now proposing an...
After almost 15 years of retirement, Dominique Renaud returns with a revolutionary concept watch that holds the distilled essence of his inspirations, creative...