SIHH interview with Jérôme Lambert: recreating the emotional buzz of the very first time
2015 … Jérôme Lambert is representing Montblanc at the SIHH for the second time. Is a revolution in the making? Between two long emails, Lambert found time to answer our questions.
At the 2014 SIHH, Montblanc created quite a stir in the world of mechanical watches by offering a perpetual calendar for around €10,000. No other brand ever tried to make this preeminent horological complication as affordable, even in steel.It was a message, loud and clear. A choice of positioning made possible by the brand's global dimensions and distribution network. And a decision that might well get other balls rolling at the SIHH 2015.
Jérôme Lambert, whose name was associated with the maison Jaeger LeCoultre – he even shared the same initials – joined Montblanc in mid-2013. From then on, it was from Hamburg, Germany, the historic seat of the company founded in 1906 by the stationer Claus Johannes Voss, the banker Alfred Nehemias and the Berlin-born engineer August Eberstein, that Lambert steers the brand. Everything is within the framework of the Richemont Group, which purchased Montblanc in 1998.
AF:Are you staying in Switzerland for a few days?
JL: No, I arrived yesterday because I had a meeting with the Richement Group.I am taking off this evening again.
A touch-and-go landing, as it were…
Two days is not really touch-and-go. Last week I was in South Korea, I left Switzerland … or rather France, on Wednesday evening. Actually it was from Germany, passing by France, and I got back on Saturday morning. That is real touch-and-go!I stayed at my destination for just thirty hours.It's hard to be in one place for less time.
With thirty hours of flying back and forth…
Yes, but you sleep on th way there and back. You don't even have enough time to feel jet lagged.In fact, that is the advantage of these flash visits.
Are you in demand?
The fact of being present in 120 countries and having over 20 subsidiaries, of having such a large network of retailers, does imply having to be on the ground constantly. On top of it all, there are lots of new things, and they are being done for the first time. Right now, cloning is not in our portfolio (laughs) so I am trying to develop a sense of ubiquity.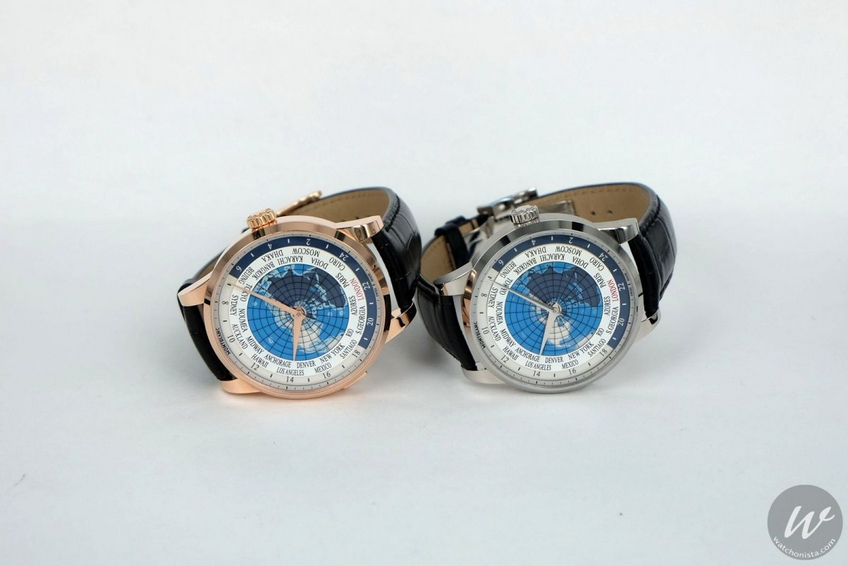 Montblanc Heritage Spirit Orbis Terrarum
By the way, what is it that you like so much about Montblanc and what makes you run around that much?
Two things. First of all there is the entire world of a simple, clear and well defined maison: its codes, its very name, its emblematic logo, its identity, the way it presents itself... Furthermore, we are fully positioned in three different segments: leather in Florence, Italy, watchmaking in Switzerland, and writing implements in Germany. We are investing a great deal in these three segments through our own manufactures. So on the one hand we have the simplicity and consistency of a full-fledged company, and on the other the proliferation of products and their means of production, which highlights our range of skills.It is intellectually stimulating.
You have chosen to position the brand in such a way as to encourage those who dreamt of stepping into the world of horological complications.Accessible mechanical passion?
Making progress through a maison and in a particular price segments is an intellectual exercise I already engaged in at Jaeger LeCoultre. Montblanc is a company where a pioneering spirit is not just a figure of speech, so this exercise was again perfectly justified. And besides, our watchmaking age does open up a greater range of possibilities. When you visit Le Locle or Villeret, you can immediately see that we have something to show, to share with the public, as it were. When you realize what we are able to create at the Villeret site (eds. note: complications), and then you see the challenges Le Locle is able to master (eds. note: industrial capacity), you realize that there is a lever between these two units and that lets us maintain our positioning. Plus, we are not weighed down by our history.You know, if you have been in watchmaking for 250 years, your history is not only a heritage, it can also be a burden (laughs). At any rate, it's a heritage that can dictate precisely what you have to do. Finally, we have our own distribution network. So, since we have rapid access to our clients, we can explain our approach more easily.
I can imagine that going to market with very attractive prices for complications must not have been that easy to set up, even within the framework of the group.
Of course, but there is no way I could imagine it would not be possible to achieve. During my fifteen years at Jaeger LeCoultre, twelve as CEO, and four years at A. Lange & Söhne, I never had my hands tied. I understood that with the competencies at Villeret (eds. note: research and development, expertise in complications), we could do things differently, that is, find new ways. This approach and deviation from conventional manufacture watchmaking was also tried at IWC and Jaeger LeCoultre twenty years ago. This has to remain at the root of our inspiration.
To demonstrate this new positioning, you presented a very accessible perpetual calendar in 2014.How were you perceived?
I am still convinced that the fondness for haute horlogerie brands is due to the emotions that we are able to generate in our clients. Emotions are also kindled when you demonstrate that you have mastery either of superior watchmaking, with models like the Metamorphosis, or in the art of reinventing complications to make them suddenly more accessible. Whatever the case, it is a mission that our teams understand and back to the hilt.With us, a product must keep its promises:value, quality, innovation and technical performance. The Montblanc customer has to receive exceptional quality, technical performance, as well as a good price-emotion ratio. This trilogy means the company has a special role to play in the world of horology, where you find over 600 other companies, of which over 100 are in the field of haute horlogerie. Each one must have its own signature. Ours is made up of challenges.
So you are going to stay the course as far as positioning is concerned?
Yes. And we might be even more radical. That is to say, in 2015, we will be introducing five new modules and movements. We are highlighting our inventiveness, our creativity, and our creation of new and completely original complications, with even more emotion, discoveries, and the pleasure of acquiring things.
Watchonista introduced the Montblanc Heritage Spirit Orbis Terrarum as an exclusive in the latest AGEFI Life paper.Is it a member of the new race of watches?
Yes, it's a timepiece that is part of that logic.It resulted from a new technical principle, a new way to approach the universal hours complication. This is the kind of challenge that gets us going in the morning and mobilizes the teams. Plus, it's beautiful. It provides access to time zones for those who never dreamt of seeing a model of this kind on their wrist.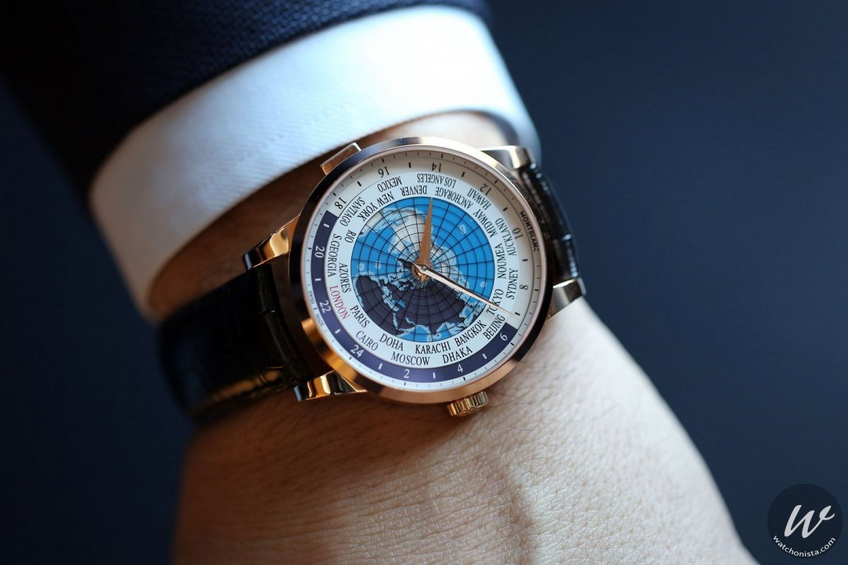 Montblanc Heritage Spirit Orbis Terrarum
This quality product with a sexy look resembles somewhat a revolution in the travel time universe…
That's what we find the most pleasing. It wasn't really around before, it hadn't been made as simply. So evolution is not only happening at timepieces priced at over half a million euros. Our company is really obsessed with innovation.Our desire to surprise originates in our desire to recreate emotional buzz of the very first-time. Other novelties at the SIHH 2015 are part of the same system, even though we will be presenting a major complication, an extraordinary one, priced at over €220,000. For me, the meaning of value is an equation between price and emotion, and this can exist in different price segments.
To offer these kinds of complications at an affordable price, do you have to chip away at the usual margins?
No, there are a variety of elements that must be looked at.The first is that Montblanc can depend on 500 boutiques, of which 250 are its own. In the final analysis, this is already one of the major Montblanc differences.So when we introduce a product, we introduce it to all Montblanc customers through our boutiques, in at least 120 countries. This represents a sharp acceleration in how we make contact with our customers and, hence, in our capacity to introduce a novelty and then give it a real life rapidly. It's another way to get mastery of value since this kind of cycle requires other levers, like efficiency. This intimacy that we can have with our customers is one of our prime strengths.
So it's not a question of volumes?
No, it is, more specifically, the time-integration ratio.
Let's discuss Minerva, a name that is still mentioned often by fans of watchmaking, even though it is gradually petering out chez Montblanc…It would seem, however, that the Pythagore, a model from its history, inspired you…
I believe that every brand has a similar kind of model that inspires.Some have even become the cornerstones upon which entire watchmaking maisons are built. The Pythagore, which dates to 1948, was actually method of designing movements, and then it became a style and a watchmaking expression that was important in Minerva's life.Those timepieces are not that easy to find nowadays, especially with the silver dials. First and foremost, we found this timepiece wonderful before realizing what an asset it meant for our brand. It is one of the codes that expresses our Heritage Chronomètre line. For me, when we create something, it is important that it always stands on a solid DNA basis.When it acquired Minerva, Montblanc suddenly became the owner of 156 years of history that included the Pythagore, an especially well balanced timepiece, which has been the focus of attention in terms of horological details and has also delivered lots of food for thought with regards to the construction of a movement. So, that particular watch did pervade our work.
Could Minerva, with its 156 years of historical heritage, conceivably be revived?
I don't think that we will ever start double branding. It's not easy to have two maisons within a single maison express one product named Montblanc. We will continue using Minerva as a signature for the movements that are made on location, because the way they are executed and implemented is very specific, and because we have to cast light on those movements made at Villeret according to a tradition rooted in 156 years of history. This is a token of transparency for our collectors:a movement that bears the signature Minerva comes from Villeret, i.e., it was conceived and built there. Besides, the grande complication unveiled this year was made in Villeret using a traditional Minerva concept. So, the movement will carry the name Minerva.
A word about the 500-hour test... Some have said that you imported the Jaeger LeCoultre Master Control recipe to Montblanc.
That test was already around before my arrival (laughs).It's nothing new at Montblanc. On the other hand, if you visit the manufacture, you should see how the test is performed. It takes over twenty days after the watch has been finished and assembled. This allows our production to achieve a remarkably high level of quality.
How are things evolving on the distribution side?
We are present in 120 countries and we have our own boutiques.We are going to continue increasing the number of boutiques.In Brazil, for example, we are planning to add another two to the eight existing ones. The world is changing, and we have to keep abreast of the evolution of our clientele with regards to their location.We have just integrated our entire distribution in South Korea. Two boutiques will also be opening in Hong Kong this year.Another will be opening in Russia, in Moscow's greater metropolitan area. By the same token, we will be intensifying our presence at our major retailers. We are now with Bucherer in Lucerne and Dubail in Paris.And the same goes for some points of sale in the USA… It's important for us to connect with our clients via referring partners and to get them to discover what Montblanc does in the field of watchmaking.Watchmaking lives from diversity and, at a retailer's, the customer can go from one brand to the next and compare. They also get advice.It's a real advantage when you are involved in high-end watchmaking.
By
Joel Grandjean
,
Editor-in-Chief
In the wake of both the first major watch event of 2015 and several exhibitions outside Palexpo-Geneva, Watchonista.com has interviewed some fellow journalists...