Patek Philippe's 175 anniversary, interview with Thierry Stern
At our rendezvous in the brand's new stand, Thierry Stern talked to us before the festivities of Patek Philippe's 175th anniversary scheduled for October 2014 in Geneva.
AF: How does it feel to be 175?

TS: Well, I still feel very young and motivated. I obviously feel very proud to be still here given the amount of changes that occurred in watchmaking over the past years. However, probably what makes me even more proud is that Patek Philippe has remained an independent company. I often discuss watchmaking and especially brands' history at length with my father and, when I look back and think about all the time I have been here, what stands out is definitely the fact that we have been able to demarcate ourselves by staying independent and that we have not been sold out. Many great family brands belong to groups today. Our 175th anniversary is not just about our business. It is the fulfilment of a family who managed to preserve itself, and above all who always believed in itself and in beautiful watchmaking. I am more motivated to organize this 175th anniversary than I will be to celebrate our 200th, as this one is for my father than for myself. He deserves it, I don't. My turn will come with the 200th anniversary.
How do you approach the future when you are 175?
In fact, the future has already been built. When creating new watches, the design and the movement need to be taken into consideration. Design can be seen as the easier of the two since we start it two years before the release. Sometimes, we take less time; it all depends on models and on the quantities we produce. However, when it comes to the movement, it is an entirely different matter. A simple movement takes four years to be developed, tested, validated and then produced. A complex movement takes six years to be produced and a very complex one requires a minimum of eight years. Today, in my portfolio of future movements, I am already in 2025. Planning ahead is a must, though; I don't have a choice to do differently. I know 2025 is far ahead but I am quite confident, because I am aware of the new techniques that will appear in the future and I can tell you there are some very beautiful ones. Thus, I feel serene. I think that the good management of our points of sale and of our brand in the past guarantees our future.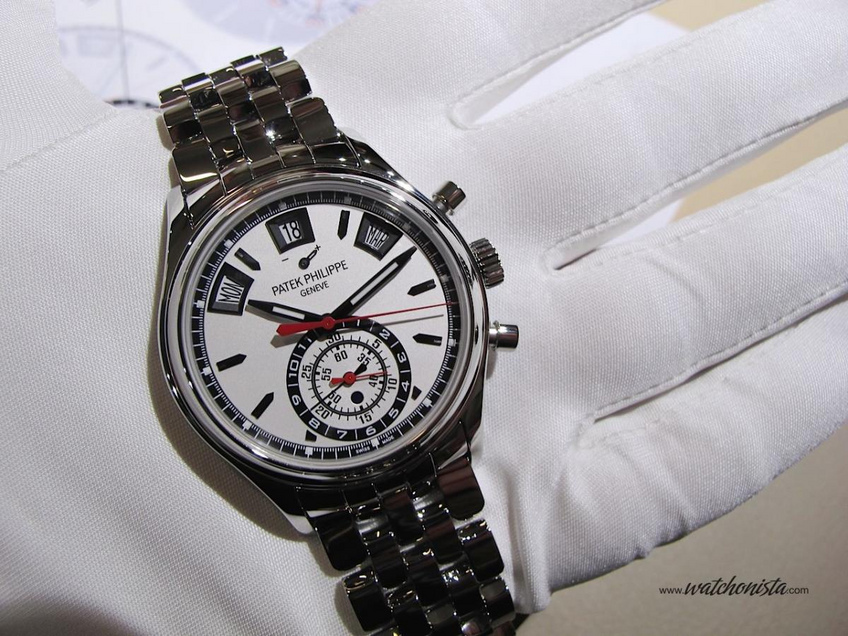 The Patek Philippe Annual Calendar Chronograph Ref. 5960/1A-001 at Baselworld 2014

In those 175 years, you have produced an extraordinary legacy: many creations, complications, innovating movements, new techniques and materials. If you had to choose only one, what would it be?

Just like that, without any second thought? The minute-repeaters. It is something very simple for the client to hear and thus to verify whether it is beautiful or not.
Everyone can tell whether a sound is beautiful or not. At the same time, it is a very technical watch to make and this is what I particularly like in this creation. This might not be the smartest choice from a commercial point of view, but for pleasure, I would definitely keep the minute-repeaters.
Any favorite reference?
Not really. They are constantly evolving and each one of them is a new celebration. I could not pick one. There may be some which have been more successful than others but we have worked so hard to create them – by making them aesthetically beautiful then by developing them technically so that their sound is honed and comes out more beautiful, harmonious and powerful – that it would be unfair of me to pick only one.

I have the impression that everytime we meet, you are wearing one...

I am wearing a 5970 right now. It is true that I have had it for quite some time now. I do not own so many timepieces to afford changing them frequently. I have essentially two timepieces, this 5970 and an Aquanaute Travel Time. These are two models that I like very much, that fit me well. The 5970 is my favorite. It is beautiful both in terms of complications and aesthetics. For me, it was a very difficult watch to create because I had to reinterpret the case of the 3970 which was an icon at Patek Philippe.
It was very hard because since the beginning, my mission consisted of modifying this case and everyone thought that it was impossible to do better since the 3970 was a very famous case at Patek. Nevertheless, with hard work and passion, I managed to make quite a good case. It is the reason why I wear it; it took me more than two years to produce it.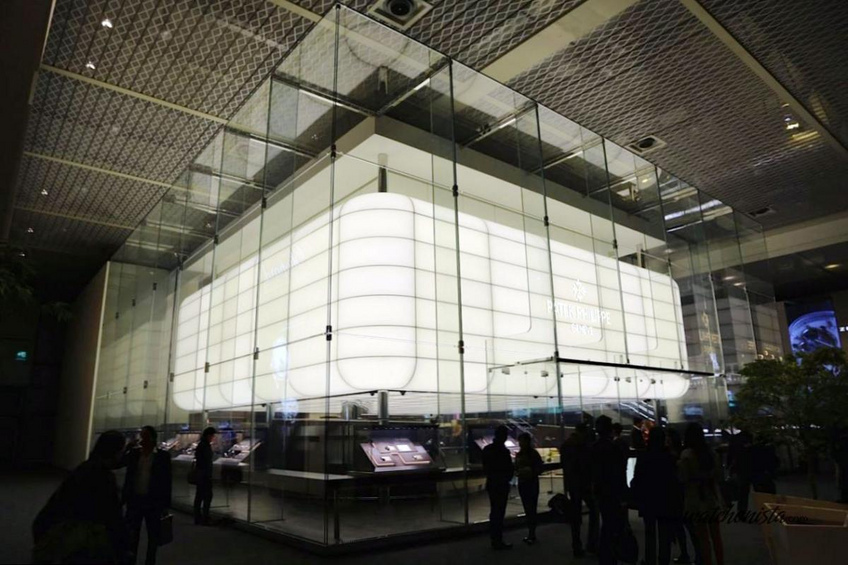 Patek Philippe's stand at Baselworld 2014

What has never changed in these 175 years?

The will to do better. The will to improve both he daily management of our business and our relation with clients and retailers. It is obvious that products and their quality have evolved but the will and strategy behind these have not changed and neither should they.
On the opposite side, what has radically changed?
I would say the way we produce watches. We went from a traditional era to an industrialization era, though always paying particular attention to quality and know-how. At first, one watchmaker created the movement from beginning to end and, even when more than one watchmaker was needed, there were still few working on it. Today, we have succeeded in implementing a production tool that makes one same piece a hundred times with the same quality and criteria.
To talk about this year's products, was it you who gave the green light for the production of the Nautilus Chrono Travel Time?

I always have to give the green light for every watch produced since the chairman and the family control Patek's production. It is a must because if we didn't, we would only be businessmen. When you join Patek Philippe, you become a family member and you have to love the product. This is what we were taught; it is the brand's vision that we learned through working at the firm but before in the family home. We are exposed to it from a tender age; it is what we may call the brand's DNA. We are injected with it at a very early stage of our life. It is when we become passionate that we can preserve this DNA while giving the new generation leeway to contribute as well. Every member of the family who takes the brand over adds their own touch to it. It is what constitutes Patek Philippe's strength today.

What do you advise collectors who cannot yet afford to buy a complication from your brand but like it?

The main advantage of our contemporary world is that this young generation has the necessary tools to obtain information on whatever they need all on their own. Magazines, media specialists, the internet, everything is there to obtain good advice.
I have often observed – and this goes for all brands – that there is an enormous amount of models out there. For example, Patek has almost 200 models. It is very hard to choose… Even if a price range has to be considered and thus certain pieces need to be ruled out because they are too expensive for young people. The best advice I could give would be to buy the first timepiece that caught your undivided attention; I have often seen that this is the one you should buy. You must not hesitate because you'll regret it afterwards.

Do you remember your first Patek?

Yes, I do and very well. It was the Nautilus 3800, it was made of yellow gold and steel. It was a very beautiful timepiece and I still have it. In our family we do not give a complication to an 18-year-old, it's too much. For me, the 3800 reference is beautiful, simple, self-winding and water resistant. I could do anything and everything with it, even wear it with a costume –which was rare for an 18-year-old–or wear it with a pair of jeans or a swimsuit.

Your first memory linked to the Manufacture

My first memory is not of the Manufacture, it is of the shop which was on Rue du Rhône. It was the offices' headquarters and a part of the Manufacture's location. I was six years old, it is even one of my first memories: I have this flashback of opening a drawer which contained six enameled watches. They were very beautiful and the first pieces that were showcased in the museum.
From that day on, I knew I wanted to create timepieces. I still remember the drawer's smell, its colour; with burgundy velvet…
Your 175th anniversary is actually on 1 May, isn't it?

In fact, celebrations will take place in October. Everything will be done at the Manufacture in Geneva. We will present new timepieces for the occasion.
What do you think about digitalization, first personally and then for Patek Philippe?

I am of the same opinion as everybody else; it is useful but we must not become completely dependent on it. As it is, I think that it is a great way to learn. I have two kids and one can take math tuition with a teacher who is in Canada and the other with one who is somewhere in Europe. We must not back away from it, especially for a brand like us. It is a tool which enables us to communicate with the client, to broadcast films, and to maybe reach more people. It is also something which is completely compatible with the brand. When I started, we had drawing boards for our plans. At the slightest mistake, we had to start the plan all over again. Today, we erase it with a simple click and continue.
You were the last brand to integrate horology websites. What is your vision for the future?

There is no reason whatsoever to stop. It's on. We will probably not be the forerunners, except on some aspects. To begin with, it needs to be implemented in a very constructive way and with the right people. This is a new challenge for brands, which will have to make the right choices. It won't be that easy, though, since improvements are made every day. It does not fall under my responsibility to grasp and build digitalization; you need to be able to delegate this mission to those who are more capable than you in this field and have the necessary skills to do so. Building a strategy around digitalization is, however, my responsibility. I have to choose the good sites and the good people. So we go back to the human factor. What is interesting about digitalization is that there is at least someone typing away on the keyboard and it is the one whom we will have to validate.
By
Joel Grandjean
,
Editor-in-Chief
This is a dream come true: the 175th anniversary of the brand coincides with the bicentennial of the entry of Calvin's city into the Swiss Confederation...
By
Vincent Daveau
,
Contributor
Since last year everyone has known that this year Patek Philippe was to renovate its stand on the occasion of its 175th anniversary.