Calibres in 2017, independent movements in motion
With all the brash advertising going on in the industry, it's almost easy to forget that independent watchmakers also produce noteworthy calibres. Here are a few watchmaking movements likely to set purists hearts a-racing in 2017.
Prestige brands integrated into watchmaking groups are not the only ones able to boast unique movements or calibres developed in their own workshops, either for self-crafted watches, or those produced in partnership with third parties. This is the competitive context in which a number of small, but ambitious, companies took it upon themselves to develop their own calibres, just like the big boys. Sometimes, however, given the nature of today's multi-channel communications, many enthusiasts are unaware that, with a little effort, it is possible to track down a mechanical gem. Some watchmakers have therefore opted either to design their own mechanical calibres or call upon renowned suppliers.
An extra-terrestrial in the field
Schwarz Etienne is one such company worth considering if you're a seeker of fine and unique mechanical craftsmanship and have exhausted all the better-known larger companies. Initially founded in 1902 in La Chaux-de-Fonds by Paul Arthur Schwarz, Schwarz Etienne has continued to develop products for all the big names throughout its career, which it relaunched in 2003. Keenly aware, even then, of the need to directly secure a foothold in a fiercely competitive market, it chose to make its mark by developing its own micro-rotor calibre… An efficient creation, inspired by the models previously produced by specialist brands, that movement evolved in time to become the Schwarz Etienne Irréversible Calibre, aka the ISE 100.00.
Schwarz Etienne movement ISE 100.00
With its micro-rotor skeletonized to resemble the elements of a gear train and a regulating organ equipped with a balance wheel of unique and elegant design, the movement is a consummate success from a graphical point of view. But it's not just beautiful to look at, it's efficient to boot. Comprising 191 parts, including 36 jewels and a stop seconds, it boasts 4 days' independent running time and the added advantage of being able to accommodate different complications. However, the specific feature of this otherwise conventionally constructed motor is that it has been designed in such a way as to leave the micro-rotor and aesthetic balance wheel open to view through appropriately openworked apertures on the dial.
Schwartz Etienne movement MSE 100.00
A fact also worth noting is that the manufacture has a tourbillon calibre and a mechanical movement with manual winding known as the MSE (for Manual Schwarz Etienne), 100% of whose design and manufacture are undertaken in its La Chaux-de-Fonds workshops.
Armin Strom Résonance, the art of good vibrations
It has been known for over two centuries that vibrations have an impact on the regulating organs of a watch. Very early on, back in the 17th century, watchmakers attempted to explain the reasons behind the phenomenon and harness its force to regulate their own regulating organs. Watchmakers such as Antide Janvier and, after him, Abraham-Louis Breguet, developed instruments fitted with two pendulums capable of working in unison and thereby guaranteeing above-average precision.
In its continual quest for ever greater accuracy, the Armin Strom workshop developed, perfected and produced a new movement in-house complete with manual winding and a resonant regulating mechanism, whose construction reveals a painstaking attention to detail. The two balance wheels initially oscillate independently from one another, eventually synchronizing as a result of this invisible force. Exceptional in quality terms, it is the latest addition to a whole line of calibres known for displaying the same design strength and originality and widely prized among fans in search of unique creations.
Armin Strom movement ARF15
Custom watchmakers
Not every brand has the same means or ambition as Schwarz Etienne, Armin Strom and others to devise their own mechanisms for their watches. Therefore, to help out smaller entities having opted to design their own original timekeepers, some companies have decided to focus on manufacturing simple, or more complicated, mechanical movements for private clients.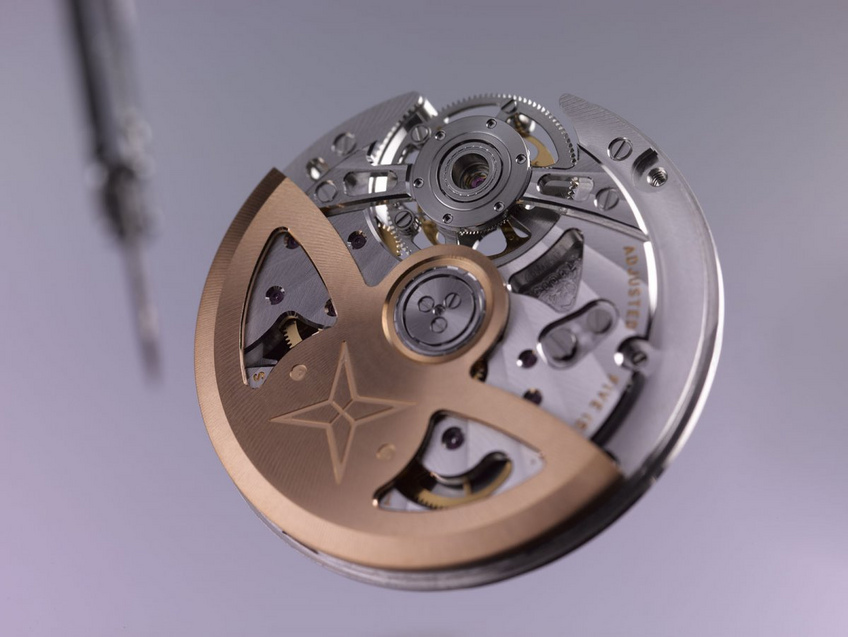 Vaucher Manufacture movement VMF 3024
Master craftsmen working to bespoke commissions, the watchmakers at Vaucher calibre manufacture owned by the Fondation Sandoz in Fleurier in the Val de Travers, are thus proposing a select number of reference movements. This move enables motivated companies to have products that comply with their own standards of excellence. The catalogue includes calibres ranging from simple to a few more complicated movements that are likely to meet everyone's needs. The former come with manual or automatic winding via a central oscillating weight or with micro rotor. They are also available with or without openwork. The manufacture also offers calibres such as the VMF 3024, a mechanical model with automatic winding regulated by a flying tourbillon. The specific feature of this finely finished movement is its especially attractive price positioning.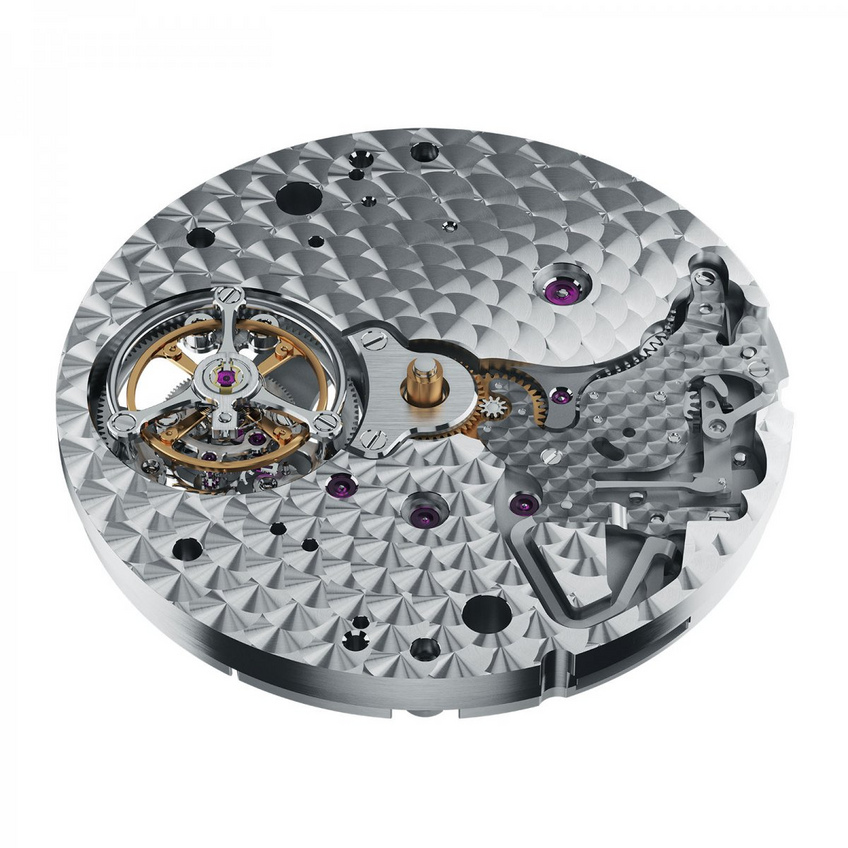 Vaucher Manufacture movement VMF 5430/22
But an analysis of this raft of movementswould not be complete without a sneak peek at a piece of modern design able to adapt to market demands: the extra-flat manual calibre with flying tourbillon reference VMF 5430/22.
At a demonstrative 13 ½ lines, it can be customised for any order of 10 pieces or more. But it's already noteworthy, even in its factory state, due to a number of elements that are sure to interest workshops in search of more freedom of expression wth unusual design features. Crafted in sand-blasted titanium with a black PVD treatment, it boasts gold bridges and very high-end finishes, including a titanium balance-wheel cage.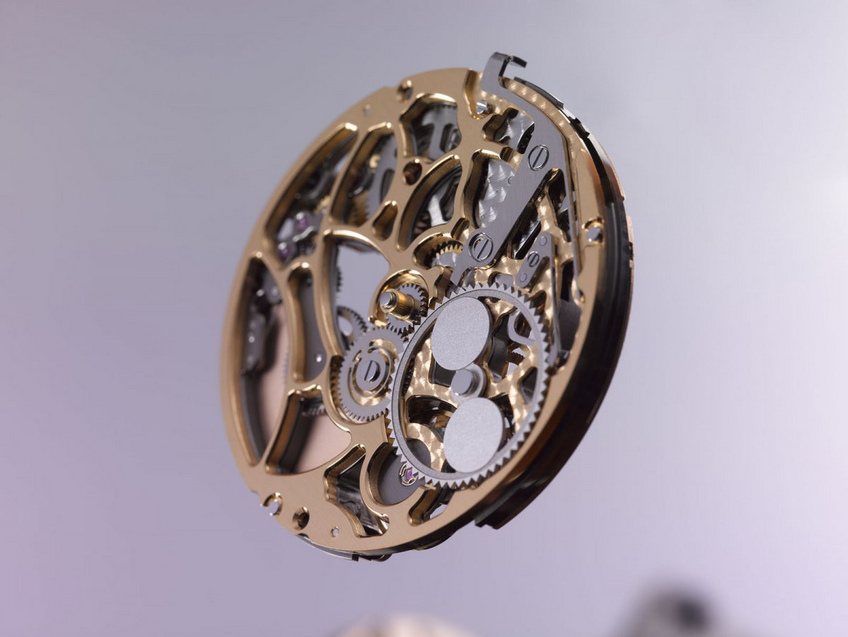 Vaucher Manufacture movement 5401/190
Agenhor, expect the exceptional
As we know, Jean-Marc Wiederrecht and his team are always bursting with new ideas when it comes to traditional watchmaking. A designer of often poetical complications, Wiederrecht has channelled all his knowledge of machining and computer-assisted design into elaborating upon innovative developments and perfecting new generation calibres.
The AgenGraphe chronograph with automatic winding is his latest brainchild. The entirely novel architecture took 9 years to perfect in-house. The easily memorable name, protected by patent, ensures that Agenhor has a strong product, not only in terms of efficiency, but also of image. To quote Jean-Marc, himself, about the movement: "The most important thing by far in this new chronograph is the exclusion of small counters with tiny hands in favour of 3 large chronograph hands pinioned in the centre of the watch to provide the clear legibility that is absent from all other existing chronographs. Another major advance is that the minute hands and chronograph hours jump instantaneously."
To quote him further: "In the same innovative spirit, aside from the reworked clutch mechanism, the minute hand is no longer limited to 30 or 45', the hour hand performs 24 jumps to complete a revolution of a Fabergé dial, and 60 jumps in the case of a Singer. The rotor is placed between the movement and the dial to provide maximum legibility and enable enthusiasts to admire the beauty of the movement in its entirety." But the cherry on top of the cake is the calibre, which already meets the stringent requirements of quality and aesthetics laid down by the Poinçon de Genève hallmark, even though neither brand, each equipped with the estimable AgenGraphe, are not yet established enough to apply for the seal. They both nevertheless intend doing so in the not-too-distant future.