Bulgari Bulgari Chronograph Watch Review by Ariel Adams
Bulgari's Bulgari-Bulgari is one of their most iconic designs, and for 2013 has received a deserved update. The history of the Bulgari Bulgari (Bvlgari Bvlgari) is over 35 years old and once again begins with Mr. Gerald Genta.
The late watch designer is responsible for perhaps too many of today's top luxury watch icons. There is good reason why so many appreciate Genta's unique yet classic approach to watch design, but how is it that just one mind is to thank for so much of what we admire on people's wrists? Genta himself admitted that in 1977 when he designed the Bulgari Bulgari for the famous Italian luxury brand the reaction at the company was polarized.
Many people just didn't understand why the watch needed to have such bold branding on the bezel, twice. The traditional view of luxury was that it was to be subtle. Brands should be known of course, but it was the design of a product that led to its popularity, not the name on the shirt, bag, sunglasses, shoes, watch, etc... Look for example of pre-1980 luxury products, then take a look at them starting in the 1980s until today. A major difference is the conspicuousness of the branding, and whether you like it or not, the Bulgari Bulgari has a role in that. This is among the first watches where bold branding was a big part of the wearing experience. Maybe this is why there are so (so) many Hermes "H" belts buckles out there.
The Bulgari Bulgari was said to be inspired by Roman coins, which repeated text around the periphery of the coin. That makes sense, but I am more interested in the cultural effects of the face's triple branding, as "Bulgari" is written on the dial and twice on the bezel. We look at the design today and don't even think twice. Which is because we are very used to patterns made from brand logos, Louis Vuitton monogram bags, and many other luxury goods who make use of their brand name as a design element. This is perhaps one of the most important fundamental changes in luxury advertising over the last several decades - the fact that a brand's name is an inherent part of its style. With only three names on the dial, this makes the watch seem almost tame by current standards.
So let's go back to the updates for the Bulgari Bulgari, and in this case, the Bulgari Bulgari Chrono. It is of course paired with a new three-hand model. Each share the same new case, but have different movements of course. The three-hand model uses an in-house made movement, which is new for this collection I believe. It is the Bulgari caliber BVL 191. The Chrono however features something a bit different. If you recall, a few years ago Bulgari was acquired by LVMH. That put it in bed with watch brands such as TAG Heuer, Hublot, and Zenith. What you have inside of the Bulgari Bulgari Chrono is in fact a re-branded Zenith El Primero chronograph movement. Bulgari doesn't express this fact in their press information, but we know what it is just by looking at it and putting the pieces together. It isn't anything to hide of course, but it's the type of thing that sends the right message to one audience, while confusing another.
Sadly, the review unit that Bulgari sent was blocked. That means they stopped the movement from working so that the hands could remain at the optimal "pretty" position for photography purposes. I don't think the person sending out the piece quite understood what an aBlogtoWatch watch review is, but given that we are already familiar with the movement, and could have another watch to tell the time, we could still get a pretty good assessment for what it is like to wear this watch.
Prior Bulgari Bulgari Chronograph watches contained a base Swiss ETA 2894-2 automatic chronograph. In fact, older versions of the watch ranged in sized. Recent models were either 38mm wide or 42mm wide. The new size? 41mm wide. It is actually a good size in our opinion. Bulgari often gets the wearability aspect of their watches more than right. So their re-branded El Primero is called the Bulgari BVL 328. The automatic movement has about 50 hours of power reserve and because it is an El Primero, it operates at a high frequency of 5Hz (36,000 bph). This is more than the typical 28,800 of most other popular chronograph movements. This allows the watch to have the ability to be more accurate over time, and allows the chronograph to measure more precise increments of time. So if you've always wanted an El Primero in fashionable Bulgari clothing, your opportunity has arrived.
You can see the movement through the sapphire crystal case back window on the back of the watch. There is a custom Bulgari rotor, but the rest is pretty much what you'd see in a Zenith watch. Does this represent a good value compared to Zenith watches? That is a good question. "Designer names" on otherwise equal products tend to result in higher prices overall. Is that the case here? Let's look at the Zenith Stratos with a Blue dial and bracelet also from 2013. Here you have an arguably similar watch. Steel case and bracelet, great attention to detail, and a movement which is more or less the same (both are El Primero automatic chronographs). Retail price on that Stratos in US dollars at the time of this review is about $8,120.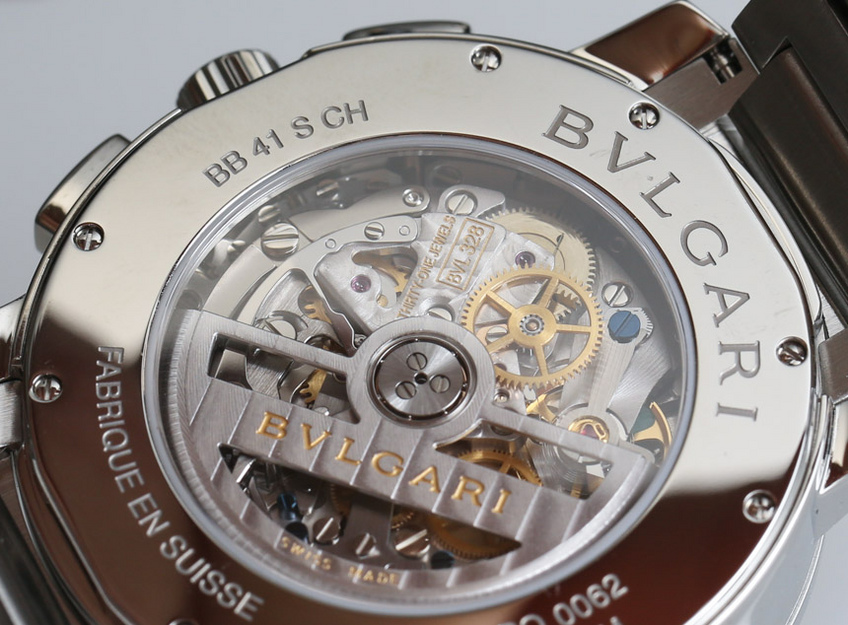 On the steel metal bracelet, the Bulgari Bulgari Chrono ref. 102045 is about $2,000 more. It is worth mentioning that the bracelet and case on the two models are not the same, nor are they produced in the same place. Is the Bulgari $2,000 more watch? That is hard to say, and in this instance you have a situation where it is a matter of target demographic. Zenith and Bulgari aren't aiming at the same consumer markets and their pricing is as much a factor of that as it is the materials and designs. It possible that you aren't mathematically getting $2,000 more watch in this case, but you are getting a Bulgari with a great movement, and that alone is worth it to many.
Something Bulgari does masterfully with the new Bulgari Bulgari Chrono is play with the light. There are reflective elements on the case and dial, but never does the watch seem so reflective as to be illegible. Let's figure out why this is... Bulgari uses exclusively flat, mirror polished elements on the dial. Flat surfaces remove that harsh blurry reflectivity you see in less refined dials. The majority of the dial is actually glossy, but done in such a deep onyx black that instead of reflecting light, the dial seems to pleasantly absorb it. The dial is actually just black lacquer, but the technique is very impressive. To increase legibility and dial depth, the chronograph sub dials are recessed. Also done in a totally matte finish, the smaller sub dials offer excellent legibility when it comes to reading the smaller hands and indices.
Even in low lighting the dial is a pleasure to read. I appreciate the two-tone style which is elegant and classy. This dial doesn't need a hint of red or any other color. Styles like this are proof enough that two color dials are often the best choice for simple beauty. The dial however does not contain a lot of lume for darkness viewing. Having said that, there is lume painted in the hands and near the hour markers, but just not a lot of it. I will however given due credit to Bulgari for putting lume in the sub dial's hands - that is actually rare to find these days - so bravo.
At first glance, the new generation Bulgari Bulgari isn't terribly different from the older generation model. That being said, there are numerous little differences and very little is exactly the same. Everything from the case to the dial have been altered. The new case size is 41mm wide, but wears tall with long polished sides. It is actually a very cool case. It appears round from the top, but looking at it from the side you can see how the entire case is curved a bit to wear more comfortably. That means the entire sapphire crystal is also curved. Tight lugs offer a great wearing experience and the pushers and crown are easy to operate and also quite stylish (always a fan of black onyx cabochon crystals).
The case is water resistant to 50 meters, which isn't too much. So while you can wash your hands, etc... with the piece, we don't recommend swimming with it. Going back to the Zenith Stratos - that is a much better sport watch. However, the Bulgari Bulgari case is more refined and a bit more comfortable. This is also more of a metropolitan business casual watch, and has use as a high-fashion urban daily wear.
I wasn't sure what to make of the bracelet, which is also an updated version of the outgoing design. Polished "H" links are connected using brushed links with vertical grooves on each end. It makes for a nice design actually. Bracelet quality is very good, as is the overall finishing of the metal that is crisp but soft to the touch without abrasive or sharp edges anywhere to be found. The bracelet closes with a butterfly style deployant. I like these, but I hope that Bulgari includes a half link allowing for a greater range of precise fits.
In addition to the steel bracelet, the Bulgari Bulgari Chrono in steel comes on an alligator leather strap (ref. 102043). There is also an 18k pink gold version of the Bulgari Bulgari Chronograph (ref. 102044) that only comes on an alligator strap. The versatile design of the Bulgari Bulgari Chrono is the type of object that while once unique, has become a simple classic today. It isn't a timepiece that screams unique, but careful inspection of it allows the sophisticated watch lovers to appreciate a lot of the detail and refinement that went into the design. Bulgari really is a world-class watch maker and should be considered among the best manufacturers. Under LVMH ownership, the brand has and will continue to refine itself and offer more pieces like the new Bulgari Bulgari Chronograph. Price is $9,500 - $10,200 in steel and $22,800 in 18k pink gold. bulgari.com
Necessary Data
>Brand: Bulgari (Bvlgari)
>Model: Bulgari Bulgari Chrono
>Price: $10,200 USD as tested
>Size: 41mm
>Would reviewer personally wear it: Yes
>Friend we'd recommend it to first: Equal part watch lover and brand diva.
>Best characteristic of watch: A look at the many details reveals a very refined watch from a quality and comfort perspective.
>Worst characteristic of watch: Feels a bit expensive, dial doesn't have much lume material.