"GENTLEMEN DRIVERS" UNITED FOR A GOOD CAUSE - A FIRST FOR BASELWORLD!
"GENTLEMEN DRIVERS" UNITED FOR A GOOD CAUSE - A FIRST FOR BASELWORLD!
For the first time at Baselworld, the organisation "Distinguished Gentleman's Ride" (DGR) and Zenith held a bikers' rally this Sunday. Fifty gentlemen drivers donned their finest tweed and their best cravats to parade through Basel astride their classic motorcycles. It was a convivial celebration of style and elegance, heralding the upcoming global rally which will take place in September.
Zenith took this opportunity to present its "Heritage Pilot Café Racer" timepiece with its statement vintage style, equipped with the legendary El Primero movement.
Founder of DGR, Mark Hawwa said: "Our main aim was to have fun, but we also wanted to debunk a few myths about bikers. My vision was to organise a rally for riders of café racers and custom motorbikes... with a few important rules: participants must come dressed as a "dapper gentleman" with an open-face 'Jet'-style helmet (so we can see their smiles) and, of course, they must be riding a classic motorcycle. These fundamentals still govern rallies all over the world".. He concluded by saying: "Zenith is the perfect partner for us. We share common values in terms of style and pleasure. Zenith is a legendary, authentic brand like our longstanding partner, Triumph. Our passion for style and mechanics is perfectly reflected in Zenith watches."
Aldo Magada, President and CEO of Zenith, added: "Ageless mechanics, a timeless style, pleasure and sharing... teaming up with this world-class organisation was an opportunity that Zenith could not miss! It is a very worthy cause and we are delighted to be able to take part in it. Authenticity and pleasure are cardinal values in our manufacture. And this initiative is a perfect match for Zenith, its history, its manufacture and its timepieces. It also goes hand in hand with our various other commitments, particularly with classic cars."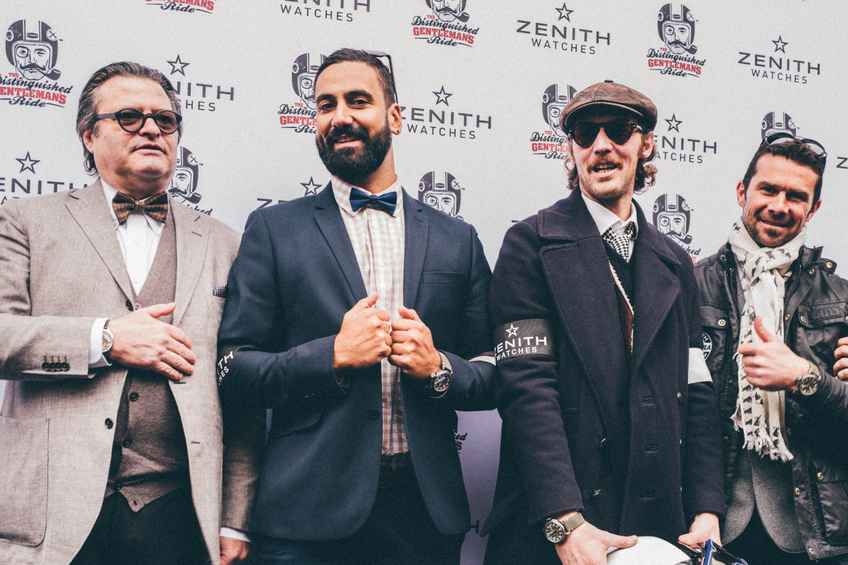 Aldo Magada, Mark Hawwa, Dimitri Coste & CyrilDespres
About DGR:
"Distinguished Gentleman's Ride" is an international one-day charity rally held each year for fans with an eye for style and a love of classic motorcycles. United via a participative website, the event sees bikers to come together for one day from all over the world, to raise funds to fight prostate cancer. The organisation's founder, Mark Hawwa, is an Australian-born motorcycle buff. Inspired by a scene from the series "Mad Men" (which saw Don Draper in his finest suit, astride a classic bike) he came up with the ingenious idea of bringing his bike-enthusiast friends together for a good cause. The first DGR biker rally was held in Perth, following Mad Men's illustrious style guide: classic motorcycles and dapper gents' style. The event has a healthy ambition: to raise funds in the fight against prostate cancer. The idea quickly gained pace and spread worldwide. Today, the Distinguished Gentleman's Ride (www.gentlemansride.com) is one of the largest rallies in the motorcycling world.
By
Rémy Solnon
,
Specialised journalist
There will be something for every taste and budget. 2016 has been and will continue to be rich in new car-inspired watches. Here is a review of some of the...
By
Marco Cattaneo
,
Journalist
Zenith's new chronograph pays a successful tribute to Café Racer in an effective interpretation of its philosophy: performance and simplicity in an...