La Fabrique du Temps Louis Vuitton
La Fabrique du Temps Louis Vuitton
For Louis Vuitton, the adventure started in 1854. A journey strongly influenced by the art of travel. In 2002, a new territory was explored: time, with the first Louis Vuitton watch, with a meaningful name in the world of watchmaking: Tambour…
INTRODUCTION: IS TIME A MEASURE OF TRAVEL?
Since then, the recognisable design of this watch has given rise to a whole collection of timekeepers for men and women. Simple Tambour models and complicated versions (GMT, chronograph, tourbillon, Spin Time, minute repeater) which have all enabled Louis Vuitton to remain true to its demanding standards in the quest for the exceptional and to make its name as an acclaimed watchmaker. Then came the new Emprise line and, this year, a piece inspired by the House's heritage: the Louis Vuitton Escale Worldtime watch.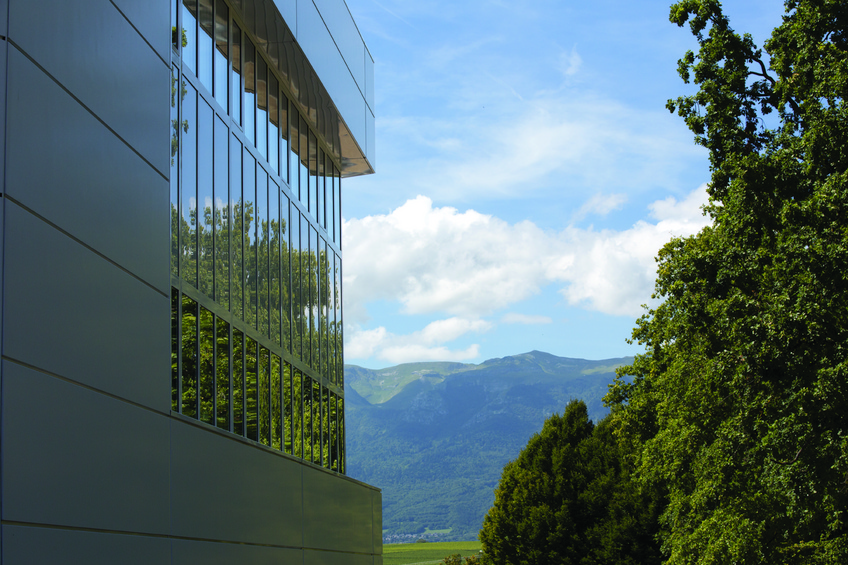 La Fabrique du Temps Louis Vuitton at Geneva
To express its know-how and its quest for excellence in the universe of high-end craftsmanship in the art of watchmaking, Louis Vuitton chose to bring together the finest specialists. While the heart of the House continues to beat in Paris, the timepieces see the light of day in Geneva, Switzerland, in workshops whose name alone epitomises its spirit: La Fabrique du Temps Louis Vuitton. Today, Louis Vuitton watchmaking is embarking on a new stage in its history, as it settles in Geneva, in a workshop where creative independence is encouraged. All the trades and talent linked to the high-end watchmaking tradition are now gathered there to promote innovation, the watchword in La Fabrique du Temps Louis Vuitton. To master all the secrets of quality watchmaking to better reinterpret them with greater skill, to combine a watchmaker's independent spirit with the dynamics of a great House, to provide an environment which is both high-tech and allows the imagination to flourish: these are the core principles of the watchmaking workshop, La Fabrique du Temps Louis Vuitton.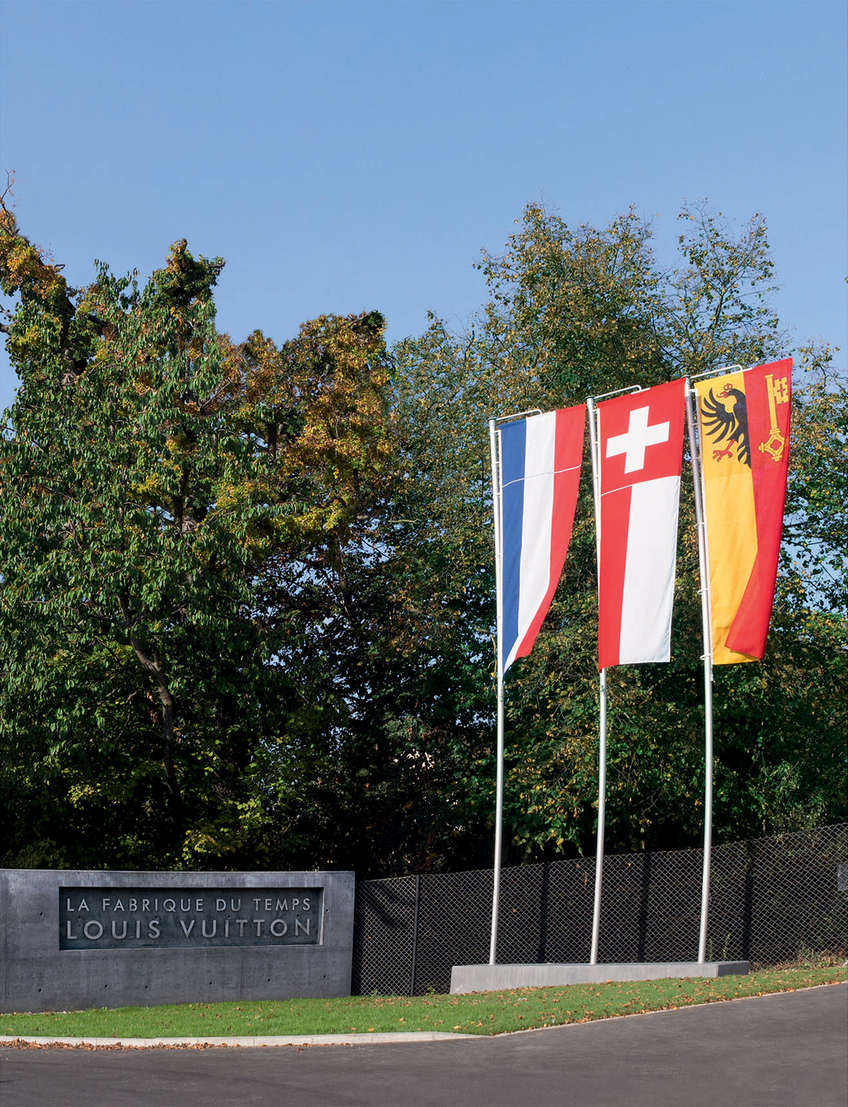 La Fabrique du Temps Louis Vuitton at Geneva
THE TOOLS TO INVENT TOMORROW
To embark on this new chapter in watchmaking history, Louis Vuitton has created a space which is conducive to creativity. This workshop brings together all the trades and know-how required for making watches, and at its heart, the respect for tradition, craftsmanship and innovation are celebrated in the marriage of travel and time. Human-scale workshops, of about 4,000 square metres, bathed in optimal light, allow the master watchmakers, the engineers, the designers and all the time experts to share the same creative energy. Redesigning the space and rethinking the architecture, bringing workforce and talent closer together, allying state-of-the-art technologies and traditional tools: this, too, is what innovation is all about. By placing know-how at the service of innovation, La Fabrique du Temps Louis Vuitton retains its traditional feel to allow the hand of Man to give its very best.
RESEARCH & DEVELOPMENT: THE PASSION FOR INNOVATION, THE CULTURE OF EXCHANGE
Imagining tomorrow, inventing the future. These are the values in the Geneva-based Louis Vuitton workshop. Gathered under one roof, the talents and ideas of watchmakers, concept creators and designers can be expressed and shared every day in complete freedom, which helps to foster creativity and innovation. In keeping with the best watchmaking tradition, at Louis Vuitton, Research & Development means: Fabrique du Temps.
INNOVATIVE MOVEMENTS TO MOVE WATCHMAKING FORWARD
In their unending search for innovation, the master watchmakers of La Fabrique du Temps Louis Vuitton give free rein to all their creative ideas. For them, there is only one philosophy: to think differently and to move further along the road towards innovation. Developing new complications linked to travel and the art of watchmaking in its most vibrant expression can only be achieved by imagining something completely new at every step, uncompromisingly… Only the mastery of traditional know-how and handicraft techniques affords such freedom and absolute creative independence. Time and again improving functionalities, readability or user-friendliness, designing new dials, enriching the collections with innovative models that reflect quality and the search for excellence: by exploring new, creative ideas that are outside the box, La Fabrique du Temps Louis Vuitton is making today the watches of tomorrow.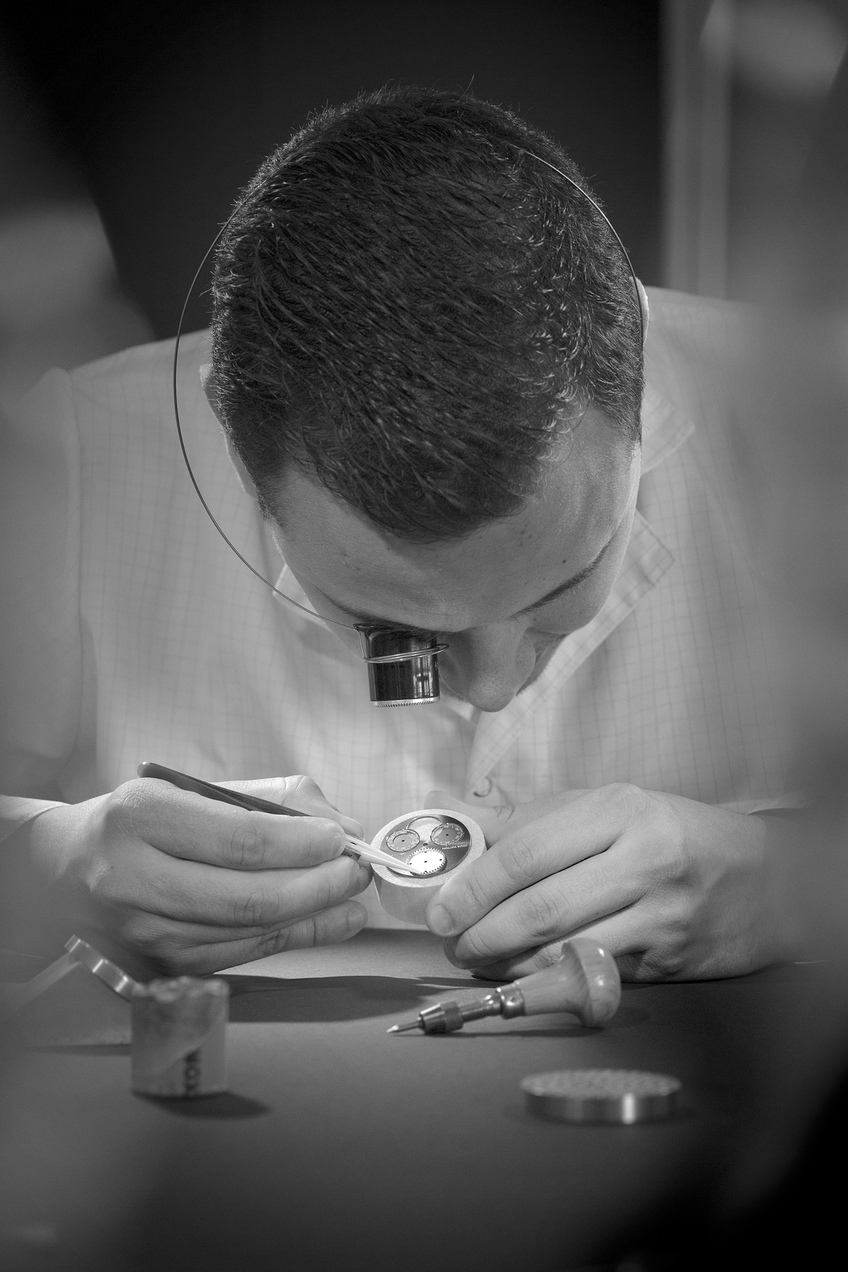 Assembling of a Tambour Twin Chrono Grand Sport dial
IMAGINATION AND TALENT ROAM FREE. LA FABRIQUE DU TEMPS LOUIS VUITTON OPENS THE DOORS OF HIGH-END WATCHMAKING TO THE WIDEST AUDIENCES, WHILE CULTIVATING THE SPIRIT OF AN INDEPENDENT CRAFTSMAN.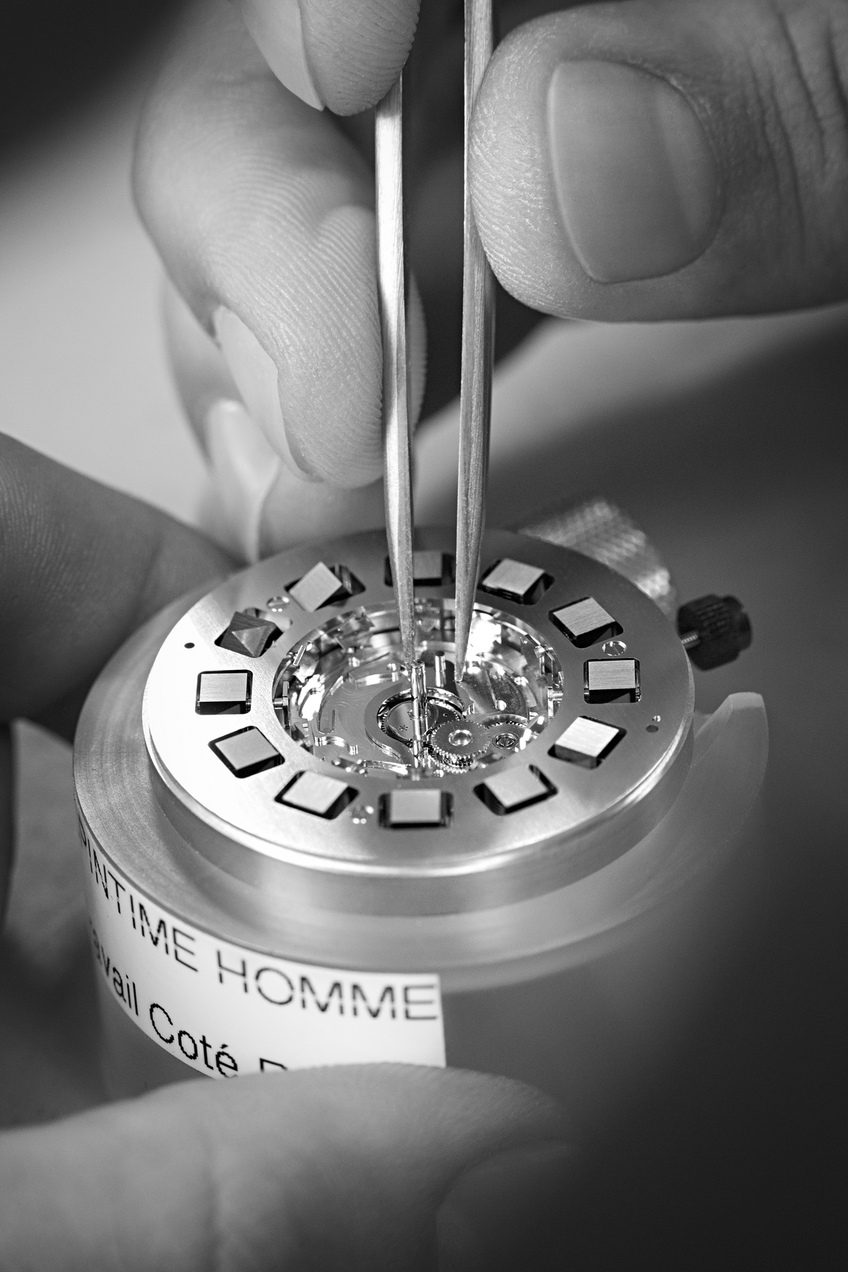 Assembling of a Tambour Spin Time Evolution movement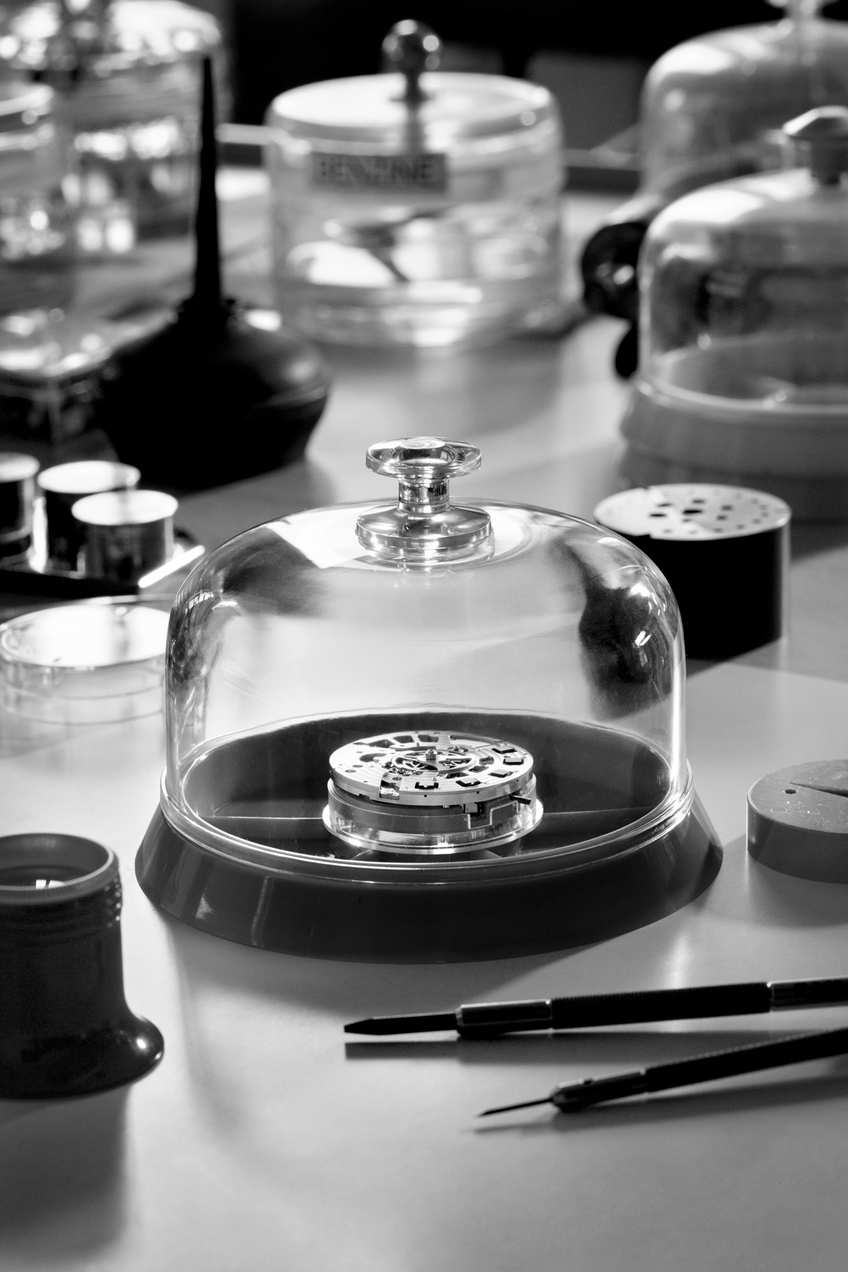 Tambour Spin Time Régate movement under a bell cover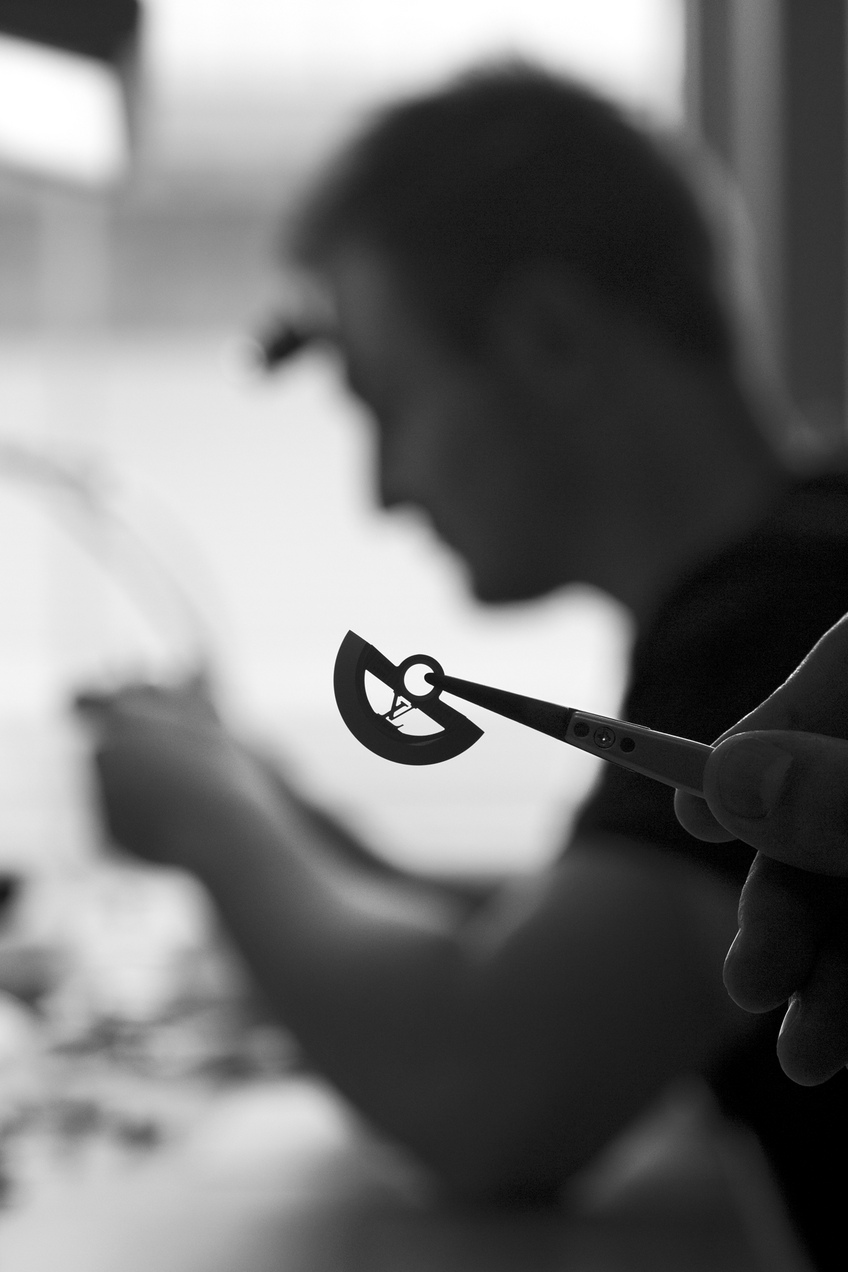 Tambour Spin Time Régate oscillating weight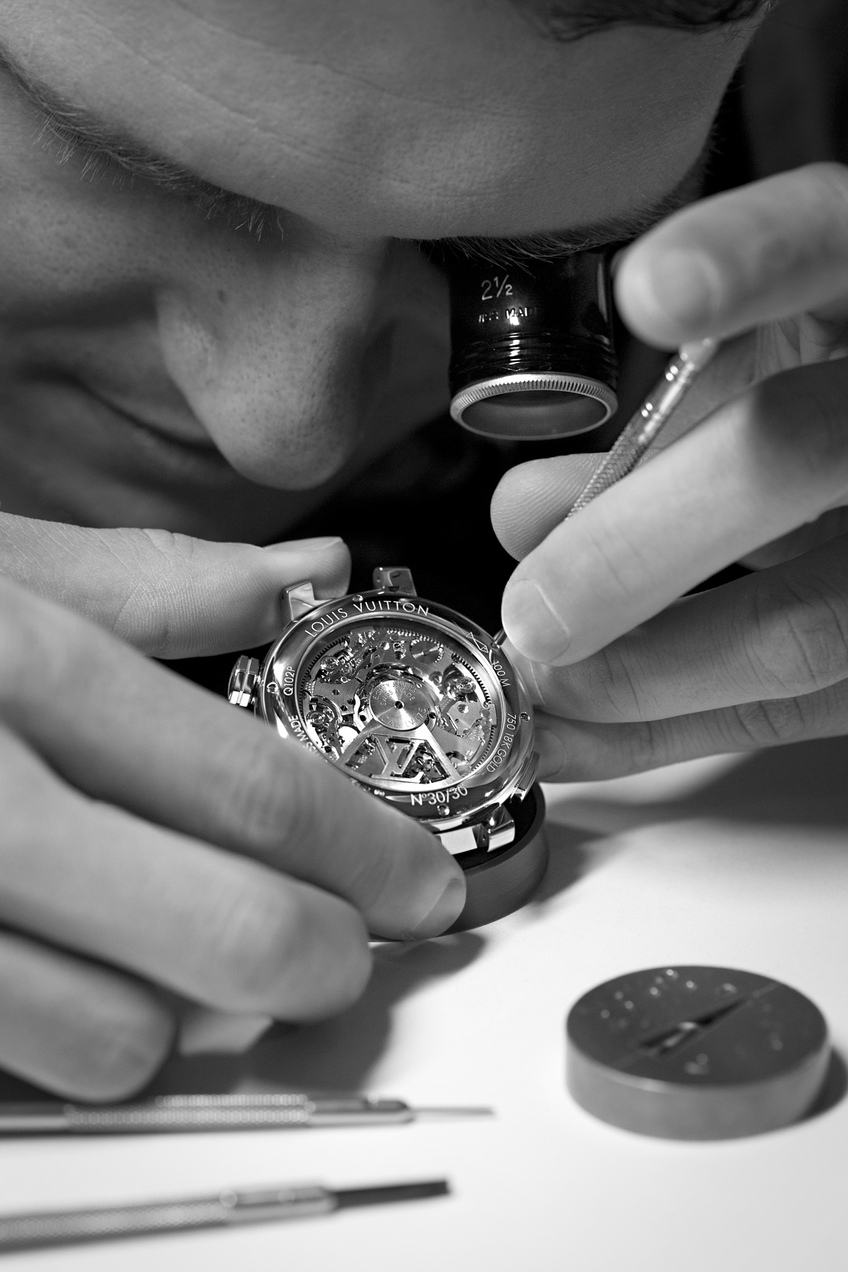 Tambour Twin Chrono back fastening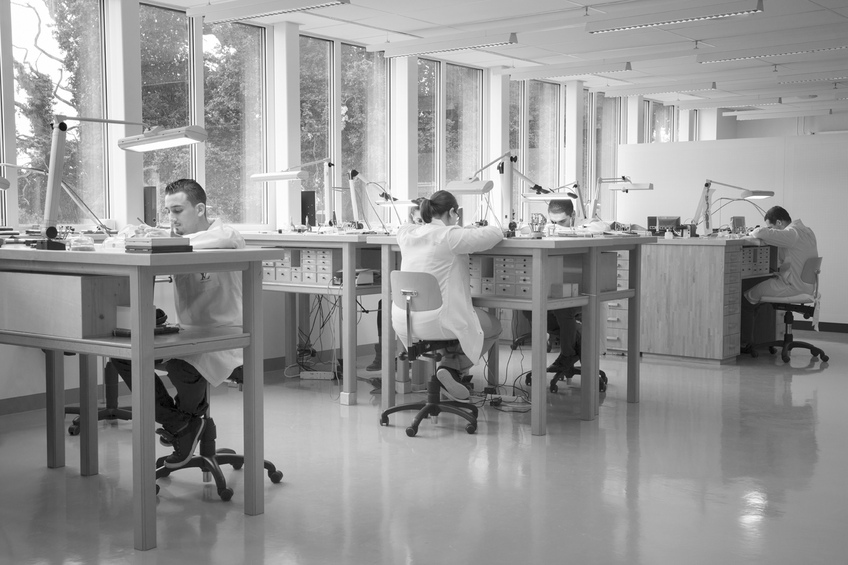 Watchmaking Workshop, La Fabrique du Temps Louis Vuitton
GEARED TOWARDS INNOVATION AND CREATIVITY, THE LOUIS VUITTON WATCHMAKING WORKSHOP IN GENEVA FEATURES LUMINOUS AND MODERN ARCHITECTURE, WHICH IS SYMBOLISED BY A STAIRCASE WITH AN AMAZING DESIGN.
INNOVATING TO CONHURE UP TIME FOR WOMEN
The spirit of Louis Vuitton is expressed on a woman's wrists. The House's know-how appears across the range of collections for women, from casual watches to watches with refined faces. That is how pieces like Tambour Lovely Cup, in steel or ceramic, were conceived: waterproof at 100 metres watchcase in a cruise spirit… Refined cases as shown by the Tambour Monogram line with subtle reflections, the Bijou Secret collection, concealing its mystery under a swivel diamond-set cover, or the Dentelle de Monogram watch, with its delicate mother-of-pearl skeleton dial, with Monogram flowers patern.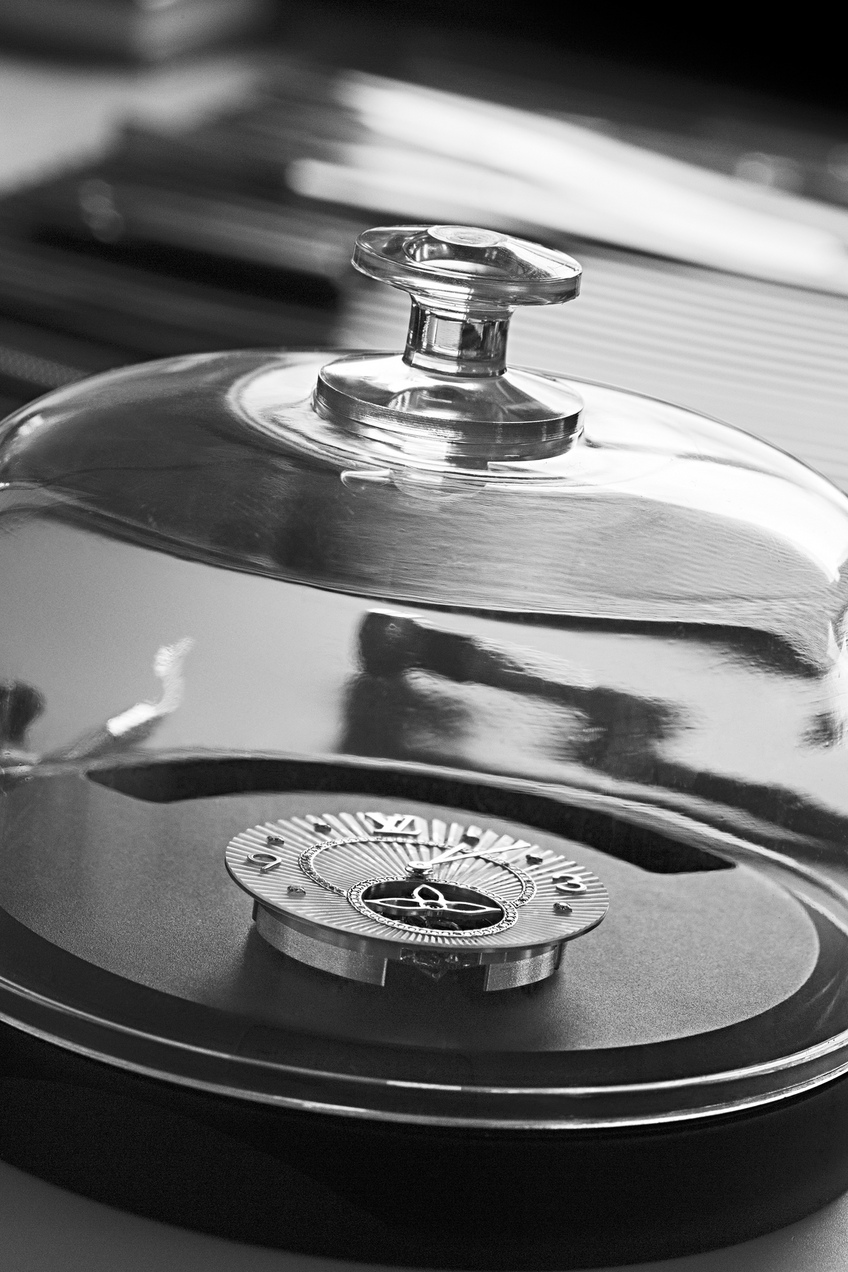 Tambour Monogram Tourbillon handed movement under a bell cover
BRINGING TALENT AND TRADES TOGETHER TO FOSTER CREATIVITY. THINKING DIFFERENTLY AND FREEING THE IMAGINATION TO COME UP WITH NEW IDEAS.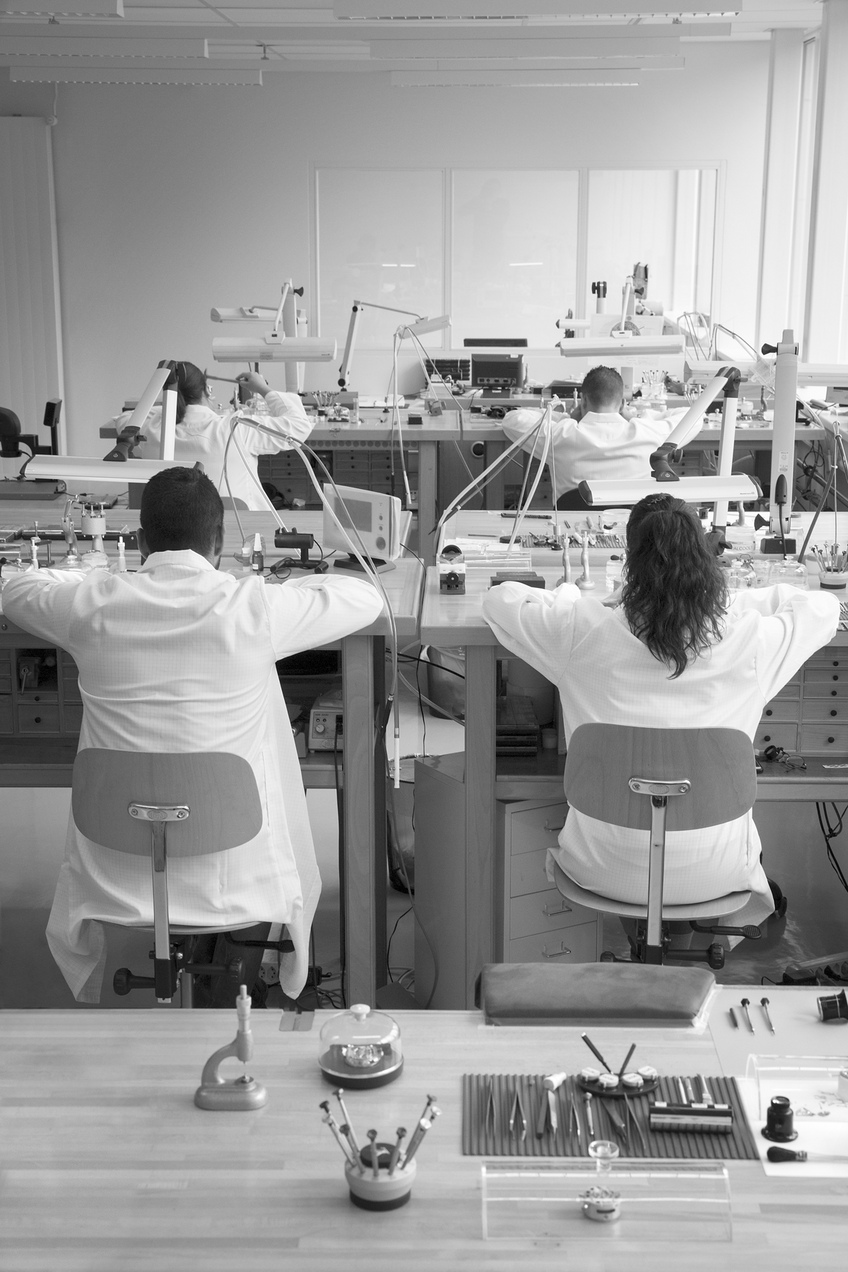 Watchmaking Workshop, La Fabrique du Temps Louis Vuitton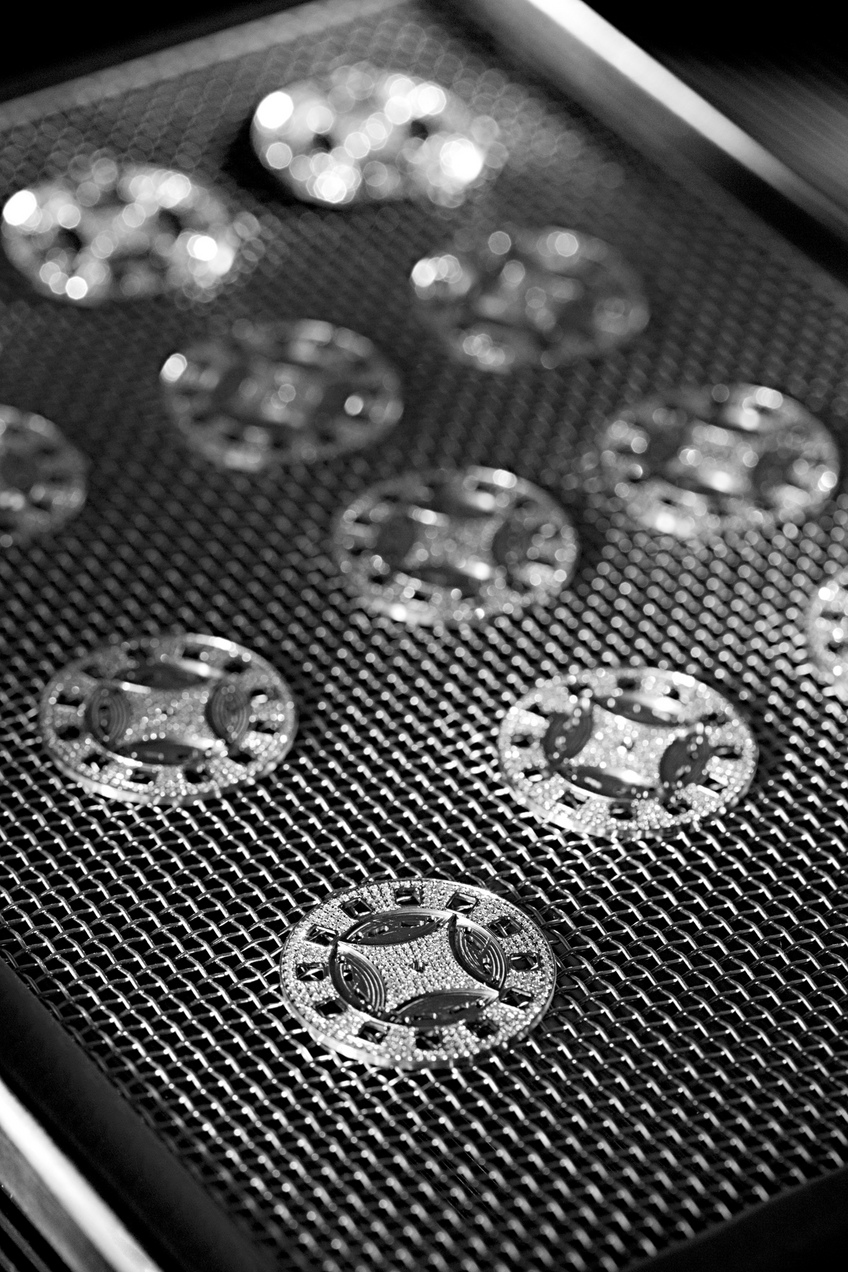 Dying phase of Tambour Spin Time Galaxie rhodium-plated white gold with diamonds dial, before laquer elements to be fitted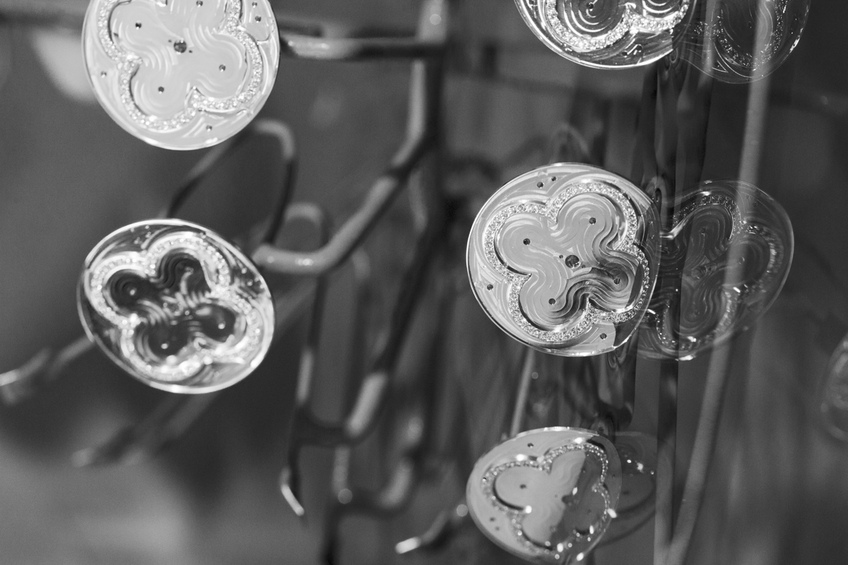 Rhodium bath of Tambour Monogram Forever dials set with diamonds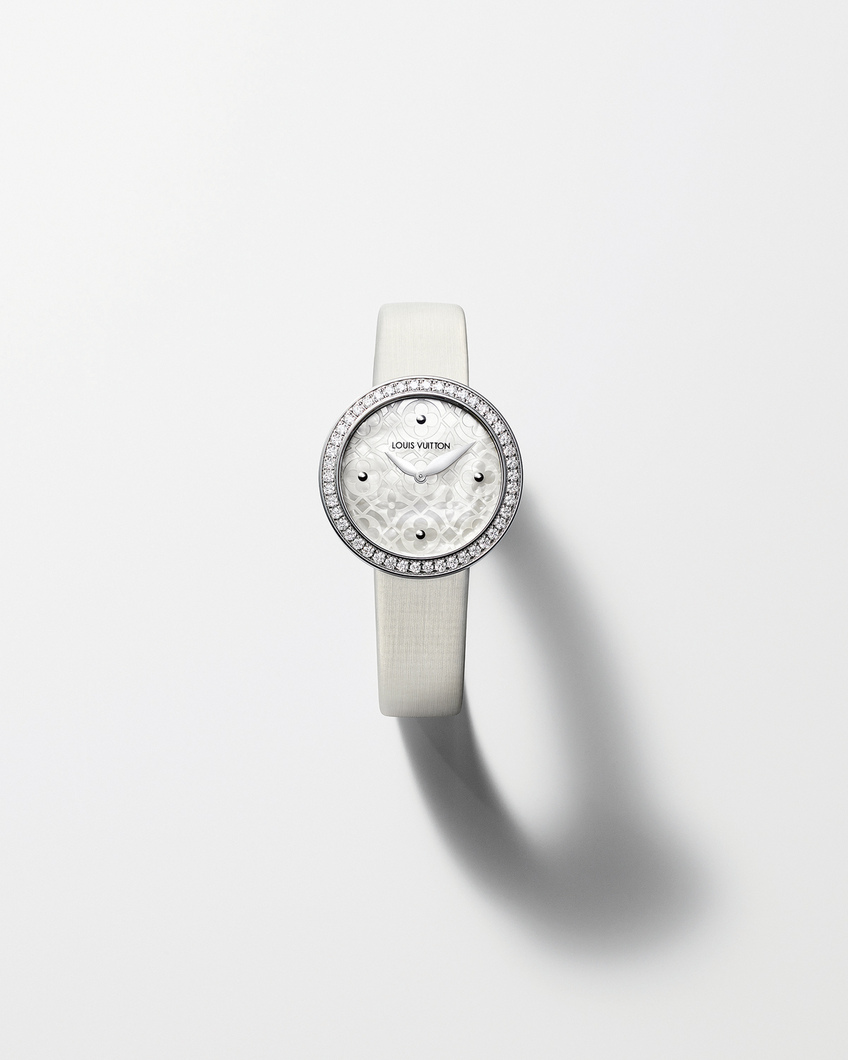 Dentelle de Monogram watch in white gold, bezel set with diamonds, white mother of pearl dial with Monogram engraved pattern, white powdered satin bracelet
ARTS AND CRAFTS TO MARRY WATCHMAKING AND JEWELLERY
At Louis Vuitton, the same demand for excellence is found as much in the jewellers' work on the Place Vendôme in Paris, as in the watchmakers' workshop in Geneva, Switzerland. Talent meets know-how to create exceptional pieces, such as the Dentelle de Monogram watch. To turn this model into a truly delicate and refined jewel, its creators imagined a mother-of-pearl skeleton dial capturing the iconic Monogram of the House. For this model, the creators were inspired by the "Voyage dans le Temps" high jewellery collection with a pearly white or Polynesian mother-of-pearl dial, reproducing the emblematic Monogram from the Maison, now highlighting the brilliance of a diamond-set bezel. However, they had to deal with an almost impossible challenge: to reduce a natural mother-of-pearl disc to the finest thickness possible before carving the motifs. It was only after painstaking research carried out by all the teams that the desired precise effect was achieved. And it was this real lacework on a material as fragile as mother-of-pearl that inspired the model's name. The alliance between the jeweller's talent and the watchmaker's art finds its finest expression here, thanks to the innovative spirit of passionate craftsmen.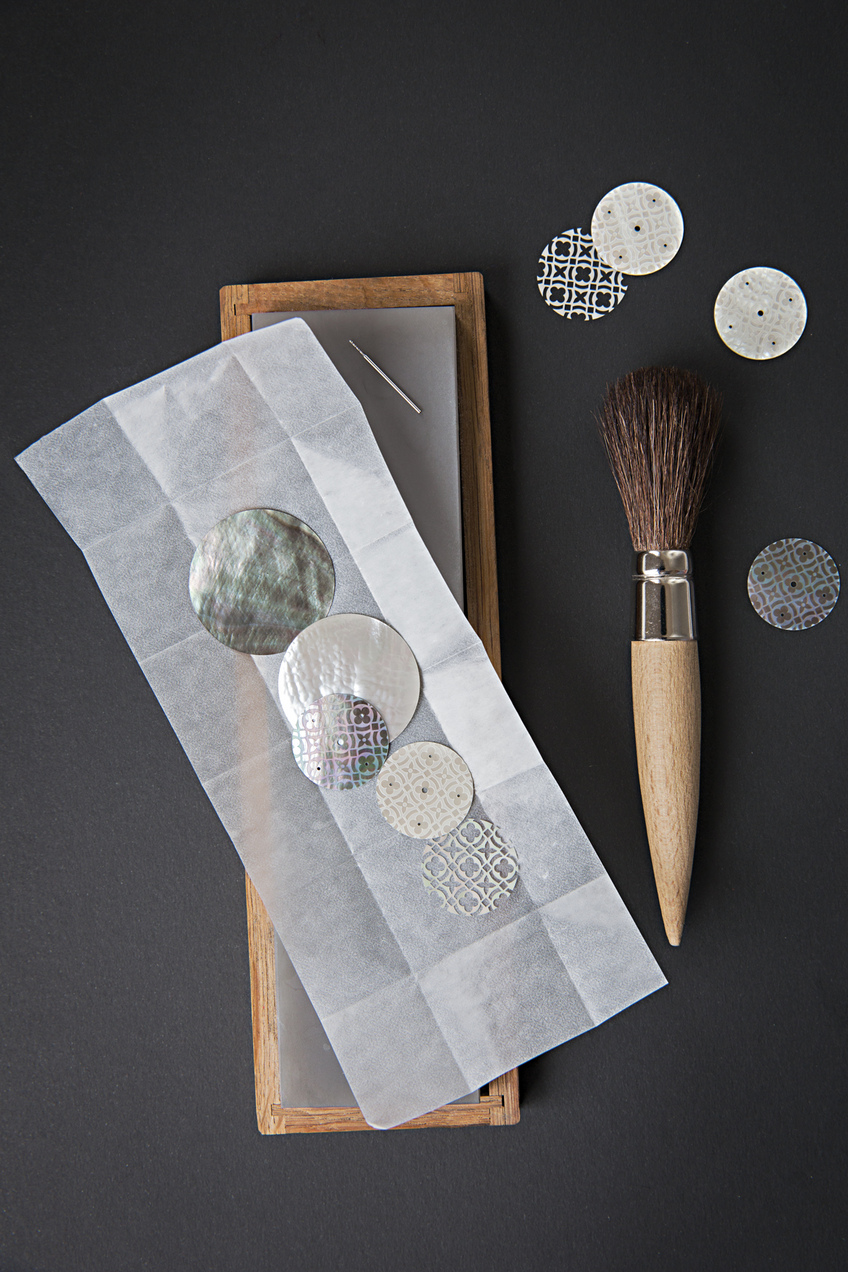 Dentelle de Monogram disks, white and polynesian mother of pearl, engraved discs, white gold discs, with Monogram pattern
MANUFACTURING QUALITY: MORE THAN JUST A STANDARD, A PHILOSOPHY
Since the creation of the first Louis Vuitton watch in 2002, quality has been an absolute and unquestionable priority. Quality of design, manufacturing, production, assembly, finishings, and more. Known for its excellence, Louis Vuitton stays true to its reputation yet again by defining the highest standards for the smallest components, whether they are visible or hidden deep inside the case.
EMPRISE WATCH. THE QUINTESSENCE OF GRAPHIC LINES AND ELEGANCE
The Emprise watch reveals a modern, elegant woman. The volume of its square, symmetrical case creates a sharp, clearly defined outline, enlivened by the reflections of its double-bevelled mirror and the brilliance of its diamonds.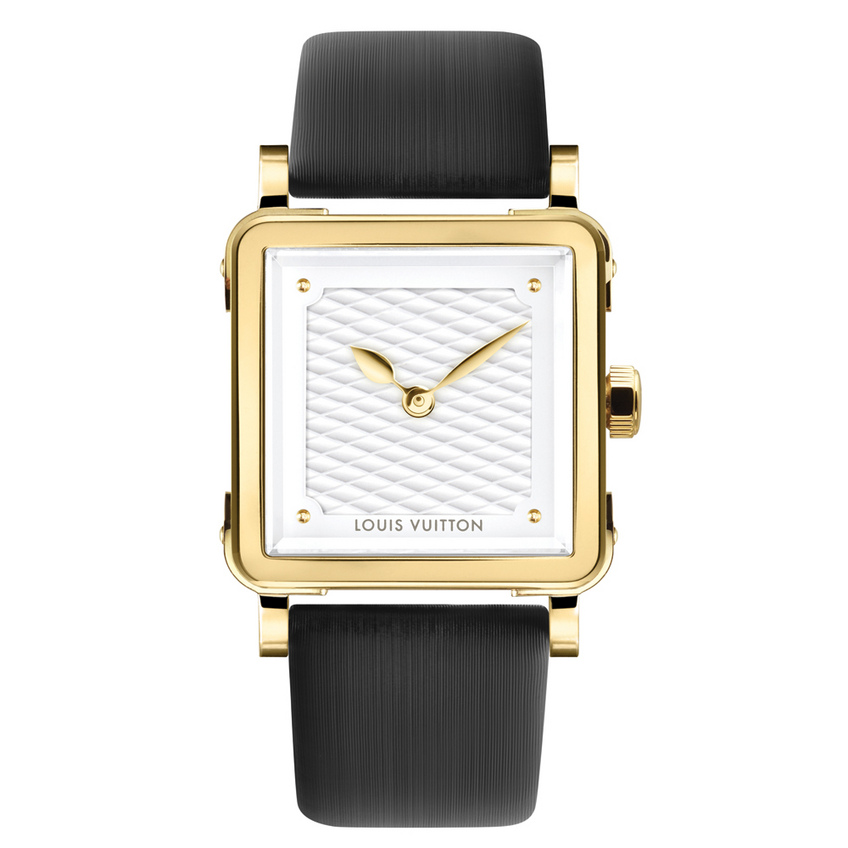 Emprise watch: Yellow gold case, opalin silver dial with capitonage pattern black, satin powdered bracelet

The trunk's structural elements can be found here as decorative leitmotifs, offering strong perspectives. The strap comes in either satin or leather embossed with a gros-grain pattern. Daytime or evening, in relaxed moments or precious instants, each of these pieces brings together the beauties of time.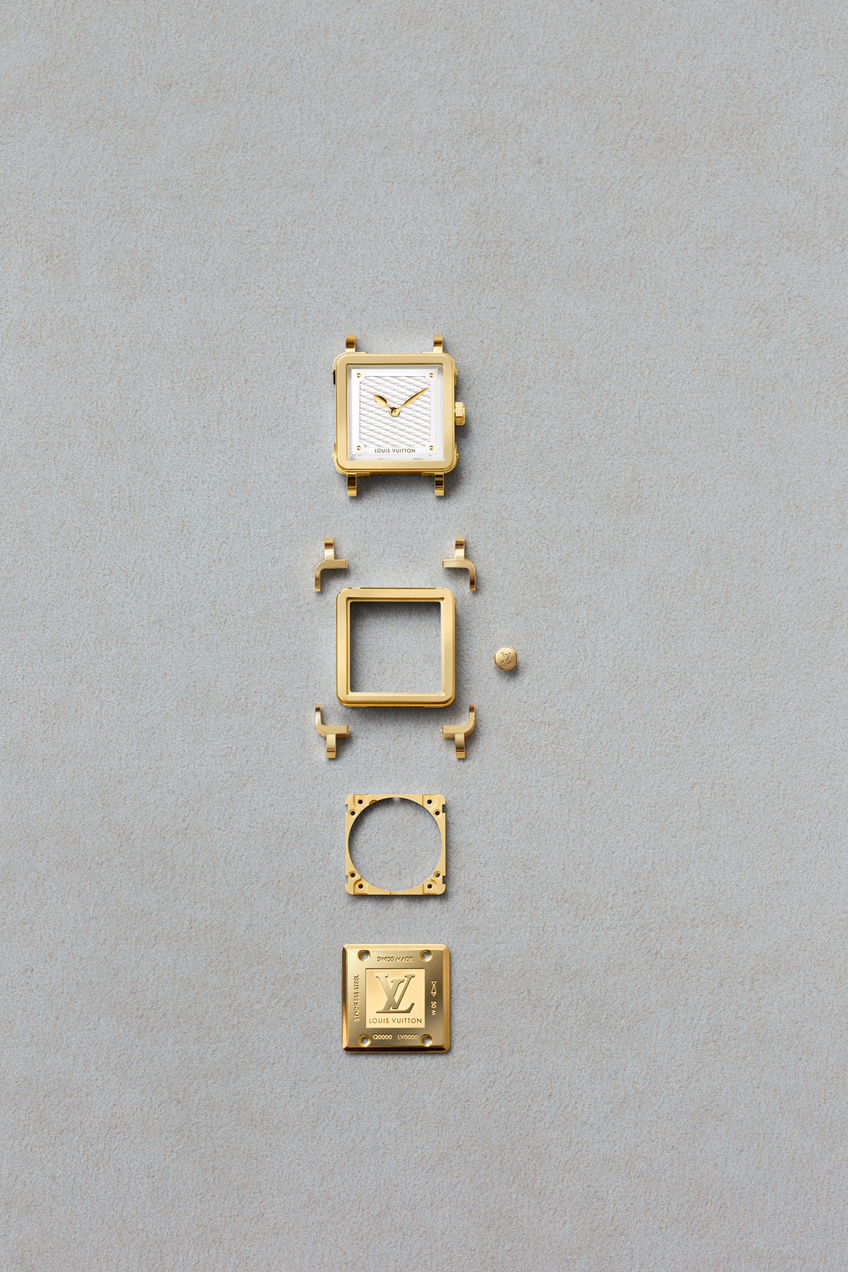 Emprise watch in yellow gold. Exploded view of the case
LOUIS VUITTON ESCALE WORLDTIME. THE NEW WORLD OF LOUIS VUITTON
In their heyday in the 20th century, the oceans were crossed aboard luxury liners. And for their elegant passengers, it would have been unthinkable to embark without their Louis Vuitton steamer trunks. These were often distinguished by their personal initials, coats of arms and other coloured ornaments that their owners would have hand-painted on their valuable luggage to distinguish it from all others.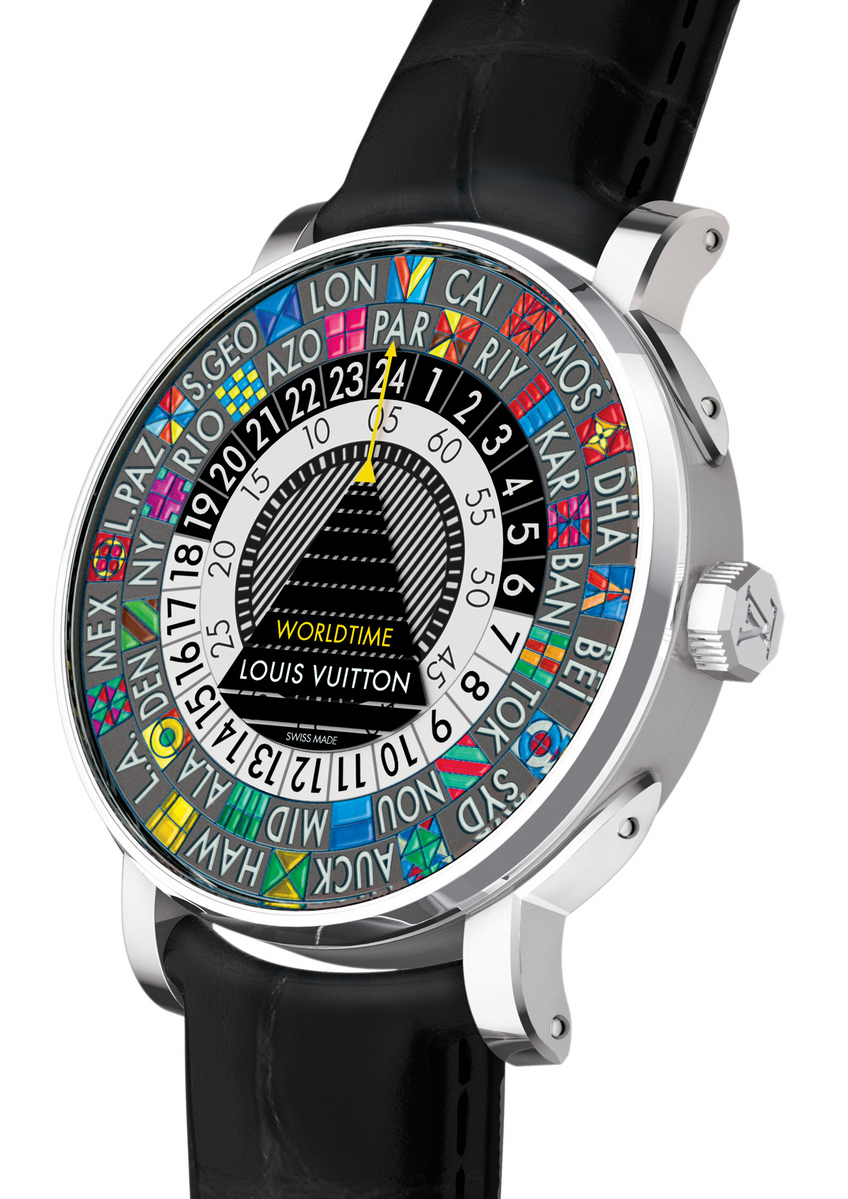 Louis Vuitton Escale Worldtime watch
This colourful universe and vivid personal touches have inspired the creation of the Louis Vuitton Escale Worldtime watch, in a style at once original, playful and exclusive. Boasting 38 bright shades applied according to a miniature painting technique, its dial is a call to travel, an invitation to journey towards the horizon and through time. To know what time it is anywhere on the planet, La Fabrique du Temps Louis Vuitton devised and created a completely new feature called "Worldtime" feature. The Escale watch shows the world time without using a single hand. Time in 24 time zones is shown by three different mobile discs. When innovation, beauty and exclusivity come together in this way, the passion for travel knows no bounds.
AT A TIME WHEN BORDERS ARE BECOMING INCREASINGLY BLURRED, LOUIS VUITTON IS PROPOSING AN ORIGINAL INTERPRETATION OF THE "WORLDTIME" FUNCTION WHICH WILL APPEAL TO GLOBE-TROTTERS AND BUSINESSMEN IN SEARCH.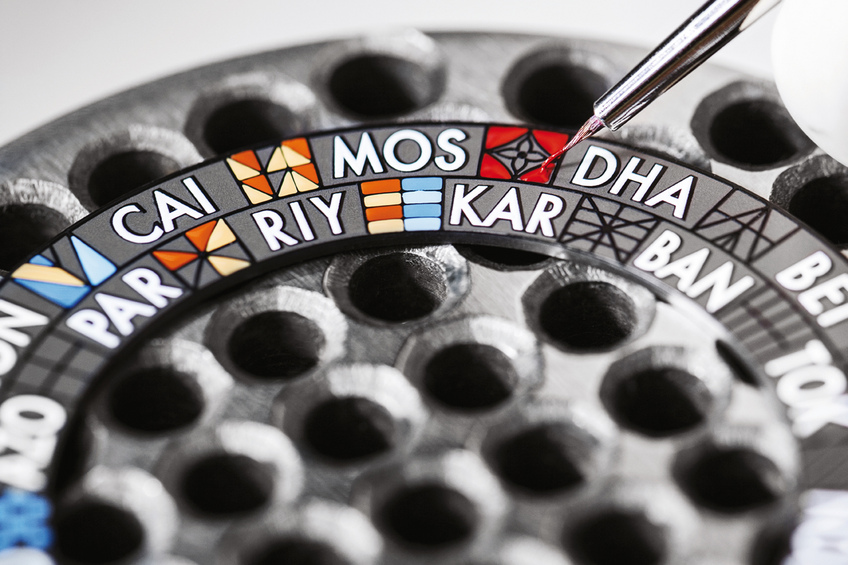 Miniature painting of the cities disc on a Louis Vuitton Escale Worldtime watch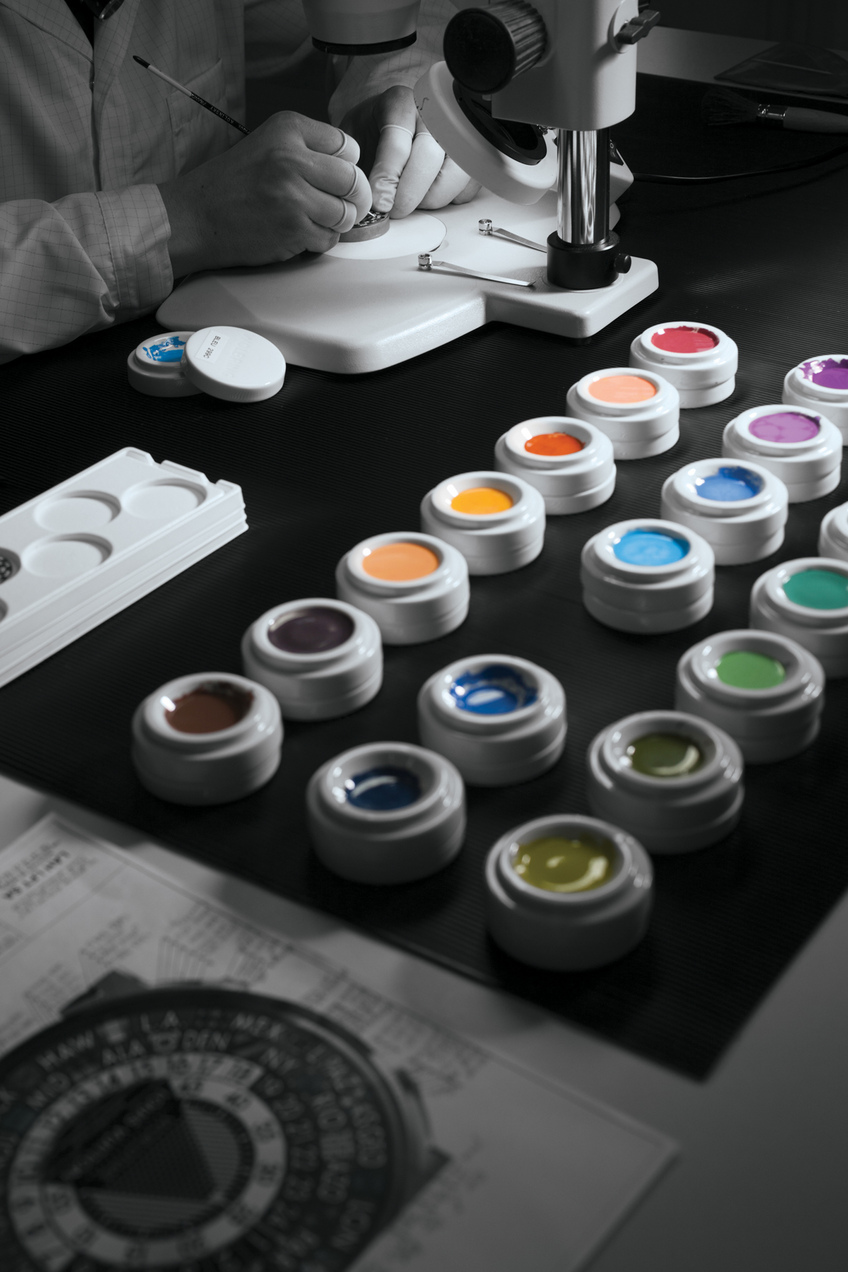 Application of acrylic painting on the cities disc of the Louis Vuitton Escale Worldtime watch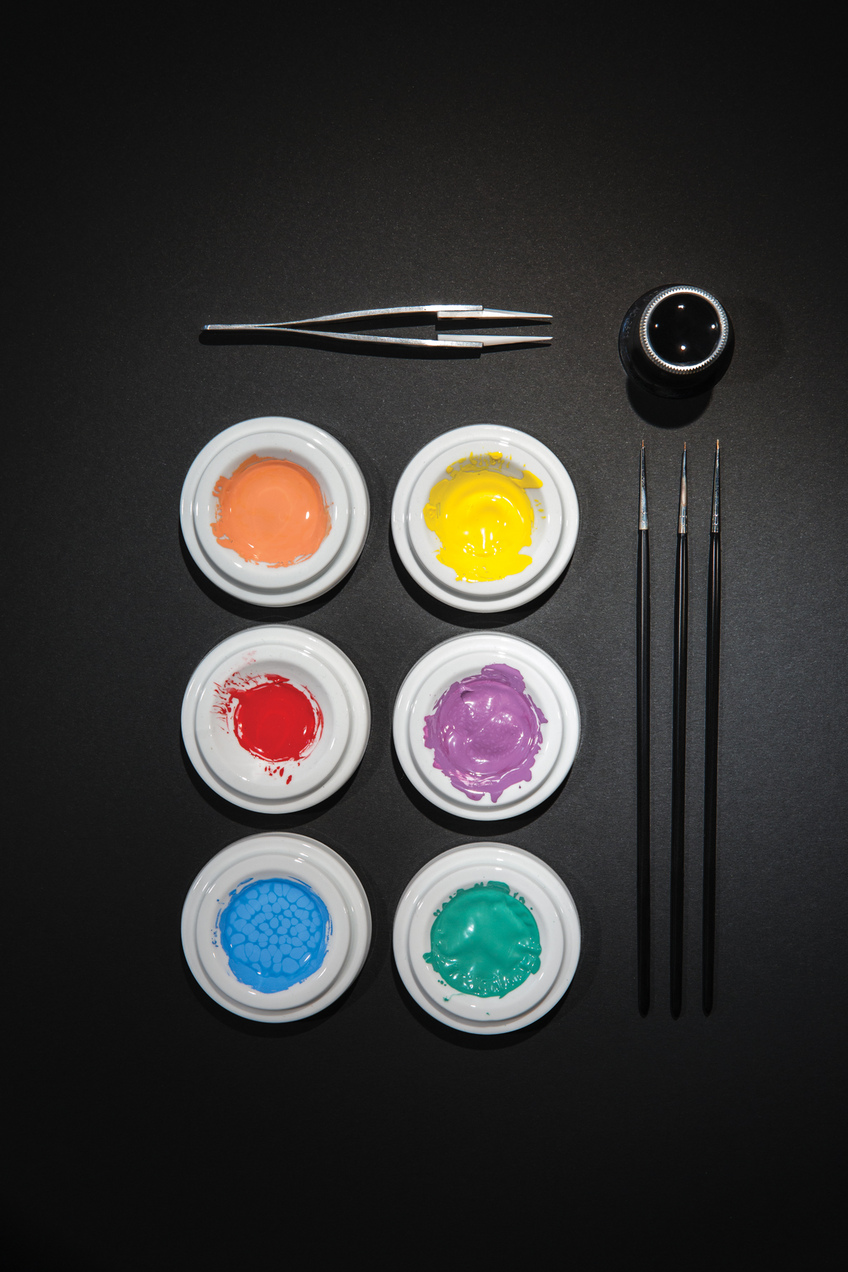 Acrylic painting for the Louis Vuitton Escale Worldtime watch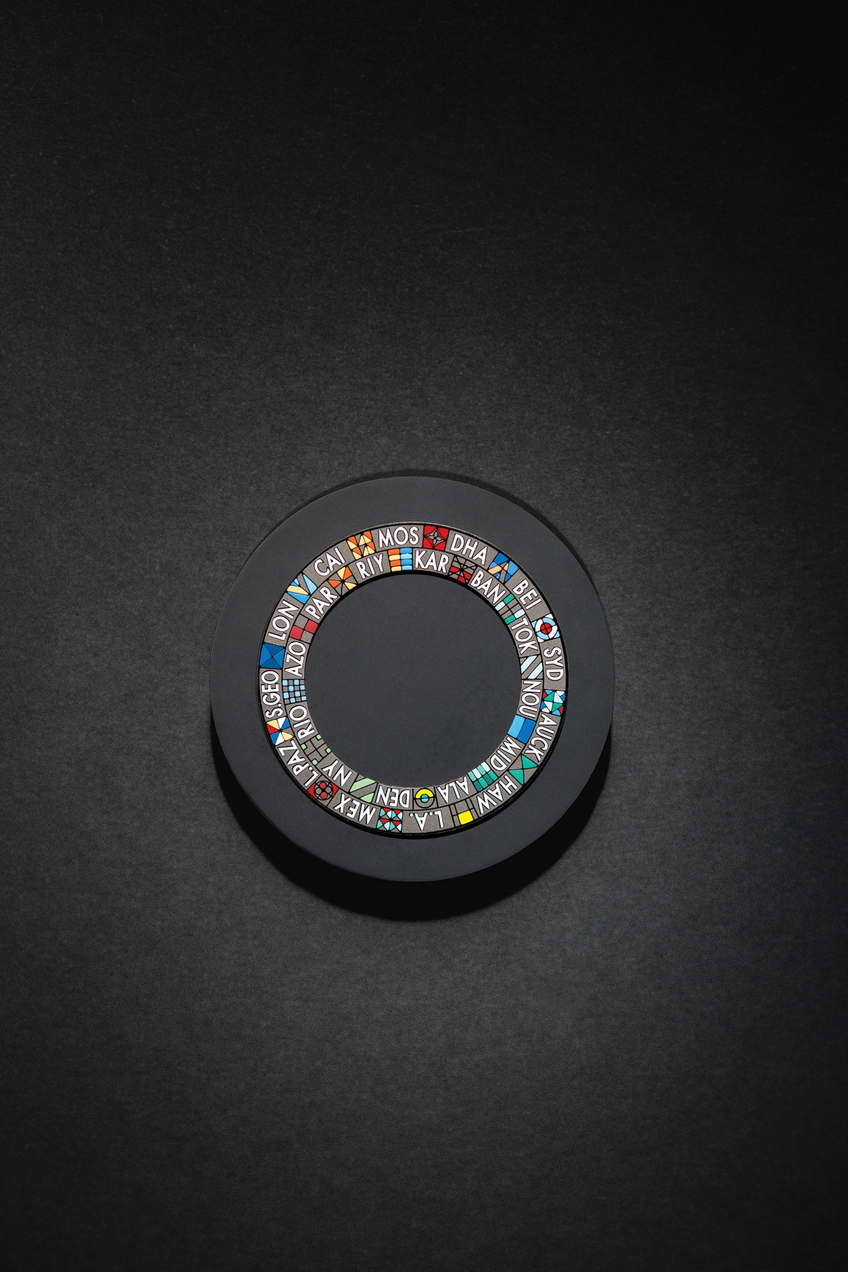 Cities disc on the Louis Vuitton Escale Worldtime watch
© Images : Sébastien Coindre - Florence Joubert - Salva Magaz - Gérard Uféras
The name Louis Vuitton is almost synonymous with an invitation to travel. The famous flat trunk and its various models created by the eponymous founder...