Tudor Heritage Chrono Blue Watch Review
People here in the US are getting really excited about Tudor's return to the American watch market. The reason, at least for watch lovers, is that Tudor represents two very good things. First, is a tradition of making good looking, yet conservative watches a lot of people are happy to put on their wrist. Second, is that Tudor comes from a very well-respected and trusted house. Tudor watches are made right alongside Rolex watches.
If you are among the last people to learn this fact, Rolex is a sister company of Tudor, each being technically owned by the Wilsdorf Foundation (named for Hans Wilsdorf who began Rolex). Tudor has been a laudable sub-brand of the world's most famous luxury watch maker for decades. Also, in cooperation with our friends at Watchonista, we'd like to point you over to their collection of Tudor Heritage Chrono Blue reviews here, which our aBlogtoWatch review being the very first.
Nevertheless, as we've mentioned before, Rolex kept Tudor out of the US for a long time. In fact I am not even sure the last time a Tudor watch was officially sold in the US. Why is Tudor making a comeback? That is a good question, but I think part of it has to do with the positioning Tudor is making for itself not as a Rolex competitor, but as a more accessibly priced brand with clear distinctions from Rolex, but something that the same type of people would happy to wear. Today's Tudor watches are sporty, often focused on heritage, and pretty well-priced (all things considered).
One of the star watches for 2013 is the Tudor Heritage Chrono Blue ref. 70330B. It would be amiss to call it a new watch because it is actually a different color variation of the more gray toned Tudor Heritage that was also recently released. Each of these modern timepieces is in fact directly inspired by vintage Tudor watches. Aside from the size and some minor details, the new versions of these watches are remarkably similar to the older versions. While the Heritage Chrono Blue is a thoroughly modern watch in its materials and construction, there is a heavy helping of retro 1970s design. The original model this watch is based on is the Tudor "Montecarlo" ref. 7169.

We offered a detailed first look with a hands-on experience of the Heritage Chrono Blue during Baselworld 2013. In that prior post you can see what the watch looks like on the wrist with the provided blue and orange NATO-style strap. Yes, Tudor supplies both a steel metal bracelet and strap with each Heritage Chrono Blue. Tudor is a detail-oriented company (just like Rolex), and if there is anything positive to say about the Heritage Chrono Blue it is that Tudor really makes sure each angle of the watch looks and feels good. Detailing is meticulous and people familiar with watches will immediately notice the excellent use of materials.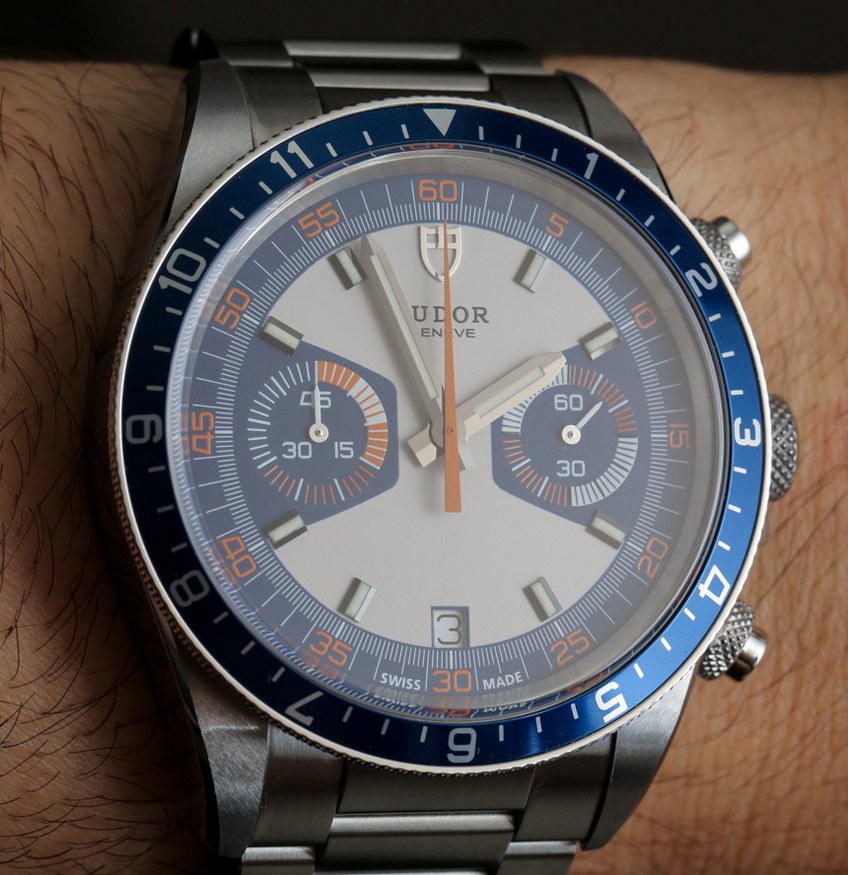 One reason for that is that Rolex/Tudor produce so much of their parts in-house. When you make your own cases, dials, bracelets, etc... you can tightly control quality and produce the exact product you want. Whether you like Rolex and Tudor watches or not, one thing you have to admit is that their quality control and level of detail gives luxury watches a good name.

For the money, the Heritage Chrono Blue's 42mm wide steel case is wonderfully finished. Everything feels solid, nothing wiggles, and the pieces fit together very well. The steel feels well machined (because it is), and you get a high level of confidence when wearing the watch. The case design is actually quite similar (though not at all the same) as the also 42mm wide Tudor Pelagos that we reviewed here. Both watches fit the same on the wrist - which is a good thing. For a 42mm wide watch, the Heritage Chrono Blue wears large - which I like - because of the wide-spaced and long lugs. It also looks a bit larger because of the thinner bezel.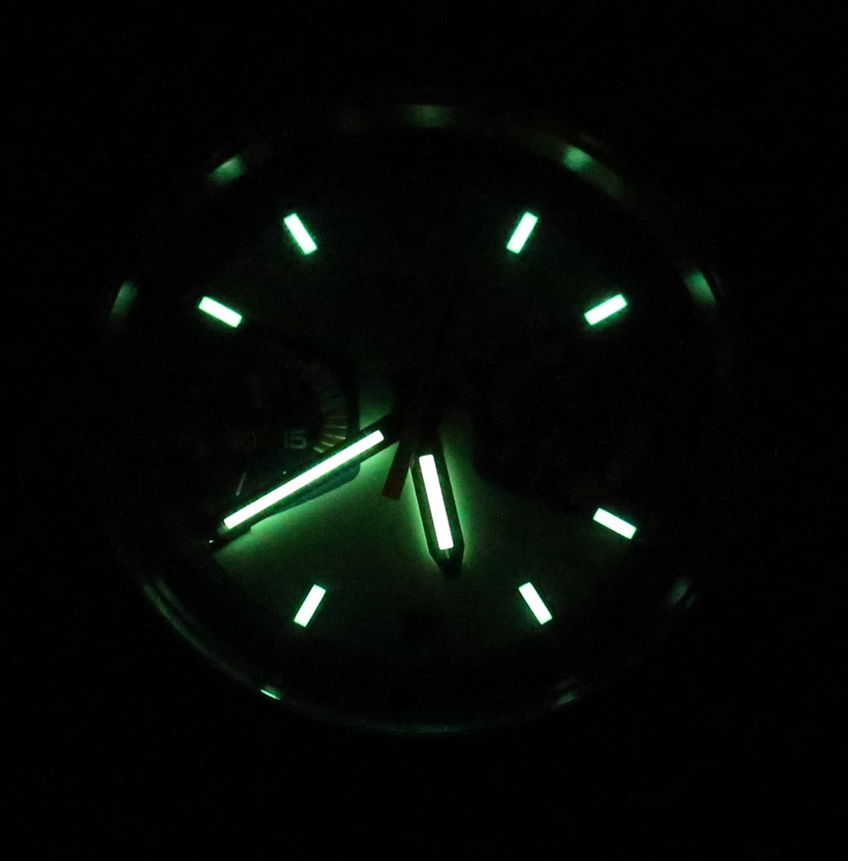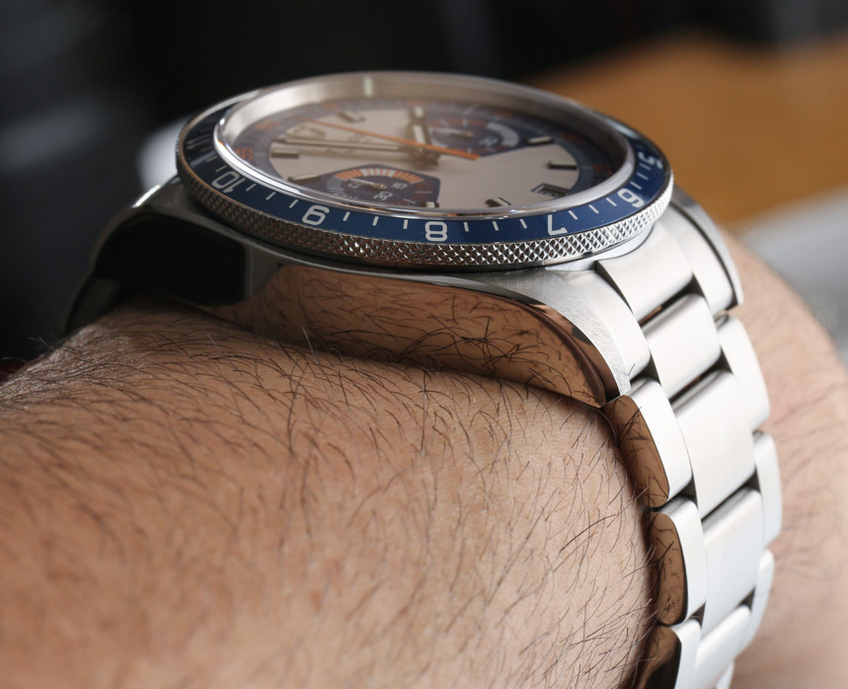 While the steel bracelet is sporty and conservative, it is very nice. I sometimes feel as though it doesn't quite fit on this version of the Heritage Chrono as well as the strap. I am a total bracelet guy, but you have this tool-style watch with a brightly colored dial, and it just feels so much more visually complete on the NATO strap. The strap is actually a beautiful thing as Tudor did everything possible to take your standard cheap nylon NATO strap and make it look nice. That means they have custom buckles and loops on them they are higher-class than what you see on most straps of this style.
A locking fold-over deployant clasp gives the bracelet a secure feel. I like that it has some micro-adjust holes in the clasp, but overall it is a basic bracelet compared to what you'll find on a Rolex or even on the Pelagos, that has a neat, fancy spring-loaded extension system. Nevertheless, quality is unsurprisingly high. The finishing on the brushed steel links is excellent, and the bracelet has solid end-links that fit very well against the case (part of that very solid construction I was talking about). My final thought about the bracelet is my appreciation for how it visually tapers. Not too much, but it narrows to the deployant down from where it connects to the case, which is always a good look. Rolex is known for that, and it is a good thing because it not only often looks better, but also helps make a watch more sophisticated because it requires so many more unique parts.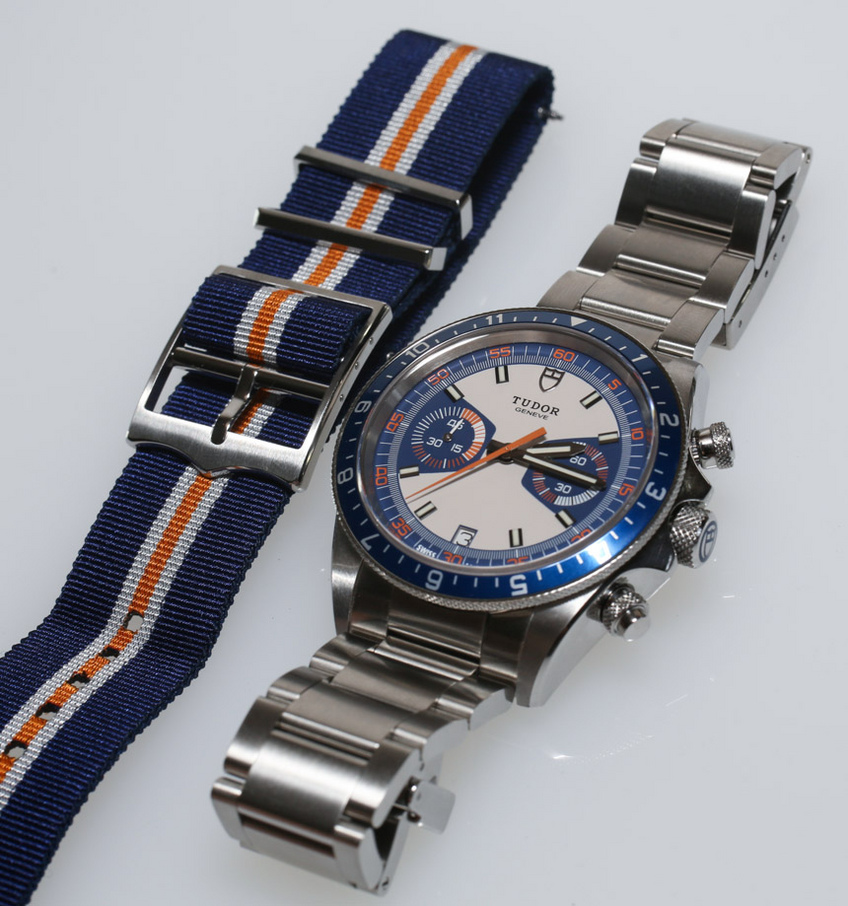 The case of the Heritage Chrono Blue is water resistant to 150 meters and has a screw-down crown as well as chronograph pushers. The caseback is typically stark in Rolex fashion, but it does have some text ("Tudor Suisse Geneve"). The crown has a blue lacquered Tudor shield logo, and knurled texture that is mirrored on the pushers and rotating bezel. The texture makes the crown easy to grip, but if it digs into your wrist, it feels a bit sharp and it feels a bit like sandpaper. Though, that is a minor concern. We only mention it due to our high level of expectation when it comes to all things Tudor or Rolex.

As a chronograph, the Heritage Chrono measures up to 45 minutes. Having said that, you can still measure hours with the bi-directional rotating bezel (which happens to turn in a very satisfying manner). Rather than having a 60 minute counter like many rotating bezels, the Heritage Chrono has hour indicators on it. This can be used to track a second time zone, as well as being used to measure hours. What you can do is line up the 12 o'clock position with the hour hand, and you can measure up to 12 hours. The bezel contains a blue aluminum insert. Sure we would have loved ceramic, though ceramic would not have been able to produce just the right type of finishing to offer that retro look. It is worth noting that the Pelagos dive watch model does in fact have a ceramic bezel.
As we mentioned, it was Tudor's intent to give the Heritage Chrono Blue a design extremely similar to the original "Montecarlo." From a design perspective, they have more or less succeeded flawlessly. The dial is almost an exact analog save for some little differences. The biggest differences are probably the juxtaposition of the chronograph minute counter and the running seconds hand, and the removal of the cyclops magnifier over the date window. That latter feature actually would have been nice to retain, and I will tell you why. The date window is located at the 6 o'clock position, serving also as the hour marker. Tudor uses a date disc with a custom font, which is nice. The problem (and again, I am being picky) is that in the tens, the size of the font makes it so that it is difficult to see the "1" before the number, as it is so close to the edge. So you can see, a magnifier over the date window would help a bit. Again, we like to keep Tudor and Rolex on their toes about these things because we more or less demand perfection from them. They are certainly able to deliver perfect watches, and on the rare occasions they don't, we like to remind them just how high people view them.

It true that the dial of the Heritage Chrono Blue is something you either love or don't. As you know it is based on a historic design from the 1970s, and certainly is indicative of that era. The hands are very well-sized, and the lume is good, though there isn't a ton of it. The polished metal hour markers are applied, but in going with tradition, the dial is otherwise flat. Something about the dial makes me really want Tudor to take a few more modern steps and give it a bit more depth. You have this really cool design with lots of details, and I think it would look so cool with a few more visual levels.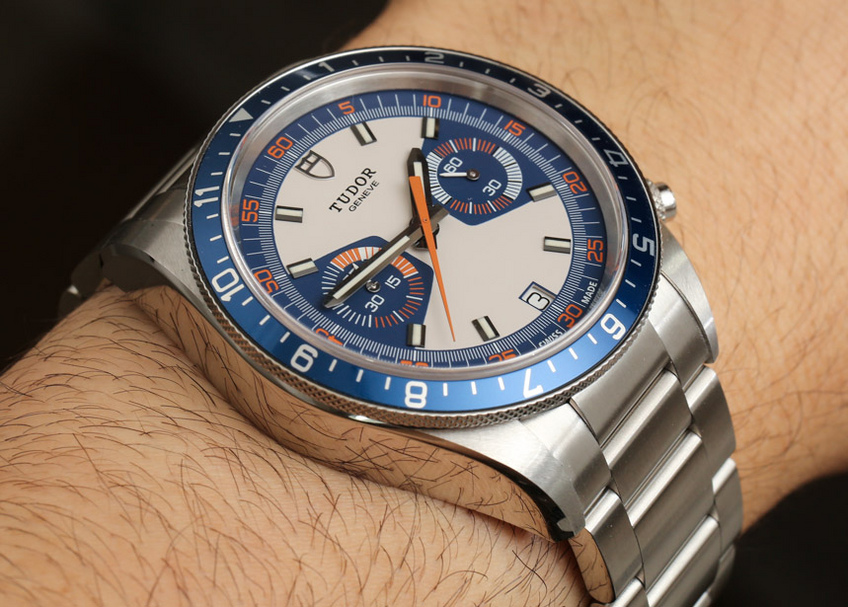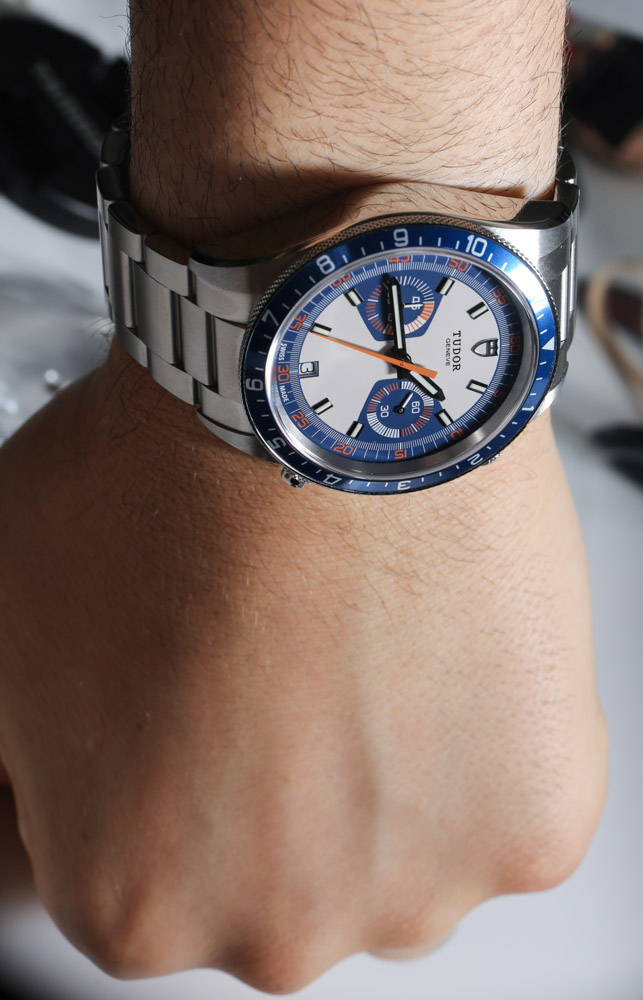 The major difference between Rolex and Tudor, and the main reason Tudor watches are priced more affordably, are the movements. While Rolex produces their own movements, Tudor uses Swiss ETA movements. Honestly, there is nothing at all wrong with that. Tudor not only regulates the movements very well, they also end up modifying them. For example, Tudor could have taken an easier route and used the chronograph minute counter on a 2894 movement that measures 30 minutes. Instead, they decided to make the watch as much like the original as possible and used an ETA 2892 with a chronograph module over it that has a minute counter that measures 45 minutes.

We have a lot of love for Tudor and their simple yet sporty modern offerings that will surely be a hit in the United States. The best Tudor watches are all about 42mm wide which is a great size for most men and their designs are useful and comfortable, though a bit unique so as not to look generic. They also have a great connection with the past and models like the Heritage Chrono and Black Bay that people are fawning over. We can't stress enough that because Rolex and Tudor are sister companies and share what is a very high level of skill and talent for producing components, the steel used for the case and bracelet is excellent. 2014 will be an interesting year in the US watch market as Tudor makes itself available not only in select US watch retailers, but also in the media. We anticipate that Tudor will follow Rolex's lead in becoming a major advertiser in the US, helping to spread word of the brand and digging deeply into the market share of similarly-priced luxury sport watch competitors. Competition is always a good thing for consumers and we say "bring it on Tudor." Price for the ref. 70330B Heritage Chrono Blue is $4,425. tudorwatch.com Our friends at Watchonista are putting together a Heritage Chrono Blue hub page with reviews by other watch sites here.
By
Ross Povey
,
Expert Tudor Collector
Montres Tudor SA was founded by one of the most important figures in horology's history, Mr Hans Wilsdorf; the gentleman who was also responsible for...
Originally introduced in 1973, the Tudor ref. 7169/0, nicknamed 'Monte Carlo', was the inspiration for the new Heritage Chrono Blue that Tudor...