Tudor Heritage Chrono Blue - rebirth of a myth
Aficionados made an icon of it and now 40 years on, Tudor resurrects the reference 7169 known simply as the "Montecarlo" with a new 2013 icon called the Heritage Chrono Blue. Its epic story meant that this summer hit deserved its own photo shoot.
The Tudor Heritage Chrono Blue
It was rather chilly on the 17th of December 2012 in Monaco harbour yet who would have thought that when watching these sunny and marine spindrift touched images that the film heralding this resurrection had been shot in the middle of December. This icon lends itself to all forms of calm, nonetheless it was daring to stage the scene on the verge of winter.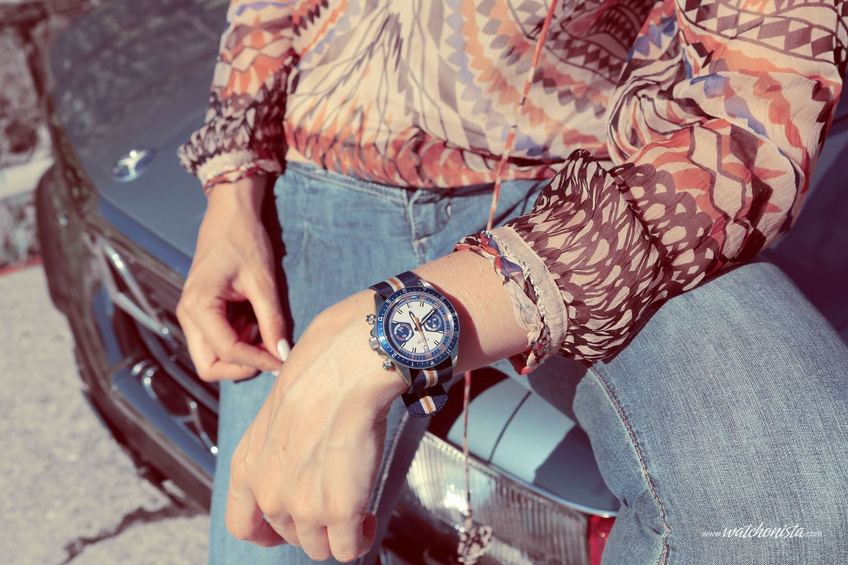 It was also the inspiration to the Watchonista team to stage a real in-house shoot with the spectacular backdrop of authentic Swiss lakes and mountains while giving the vintage ambiance by featuring genuine antique accessories as well as a feminine touch which is so befitting of this icon.

An exclusive invitation to travel is launched in timeless fashion and is evocative of vintage atmospheres without in any way denying its contemporary origins. It exudes something of a medieval corniche elegantly enhanced by its shades of diving blue and the essence of chic sport often seen by those who frequent Mediterranean terraces or sail on yachts. The whole piece has been created with a spirit of La Dolce Vita of the highest quality.
Tudor is clearly the leader of the pack by delivering a flawless product which represents the current trend of resurrecting mythical models whose forms and colours have outlived fashion and trend. The Chrono Blue 2013 is a watch born of nobility which rightly takes its place as the flagship of the Heritage collection launched in 2010.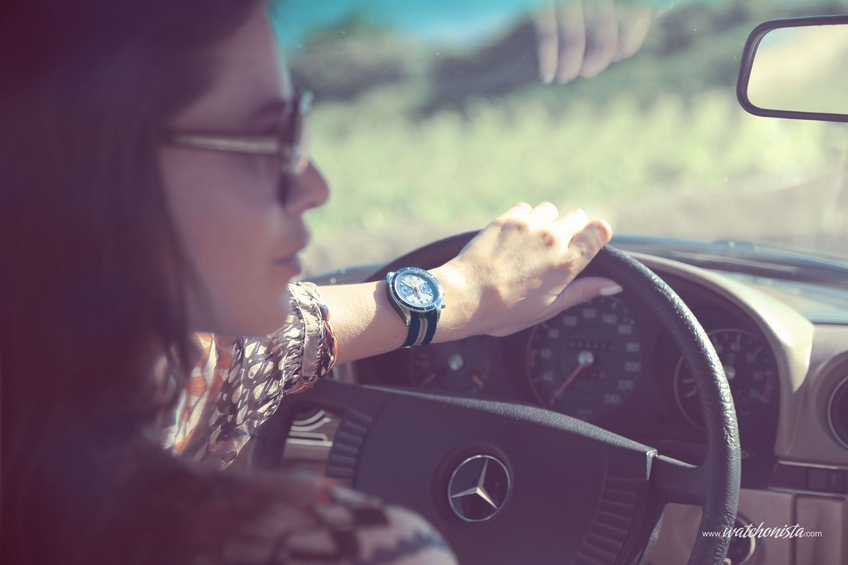 In the past, this watch existed in two combinations, which was either grey and black or grey and blue, however in 2013 Tudor has concentrated on the grey and blue which conforms perfectly to the aesthetic codes of today. It offers whilst still respecting the spirit of the original, "a collision with modernity and with the design codes of today" in the words Davide Cerrato, artistic director of Tudor.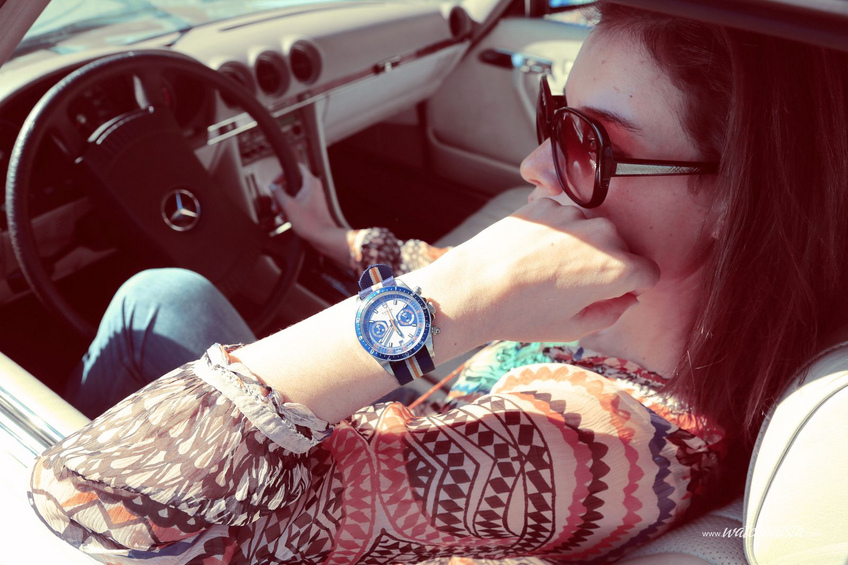 He also highlights that in this exercise of historical reinterpretation of the brand's pieces, "we stuck very, very close to the original model, notably with a 45 minute timer which is divided into 15 minute sections. It is a story that finds its origins in automobile races which used to last 45 minutes".
Summer heat
Tudor has adapted its new addition to a contemporary size by enlarging it to 42 millimetres in diameter and by providing a new fabric strap which stems from an age old tradition but which responds to current expectations. The new indexes whilst reminiscent of the past have been transformed into beveled appliqués following the progress in luminescent materials and the smallest details on the crown are almost identical to the original to ensure it in no way betrays its original heritage.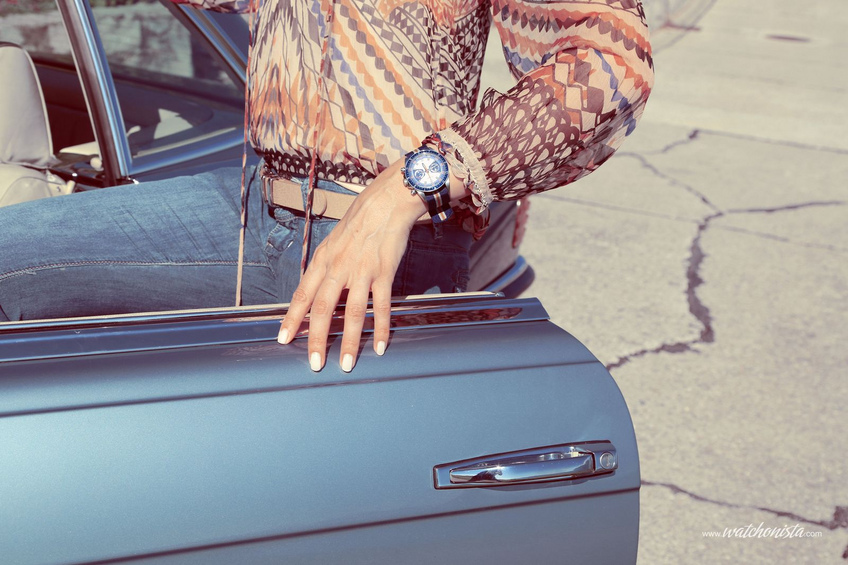 The watch remains wholly marine and aquatic, completely suited to summer humidity, to the scents of pine forests and to the casual ways of seaside or… lakeside.
Barely 20 days after BaselWorld, Tudor released its new crown jewel, the Heritage Chrono Blue onto the market. With its willing attitude, it is ready to create a stir.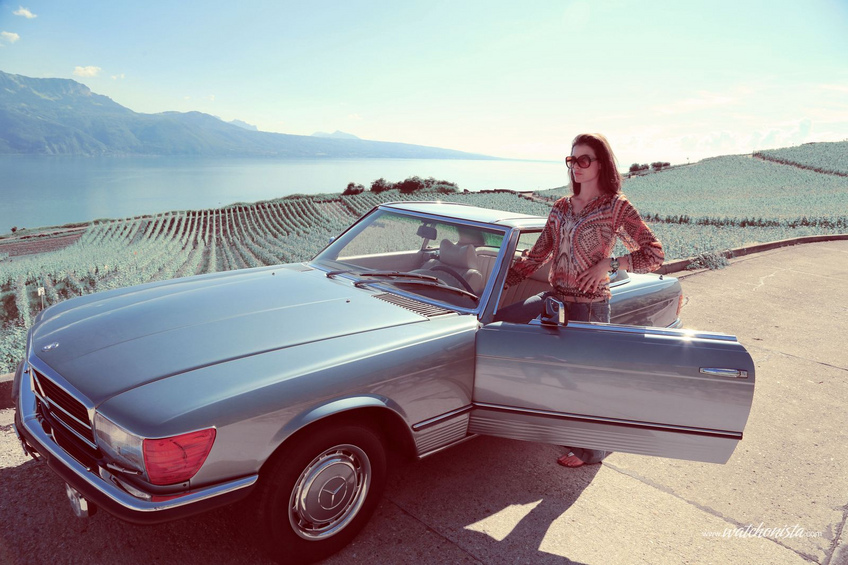 Determined to recapture the light and remain in the spotlight, this proud object proves to be accessible with its price remaining below the critical threshold of CHF 5,000! An unusual feat for an icon of this quality and for a timepiece in this category.
Tudor Heritage Chrono Blue Technical specifications
Water-resistant to 150 metres and delivered with both a steel bracelet with deployment buckle as well as the strengthened fabric strap, its origins based on a 250 year old weaving tradition and including a pin buckle.
42 mm diameter case (the original piece measured 40 mm) with a polished and satin finish. Featuring a bidirectional steel turning bezel with blue disc in anodised aluminium and graduated in 12 hours to enable the reading of a second time zone.
At its heart beats the Tudor 2892, a self-winding mechanical caliber which houses an additional module for the chronograph function and circa 42 hours of power reserve.
Steel screwed crown and pushers with triple water-resistant seals and the crown being engraved with the brand's logo.
A 45 minutes timer at the 9 o'clock position, small seconds at the 3 o'clock position and the date shown at the 6 o'clock position.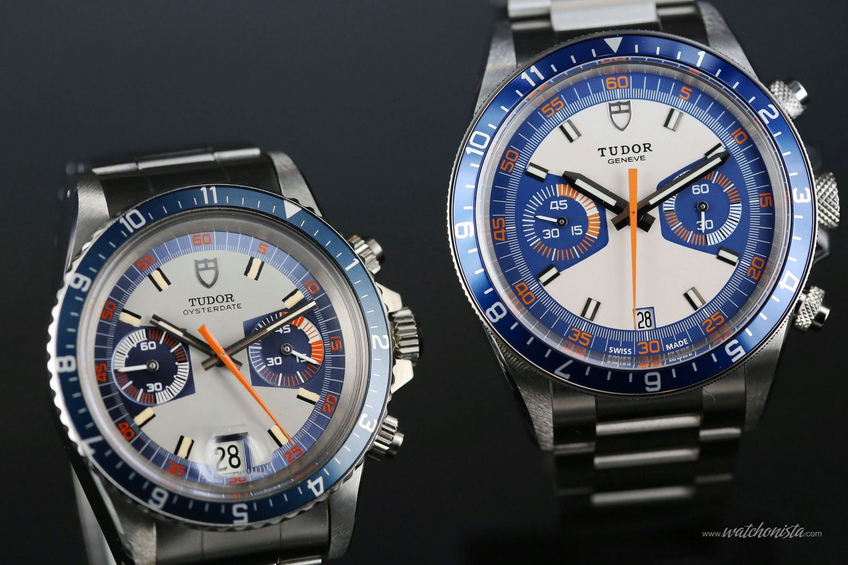 Tudor reference 7169 "Montecarlo" (1973) vs. Tudor Heritage Chrono Blue (2013)