TAG Heuer Carrera Calibre 18 Telemeter
I'm not going to front like I know all about vintage Heuer chronographs and tell you what a great tribute this is, because I honestly don't know all that much about (TAG) Heuer and its heritage. So in essence, this is a review by a watch-lover who appreciates retro styling, without knowing or caring how accurate of a re-edition it is.
As I said, I've never really been the biggest TAG Heuer fan or aficionado. Heck, in all my years I've never even stopped by their booth at Baselworld or looked them up in any of the retailers in my city. It's just never been a brand that spoke to me in any way, and the plethora of ambassadors on their roster certainly didn't help. Not to say that their segment and marketing approach is negative, I just tend to avoid all things mainstream.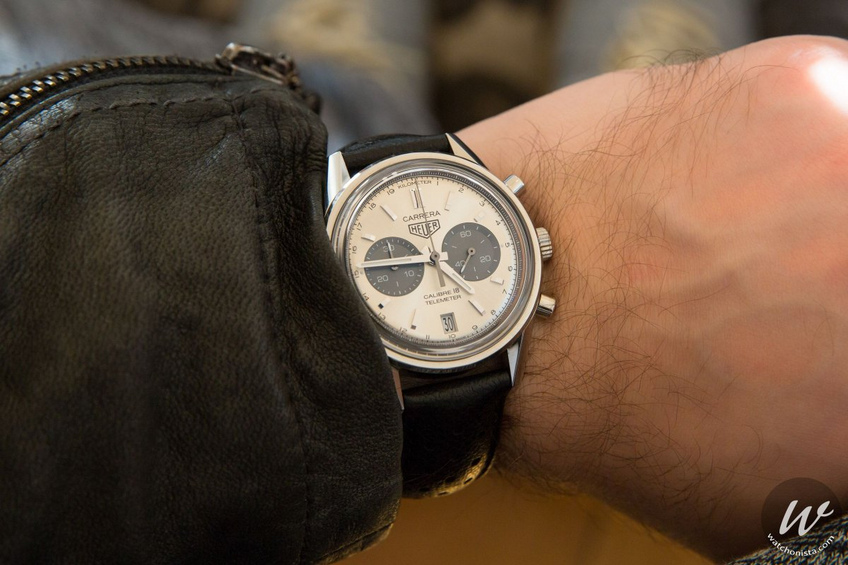 TAG Heuer Carrera Calibre 18 Telemeter
Then one day towards the end of summer during a casual lunch with Watchonista's own Marco Gabella, we did the customary watch exchange. I could've sworn I was looking at an obscure vintage Heuer chronograph. The warm tones of the silvery dial, the crystal… Then I realized the case was way too clean and the lugs way too sharp to be something remotely vintage.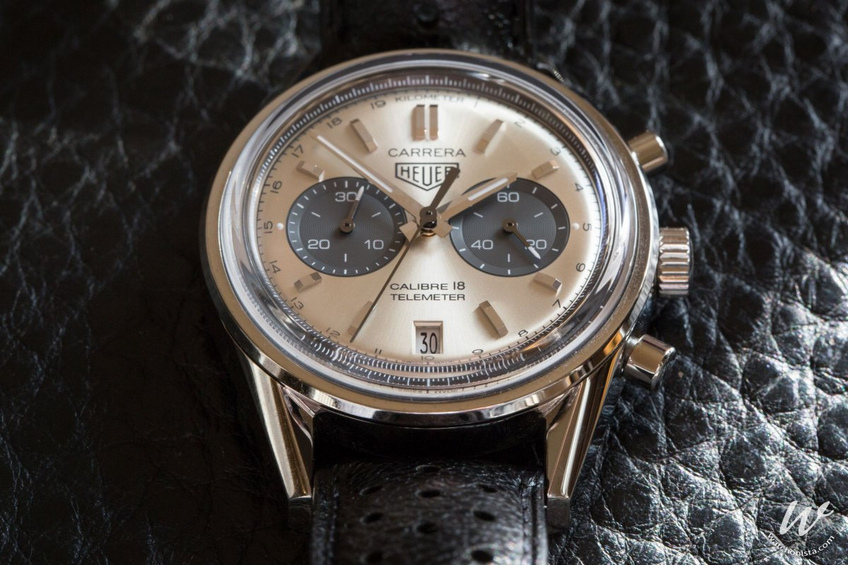 TAG Heuer Carrera Calibre 18 Telemeter
Keep in mind, the only things I had been seeing and hearing from Tag Heuer for the past year or so were "Don't Crack Under Pressure", their entry-level in-house chronograph, and their recently unveiled connected watch. So to see something like the Heuer Carrera Calibre 18 Telemeter was positively refreshing, to say the least.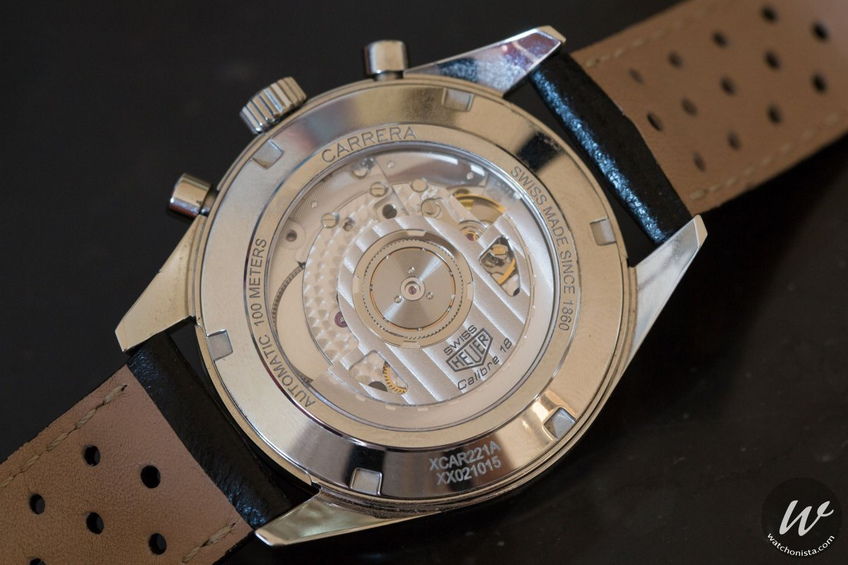 TAG Heuer Carrera Calibre 18 Telemeter
The first thing that caught my eye was the dial. Silvery sunburst dials are hardly rare, but the Calibre 18's has a warm hue to it, as if it's been slowly aging over a few decades. What I particularly appreciate here is the level of depth and volume for such an understated piece. You'll notice that the dial actually folds down towards the edges, with a contrasting anthracite flange ring with a telemeter scale sitting above it. The oversized anthracite chronograph registers are recessed with a sloped azurage finish on the edges. I would've preferred the watch without the date window, not because the original didn't have one, but simply because I don't like non-perpetual calendar date functions.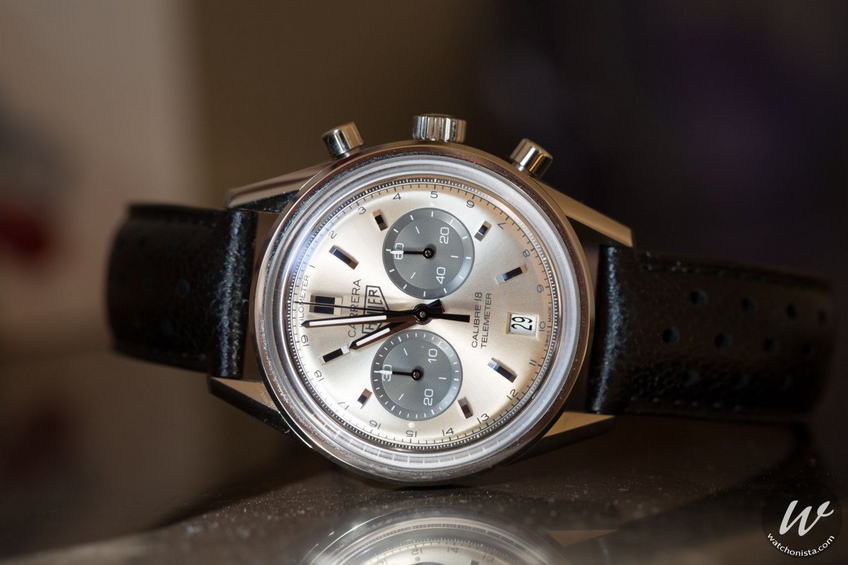 TAG Heuer Carrera Calibre 18 Telemeter
One of the most interesting features is the sapphire or "glassbox" as TAG Heuer calls it, a raised and domed crystal that is not unlike the Plexiglas crystals of watches from the 60s and 70s. What many don't realize is that sapphire elements remain one of the more expensive components in a watch, and the more complex the shape and angles, the more costly its production. What I also find interesting is that even though the crystal has an anti-reflective surface on both sides, the double anti-reflective treatment's blue glare isn't as pronounced as on other watches, it's hard to believe it's really sapphire! The steel Carrera case measures 39mm, but with its proportions and rounded dial wears slightly smaller than advertised. You'll also notice that the bezel is almost invisible, dwarfed by the glassbox.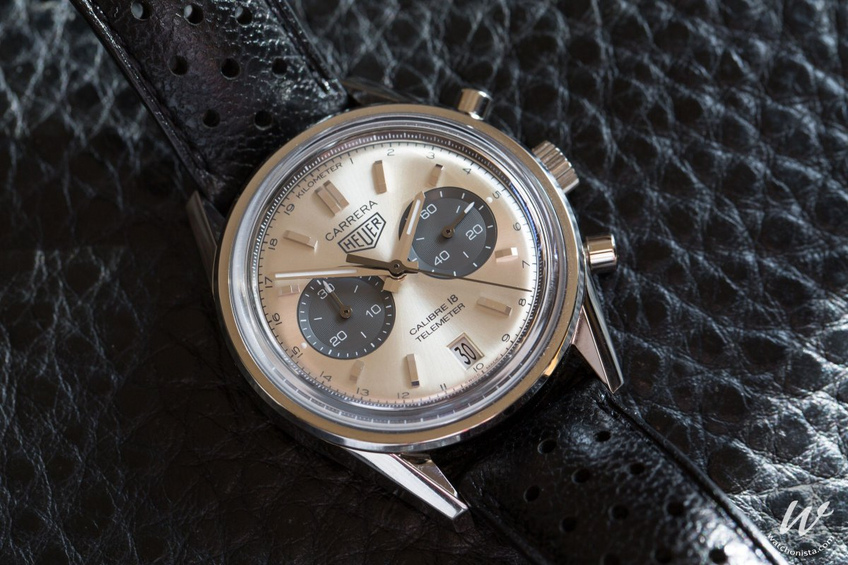 TAG Heuer Carrera Calibre 18 Telemeter
The only probIem I have with the Carrera Calibre 18 is that I can't tell who TAG Heuer are targeting it at. At CHF 5'900, it's definitely on the more expensive side for an otherwise basic TAG Heuer chronograph. And while the vintage-inspired look is very much en vogue these days, I don't see this as a TAG Heuer intended for the wider market of casual watch buyers…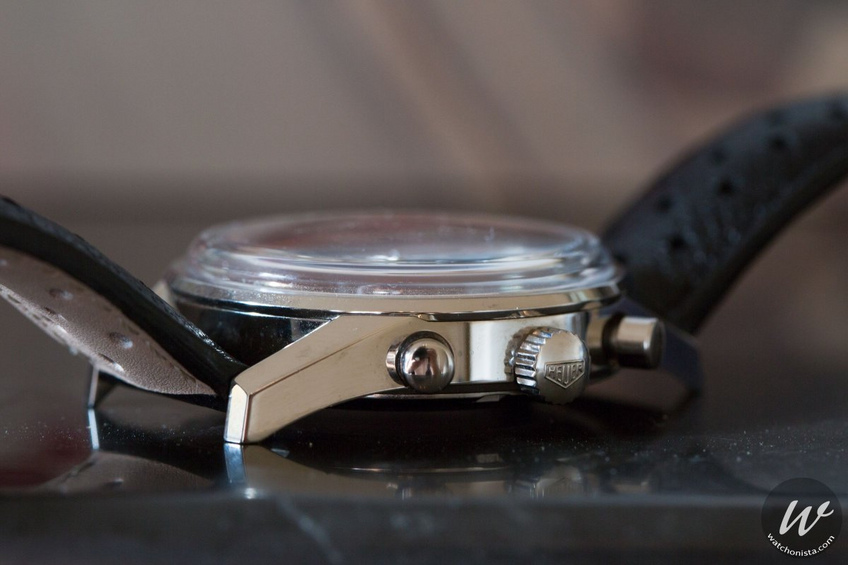 TAG Heuer Carrera Calibre 18 Telemeter
All in all though I will say that for me at least, this is one of the best looking retro-inspired pieces of the year, and certainly the first modern Heuer that's really caught my eye. It's not a single feature or design elements that render it so darn hot, but a combination of unusual subtleties that only the discerning eye can fully appreciate.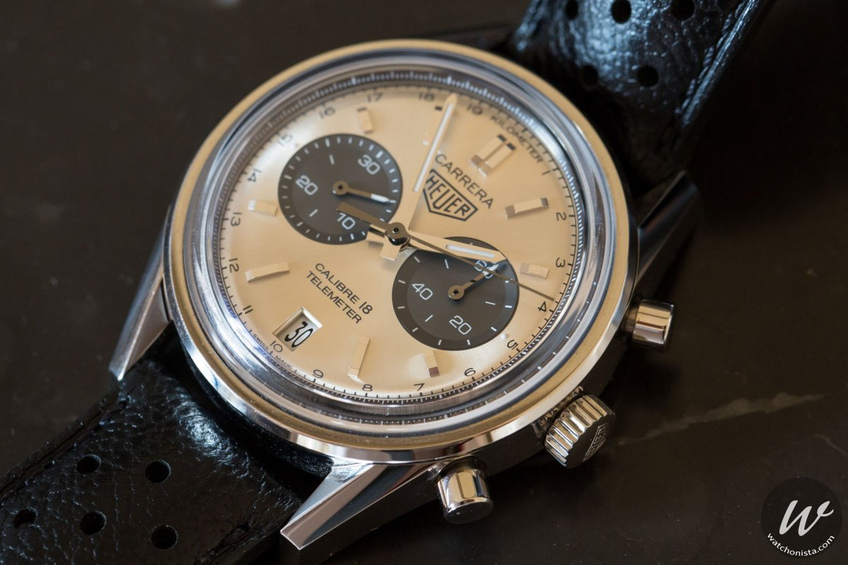 TAG Heuer Carrera Calibre 18 Telemeter
Pictures credits: Amr Sindi from The Horophile