"Tested for you": the De Bethune DB29 Maxichrono Tourbillon
Famous for its iconoclastic approach to horology, De Bethune has introduced a revolutionary chronograph that uses five central hands to display all its functions.
The suppression of traditional counters gives more space on the dial and enables enhanced readability of the chronograph's minutes and hours.
Does this mean that we will need instructions to read the time in this unusual display? Well, not really: it is surprising how quickly one gets used to it. This watch – a true digest of innovating technologies – houses an exclusive and complete coupling system that corrects all the flaws in traditional chronographs.
Furthermore, a 30-second tourbillon guarantees pinpoint accuracy in terms of time measurement. With this exceptional timepiece, De Bethune once more pushes the boundaries of chronometry while introducing a neo-classical, somewhat sober and distinct design. I love it, as will any fan of mechanics that is looking for something different.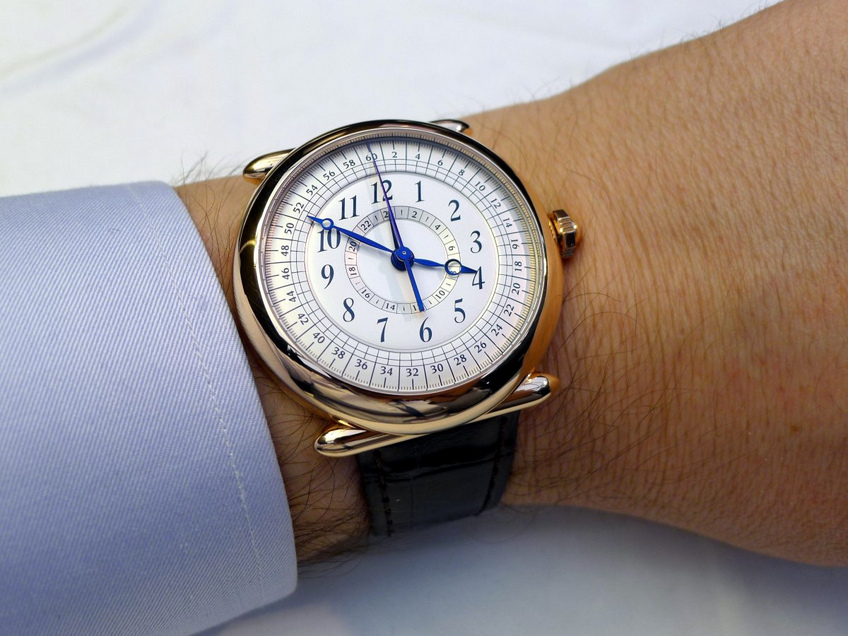 De Bethune DB29 Maxichrono Tourbillon photo© François-Xavier Overstake
Text also published in AGEFI Life No 94.
By
Benjamin Teisseire
,
Contributor
We get personal with the man behind De Bethune.
By
Marco Gabella
,
Co-Founder - Executive Publisher
De Bethune CEO Pierre Jacques presents the new entry priced novelty to Watchonista.
De Bethune won the prize of the best chronograph of the year at the Geneva Watchmaking Grand Prix for its DB29 Maxichrono Tourbillon.
Twelve years ago David Zanetta, an art lover and connoisseur of traditional watchmaking, and Denis Flageollet, an innovative designer and constructor of...
Exclusive hands-on look at the 2014 De Bethune DB29 Maxichrono Tourbillon timepiece with full details and price.