Time is money and watch collectors are well aware of it. Indeed, some timepieces are now worth more than real estate. Swiss watchmaking has a juicy complicity with the world of finance.
Vacheron Constantin reissued the Ultra-Fine 1955 as part of its "Les Historiques" collection in 2010, fifty-five years after the original was launched. This time, a 20-cent coin has been placed next to the watch to illustrate the ultra-thinness of its caliber 1003. The caliber is in 18-carat yellow gold – a material that watchmakers dread to use owing to its softness and its initial resistance to being shaped. Certified Hallmark of Geneva, this hand-wound mechanism goes back to safe values such as classicism.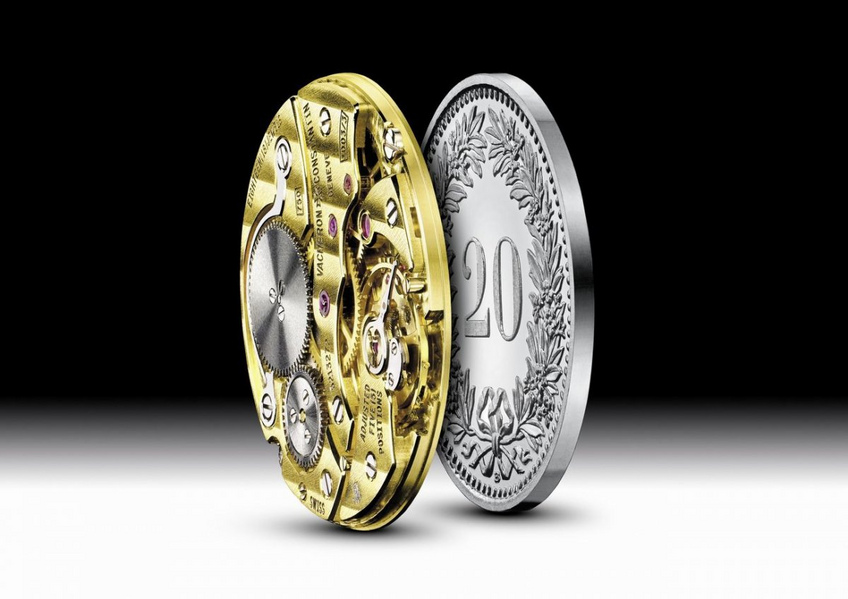 Vacheron Constantin 1955 Caliber
Gold pieces, traders and euros
In 1964, the late genius designer and founder of Corum, René Banwart, created the Coin Watch, which still features in the brand's magazine today. The brand from La Chaux-de-Fonds continues the famous tradition of bequeathing safe havens to one's descendants with the insertion of an ultra-thin movement in a true 22-carat 20-dollar gold piece.
Previously worn by some American presidents, this watch is only available today on special requests. Yet, it is still an inspiration for those nations who are willing to give their home currency a timeless connotation. In order to arouse the interest of world traders, Bienne-based Armin Strom has produced its signature skeletons in a model named Blue Chip. The name of the watch is a wink to companies listed on the stock exchange that have significant capital and endless liquid assets. In Geneva, Yvan Arpa – the omnipresent in the media creator of exceptional ultra-luxury – covered the dials of his works of art with crushed Euro coins. At the time when the news broadcasters were predicting the end of this currency, he named his model the Bye Bye Euro.
Patek Philippe, the king of auctioning
There are some new watchmaking brands that are revered by watch collectors, but they are rare. This is because they have increased their prices – with the help of demand – to the extent that new models may well cost more than the older ones we can find up for auction. This is no good for their image in terms of investment!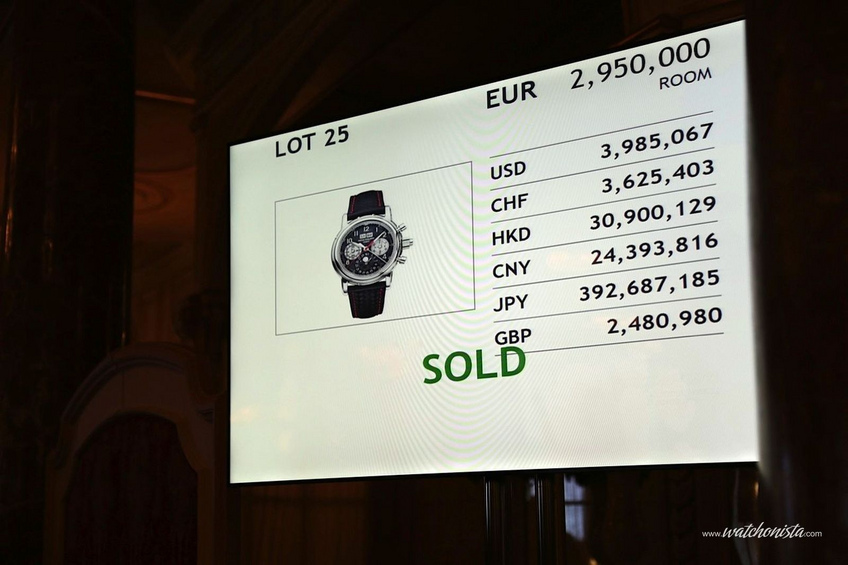 The Patek Philippe reference 5004 T was sold 2.950.000 Euro for Only Watch 2013
It is no easy task to compete with brands that break astonishing records at the three greatest auction houses, namely Antiquorum, Christie's and Sothebys. These are the unavoidable Patek Philippe, of course, then Rolex and some others such as the promising Omega. We also find some of Girard Perregaux's and Vacheron Constantin's mythical pieces. Patek Philippe and Rolex have most of their shares in the market of second-hand pieces due to extremely accurate archives. "Everything has been archived at Patek. Case, movement and dials have their individual numbers in the registers", specifies Marco Gabella, co-founder of Watchonista.com. This is the best guarantee of authenticity and traceability, something that immediately increases the incredible value of their pieces, especially for old models.
Front picture: The Hublot 5 million unveiled at Baselworld 2012 and bought by Beyoncé