Richard Mille RM 57-01 Phoenix and Dragon - Jackie Chan: power balance
This jewelry and horology creation gives Richard Mille the opportunity to show how well it masters technology while always being a step ahead in creation and design. The RM 57-01 Phoenix and Dragon - Jackie Chan is material proof of that.
We all knew that the master of futuristic watchmaking had a sixth sense for trends. At closer inspection, it was found that the integration of a three-dimensional (that is, in volume) allegorical decoration in mechanical movements is something quite new and still quite rare. Cartier gave it a try with its iconic animals (Crocodile and Panther). Roger Dubuis played with the Knights of the Round Table by placing them around the watch dial. But only those two examples together with Richard Mille's pieces are really famous.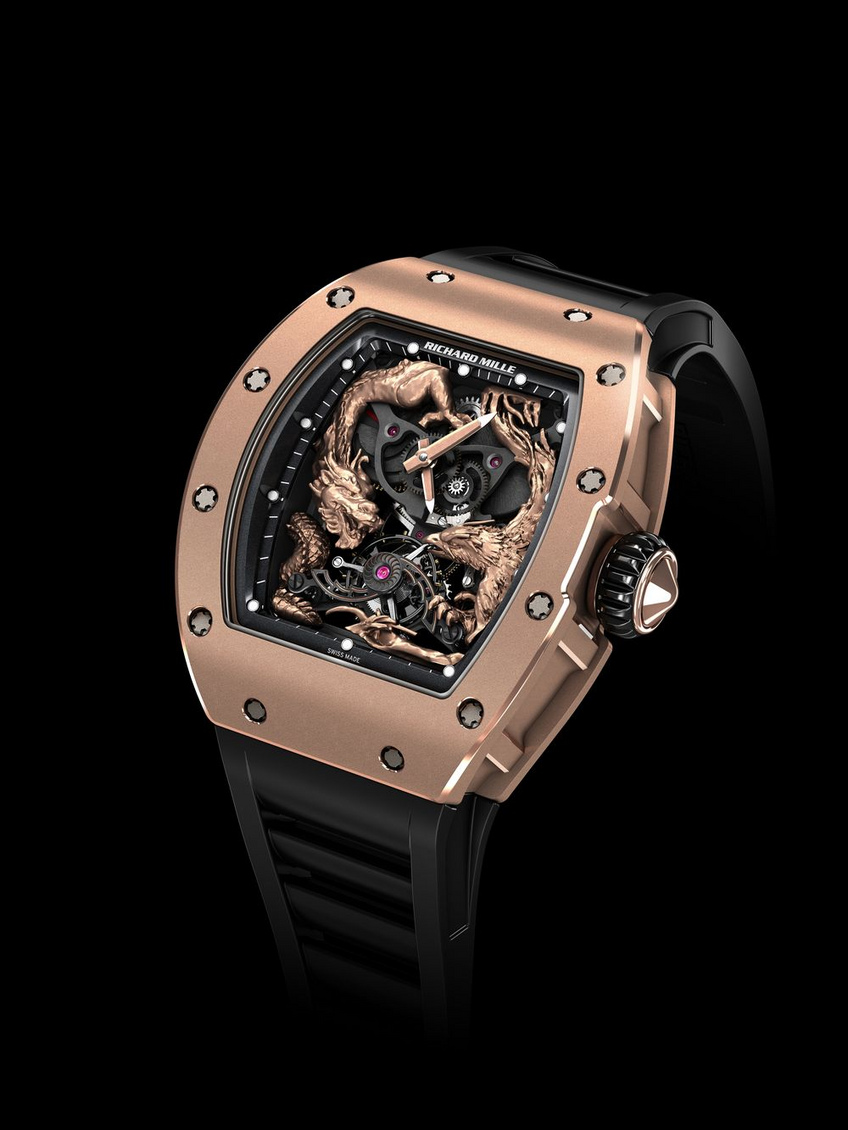 Richard Mille 57-01 Phoenix and Dragon Jackie Chan
In the latter's case, the execution is so good it almost escapes our understanding. Indeed, the two fantastic animals that share the scene of the very detailed skeletonized movement have been made with such attention to detail that they seem almost real and, though they don't move, you'd think they are alive. We find an Asian dragon (Ryu) and a bird that we make out to be a phoenix facing each other. The phoenix is a mythological bird that embodies five virtues: benevolence, integrity, morality, wisdom, and honesty.
A powerful and lucky tool
The two supernatural and propitiatory animals are made in 3N pink gold and featured on a watch equipped with a manual winding caliber (with a double barrel for 48-hour power reserve) and regulated by a tourbillon. By bringing them together, Richard Mille strikes the chord of those who are a tad superstitious and thus wish to bring all attributes of power and luck closer. Putting the two together in a watch made sense because time is the master of the game and whoever masters time dominates the world. Time is eternal and has become the physical vehicle of power since men managed to put it in "cases."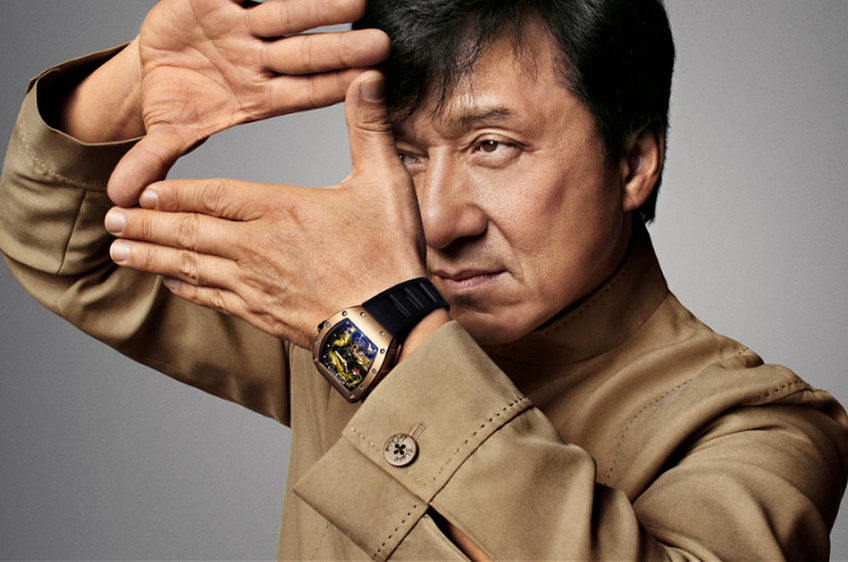 Jackie Chan wears the Richard Mille 57-01 Phoenix and Dragon
The very masculine piece is introduced here in its jewel version, of which a limited edition of 15 watches has been produced. The plate of its movement is made of PVD-treated titanium and the crown is equipped with a dynamometric disconnecting gear. The watch is a symbol of absolute power and no one in the right circle will fail to grasp this. But power markers cannot be multiplied. Hence, the RM 57-01 Phoenix and Dragon, which was introduced at Watches & Wonders, has been chosen by the young manufacture and by its designer to be presented in the days prior to the SIHH 2015 ("Salon International de la Haute Horlogerie").
Obviously, other wonders are coming and, as every year, the brand will offer more technical instruments. When they are released, there will be time to analyze them and to describe their operating principles. For now, we just need to take advantage of the chance to have an iconic product of a certain mind-set and to consider it as the maison's way of expressing best wishes for a very promising 2015.
By
Joel Grandjean
,
Editor-in-Chief
With the complicity of Rob Kitto, manager of the Richard Mille boutique in Geneva, Watchonista is shooting one of the rarest Richard Mille pieces, his...