SIHH 2017 : Day 5 – Irrepressible independents: Draw me future time
At the heart of the SIHH, in the midst of all the boisterous presentations and wildly designed booths, there was a little square of irrepressible independents, whose presence reminded us that watchmaking is quite a diverse art.
The watchmaking world is divided down the middle during the SIHH. On the one side are the big companies that churn millions of dollars in sales. On the other side is a constellation of small independents whose annual production rarely passes the one thousand watches mark. They were thirteen this year, clustered around the central atrium with a square bar, where fans and aficionados could gather for highly colorful discussions and a glass or two.
Create for play
The non-specialized enthusiasts will not always know who these watch companies are. However, the watchmaker did wait in their new and scenic space close to the main entrance of the salon for the arrival of communication professionals, the best buyers and, this Friday, the nearly 2,000 pre-registered visitors who came to see the finest haute horlogerie in the flesh.It was here that the purists were made privy to sheer creativity and could even talk with the creators. They were accessible and passionate about their work, more prepared to talk than the big bosses of the larger companies and often willing and able to describe how they came to make watches that are original and complex, often without too much in the way of funding.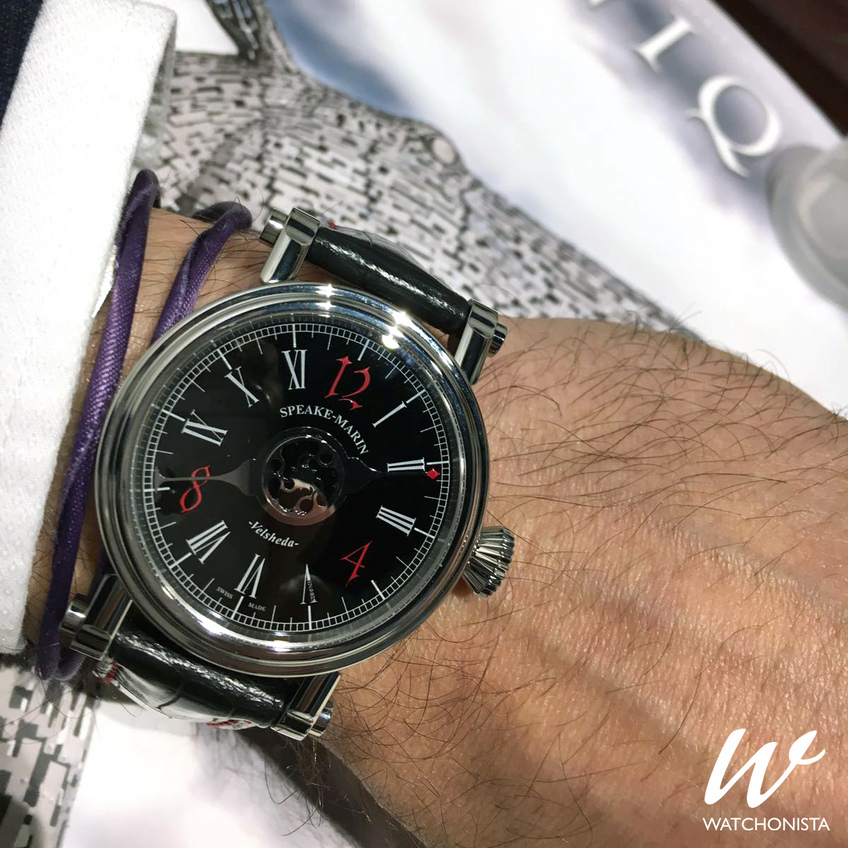 Speake-Marin Velsheda Gothic Black
Recasting the classic paradigms
In this little square arena, each company exhibited a very individual identity.If you like watches that have contemporary designs and display time in an original manner that is anything but classical, then you'll find your happiness with Urwerk, a company that is celebrating its 20th anniversary this year. It has done its best to make watches that boggle the mind when it comes to reading time. This year, the company founded by Felix Baumgartner and Martin Frei celebrates women, a genuine premiere, even though we realize that a number of women have already taken possession of these individualistic timepieces to decorate their wrists.
Boss's competition
But over time, rivals did emerge and became organized.As of early 2000, some teams of watchmakers began competing with the visionary people in the futurist watch segment and turned back to classic ways of telling time. Hautlence was the first to do away with hands and create jumping hours that are striking in their modernity. The latest Vortex Bronze fits perfectly in this line of pieces that sets time to a very different rhythm.
MB&F, on the other hand, a company founded by Max Büsser – who launched the Opus series at Harry Winston back in the day – always understood how to reconstruct time to place it in an unique emotional setting.In its own way, the Horological Machine No. 8 "Can-Am"is the most clear-cut incarnation of the ability of his "friends" to materialize his visions. The very young company HYT has the unique specialty of taming liquids to make them show time. It presented the H3 Iceberg. And what can one say about MCT –the Manufacture Contemporaine du Temps? Their phenomenally technical creations like the Sequential Two S210 or the S110 Vantablack (already described by us elsewhere) fragment time entirely to give it a new reality.
Rewriting graphic codes
In some ways, the recasting of time displays is the discipline in which the new generation of watchmakers can give the most space to their imagination. The SIHH was quick to notice this and chose to accept the candidacy of Ressence, a young company, whose prime quality is having also reconceived the way the passage of time could be demonstrated. It's unsettling and attractive at once, a brand new horological experience that is both intuitive and playful at the same time. The brand intended to return to essentials – the origin of the name – and made its intentions clear:To give time a new graphic identity, mainly one that could avoid all conventions.
Know thine classics
And then there are the other independent brands that also presented novelties. Take Christophe Claret, for example, whose visionary works call for watches to be seen as playful objects that give time. Those on a quest for off-the-wall pieces could admire timekeepers like those of Romain Jerome. People who prefer tamer fare with a hint of fantasy had the works of Grönefeld, H. Moser & Cie, Peter Speake-Marin or Kari Voutilainen on display. Each in his own way provides a new vision of the work of the watchmaker.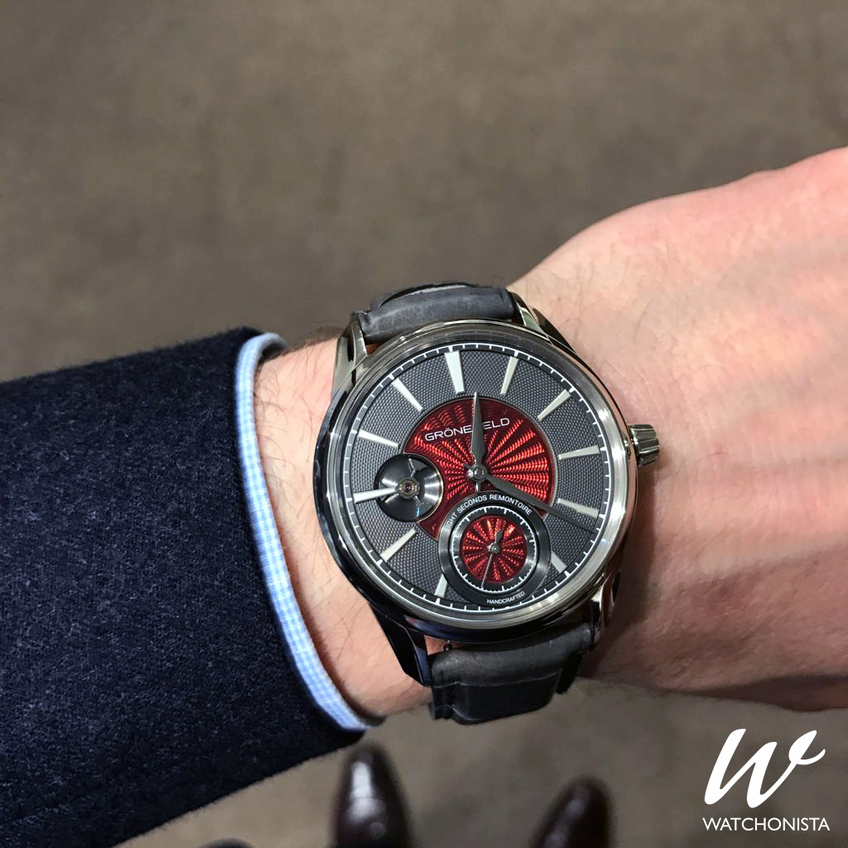 Grönefeld 1941 Remontoire Bespoke Dial by Kari Voutilainen
No doubt, all these brands gathered together in the "Carrée des horlogers" since last year represent an opportunity for the profession. Because of them, enthusiasts have discovered that time can be seen in many ways, and they show, too, that diversity is a boon. But their presence, with their many different and sensitive ways of approaching their work, also breathes new life into the profession, which would really need a little boost of late in order to change cycles and get going again.
FOLLOW US DURING THE SIHH 2017! VISIT OUR SPECIAL PAGE