Dad Brands: The Watches Your Father Wore are Back and Better Than Ever
As Father's Day is just around the corner, we take a fresh look at some of the watches your father wore, and their current contemporaries.
In celebration of Father's Day, we here at Watchonista thought it would be fun to take a look at a few models by a handful of watch brands that have a good chance of being as sought after now as when your father wore them, while he changed the oil on your mom's Mercury Cougar or coached your local youth hockey team to the national championship. Because let's face it, if you were a middle-class kid growing up in the United States, it's more than likely that your dad didn't wear a high-end, expensive Swiss watch unless it was passed down to him by his great-uncle George who invested in Standard Oil very, very early.
For every kid whose lineage reflected that of blue-collar cops rather than white-collar corporates, there were watch brands that filled a need and fit the bill; brands that were dependable and common without looking like they came from a vending machine at the local K-mart. But several of these brands are going through a resurrection of sorts by reinventing themselves esthetically, internally, or even mechanically, while still paying homage to the styles that made them popular. Thus, tapping into the coveted millennial market by becoming relevant to a complex generation often seeking products – watches or otherwise – that put emphasis on the "story" part of the word "history."
So, with that in mind, let's give all the dads out there a big, inappropriately timed high-five as well as a "thank you" for getting us interested in watches in the first place, shall we? Good job, Pops. And you never know, you may (one of these Father's Days) get that super-duper expensive Swiss timepiece after all. Just please don't wear it with your jorts and sockflops, okay? Save it for those fancy nights when you and mom hit the slots in Atlantic City.
Hamilton Intra-Matic 68
With a fascinating history that dates to 1892 in the eastern Pennsylvania town of Lancaster, Hamilton Watch Company is no overnight success when it comes to making reliable watches that the average Joe (and you) can afford. In 1968, the brand introduced their Chronograph B; a sporty stainless-steel model with two white subdials against a black background. And this year, the brand went retro by introducing the limited edition Intra-Matic 68; a nod to their original '60s "reverse panda."
The Intra-Matic 68 contains the H-31 automatic movement with a power reserve of 60 hours. The aforementioned white subdials represent the watch's 30-minute counter and small second counter located at 3 and 9 o'clock, with a date window at the 6 o'clock marker. The 42mm stainless steel case is accompanied by a screw-down crown and anti-reflective sapphire crystal, and the watch is being made in a limited edition of 1,968 pieces (although owning one will likely satisfy your needs just fine).
($2,195.00 USD, hamiltonwatch.com)
Longines Flagship Heritage 60th Anniversary
The Flagship collection of watches by Longines dates to 1957 and its style reflects the era of its birth. A simple white dial, fine fasteners, and narrow profile gave the watch a dressy appearance and its affordability allowed for it to become a staple in many watch-wearer wardrobes. This year, to celebrate the 60th anniversary of the collection, Longines introduced the Flagship Heritage watch with Longines Ambassador of Elegance Kate Winslet, selecting the face of the anniversary timepiece, herself.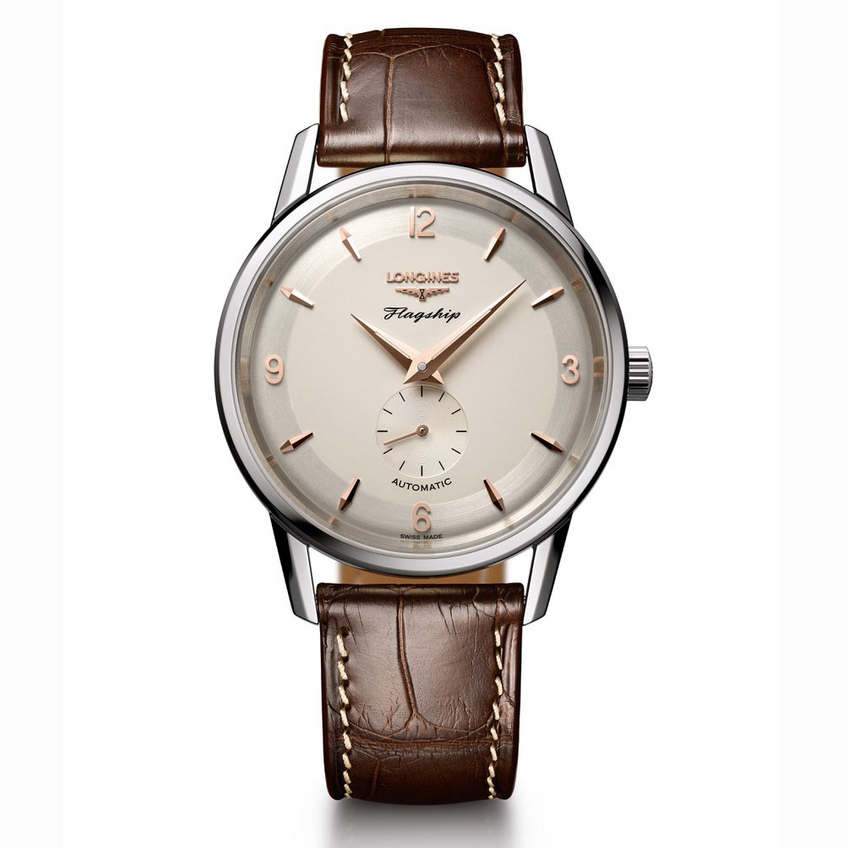 Longines Flagship Heritage 60th anniversary
The Flagship Heritage houses an L609 mechanical caliber movement cased inside either rose or yellow gold (available in a limited edition of 60 pieces each) or stainless steel (limited to 1,957 pieces) and the silver-toned dial is brush finished and accented with 8 indexes and 4 Arabic rose or yellow gold numerals. This is a company with a healthy past and a bright future whose watches continue to get more interesting even when they're repeating their own history in some way.
($2,000.00 Stainless Steel, $8,000.00 Gold USD, Longines.com)
Seiko Prospex SRPA21 PADI
Raise your hand if your old man wore a Seiko. In my opinion, this watch brand has more lives than a Brazilian street cat. If any company knows how to reinvent themselves time and time again (See what I did there?) it's Seiko, and last year's introduction of the Prospex SRPa21 PADI is no exception.
For the most part, the Prospex is a throwback and yet it still seems like it's brand-spanking new. PADI (for those outside of the dive world) is a highly-respected scuba diving training organization, and this special edition timepiece is in every way a diver's watch; it's resistant to 200 meters, it meets ISO standards, is equipped with a one-way rotating elapsed timing bezel, has an approximate 41-hour power reserve (not that you need that for diving but still... it's worth mentioning), and has both hand and automatic winding capabilities. Not to mention, it's one helluva hefty and handsome-looking watch for the money.
($550.00 USD, Seikowatches.com)
Bulova Aerojet Automatic
This original American brand (with its history dating back to 1875 when it was still J. Bulova Company, before being incorporated as Bulova Watch Company in 1923) became a household name not just after producing the first advertisement ever broadcast on an American radio station in 1926, but also by creating the world's first television advertisement; a commercial that aired before a baseball game between the Brooklyn Dodgers and the Philadelphia Phillies on July 1, 1941. If any brand befits the title of a "dad brand" or heck, even a "granddad brand," it's this one.
The Aerojet Automatic is a nod to the 1960's Bulova watches that epitomized a generation of men who were down with dressing up and who believed a reliable timepiece was as critical to their appearance as their filterless cigarettes and perfectly coifed hair. The rose gold-tone stainless steel 41mm case, open aperture silver-white dial with rose gold-tone hands and markers, and exhibition case back give the watch a Don Draper-like coolness that is accentuated only by its croco-embossed brown leather strap and three-piece buckle closure. And with a retail price coming in below the $500.00 USD mark, it's an easy way to add a piece of horological history to any watch wearer's collection, including your own.
($450.00 USD, Bulova.com)
Here's hoping that these four watch brands lead the way in terms of rebranding experienced and established watch companies, and that the timepieces of our fathers' pasts become the heirlooms of our children's futures.
By
Josh Shanks
,
Managing Editor US
At this year's Baselworld fair, Longines added two new pieces to their Heritage line.