BASELWORLD 2017: Day 2 – A question of balance
The market is in a restructuring phase. New protagonists are emerging in the media, new longings among consumers. Watchmaking must find ways to recharge itself again.It's a guiding thought, it's obvious, it's a necessity…
The fact that a few of the 1,500 brands have vanished is not really a subject people are talking about. But strictly speaking, about sixty watchmaking companies have become dispersed after the disappearance of the Palace, a place that served as a gathering point for so called "Nouvelle Horlogerie" watchmakers. It's only an apparent explosion, since some of them found space in the second floor of Hall 1 at Baselworld, in a space named Les Ateliers, which puts them in a situation that resembles somewhat what they have experienced for the past two editions of the SIHH. But the differences among them are mitigated by the fact that in both cases they have to make their presence known while being submerged, in this case, in a world that includes 1400 exhibitors with all sorts of specialties. This year, HYT decided to settle in the Trois Rois hotel located a few hundred yards from the fair, because it offered the brand a way to separate itself from the other creative craftsmen… Time will tell.
HYT H0 Silver
Finding the right price
In a market that has come back down to the figures of 2011, the long-held idea that this is a major crisis does leave some shaking their heads. All indicators suggest that the crisis is tapering off drop of 4.6% in January, with a slow-down of the decline and an upswing of Chinese and US business). But the impact on sales figures doesn't seem to have compelled the brands to reflect a bit about their approach to the market.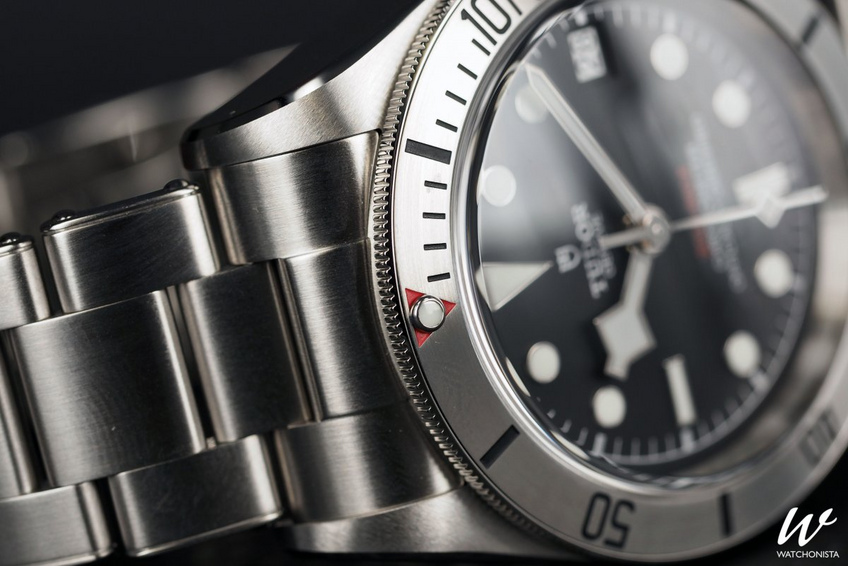 TUDOR Heritage Black Bay Steel
But many appear to be giving some positive thought to how get back to reasonable prices as a way to attract new clients. Nevertheless, there are a large number of attractive models that are excellently crafted and selling at a reasonable price. As Jean-Christophe Babin, CEO of Bvlgari, suggested the key is not to make cheaper watches in order to attract clients, but rather to offer timepieces whose perceived quality is well above the imagined price of purchase. In Bvlgari's case, the new ultra-thin Octo in titanium, with a titanium bracelet, is one of those pieces that boasts outstanding price-quality ratio.
Bvlgari Octo Finissimo Automatic
The same applies to the new "in-house" chronograph by Frédérique Constant, the future Defy El Primero 21 chronograph by Zenith, and a number of references offered by Seiko, like the Presage chronographs. Tudor is already well positioned in terms of price and image and should therefore be able to find a path to the door of first-time buyers. Among the new Heritage Black Bay models, which is the most attractive series, there is the Heritage Black Bay chronograph with an integrated automatic caliber developed together with Breitling on the basis of their manufacture B1 caliber. With its price tag of under 5,000 euros, it could contribute to drawing in informed consumers looking for a high-quality timepiece but not requiring major financial wherewithal. By the same token, fans will be quite impressed by the attractive price of the Sky-Dweller by Rolex, made of Rolesor, which can be bought for less than 14,000 euros.
Staying in touch with the market
Other generalist watch brands are unveiling their idea of a connected watch as a way to reach out to a clientele that could heed the siren-song of the latest connected technologies, or to make sure they have an attractively priced offer. Not too expensive, but nevertheless more expensive than the models being offered by the leading brands in the wrist electronics segment (Apple, Samsung, etc.) are models like the TAG Heuer Connected Modular 45, which is making quite a ruckus at the entrance of Hall 1. What they are proposing is a mixed assembly, a kind of newfangled horological complication.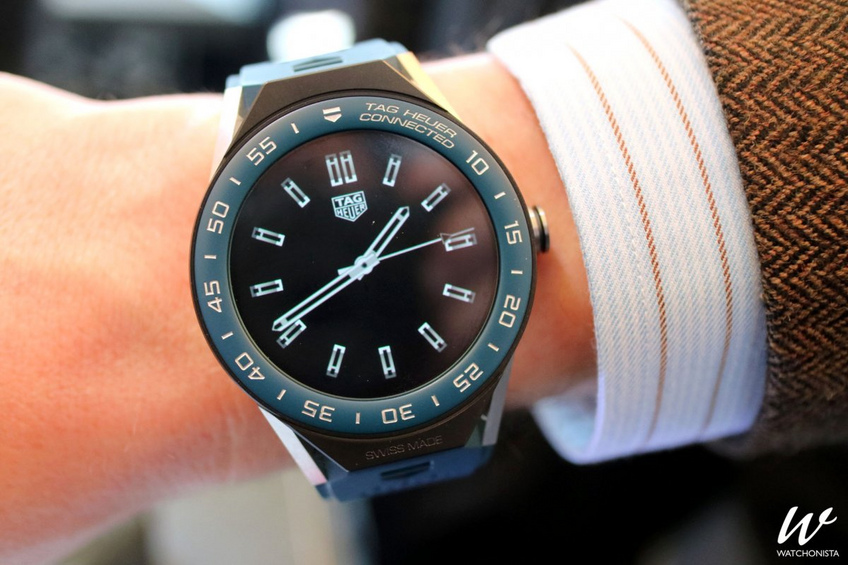 TAG Heuer Connected Modular 45
Some, like Frédérique Constant, Alpina, and Michel Herbelin – and others – are leaning towards models whose esthetics and functions are closer to quartz watches. Once they are harnessed to a smartphone, they become multifunctional tools for a reasonable price. These devices, which could easily be in the portfolio of major companies, are not on the radar of brands like Longines, in particular. The company decided instead to work on a super-quartz caliber that can provide exceptional precision (five seconds off per year) rather than functionalities that consumers might not use in the long run.