Pre-SIHH 2015: Montblanc, watchmaking in 24 time zones
The Montblanc Heritage Spirit Orbis Terrarum encourages travel and brings the seducing world of Haute Horlogerie closer to us by making it more accessible.
The timepiece designed for contemporary travelers was revealed a couple of hours before or after the embargo was officially lifted. It heralds the wave of new watches the brand will introduce at the "Salon International de la Haute Horlogerie" (SIHH) from 19th to 23rd January 2015 at Palexpo. The watch also shows the anniversary line (now known as the Heritage Spirit Collection) occupies a new, more significant position in the brand now. The collection was created in 2014 to celebrate the 90th anniversary of the brand's legendary pen launched in 1924. It seems to have found some historical connections, particularly with the 1948 "Pythagore" by Minerva, which is now Villeret. Indeed, Montblanc acquired the brand and named it after the village it was a jewel of.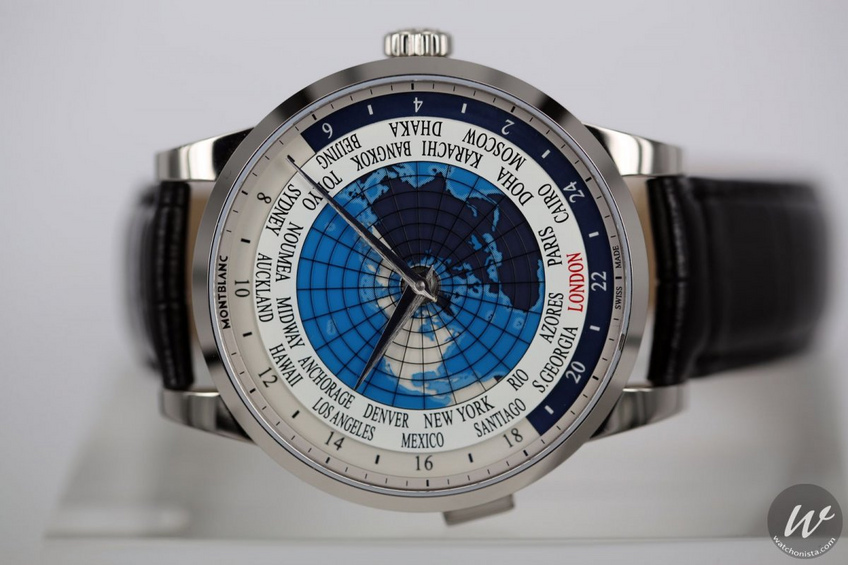 Montblanc Heritage Spirit Orbis Terrarum
Montblanc, famously known for its star logo, started by producing writing instruments. It has however clearly found the means to prove its watchmaking skills, not only by producing high complications but also by assuring the excellence of the pieces it produces on a large scale. Besides, as Alexander Schmiedt, director of the watchmaking division highlighted, these new watches "are the syncretic expression of the average requirements of Western watch enthusiasts". They are primarily sober and classic and they are usually also made available as small and extraordinarily well done in-house complications.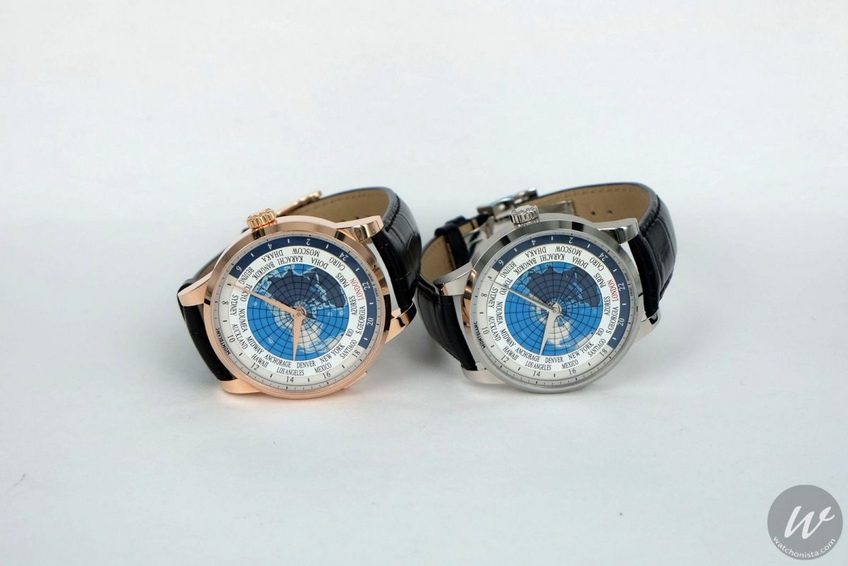 Montblanc Heritage Spirit Orbis Terrarum
The call of the outside world: becoming more accessible
Since wristwatches made their debut in the 1920s, there have been numerous functionalities in complications that have become part of watchmaking aesthetics. Yet, the 24 time zones held in such a small object is a complication that continues to fascinate even today. Said complication was developed in-house from micromechanical expertise that was best epitomized in the Metamorphosis II (launched in 2014) and in the Rieussec Rising Hours (launched in 2012). Its mechanism offers incredible temporal gymnastics; the arrival time is displayed via the minute and hour hands without disengaging from the local time displayed at 6 o'clock.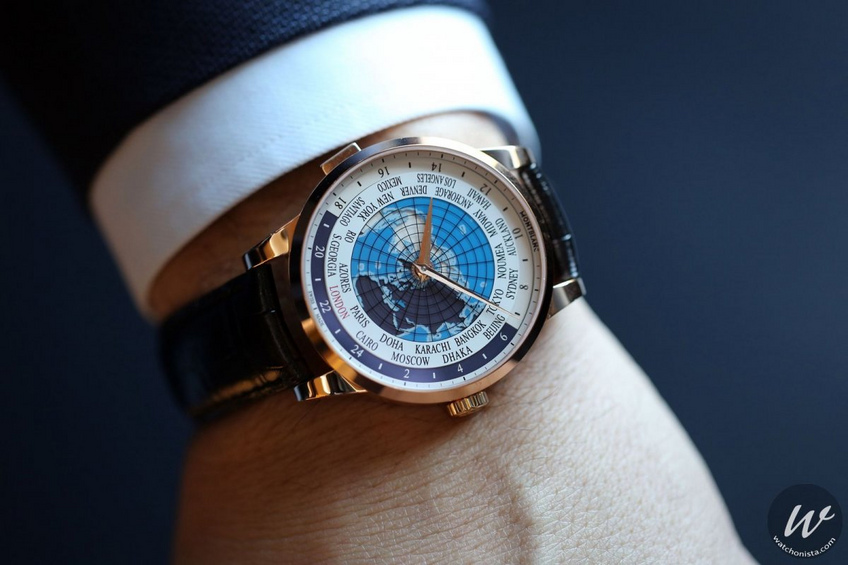 Montblanc Heritage Spirit Orbis Terrarum
Equipped with a single push-piece, this watch is innovating due to its user-friendly aspect, simple time display and because it makes watchmaking accessible. Indeed, despite sporting the characteristic complexity of the manufacture, the steel-on-leather version of this watch is available at less than CHF6,000. Quite a bargain.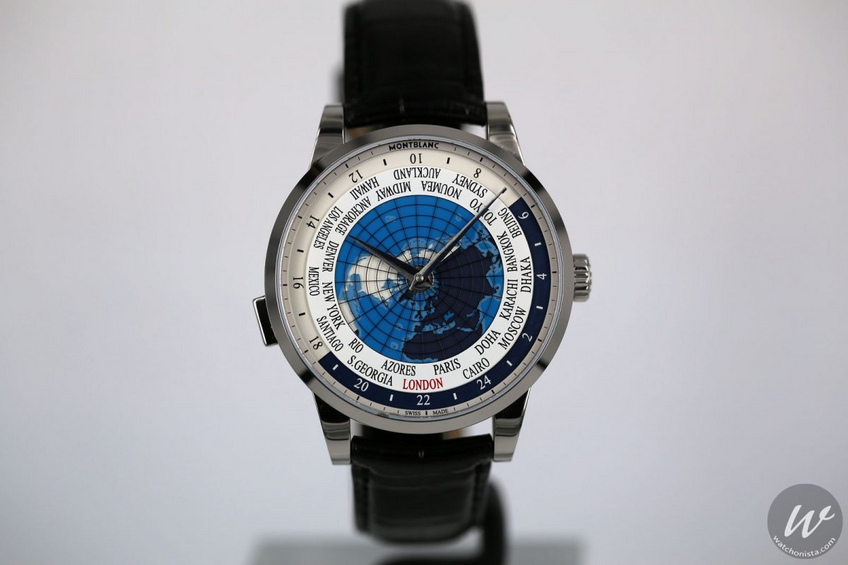 Montblanc Heritage Spirit Orbis Terrarum
The dial displays continents, as seen from the North Pole, in marine blue as well as oceans in pale blue. Furthermore, the day-night indicator is very useful to avoid startling the user's interlocutors in the middle of the night. The names of 24 flagship towns, coupled to their respective time zones, are inscribed on an inner circle and separated from the hours.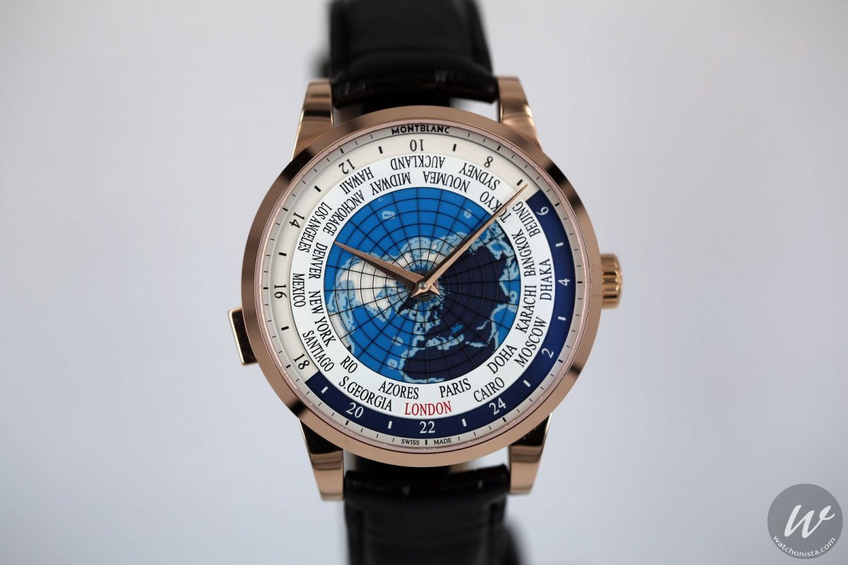 Montblanc Heritage Spirit Orbis Terrarum
Models
Heritage Spirit Orbis Terrarum, Rose Gold
Nr. 112307 - 16,200CHF
Heritage Spirit Orbis Terrarum, Steel/Steel Bracelet
Nr. 112309 - 6,100CHF
Heritage Spirit Orbis Terrarum, Steel/Leather
Nr. 112308 - 5,800CHF