Jaquet Droz, streamlined art
Jaquet Droz's spirit has been revived with the design of the Petite Heure Minute and its off-centered timer at 12 o'clock. With it, the brand's craftsmen have bequethed us with the sumptuousness of the Enlightenment.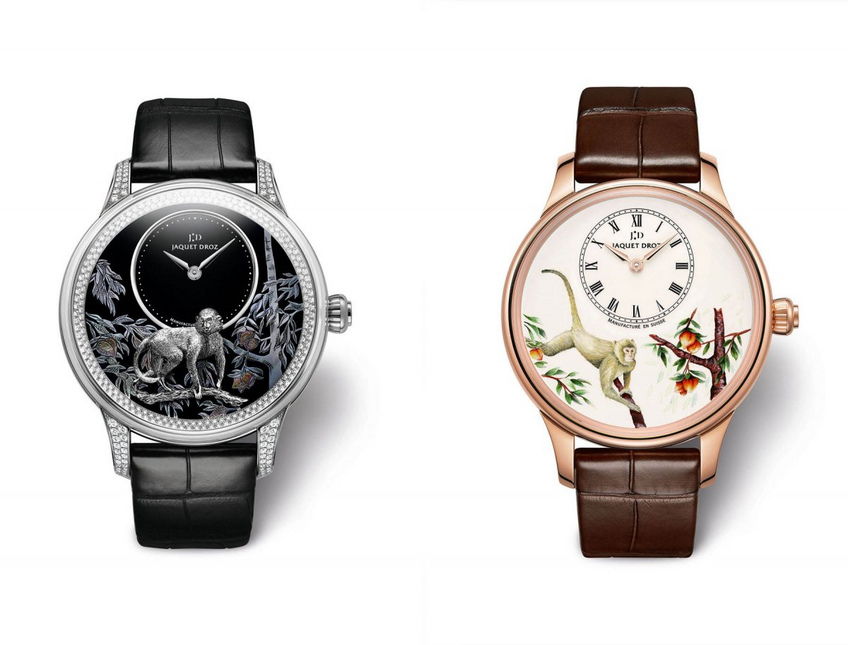 Jaquet Droz Petite Heure Minute Relief Monkey diamonds with the Petite Heure Minute Monkey
Sometimes, it takes just one simple detail to mark an era, or, who knows, even to change the course of the future. This particular timepiece does not just tell the time but rather it bestows on it a poetic dimension. It is precisely said poetic dimension that has allowed the brand's artists to express their creativity freely on the blank canvas that is its dial. A true masterpiece, the Petite Heure Minute has brought to life the most amazing skills of the Jaquet Droz "Ateliers d'Art" – enameling, miniature painting, wonderful settings, sculptures and astonishing life-like engravings.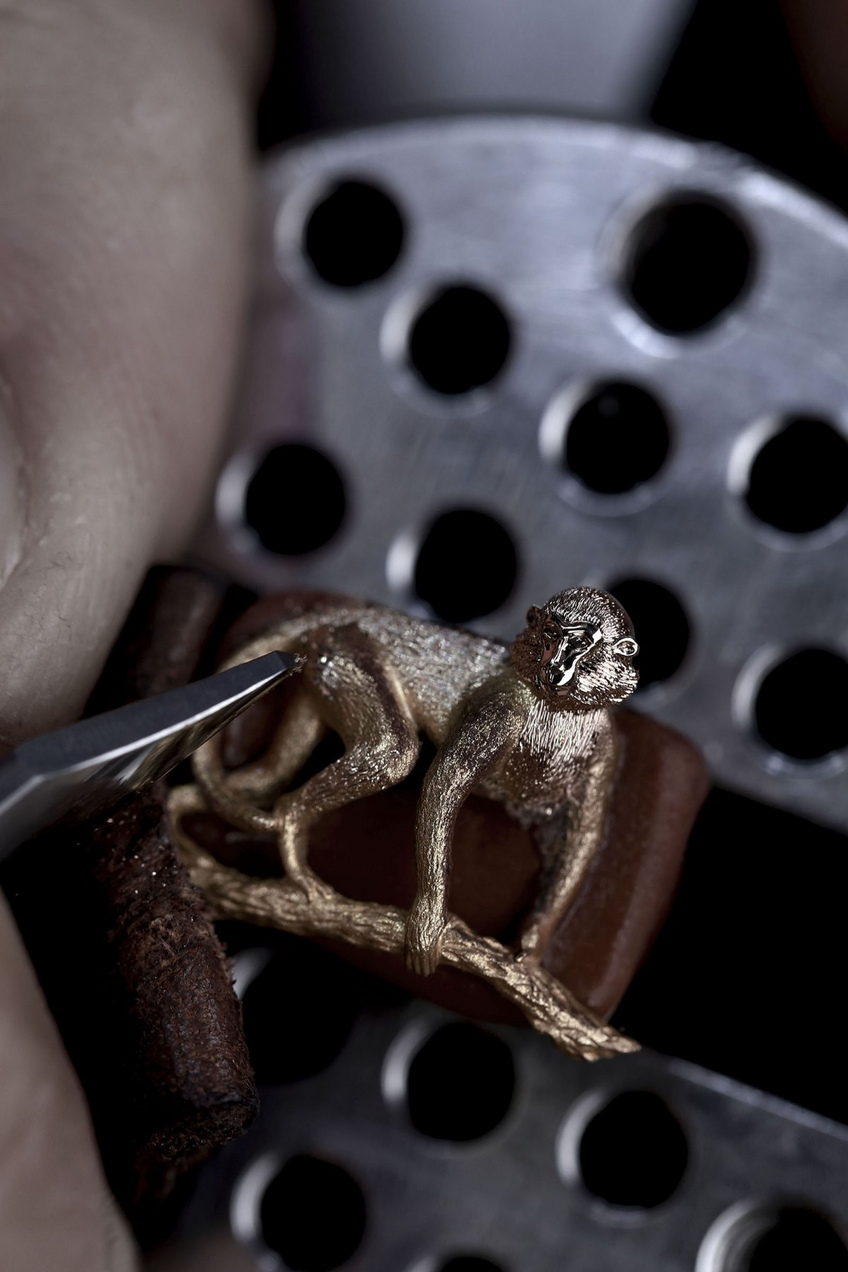 Jaquet Droz Petite Heure Minute Relief Monkey
For this watch, the artists of these workshops have used an ancestral Asian technique to design a captivating version of the Petite Heure Minute.
The dial is a pretty picture of bright flowers and was crafted with the Najeon Chilgi technique, which is basically lacquer inlaid in mother-of-pearl. The technique was most famous under the Koryeo dynasty (10th to 15th centuries), when aristocratic ladies ordered magnificent jewel cases that took several months to complete. Available in a either a 35mm or 39mm case, the Petite Heure Minute Thousand Year Lights depicts a pastoral bouquet.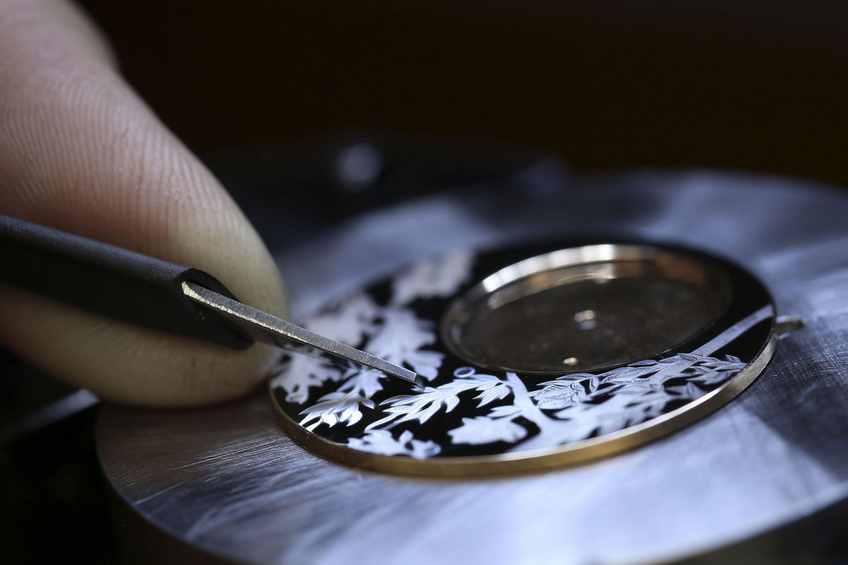 Jaquet Droz Petite Heure Minute Relief Monkey
Furthermore, these masters of hand-crafting methods are also very skilled at miniature painting which, in this case, is on an enamel dial. An example of this particular skill is seen in the Petite Heure Minute Monkey. A symbol of wisdom and longevity, the monkey seems to be trying to pluck a peach from a branch. These meticulous representations are available in 35mm and 39mm cases; the former set with brilliant cut diamonds. The oscillating mass is visible through the sapphire caseback that also features the legendary Monkey King.
The brand has extended the metaphor to another version that it named the Petite Heure Minutes Relief Monkey.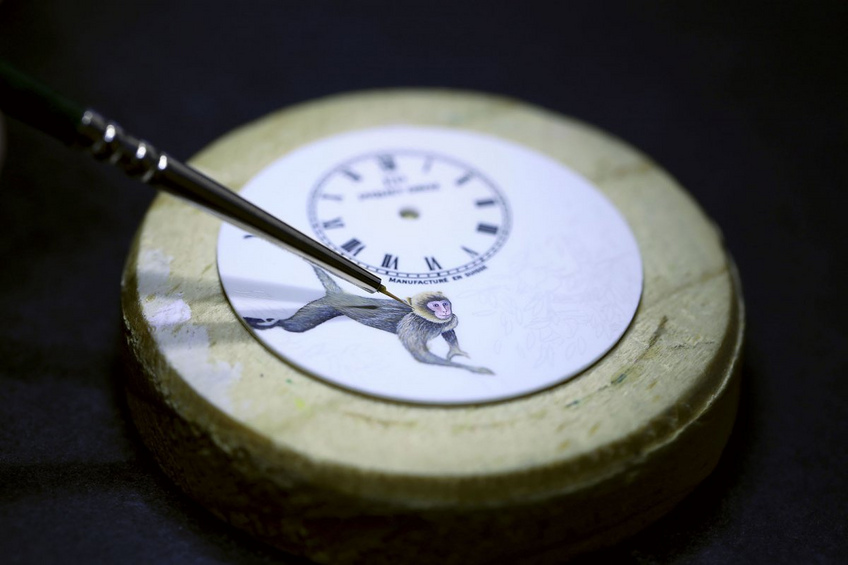 Jaquet Droz Petite Heure Minute Monkey
Here, the gold monkey is sculptured in a delicate mother-of-pearl foliage, whose volume is highlighted with lacquer. Available in red gold or white gold, this version is driven by a refined self-winding caliber and it features a gold oscillating mass with a fixed onyx plate that guarantees a 68-hour power reserve.
Since both pieces have been produced in only 28 pieces each, it is not hard to guess which market the brand targets. Having said that, the design or the meticulously crafted high-relief motif will, in all likelihood, appeal to all miniaturization collectors alike.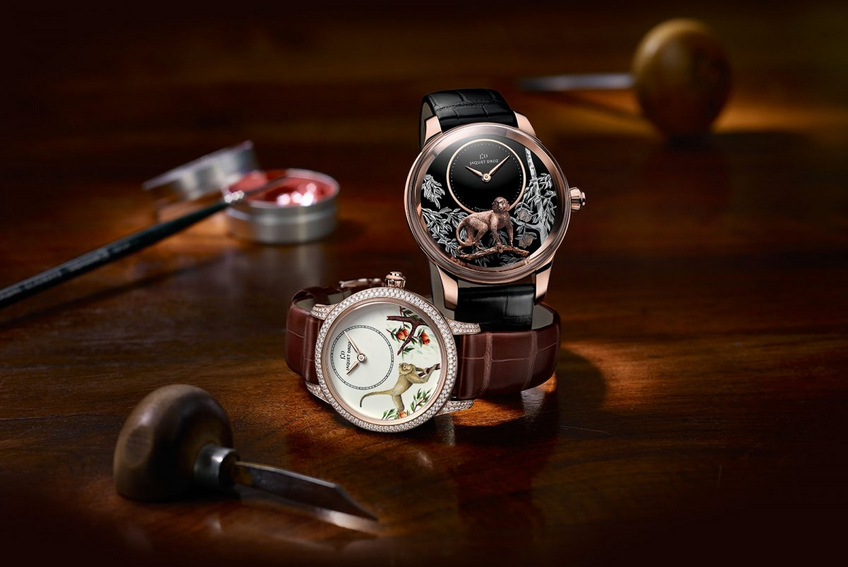 Jaquet Droz Petite Heure Minute Relief Monkey diamonds with the Petite Heure Minute Monkey