Le Mans: and the Winner is… Chopard Chrono Porsche 919 Black Edition
It's
official
,
Watchonista
colours
figure
prominently
on
the
cars
of
Rebellion
,
the
only
Swiss
watch
brand
to
have its
own
racing
team
.
Return
from
the
24
hours
of Le
Mans...
Chopard, Porsche Motorsport's official timekeeper ever since the automaker returned to the World Endurance Championship in 2014, decided to present a 45-millimeter Porsche 919 Black Edition chronograph in black titanium PVD. This timepiece comes in a limited edition of 100 pieces. Its look was clearly inspired by the two cars that were on the front line at the start of the legendary endurance race of the 24 Hours of Le Mans on June 18 and 19.
The dynamic Porsche Hybrids running in the LMP 1 category soon found themselves in the grips of the Toyotas and Audis in the group. In spite of a problem with the water pump in the No. 1 Porsche 919, the Porsche 919 No.2 did entertain the possibility of a well-earned second place just a few minutes from the close of the 24 hours of the race. But nothing is over in auto racing until it's over. Before the checkered flag fell, Toyota had a serious break-down, giving Porsche the opportunity to clinch the victory 4 minutes and 45 seconds away from the official end of the race. Just before, the No. 2 car was clocking in with a 33-second delay over the leading Toyota.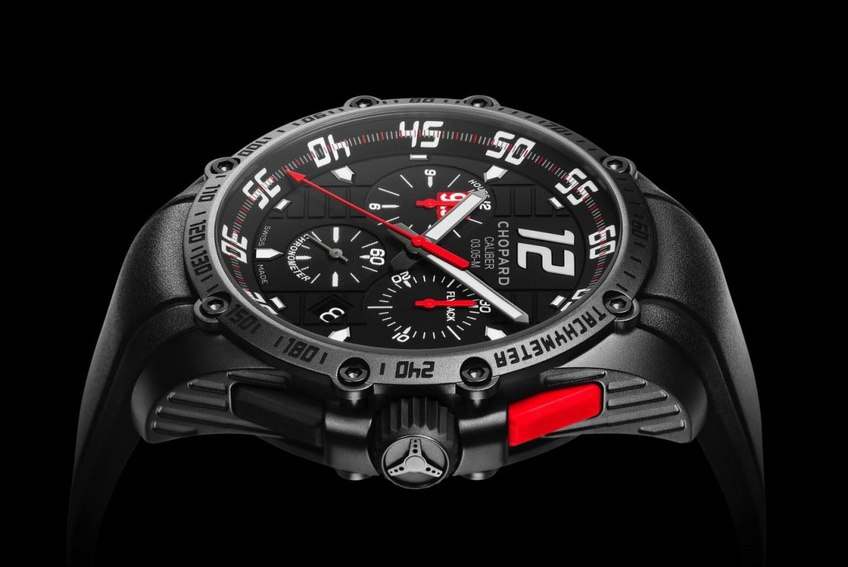 Chopard Superfast Chrono Porsche 919 Black Edition titanium PVD
As fate would have it, the Porsche 919 Black Edition chronograph series, driven by the automatic caliber 03.05-M manufactured by Chopard, has now become a little more special. Because this watch, which comes in a very limited edition and was inspired by the car that became a victor, will now always recall the end of this race, unique so far in the 24 Hours of Le Mans.
By
Hyla Bauer
,
Contributor
The Mille Miglia, one of racing's most anticipated events, inspires Chopard's sport-luxe watch collection
CHOPARD evokes classicism, tradition and refined elegance. Whether in watchmaking or jewelry. Nonetheless, at SIAR, the Geneva house stepped out of its...
By
Rémy Solnon
,
Specialised journalist
In 2016 thanks to Rebellion, Watchonista was offered an incredible space in the media for its first participation in the 24 hours of Le Mans. On 18 and 19 June...