SalonQP 2016 London, showcase for the independent luxury watchmaking sector
Hosted in the magnificent setting of the Saatchi Gallery, the key event of the European calendar offers aficionados of very fine watchmaking the chance to discover new brands and new models. It also announces the trends and aesthetics for the year's end…
SalonQP has been held in London since 2009. Boasting the biggest concentration of billionaires in Europe and therefore of collectors in search of new pieces, exclusive models and outstanding quality, London is a premier destination for all independent, or otherwise, brands seeking more visibility.
A key market
The city's new positioning as the world's 4th biggest market for Swiss watch exports (according to FHS statistics September 2016), behind the United States, Hong Kong and Japan, has further strengthened London's appeal today, especially thanks to the post-Brexit fall of the Great British Pound and the collapse of the Hong Kong market. In this context, SalonQP is on its way to becoming an unmissable event in Europe. It's where independent brands can meet potential clients, retailers and, above all, the collectors themselves in person.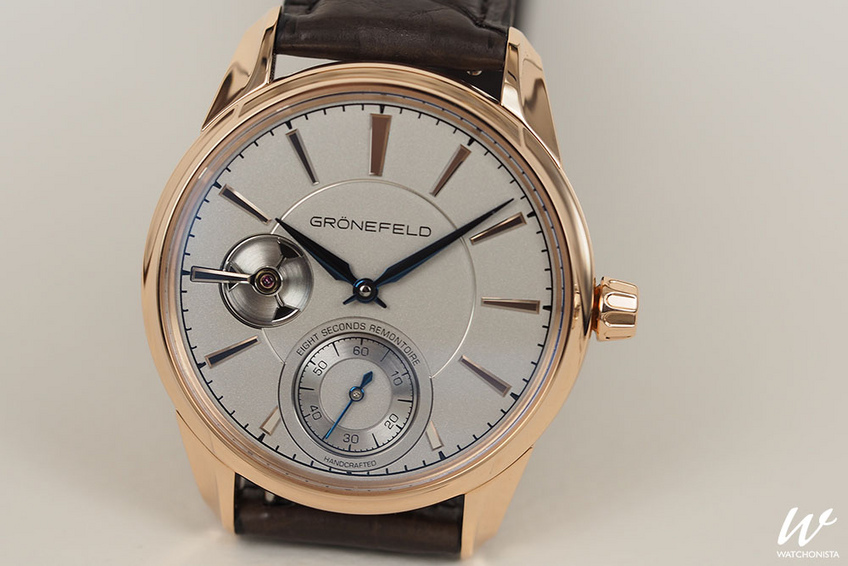 Grönefeld 1941 Remontoire Constant Force red gold
A highly diversified, concentrated offering
Despite the decline in the number of exhibitors (90 in 2015 and 72 in 2016), SalonQP remains a key moment in the watchmaking calendar. Fewer big names are present, although Girard-Perregaux, Montblanc, Seiko, Vacheron Constantin and Jaeger-Lecoultre are all there. But providing a crucial counterpoint to the absence of other brands, there is always the quality and international diversity of the independent operators. Watchmaking enthusiasts in search of new watchmaking creations must have put the word out, for there are now no less than 10 nationalities represented.
First up, Germany, currently riding a wave of renewal that is responsible for some particularly distinctive timekeepers. These range from the more traditional, historical standard-bearers of German Fine Watchmaking, such as A. Lange & Söhne, or its younger challenger, Moritz Grossmann, through to the newer brands typified by their minimalist no-frills style, such as Nomos and Junghans. Denmark put in an appearance with Urban Jürgensen (back in the hands of the Danes, despite the Swiss Made label).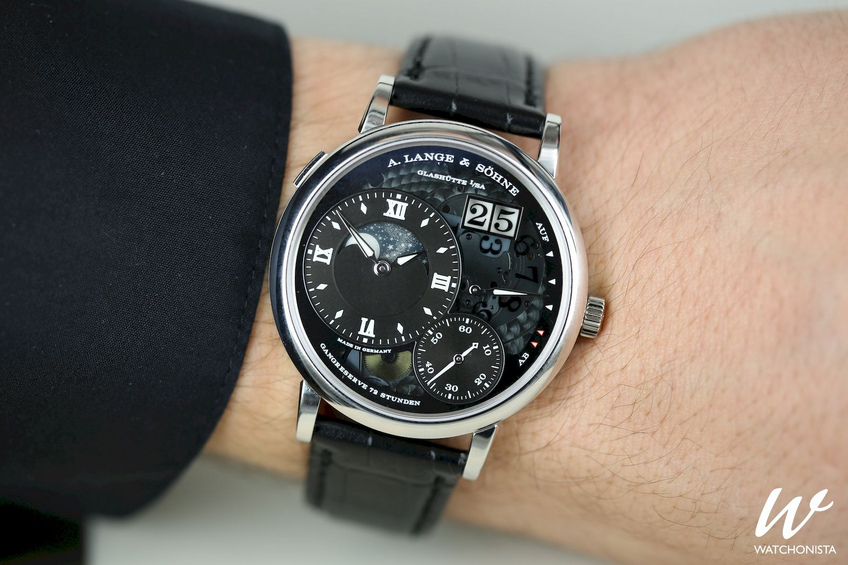 A. Lange & Söhne Datograph Perpetual Tourbillon
Next we have Finland, with the incomparable Kari Voutilainen and its unique totally hand-crafted creations (made in Switzerland, but still very much Finnish). Then comes Holland with the rarely seen Christiaan Van der Klaauw and its remarkable astronomical complications. CVDK's Belgian cousin, Lebeau-Courally, combines an age-old knowledge of arms manufacture with traditional watchmaking skills. French maker of hand-crafted leather straps, Jean Rousseau, is there to showcase the excellence of its work. And finally we have the arrival of a strangecomer from Barcelona, Atelier de Chronométrie.
The crème de la crème of independent watchmaking was also in full force with go-to brands, such as MB&F and its latest fairy-tale creation, the HM8, Romain Gauthier and its feature-packed Logical One Enraged, Ludovic Ballouard in all its characteristic originality, and the legendary straight-talking F.P.Journe, who, to the question "How is Swiss watchmaking doing these days?", replied, perfectly truthfully: "small brands, small problems, big brands, big problems".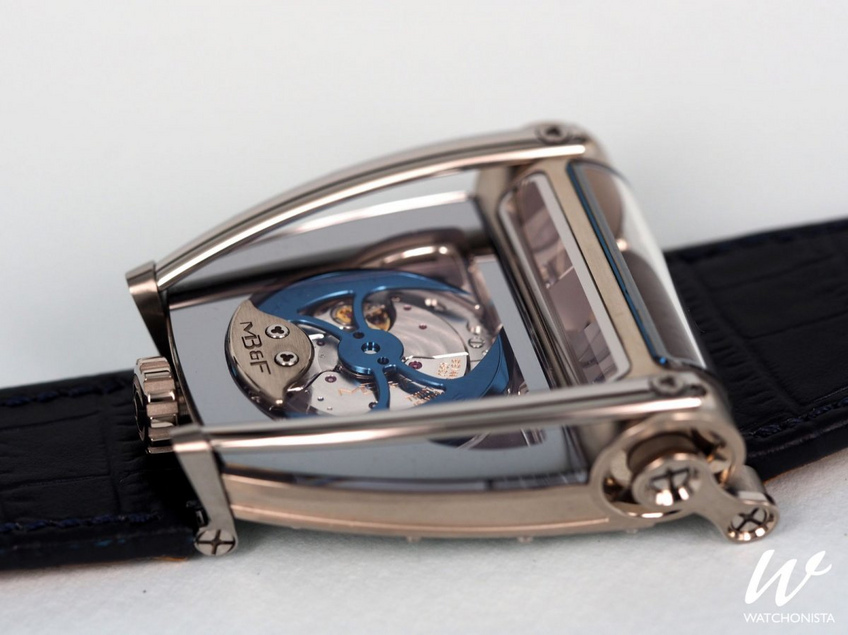 MB&F HM8 Can-Am white gold and titanium
British watchmaking goes back to its roots
The Fair was especially keen to shine the spotlight on the revival of the British watchmaking industry with the many brands present. Each brand proudly laid claim to its British heritage, even though Bremont, Christopher Ward, JR Bespoke Timepieces, and indeed, Fears, all use exclusively Swiss-made movements and components. The Garrick brand, launched at SalonQP 2015, starts off with a Swiss movement, which undergoes in-house adjustments in its own Norfolk-based workshops, then works with the renowned Andreas Strehler on developing its own calibres. The only two truly 100% British brands to date are Robert Loomes, which presented its new Stamford model to the fair, and successor to the late lamented, Georges Daniels, Roger W. Smith, with its ultra-limited creations, entirely hand-crafted in the Isle of Man. But the most nostalgic highpoint was surely the return of Arnold and Son, an illustrious name in the world of British watchmaking in the 18th and 19th centuries and perhaps the "Swissest" of British brands, now belonging to the Japanese-owned Citizen group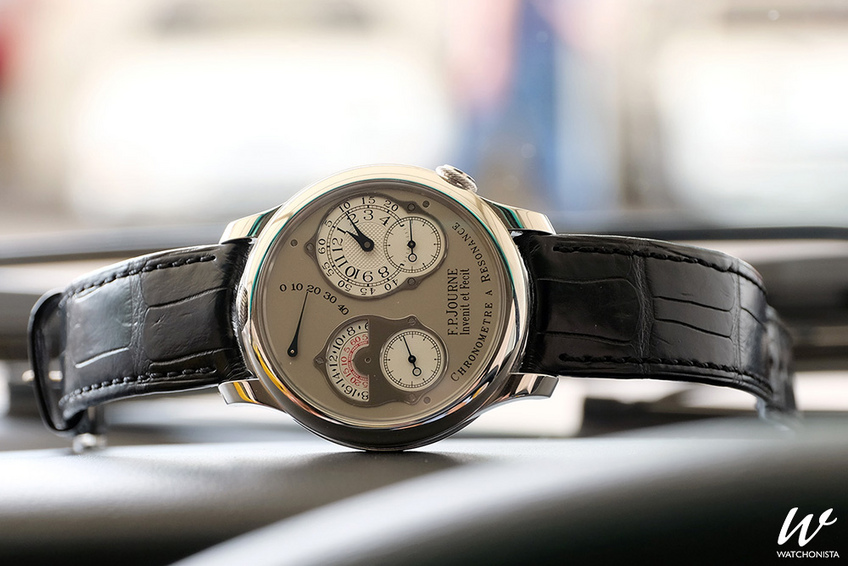 F. P. Journe Chronomètre à Résonance
Noteworthy newcomers
Without a doubt, one of the most talked-about timepieces to put in an appearance at the fair was Armin Strom's Mirrored Force Resonance with its two synchronized movements resonating together in a perfect expression of chronometric time measurement. Pure art and a source of true visual fascination. Manufacture Royale, with its new 1770 Micromégas Révolution with two flying tourbillons, one rotating in 6 seconds, the other in 1 minute, put on a hypnotizing display in a skeletonized version crafted in an astonishingly light titanium. Finally, all eyes feasted on the retrograde movement in action on DeWitt's Academia Skeleton, also an object of remarkable fascination unveiled at the start of the year. One new brand used SalonQP as a springboard for 'Vault', the timepiece with the bold new changing dial design, innovative time-telling and movement forming a solid block with the minute hands … Will the newcomer find the clientele of its dreams? Only the future will tell.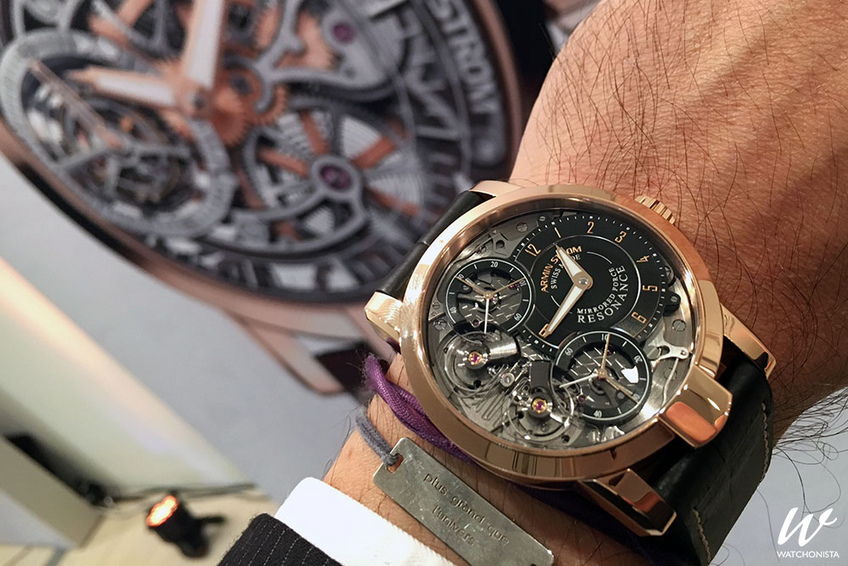 Armin Strom Mirrored Force Resonnance
Personal favourites
Akrivia, the Geneva-based independent brand, with its hand-hammered dials, finely balanced architecture, painstakingly finished movements and countless inward angles, left me quite simply spellbound. The new white gold version of the Swiss Alps Watch by H. Moser & Cie with its smoky midnight blue dial and infinite light play, also struck a chord with me. Finally, Atelier de Chronométrie, appearing for the first time at the fair was impressive as much for the quality of its creations featuring Omega movements, as for the typically Spanish enthusiasm and passion that fire the couple behind the brand. They produce only exclusive, one-off, bespoke timepieces to order. A business model beyond all time… for a very affordable 30,000 Euros.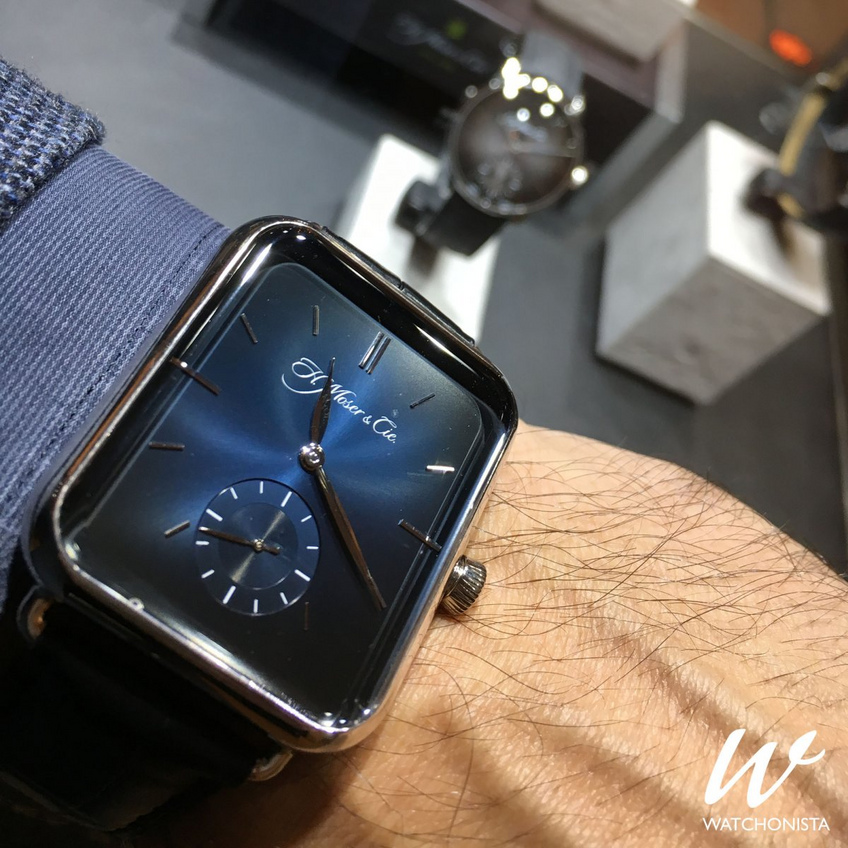 H. Moser & Cie Swiss Alp Watch S
And so the tone is set for the end of 2016 in hot anticipation of Geneva's grand annual Salon International de la Haute Horlogerie (SIHH) in January and Baselworld in spring. As has been the case for some years now, the fair pays tribute to the creativity of the independent brands. The five newcomers from the Carré des Indépendants at the SIHH are further proof… if proof be needed.
© front image - QP Salon