Patek Philippe Art of Watches Grand Exhibition
Unique New York: Patek Philippe Art of Watches Grand Exhibition Takes Manhattan
It comes as no surprise that Patek Philippe Art of Watches Grand Exhibition would attract the horological hoi polloi in huge numbers. After all, Patek Philippe is one of the most historic manufactures, and counts some of the most luxurious, complicated and collectible timepieces amongst its creations.
Patek Phillipe Art of Watches Grand Exhibition - Outdoor Entrance
And while the Grand Exhibition has previously travelled to Dubai, London and Munich, the Big Apple holds a special attraction to collectors who made the Patek pilgrimage from as far away as Singapore, Japan and The United Arab Emirates. We talked to Thierry Stern, the CEO of Patek Philippe, to discover why New York is so close to his heart.
New York State of Mind
The Sterns have run Patek Philippe for four generations. "I started in New York that's at 20 years old.," says Stern. "The first lesson I learned here was to respect people. Open the door and be respectful."
Thierry Stern Speech
Opening the door is one of the reasons for making the Grand Exhibition free to the public. Stern doesn't care so much if you are wearing a Patek, he wants the next generation to be as passionate about the craft of watchmaking as he is. "The show is not only collectors. It is open to everybody. My favorites are kids coming with their teachers."
Current Collection Room
Napoleon Room
The show itself filled up 10 rooms of a two storey structure housed inside landmark New York City Cipriani's. If the watches themselves weren't enough to take your breath away (and we did witness more than a few attendees getting gasping over a display of modern Calatravas), the Italian Renaissance Revival building, limestone, sandstone and bronze interiors and soaring 65 feet high ceilings finished the job.
Visitors to the Grand Exhibition were also treated to the sight of watchmakers and artisans plying their trades.
Watchmaker
History Lessons
The US and New York in particular are meaningful markets for Patek Philippe. What the Grand Exhibition illustrates is how significant that relationship has been over the decades.
Patek Philippe Duke Ellington Watch
For example, the New York version of the show featured a room housing historically important timepieces worn by American legends of industry, politics, and the arts. Highlights included a split seconds chronographs owned by Duke Ellington — one of only three known examples in the world. Another treasure was a clock gifted to John F. Kennedy during the Cold War.
John F. Kennedy Desk Clock (1963)
The most impressive piece in the Grand Exhibition is, of course, the Iconic Graves "Supercomplication" pocket watch. Commissioned by industrialist Henry Graves in 1933, which features 24 complications—including Westminster chimes, a perpetual calendar (going through the year 2100), sunrise and sunset times, and a celestial map positioned at the exact point of view from Graves's Fifth Avenue apartment on Fifth Avenue. It also shattered auction records for a wrist or pocket watch when, in 2014, it sold for almost $24 million.
Henry Graves, Jr's Grande Complication Pocket Watch (1919)
And there it was, inches away in a beautifully lit vitrine like an oversized diamond in a heist movie. It was impossible to not to be dazzled.
New York Minute
In tandem with the Grand Exhibition, Patek Philippe is launching nine "New York 2017 Special Edition" timepieces. Including a stainless steel-cased Calatrava Pilot Ref. 5522 and a self-winding Ref. 5230 world timer. Stern also wanted to show American women some love with an ultra-thin Ladies' Calatrava Ref. 7200/50 with a mother of pearl dial, a Ladies' Ref. 7000/250 Minute Repeater, and two World Timers in white or rose gold.
Patek Philippe Men's Calatrava Pilot Ref. 5522 New York 2017 Special Edition
Patek Philippe Ladies's World Time Ref. 7130 New York 2017 Special Edition
Having a connection to America, says Stern, "Is part of our family tradition." And to celebrate the Grand Exhibition, he adds, "We had to do something amazing." The result is the World Time Minute Repeater Ref. 5531 New York 2017 Special Edition.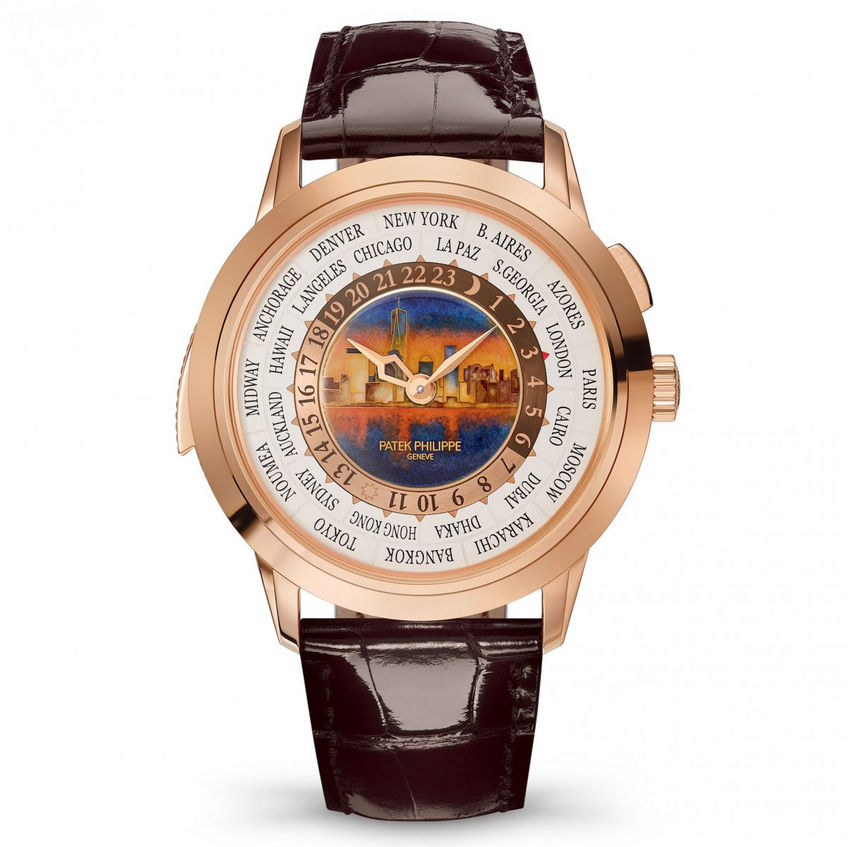 Patek Philippe Men's World Time Minute Repeater Ref. 5531 New York 2017 Special Edition
We also talked to Philip Barat, head of Patek Philippe development about this new timepiece.
Philip Barat, head of Patek Philippe development
"It is the first World Time Minute Repeater," says Barat. "The goal was to strike the local time." To accomplish this, Patek Philippe developed the new self-winding caliber R 27 HU movement. For a super complicated watch, it's simple to operate: "The Crown has two positions. You set the time zone represented by the city aligned with the 12 o'clock position on the dial."
Basically, Barat says, "We set it where we dream to go."
Stern hopes that these limited edition New York pieces will stay in America, but he adds that the rest of the world will see the new movement used in watches to be introduced in Basel in 2018.
Patek-A-Palooza
The Grand Exhibition was also the highlight of the social season for serious collectors and the media, Every day and every night, there were lectures, meet ups, tours, dinners and other events to celebrate this once-in-a-lifetime occasion.
Patek Philippe's Collector
And if that wasn't enough to satisfy one's Patek cravings, Christies New York hosted a Private Selling Exhibition and pop-up event to coincide with the Grand Exhibition. The sale, which Christies called the unofficial gift shop for the Grand Exhibition, featured over 300 Patek Philippe watches and objects including never-before-seen items on loan from private collections.
Of course the collectors also brought their personal favorite watches. More than a few rare models came out of the safety deposit boxes so that their owners could show them off. During a tour at Christie's Rockefeller Centre showrooms, two South American visitors also shared their Patek Philippe ephemera, including their Calatrava Cross sunglasses and belt buckles. Our guide told us that some fans had logo tattoos. All agreed that if you were going to get a permanent souvenir, it would be the best choice.
http://www.patek.com/en/communication/news/the-art-of-watches-grand-exhibition-new-york-2017
http://www.christies.com/privatesales/2017/patek-philippe-vintage-watches
By
Hyla Bauer
,
Contributor
Ten rooms dedicated to the brand and its watchmaking legacy offer a once in a lifetime opportunity to step into Patek's world.
From April 19 to 21, Patek Philippe will showcase their entire collection of rare handcrafts at their Geneva Salon. Here's an inside look.
By
Vincent Daveau
,
Contributor
A deep dive into the iconic brand's latest introductions.