Christie's Celebrates 50 Years Of The Rolex Daytona With An Amazing Commemorative Auction
On November 10th 2013, Christie's will offer to auction in Geneva an exceptional selection of 50 emblematic examples of Rolex Daytona wristwatches.
By Marco Gabella
Chairman & Executive Publisher
Named "Rolex Daytona Lesson One" the commemorative auction will include some of the rarest Daytona models ever produced. Many of these watches are coming to the market for the first time and have been produced in very limited numbers.
The auction will also include a group of Rolex Daytona worn by celebrities like the French actor Jean-Paul Belmondo, the musician Eric Clapton, the astronaut Walt Cunningham, the explorer Janusz Kubriel and racing cars champions Bobby Unser and David Brabham.
To propose only the purest and most original pieces of vintage Rolex watches, Christie's experts have undertaken a drastic selection process with the support of Pucci Papaleo, leading authority in the field of the Rolex Daytona.
Each watch will be accompanied by a special collector's case exclusively produced for the "Rolex Daytona Lesson One" auction and including a small version of Pucci Papaleo's publication, Ultimate Rolex Daytona.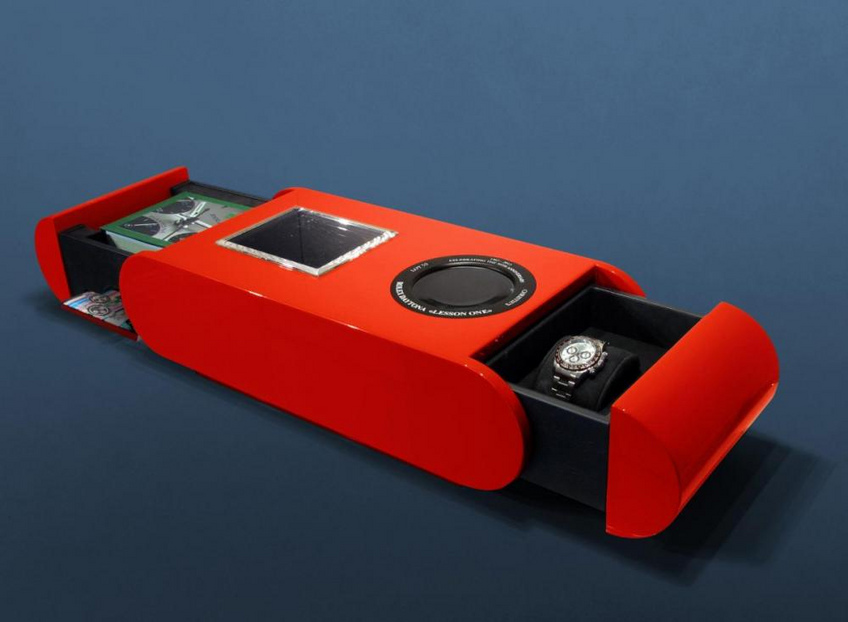 CASE Rolex Daytona Lesson One-1 © Pucci Papaleo
No doubt that this exceptional auction which hosts probably the finest selection of Rolex Daytona wristwatches ever proposed, will be the highlight of 2013 watch auctions. In the upcoming weeks the Watchonista team will present you with a preview of the different lots proposed at this unique event together with some exclusive pictures and editorials.
Finally, we are proud to announce that Watchonista will commemorate this special celebrating year by launching a dedicated page of the 50th anniversary of the Rolex Cosmograph Daytona.
You can read the full press release published by Christie's following this link.
An extremely rare Rolex and historically important stainless steel chronograph watch with black dial and bracelet, Cosmograph, Daytona, Paul Newman model, ref. 6239, manufactured in 1966.
Estimated price: CHF 80'000-160'000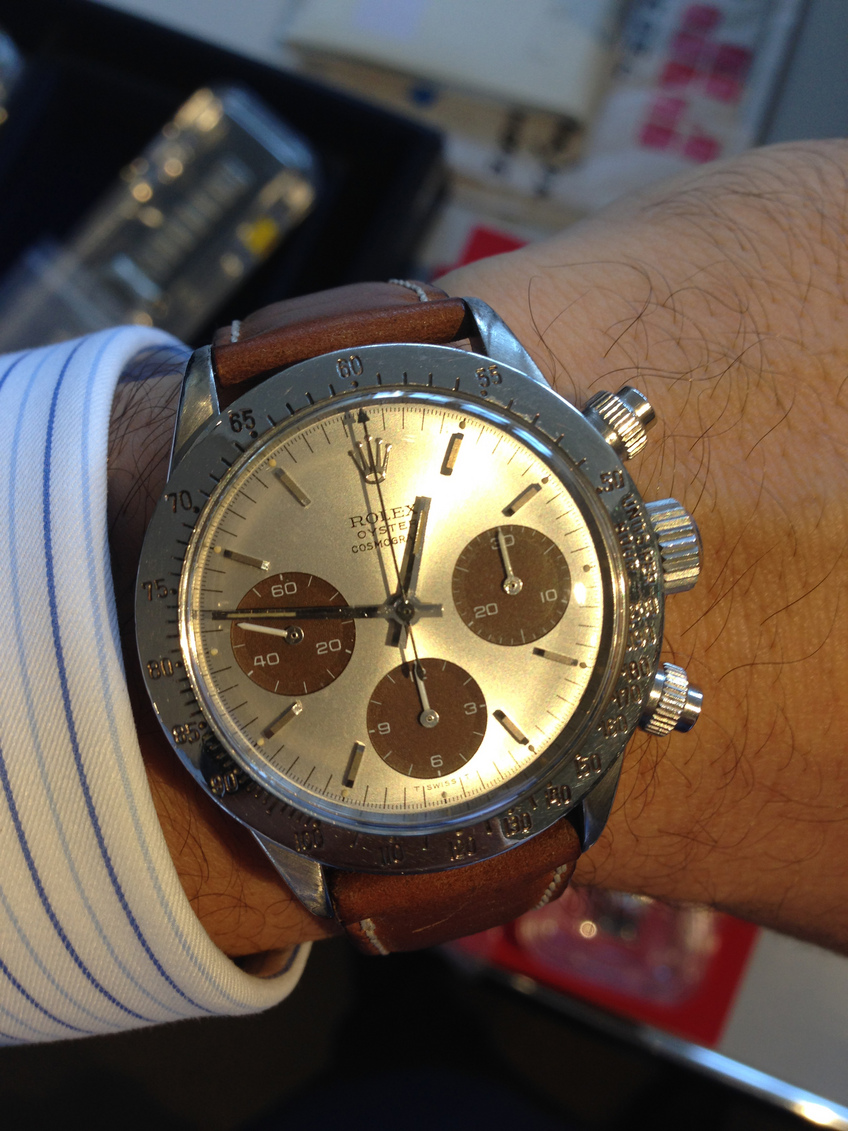 Rolex Oyster Cosmograph Cappuccino
A very rare and highly attractive stainless steel Rolex chronograph wristwatch with brown subsidiary dials, guarantee and box Oyster, Cosmograph, Ref. 6265/6262, manufactured in 1971
Estimated price: CHF 40'000-80'000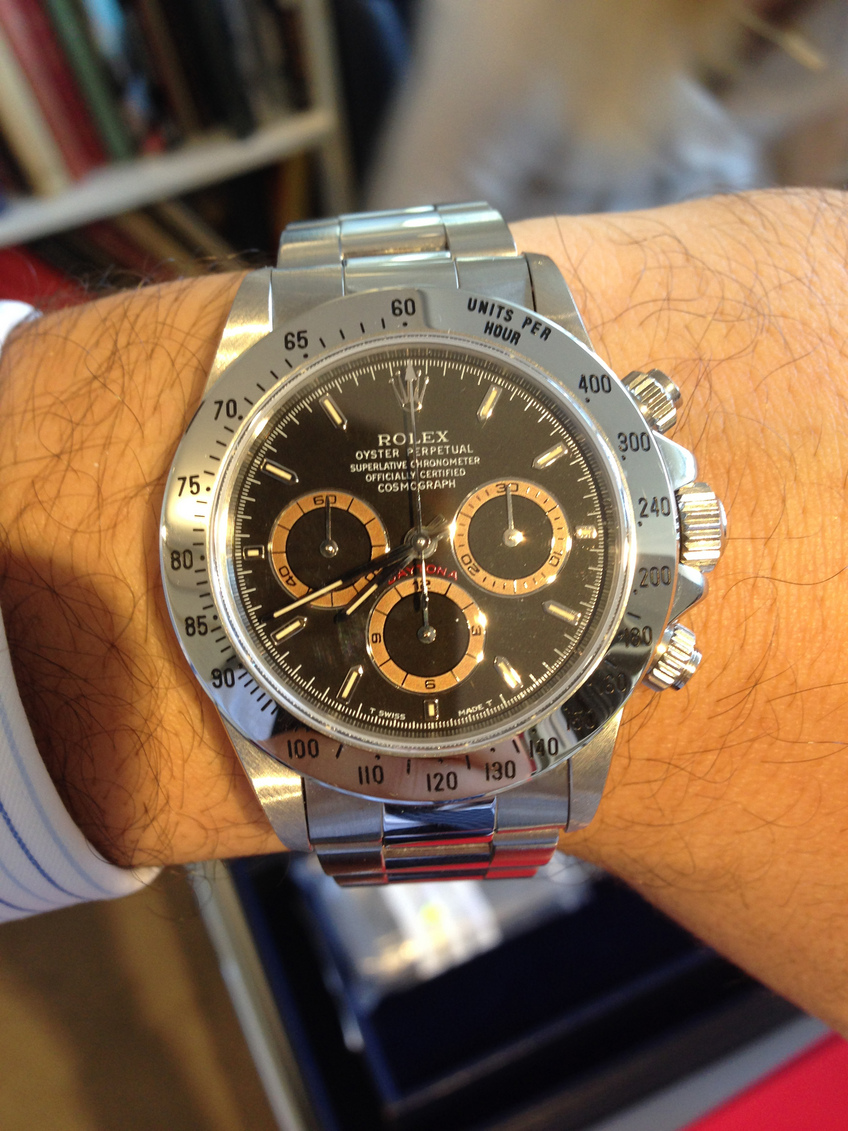 5-liner Nero Rolex Oyster Perpetual Cosmograph with Tobacco registers
An extremely rare and attractive stainless steel and 18K gold Rolex automatic chronograph wristwatch with "four-liner porcelain" dial, bracelet, Oyster Perpetual, Superlative Chronometer, Cosmograph, Daytona, ref. 16523, manufactured in 1989
Estimated price: CHF 15'000-30'000
An extremely rare and historically important stainless steel Rolex chronograph wristwatch with bracelet and original guarantee, Cosmograph, Daytona, ref. 6262/6239, manufactured in 1970
Estimated price: CHF 60'000-120'000
A very rare and impressive 18K white gold and diamond automatic wristwatch with date, rainbow-coloured multi-gem set bezel, diamond-set lugs and protective crown guards, date, original guarantee and box, Oyster Perpetual, Cosmograph, Daytona, Ref. 116599, manufactured in 2012
Estimated price: CHF 50'000-100'000
Browse the full eCatalogue online