Bulgari and Maserati: in perfect harmony
To celebrate the centenary of the car manufacturer, Bulgari has created the superb Octo Maserati chronograph, of which only 1914 pieces will be produced.
Not unsurprisingly, there is no Maserati logo on the magnificent deep blue dial of this new chronograph. Instead, the tip of the fly-back hand features the famous trident, the logo of the brand the Maserati brothers founded in Bologna. That is all there is on this side of the watch, whilst the case back features the logo again and the number that only the owner of the watch will know. The timepiece has been designed with supreme refinement and subtlety. It must be seen more as the result of a joint venture between two traditional Italian brands, which are renowned for their sense of innovation and efficiency, rather than as a simple commemorative product.
Hedonistic dimension and elegant subtlety
Jean-Christophe Babin, CEO of Bulgari, explains why: "Technique is necessary for luxury but it is not enough to arouse emotion. For us, hedonistic dimension is more important than career paths".
To stress this point, Guido Terreni, Managing Director of the watchmaking maison highlights the guidelines of the collaboration between Bulgari and Maserati: "When it comes to Maserati, we talk about a partnership and a celebration rather than a simple commercial project and both brands agree on this. Thus, we sought an approach based on Italian excellence as the ultimate expression of elegance for an object that should express both technicality and great subtlety ­– just like Maserati cars. Since we share a culture of refinement with a certain joie de vivre and focus on experience, Maserati felt in synch with us. The manufacturer got to know us better in 2011 and, the following year, we worked together to produce the Octo Quadri. In 2013 came the project for the centenary and we set up a meeting with Silviano Marchione, which led to a true collaboration."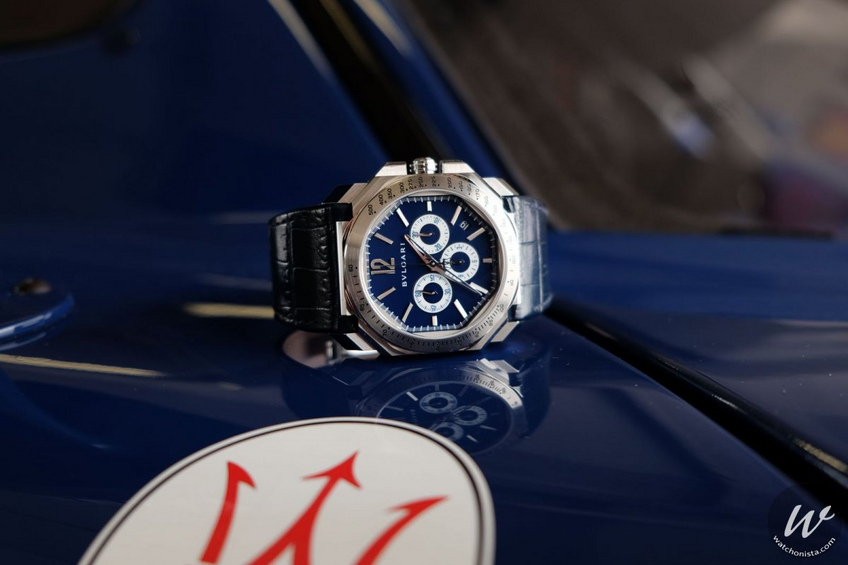 Bulgari Octo Maserati

Bulgari has created a sophisticated and unique watch here. The lacquered and polished "champlevé" dial and the alligator strap are both Maserati blue. According to Jean-Christophe Babin, "this is what makes the Octo range strong. The Octo is fundamentally Italian because its design is richer and more sophisticated than what traditional Swiss watchmaking usually produces. After movements, design is a very important component in our creations.
This is what helps to forge character and give strength to stand out and make a difference. Today we have a whole range whilst 18 months ago there was only one Octo. We have also added a sports category with the GT versions. What's more, the Octo's shape suits the chronograph's magic perfectly, as the push-pieces impeccably fit the original design".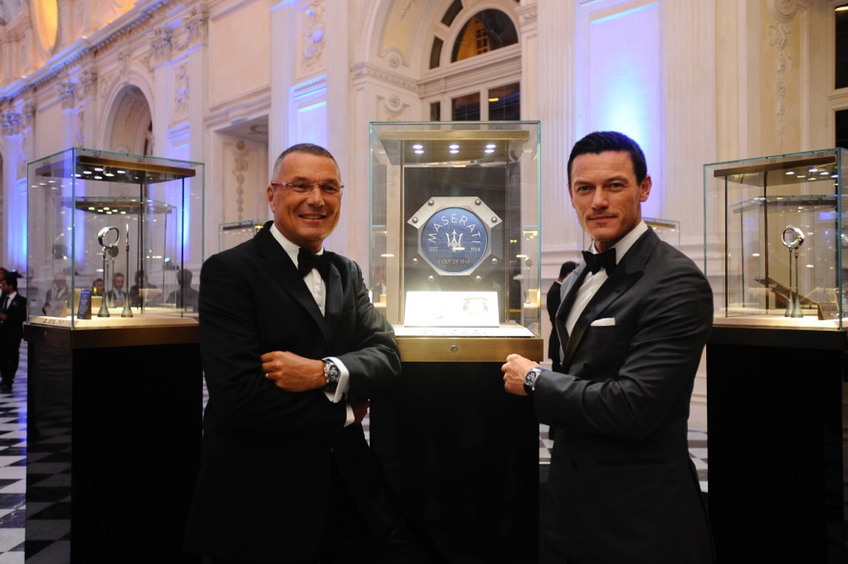 Jean-Christophe Babin with the actor Luke Evans
This entire creative wealth appealed to Maserati and helped build a trusting partnership with Bulgari. On top of that, both Fabrizzio Buonamassa, head of design, and Guido Terreni perfectly agree that the signature inscriptions should be subtle for the benefit of their mutual skills' legitimacy: "After all, if Maserati were to make a car for Bulgari, it wouldn't flash "Bulgari" on the radiator grill".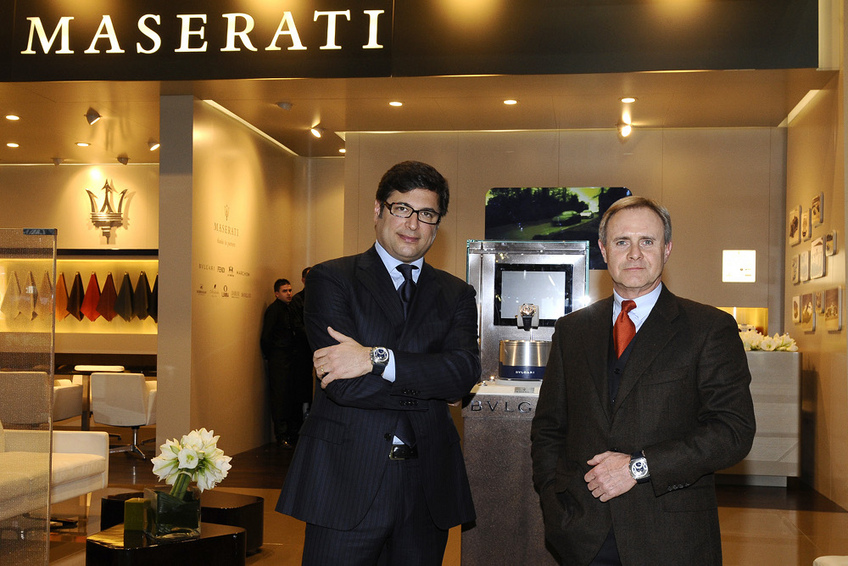 Bulgari Watch's Managing Director Guido Terreni and Maserati CEO Harald Wester
BULGARI OCTO MASERATI - Limited edition of 1914 copies
Self-winding chronograph, (in-house) Caliber BVL 328 Velocissimo, silicon escapement, 50-hour power reserve and 36,000 VpH. Steel case, 41.5 mm in diameter. Lacquered and polished "champlevé" blue and white dial, tachometric scale on bezel.
Semi-transparent blue case-back with Maserati logo (thickness: 13.07 mm); screw-lock crown with ceramic inlay; water-resistant to 100m. "Maserati blue" alligator leather strap with steel folding clasp.
By
Vincent Daveau
,
Contributor
In 1884, the Greek creator Sotirio Bulgari founded the brand which celebrates its 130th anniversary this year.