Exceptionnal auction: Henry Graves Jr Collection @ Sotheby's
Patek Philiie Henry Graves Sotheby's – June 14th
The Graves/Fullerton collection on the Sotheby's Catalog.
LOT #10

The estimation price of this watch is more than surprising, it is irrelevant.
This rectangular Patek, without catalog reference, is valued at only 30-50k$.
Yet, this unique piece makes more and more sense with every second that passes.

When he was about to turn 80, around 1947, Henry Graves ordered this special work from Patek.
The indication that the man was visionary is that he imagined the neo-vintage dressy watch from the years 2000.
If the curved case is typical from Patek, the watch, with its proportions and its apparent austerity, reminds us very much of the fabulous platinum Lange Cabaret tourbillon.

This massive watch is made of platinum, which is very rare, since the supplies of this metal were rationed during the war.
This Patek XL is 39mm by 47mm, which is enormous for a vintage watch. It is fitted with a 12 lignes chronometric movement, ref#922902, dated from 1942. (A movement from the 12''' series?)

The legend has it that Henry Graves ordered a XL watch because of his failing eyesight.
If it is true, why did he order a heavy rectangular watch, when a round model with a strong contrast between blued hands and golden metal would have been more convenient....?

Of course, this watch has unsurprisingly been auctioned for 345,600chf.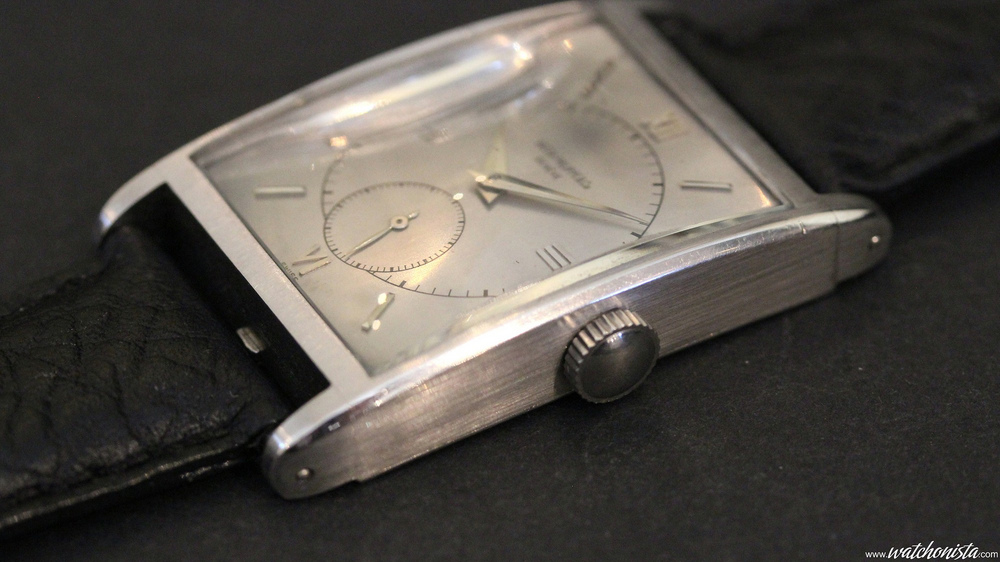 Lot #8

Like the previous lot, the initial quoted value makes us smile: 600-800k$.
It is of course a hefty sum. But it is far below the price which this watch will inevitably reach.
For example, one could think of the recent Patek 2523 "North America" or of the Monopusher Chronograph, from 1928, which were auctioned for about 3 millions to Italian collectors...
This piece is rare for multiple reasons... First of all, it is a minute repeater. From Patek Philippe... But it is also the fourth piece of an exceptional series of twelve.
The small movement #97589 was produced in 1895. Creating such a compact minute repeater movement at this period was a horologic feat.
But above all, the watch belonged to Henry Graves and its back is carved with the family's coat of arms and its motto: "Esse Quam Videri", "To be, rather than to seem".
The yellow gold watchcase (#605957) is 39.5mm by 30.5mm, and its dial features black enameled Breguet numerals.
This astoundingly well preserved watch, featuring an extensive documentation, was finally auctioned for 2,855,500chf.
This seems to becoming the market price for exceptional Patek pieces.
Lot #17
This watch did not belong to Mr. Henry Graves, but to his grandson, Reginald H. Fullerton.
It is nonetheless exceptional, on a number of counts. This 2497 is even an anachronism in Patek's history.
It was produced between 1950 and the beginning of 1951, and bears a strong resemblance to the reference #2498 (3 existing copies).
But it bears the reference #2497, which corresponds to a different watchcase, more modern with thicker and sportier lugs.
The watch is fitted with the movement #888000, the first in a series of 179 calibers, featuring a rare association: a perpetual calendar and a large second hand.
The 37mm yellow gold case is fitted with long and slender lugs, but most of all, the dial is features cubic indexes, almost fanciful after the traditional Patek criteria.

Estimation price: 300-500k$. Hammer price: 688.000 chf.